Bluehost
Hostgator
Hostinger
SiteGround
A2 Hosting
DreamHost
GreenGeeks
WestHost
GoDaddy
Site5
Looking for an excellent web hosting service may take up much of your time and your finances. Generally, load time and uptime are essential factors for selecting a web hosting service—aside from the cost.
To help you choose and purchase the ideal web hosting service for your needs, here are some of the elements and features that you need to consider:
Website migrations and transfers: This factor enables you to shift your website to another host. Nevertheless, web transfers and migrations are not free-of-charge all the time. The movement to another website includes directing the DNS of the domain to the new host, configuration of the site with the new host, and the transfer of website databases and files. Once you select a new site host, they will facilitate this particular process.
Renewal rates: Most web hosting providers either double or triple their cost once the deal is renewed after a year. Such renewal fees can increase from $7 to $10 per month for a basic plan that is originally priced at $2.99 per month. The performance and features you obtain from the plan will remain, but you need to pay higher. Moreover, most web hosting providers may feature a "free domain," which means that the first year of the domain is free, and then after a year, it automatically renews.
Email account, bandwidth, and storage limits: Bandwidth refers to how much data is transferred over the internet, while storage is the total amount of data you can have at a specific time.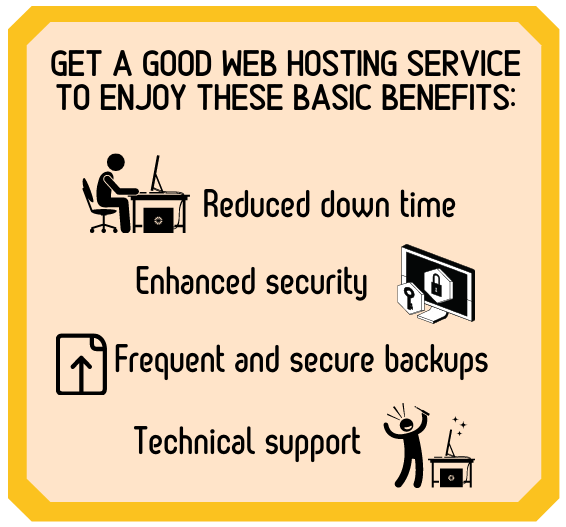 Hosting Plans
Web hosting services provide various hosting types. If you have a low-traffic website or just a newbie, you may consider shared web hosting, which is more than sufficient to run and maintain your website.
Nevertheless, as your website grows, it will be more convenient for you to migrate from one hosting to another or upgrade to a more costly type of web hosting.
The following are the most common types of web hosting that you can consider for your website:
Shared web hosting: This is ideal for new blogs and websites because they can be stored in one physical hosting server to share server resources such as computing power, RAM, and bandwidth.
Dedicated hosting: This is a deal for large enterprise websites, wherein website owners are given the resources for one complete server for their site to manage massive amounts of traffic and personalize it according to their needs in terms of software, disk space, RAM, and CPU.
Managed WordPress: This is ideal for WordPress sites that have high traffic. It covers similar hosting needs as that of general web hosting services, but its main priority is the optimization of the WordPress site's performance.
Cloud hosting: This enables several computers to work simultaneously, utilize combined computing resources of multiple servers, and run applications.
VPS hosting: Virtual Private Server or VPS is quite similar to shared hosting, yet it stores several websites on the same server and gives more personalized options to have more control.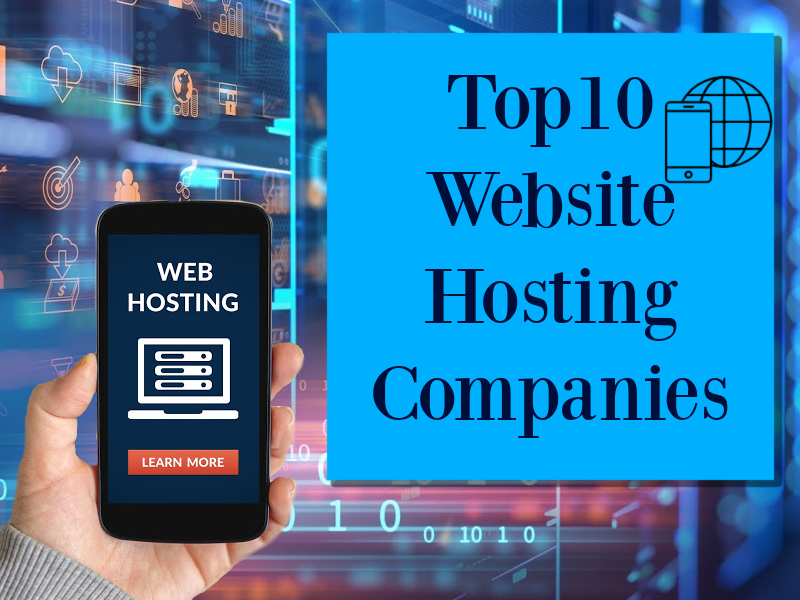 Bluehost is a WordPress web host provider that is based in Utah. It has been operating since 2007 under the management of the web giant Endurance International Group (EIG), which powers more than two million websites worldwide. They are currently hosting over 3,000,000 websites worldwide and are considered the most affordable and well-known option for new websites.
Bluehost offers a Weebly-based website builder. This is a fundamental browser-based affair that allows you to build a website of a maximum of six pages. There are no additional components included, such as site templates. The basic builder also comes with the basic account.
Availing Bluehost produces a blend of user-friendly aspects and a great amount of power and possible tweaking for more innovative users. All hosting plans are backed by a 30-day money-back guarantee and are automatically activated to use your website immediately.
Here are the offers that you can have if you avail the Blue Host web hosting services:
24/7 US-based support
Highly recommended by WordPress.org
Free domain and site builder
The free site migration tool
Unmetered bandwidth
Automated setup for WordPress and other popular apps through a Mojo Marketplace-powered system
cPanel-based area for competent users to be able to do tweaking
Convenient to use, especially for beginners
Top 5-speed time (405 ms for 24 months)
Best uptime (99.9% for 24 months)
Has dedicated VPS and WordPress hosting plans for higher traffic websites
Prices:
Shared hosting plan- $2.65 per month
Online Stores plan- $9.95 per month
Managed WordPress- $9.95 per month
---

Hostgator brings a spectacular lineup of hosting services that include domains to designated servers at relatively competitive prices, and all come with a 99.9% uptime guarantee.
This web hosting service was established in 2002 and is regarded as a well-known cloud hosting and shared provider that currently hosts more than 2,000,000 websites. It provides flexible features aside from shared cloud hosting like VPS, WordPress, and dedicated hosting plans that cater to small businesses' size organizations to enterprise websites.
If you wish to create a custom website, you can do so through the Gator Website Builder, a convenient drag-and-drop website builder and eCommerce-friendly for beginners.
Hostgator provides three specific VPS hosting plans, which begins with the Snappy 2000— has 120 GB disk space, two cores CPU, and 2 GB RAM. Allocations are done generously, and it should hold all but the most demanding websites.
If needed, an upgrade is the Snappy 4000, which updates the storage to 165 GB and the RAM to 4 GB. For more sites that do not need a separate server, you can choose the Snappy 8000, which comes with 240 GB storage, four cores CPU, and 8 GB RAM.
Here are the advantages of availing the Hostgator web hosting services:
45-day money-back guarantee
Free SSL certificate
Easy WordPress installs
Free domain for a year (upon signing up for 12, 24, or 36 months options)
$200 search credit
Unmetered disk space
Unmetered bandwidth
Free web transfers for new accounts within the first month after registration
Unlimited email accounts
Multiple datacenter locations
Unlimited storage credit
Fast load speed (399 ms)
Guaranteed uptime (99.99%)
Prices:
Shared Hosting Plan- $2.08 per month
Website Builder Plan- $2.30 per month
WordPress Hosting Plan- $2.98 per month
VPS Hosting Plan- $19.95 per month
Dedicated Hosting Plan- $89.98 per month
---

Hostinger is a European-based web hosting provider that is suitable for cloud hosting. It has a wide range of cloud hosting plans, and some of which include the Cloud Global (with 8 CPU cores, 16 GB RAM, and 200 GB storage), Cloud Professional (with 4 CPU cores, 6 GB RAM, and 140 GB storage), and Cloud Startup (with 100 GB of SSD storage, 2 CPU cores, and 3 GB of RAM).
Hostinger provides cost-efficient hosting plans without the need to compromise the performance and quality of the service. Although it is relatively affordable, this web hosting service features potentially attract numerous newbie website owners.
Hostinger has a "Single Web Hosting Plan" limited to one MySQL database, 100 GB bandwidth, and 10 GB disk space.
Here's what you get when you avail the web hosting service of Hostinger:
Fast load time (350 ms)
Disk storage at 100 GB
DDoS protection
Free SSL certificate
Unlimited bandwidth and websites
Comes with a 30-day money-back guarantee
Datacenters are available in Asia, Europe, and the US
24/7 chat support
99.9% uptime guarantee
Convenient website builder
Other services include Windows VPS hosting, VPS, WordPress, Email, and cloud
Prices:
Single Shared Hosting plan- $0.99 per month
Premium Shared Hosting plan- $1.89 per month
Business Shared Hosting plan- $3.99 per month
---

SiteGround is a hosting web service that was established in 2004 in Sofia, Bulgaria. It hosts more than two million domains and is regarded as one of the three web hosting firms having an official recommendation from WordPress.org.
SiteGround is popular for its excellent customer service and its rapidly growing user base. One website can be hosted effectively for approximately 10,000 visits per month.
Here are some of the benefits of being able to acquire the SiteGround web hosting service:
More than 20 email accounts
24/7 "Guru" chat support
Highly competent customer support
Stable uptime (99.99%)
Adequate load time (673 ms)
Includes free SSH access, Cloudflare, CDN, SSL, and email account
Includes a free website builder and daily backups
Comes with an industry-standard 30-day money-back guarantee
Has about 10 GB of web space
Unmetered website traffic
Includes managed WordPress hosting, enterprise hosting, cloud hosting, and WooCommerce hosting
Includes dedicated servers rented from the Google Cloud
Prices:
Startup Plan- $6.99 per month
GrowBig Plan- $9.99 per month
GoGeek Plan- $14.99 per month
---

A2 Hosting is a US-based web hosting service provider that is founded in 2002. It hosts more than 500,000 websites. To date, it is considered the fastest shared web hosting service that has been tested.
A2 Hosting is deemed fast due to its servers optimized for WordPress websites and the utilization of LiteSpeed cache. This web hosting service is also popular for working smoothly with major content management systems, including Magento, OpenCart, Drupal, Joomla, and WordPress. This makes it ideal for web developers.
The company provides a wide range of hosting plans, and customers can rapidly connect with the customer support team via tickets, email, phone, or live chat.

Here are the benefits of availing of the services of A2 Hosting:
With more than 20 email accounts
24/7 reliable, "Guru Crew Support."
Unlimited SSD storage and bandwidth
WordPress optimized servers
Fastest average load time (317 ms) over a timeframe of 24 months
Comes with a 30-day money-back guarantee
Free website migration
Free LetsEncrypt SSL certificate
Prices:
Managed WordPress Plan- $9.99 per month
Managed VPS Plan- $19.99 per month
Shared Hosting Plan- $1.99 per month
Reseller Hosting Plan- $14.99 per month
Dedicated Servers- $129.30 per month
---

DreamHost is regarded as a credible email hosting solution for anyone's needs in the business. This web hosting service was established in 1996, and as such, it is considered one of the country's oldest web hosting providers. It hosts more than 1.5 million applications, blogs, and websites in over 100 countries worldwide.
DreamHost provides its admin panel, which functions the same way as that of Plesk or cPanel.
Here are the benefits of purchasing the DreamHost web hosting service:
Unlimited storage and bandwidth
97-day money-back guarantee/refund policy
Monthly plans available aside from annual plans
Uptime guarantee
Good load time (648 ms)
24/7 US live chat support
Unlimited data transfer monthly
A wide range of domain management tools
Strong security features (LetsEncrypt SSL)
Includes pre-installed WordPress
Free WordPress migrations
Includes beginner-friendly and convenient-to-use website builder
Prices:
WordPress Hosting begins at $2.59 per month
Website Hosting begins at $2.59 per month
.com domain names at $5.99
---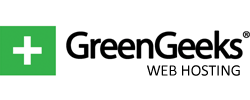 GreenGeeks has been running for over 12 years in the business, and it has also hosted more than 500,000 websites. It boasts of eco-friendly hosting practices with numerous proven credentials.
GreenGeeks provides dependable and fast hosting at a cheap rate aside from the fact that it is rapidly establishing a good reputation in the market.
Once your website grows, you can opt for an upgrade to a more flexible VPS hosting. Moreover, GreenGeeks will help your website migrate from your current hosting provider free-of-charge.
Why choose GreenGeeks web hosting service:
Unlimited SSD storage and bandwidth
Free and unlimited website transfer of data
For customers in the US, Canada, and the Netherlands
Stable uptime (99.98%)
Good load time (445 ms)
Comes with a 30-day money-back guarantee
24/7 customer support
Free domain for one year
Free Wildcard SSL
PowerCacher and cPanel access
Nightly backups
Unlimited email accounts
Unlimited domain names
Prices:
WordPress Hosting- $2.95 per month
WooCommerce Hosting- $2.95 per month
Reseller Web Hosting- $29.95 per month
Virtual Private Servers- $39.95 per month
---

WestHost is one of the hosting companies under THG Ingenuity Ltd. (a UK-based company), which also manages MidPhase.
The fact that it has free CDN with site backups makes WestHost a good hosting provider. Its uptime is above average, making it an effective option for small online business websites considering that it is one of the most affordable web hosting solutions on the market.
Compared with other web hosting services, WestHost only provides a standard shared hosting provider. Thus, if your website will grow, you will need to transfer your sites to another provider.
Here are the advantages of purchasing the WestHost web hosting service:
Free CDN with site backups are included
Free Cloudflare CDN
Affordable pricing
Good uptime (99.98%)
Prices:
Preferred hosting plan- $5.20 per month (with free domains and SSL)
Starter plan- $2.00 per month (FTP access only)
Business plan- $7.46 per month
---

GoDaddy is regarded as one of the top hosting services that power more than 44 million websites. The company has about 14 facilities worldwide and is considered to be one of the biggest domain registrars. They also provide web hosting services that are ideal for both large and small websites.
Similar to SiteGround, they do not own their server park. Rather, they collaborate with Amazon and rent servers from AWS.
GoDaddy is considered an exceptional solution when building custom websites since it has a simple drag-and-drop website builder (GoCentral) created for beginners. It also includes developer-friendly tools such as Python, CloudLinux, cPanel, MySQL, and numerous PHP versions.
The following are the benefits of availing of the web hosting services of GoDaddy:
Uptime guarantee for 99.90%
cPanel and website builder access
100GB website storage
Good uptime (99.97%)
Good load time (554 ms)
30-day money-back guarantee for yearly and multi-year plans
24/7 support
Secure monitoring
URL forwarding, which redirects website traffic from one domain to another
DNS Management
Prices:
Its most affordable web hosting plan begins at $4.33 per month (renews $8.99 monthly)
---

Established in 1998, Site5 was later acquired by Endurance International Group (EIG). Customers have the opportunity to conveniently install well-known applications such as ZenCart or PrestaShop through cPanel/WHM, Joomla, and Drupal.
Its basic plan does not include a free domain and a free SSL, making it ideal for a web designer or web developer who wants to use a reseller hosting website to send invoices and bills to clients.
Here are the advantages of availing of the web hosting services of Site5:
Unmetered bandwidth/storage
Free migrations
Above-average speed/page loading time (629 ms)
Good uptime (99.9%)
24/7 support and backup recovery
30-day money-back guarantee
Prices:
hostBasic account begins at $8.34 per month
hostPro- $13.14 per month
hostPro + Turbo- $16.74 per month