Yard Machines 140cc 21-Inch Push Mower
Lawn-Boy 10732 Kohler XT6 OHV
Troy-Bilt 3-in-1 Push Lawn Mower
Craftsman Gas Push Lawn Mower
PowerSmart Gas Push Lawn Mower
Lush green lawns and sunny yards where kids and pets can freely run around are wonderful additions to any home. They're a much-needed respite from gray concrete jungles and garages, and many prospective homeowners consider them when looking for a new place. However, they can be a handful to maintain. This is where push mowers can come in handy.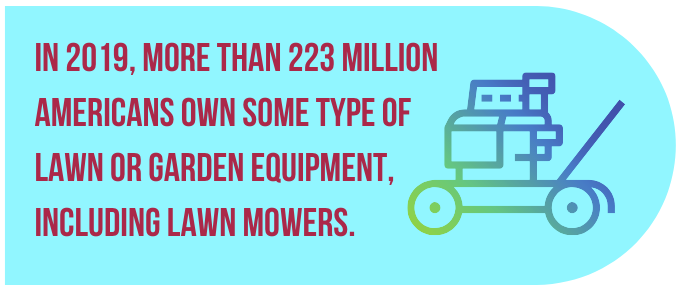 Push mowers had their humble beginnings as the manual mowing machine invented by English engineer Edwin Beard Budding in 1830 because he wanted to make the maintenance of sporting grounds and sprawling lawns easier. Lawnmowers have since come a long way!
They are now a mainstay in households across the world. A 2019 census showed that in the United States, over 223 million Americans own some type of lawn or garden equipment, including push mowers. Homeowners can now select from a wide variety of manual, electric, gasoline, and even top-of-the-line robotic lawnmowers that best fit their needs.
What are the benefits of getting a gasoline push mower over an electric one?
One of the top reasons why people go for gasoline push mowers is because they are easier to maintain and can be fixed by the owner themselves if they already have some basic knowledge of engines (or if they're willing to do a bit of studying).
Gas mowers also don't come with a cord, which gives them more flexibility and reach, especially for bigger yards. One could argue that there are cordless electric push mowers, but the downside would be the long charging time required before use. In general, gasoline mowers are also more powerful than electric mowers, primarily when used on thicker grass. However, keep in mind that gasoline push mowers are usually on the bigger and heavier side compared to their electric counterparts (and they also tend to be noisier). But these cons are pretty minor compared to the benefits gas mowers can offer.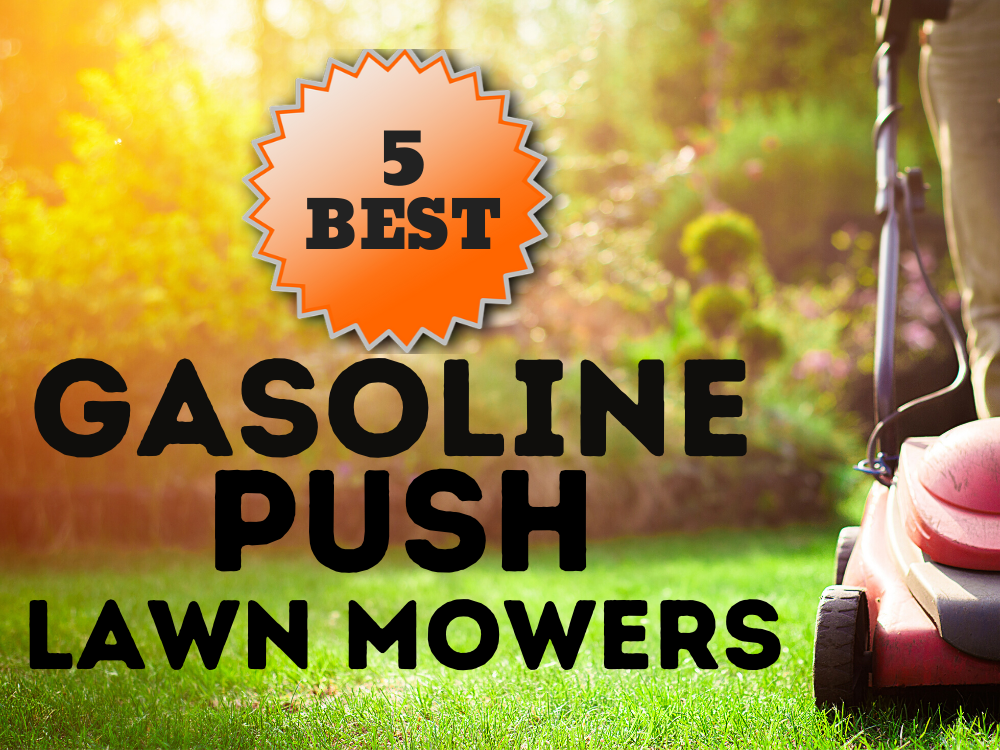 We looked up the five best gasoline push mowers you can get on Amazon, so you can find something that's perfect for you, whether you need to take care of a rambling countryside garden or a neat little suburban lawn.
1. Yard Machines 140cc 21-Inch Push Mower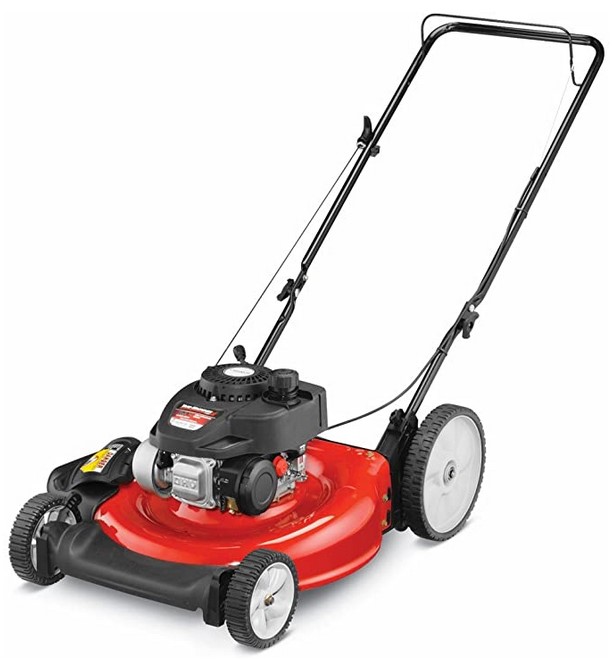 If you're looking for a gasoline push mower that's meant for smaller or mid-sized lawns and yards, then this Yard Machines product would be perfect for you. Despite being powered by gasoline, which usually equals to a heftier weight, the Yard Machines 140cc 21-Inch Push Mower comes in at only 62 pounds, giving electric mowers a run for their money.
This push mower is powered by a 140cc OHV engine that is known for its durability. It is easy to use and customizable, with a dual-level height adjustment option and a looped handle that allows for quick maneuvering. The product's combination of big and small wheels enable the user to make smoother turns. Customers also need not worry about complicated assembly, as the product is practically ready to use right out of the box, aside from minor adjustments and gas loading. Those looking for mulching options will be glad to know that the Yard Machines Push Mower has a side discharge chute. All these great features for the affordable price of $281.25 makes Yards Machine Push Mower one of the best gasoline mowers you can get.
Manufacturer MTD Products, which has been producing high-quality machines since 1958, offers a limited 2-year warranty for customer satisfaction. The product also has over a hundred customer reviews on Amazon, with a considerable portion of them lauding the product for its affordability and lightness compared to other gas-powered mowers.
Our Verdict

Get the dreaded yard work done fast with the Yard Machines 140cc 21-Inch Push Mower. Get it on Amazon.com!
---
2. Lawn-Boy 10732 Kohler XT6 OHV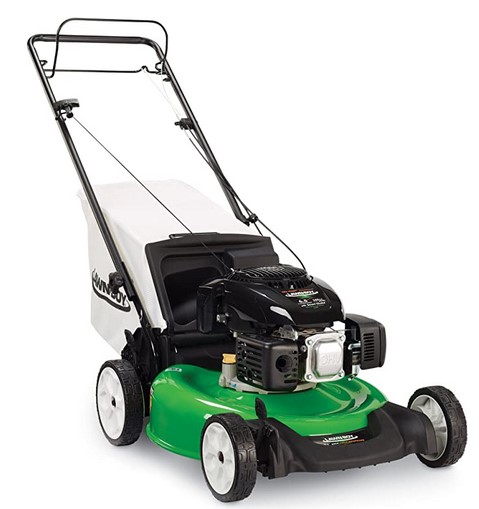 If you are looking for a gasoline push mower that is powerful, high capacity, and can perform even when used on tougher types of terrain, then the Lawn-Boy 10732 Kohler XT6 OHV is the one you might be looking for. It also enjoys good ratings from over 900 users on Amazon, making the Lawn-Boy the most reviewed product on our list.
This push mower is powered by a robust Kohler XTX 149cc OHV engine that can give you an industrial level performance at a more affordable rate. It's also equipped with a Rear Wheel Drive System that takes off much of the heavy lifting from the user, and it also allows the push mower to trim difficult areas, like uneven, hilly locations easily.
With a distinct green dome deck, the Lawn-Boy 10732 is not just stylish but also very much user-friendly. Its manufacturer, The Toro Company, has developed an efficient Tru-Start Commitment that promises customers of a mower that will take only a pull or two to start and last for three years. Otherwise, the company guarantees to fix it free of charge. The Lawn-Boy also has a large bag to store the grass clippings, so emptying it is a breeze. There are also two options for the trimming height. Another customization it offers is the three discharge options – bagging, side discharge, or even mulching. Buyers can also have peace of mind through the 2-year full warranty that comes with the product.
Our Verdict

Get a wonderful warranty with the Lawn-Boy 10732 Kohler XT6 OHV.
---
3. Troy-Bilt 3-in-1 Push Lawn Mower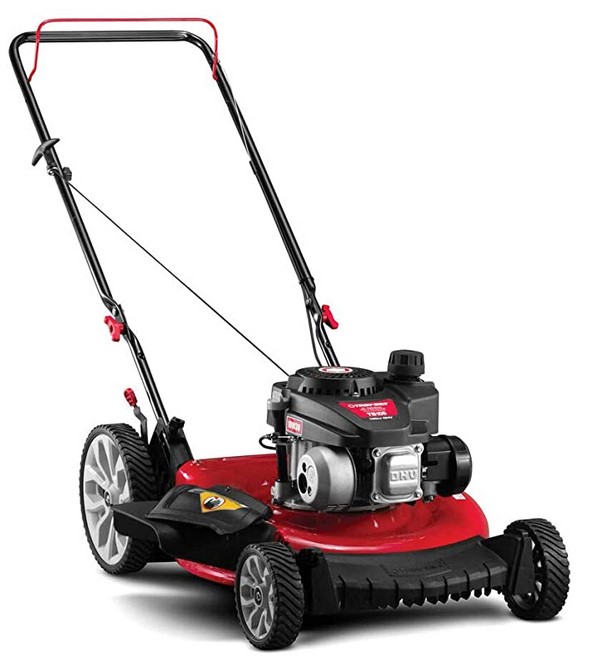 The Troy-Bilt 3-in-1 Push Lawn Mower is lightweight, easily customizable, and developed by an all-American manufacturer for over 75 years. It has a 159cc OHV engine power.
The 3-in-1 in its name refers to the option to go with either mulching, side discharge, or bagging when using the mower. The Troy-Bilt Lawn Mower also provides excellent adjustability for users, who can choose from three various handle heights. It can be quickly started through an EZ Choke system. The accompanying grass bag also holds up to 1.9 bushels while the tank can be filled with up to a quart of fuel, which both give users more time before having to empty clippings or refill with gas.
Six height settings for grass trimming are also available, all of which are executed by the same TriAction cutting system developed by Troy-Bilt, which ensures even and thorough cutting every time. The product also comes with a limited two-year warranty, but echoing Troy-Bilt's slogan of "Built for Life," you can be assured that this push lawn mower will last you longer than that.
Our Verdict

Troy-Bilt… a trusted name lawnmowers. How can you go wrong?
---
4. Craftsman Gas Push Lawn Mower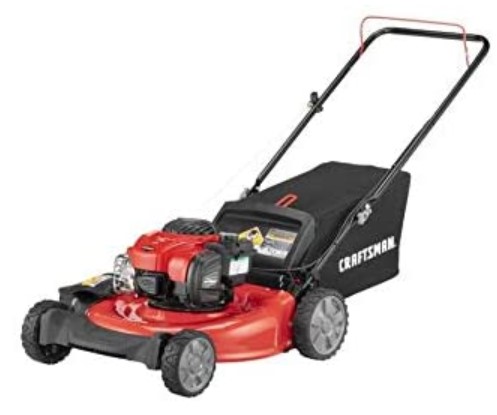 The Craftsman Gas Push Lawn Mower offers excellent customization options for its users, boasting a dual lever than can allow you to choose from 6 different height settings when trimming the grass. It's also the most affordable one on our list, being priced at only $229, and it currently holds a 4.4-star rating from 140 Amazon buyers.
Despite being light on the wallet, the Craftsman Mower is powered by a reliable 140cc OHV engine with recoil and auto choke that can be seen in more expensive models, and it's also heavy on useful features. Users can choose from side discharge, rear discharge, and mulching, while the pull-to-start system makes mowing quick and hassle-free. The front and rear wheels come with a zag treading that gives excellent traction to make them work on uneven surfaces.
The product weighs a decent 72 pounds, has a sturdy 21-inch cutting deck, and does not require complicated assembly, as testified by a vast majority of user reviews. Like most of the other mowers on our list, the Craftsman Gas Push Lawn Mower also comes with a two-year warranty for customers' peace of mind.
Our Verdict

---
5. PowerSmart Gas Push Lawn Mower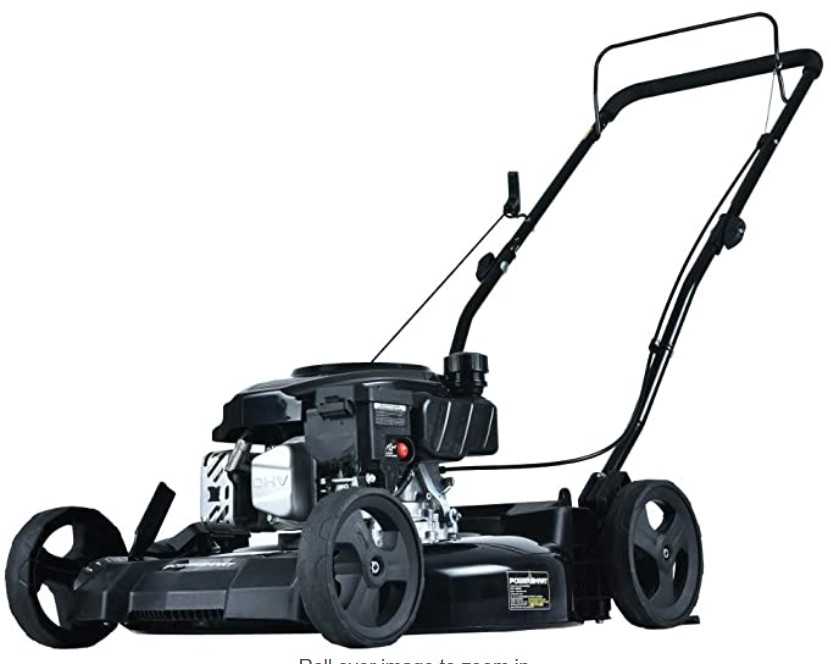 The most lightweight and possibly the sleekest looking one on this list, the PowerSmart Gas Push Lawn Mower, manufactured by Amerisun Inc., is another top pick for the best gas-powered push mower category. This lawnmower weighs only 58 pounds, which is pretty impressive and rare for a 170 cc gasoline-powered product. And if being light wasn't enough, the 8-inch rear wheels have been designed to require less effort to push, making every mowing job easier than ever.
The compact design allows for better maneuvering around tighter spots and also for easier storage in your garage or backyard. The PowerSmart Gas Push Lawn Mower was designed by Amerisun Inc. with smaller yards in mind, but it's still reliable enough to work with larger spaces.
Users will be happy with its easy pull-to-start feature. Choose among the five cutting height adjustments ranging from 1.8 to 3 inches. It works whether you're doing the standard grass trimming or dealing with a tougher situation involving overgrown weeds. Those looking to keep their soil healthy will also benefit from the two options of side discharge and mulching capability. Using the sturdy 21-inch cutting deck made of steel, PowerSmart Gas Push Lawn Mower users get the most out of each mow.
Our Verdict

Buy the PowerSmart Gas Push Lawn Mower to make your yard work chores a breeze!