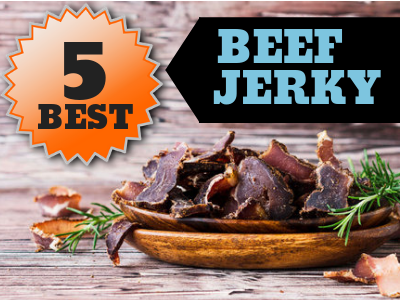 Whether it is a road trip, a movie marathon, or picnic at the park, beef jerky has always been one of the top choices when it comes to no-frills, convenient snacks. All across the United States, beef jerky shares a majority of stock shelves in gasoline stations, convenience stores, and groceries.
These meat snacks have significantly grown in popularity over the years. They have ruled over the savory snack category. Because of the evolving preferences of consumers, the market for meat snacks has increased in comparison to salty snacks such as potato chips. Americans love eating jerky, it even has its own national holiday. June 12 is Jerky Day!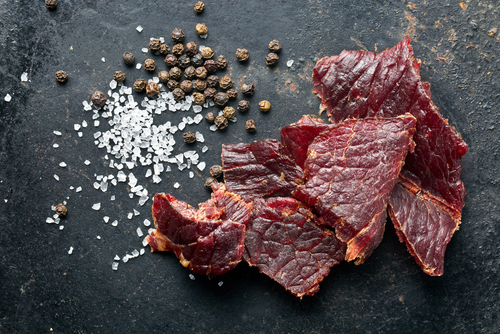 Watch: Give the gift of jerky!
Research has shown that beef jerky sales have surged in the past years in parallel to the rise of the snack industry. They have increased by nearly 7% in sales. This boost in jerky sales comes from the fact that more and more people turn to snacks because of convenience.
A survey from Nielsen found that one in ten people in the US prefers to eat light, in-between bites rather than have full sit-down meals. However, consumers are also leaning into healthier snack options. They have turned away from nuts, dried fruit, and cereal snack bars which are believed to be packed with sugar.
Meat snacks have risen in popularity because of the consumers' inclination to protein. It is a viable choice because it is high in protein and is a low-calorie snack that is accessible and has a long shelf-life. People can have it as snacks when they are too busy to sit down for a meal, they can eat it after a workout, they can have it during a picnic or a camping trip, or they can keep it in their cars and munch on it when they get stuck in traffic.
All About the Jerky
Jerky, derived from the Spanish word "charqui" meaning dried meat strips, is a form of food preservation technique done by drying lean cuts of meat into long, thin strips. This technique dates back to the Neanderthals who hunted woolly mammoths.
The process of drying the mammoth meat allowed them to transport it easily and avoid spoilage as they moved from one place to another. It is also a way of preserving high-protein meat that is readily available for them to eat when food becomes scarce.
Nowadays, jerky can be made from a variety of high-protein meat including deer, turkey, buffalo, venison, chicken, and pork. However, the most popular variety is beef. The process of making beef jerky is rather straightforward. Meat is sliced into thin strips, marinated, and cured, smoked, or dried to remove moisture.
Although one can make their own beef jerky from scratch, what makes this snack a favorite among consumers is the availability and convenience of being able to pick it up from the nearest store.
Choosing the best beef jerky depends on the preference of the consumer. The lifestyle and food choices of consumers have changed multiple times because of the evolution of food-related health risks as well as the different fad diets that cater to the inclination of the consumers. In the market, traditional as well as modern and artisanal brands of beef jerky are available.
"The overall flavor of the jerky also depends on the method employed when making it, the quality of the meat, and flavors, spices, and sauces used to marinate the strips of beef, (Beef Jerky Hub, 2019)."
The characteristics of a good beef jerky brand depend on the flavor and taste of the meat. It all boils down to the texture of the meat – it should be dry, tough, and chewy. Using the right ingredients of the jerky is crucial in making sure that your product is marketable. That is why producers only use natural ingredients and preservatives, and the size of the product is relative to its price.
Flavor and Taste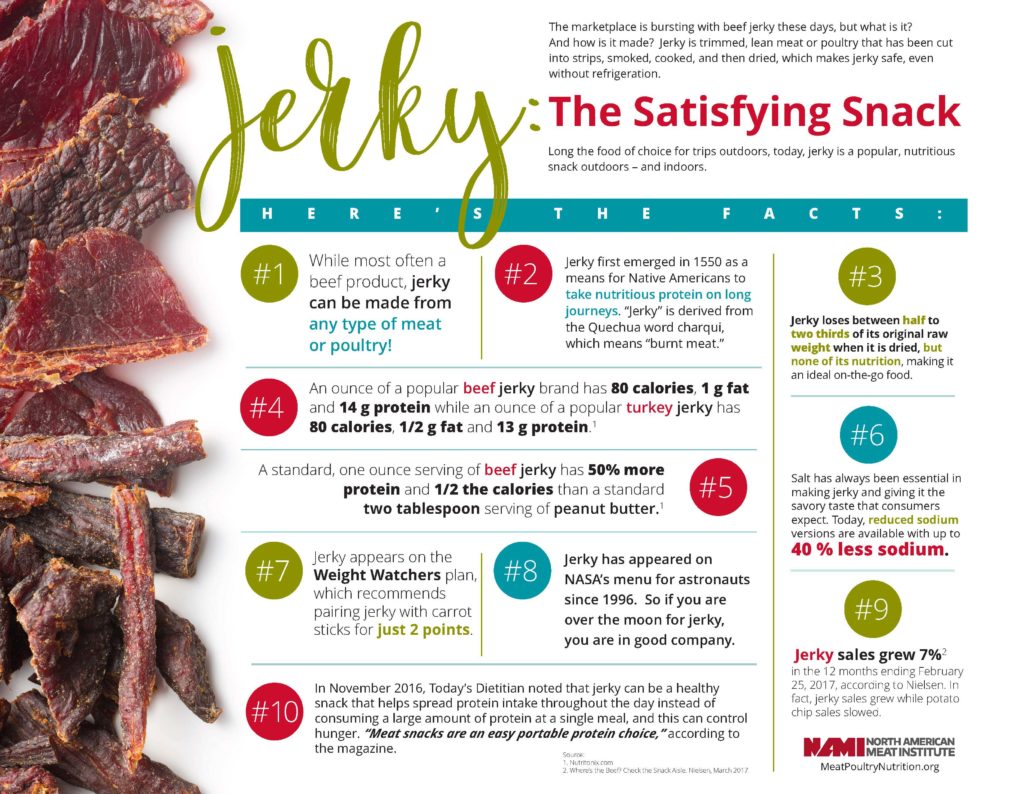 The sky's the limit when it comes to the flavor and taste of beef jerky. Those who make their own beef jerky at home can go crazy with whatever flavor they think would complement their taste. With this, brands have also innovated to cater to the evolving palate of the modern consumer.
Depending on their preference, they can opt for the original or the flavored beef jerky. Some traditional brands use "original recipe" ingredients that stay true to the jerky flavor. While newer brands have popularized newer variations such as teriyaki, sriracha, black cherry, and even soda-flavored jerky.
Texture of Beef Jerky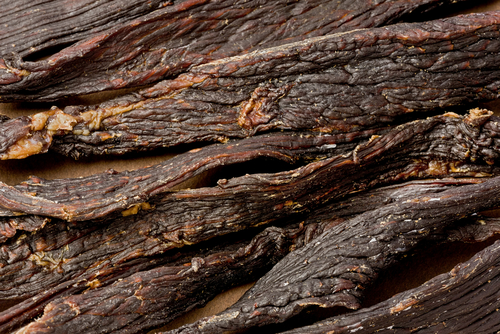 Classic beef jerky is tough to the touch. Moisture is a breeding ground for bacteria causing food spoilage. The dehydrating process takes away the water content which helps the longevity of the meat. This results in the dry, tough, and leathery-like texture of the beef jerky.
It is bendable but should be able to break easily when you bite a piece off. Basically, there are two drying methods in making jerky – natural and artificial. Natural method includes sun-dying and "adiabatic" or shade drying, while artificial drying requires the use of tools. Artificial drying can be done through oven-dry method, dehydrator method, microwave, and smoker.
Watch: How It's Made: Beef Jerky
Natural Drying
The natural drying method is the most traditional way of drying turkey, a time-honored technique that is still used until today. The sun-dry method, also known as solar dying, occurs outdoors and requires direct sunlight. Some use a special container which traps the natural heat of the sun which dries the meat.
Sun-drying is most commonly used for drying fruits such as tomatoes, grapes, apricots, and mangoes. However, this technique is no longer recommended by the United States Department of Agriculture Food Safety and Inspection Service (USDA FDA) for drying meats. The heat source in the sun-drying technique is not stable. This could lead to contamination from foreign objects that comes into contact with the meat.
Adiabatic or shade drying, on the other hand, occurs in the open air. Unlike sun-drying, adiabatic drying occurs without the need for a heat source. Sun-drying may be safe in select geographic locations where the atmosphere is arid and hot. But, food safety dictates to avoid the natural drying technique altogether.
Artificial Drying
With the advent of technology, food preservation has become more convenient and practical. Jerky making is made easier with artificial drying technique. The technique uses tools and machines which generates the recommended temperature from an artificial heat source. An effective artificial dryer must include several important components.
First, it needs to have a stable source of heat to ensure uniform heat throughout the drying process.
Second, it must have ventilation. This will provide good airflow which allows dry air to circulate inside the container.
Third, food safety requires proper handling of food.
The device must include trays that will hold the meat during the entire drying process. These trays must be food-grade and safe for human consumption as they will come in direct contact with the meat. Lastly, it must have a special mesh or leather sheets to be used for certain kinds of foods.
Beef Jerky Ingredients
The presumption that beef jerky is pumped full of chemicals has led to the unsettling debate of going natural or artisanal. The main polarizer between original and artisanal beef jerky is the use of natural ingredients. As we already know, jerky making requires salt and other preservatives to completely dry the beef. The product relies on these ingredients, not only to maintain flavor, but also ensure a longer shelf-life.
Traditional jerky is made with sodium nitrate which gives color to processed and cured meat. However, this chemical has been linked to high risk of heart diseases. Newer brands of beef jerky have considered remedying this issue by using organic, safe, and healthy ingredients. This led to the production of artisanal beef jerky. In turn, food trends have paved the way for all-natural, grass-fed, and heritage beef to be used for this type of beef jerky. This variant, arguably, contains healthier alternatives to salt or MSG by using Kosher salt, pink salt, or natural glutamates, and spices.
Watch: Learn how to make beef jerky at home!
Size and Price
The average serving size of beef jerky is one large piece which is about 20 grams. Beef jerky usually sold in groceries, convenience stores, and gas stations in one-ounce to four-ounce packs at 28 to 113 grams. While some sell up to 16-ounce packs (453 grams).
They say that consuming beef jerky can be an expensive habit since you pay so much for so little. On average an ounce of beef jerky can cost at around $2.90. According to Big John's Beef Jerky, the reason why jerky costs so much to make is that beef is about 60% water. It takes a lot more meat to make a 4-ounce pack. When the beef is dried, all the weight is evaporated and leaves only about half of the weight of the meat.
Generally, it can take about 3-4 pounds of lean meat to produce 1 pound of finished jerky. The cost of ingredients, cost of labor, and packaging are also considered in the pricing.
Methodology
Now that you know the basic considerations in choosing the best beef jerky that will suit your taste, here is a list of the Top 5 Best Beef Jerky Brands. This list consists of both the old and more traditional brands and the newer and artisanal brands.
The beef jerky brands are ranked based on their
Size,
Ingredients,
Calories per Serving,
and Price.
These features are given a star rating between to . An overall rating will be provided for each brand the highest being (5/5).
The chart below highlights the comparison of the characteristics of each brand of beef jerky. A detailed review will be provided to help you in choosing what suits you best.
Comparison Review Chart: 5 Best Beef Jerky Brands
Brand

Jack Link's

Oberto

Krave

Country Archer

Field Trip

Featured Size

3.25 oz

3.25 oz

2.7 oz

3.0 oz

2.2 oz

Serving Size

1 oz

1 oz

1 oz

1 oz

1 oz

Price

$ 4.99

$ 6.99

$ 5.99

$ 6.00

$ 6.50

Available Sizes

2.85 oz – $4.19

*single – $4.99

*8-pack – $36.99

5.85 oz
*single – $7.99
*8-pack – $59.99

16 oz – $16.99

0.75 oz
*6-pack – $11.59

1.5 oz
*8-pack – $29.99

3.25 oz
*single – $6.99

*4-pack – $25.96

*8-pack – $47.92

9 oz
*single – $15.99
* 4-pack – $44.97

1 oz
*single – $2.22

*18-pack – $39.99

2.7 oz
*single – $5.99
*8-pack – $43.92
*16-pack – $79.84

Variety Pack- $37.99

1 oz
*single – $3.00
*12-pack – $30.00

3 oz – $6.00

16 oz – $20.00

1 oz
*12-pack – $42.00

2.2 oz – $6.50

12 oz – $25.00

Available Flavors
Original Recipe

Teriyaki

Peppered Beef

Sweet and Hot

Hickory Smoked

Jalapeno

Steakhouse Recipe

Sriracha

Zero Sugar

Less Sodium

Other meats:

Turkey jerky

Pork jerky

Chicken jerky

Salmon jerky

Original

Spicy Sweet

Teriyaki

Peppered

Other meats:

BBQ Seasoned Pork Jerky

Teriyaki Turkey Jerky

Applewood Smoked Bacon Jerky

Cracked Peppercorn

Sweet Chipotle

Garlic Chili Pepper

Chili Lime

Sea Salt Original

Other meats:

Lemon Garlic Turkey Jerky

Black Cherry Barbeque Pork Jerky

Grilled Teriyaki Pork Jerky

Honey Habanero Chicken Jerky

Orignal

Teriyaki

Hatch Chile

Sriracha

Mango Habanero

Sweet Jalapeno

Crushed Red Pepper

Other meats:

Hickory Smoke Turkey

Honey Chipotle Turkey

Citrus Rosemary Turkey

Organic Hickory Smoke Turkey

Original

Mandarin Orange Teriyaki

Honey Spice

Sweet and Spicy Barbeque

Brooklyn Style Everything

Other meats:

Cracked Pepper Turkey Jerky

Maple Barbeque Pork Jerky

Spicy Buffalo Chicken Jerky

Calories

80

80

100

70

90

Kcal from Fat

10

5

15

10

10

Ingredients
Beef

Water

Sugar

Brown Sugar

Salt (2%)

Beef Stock

Flavors

Soy Sauce

Hydrolyzed Corn Protein

Yeast Extract

Maltodextrin

Citric Acid

Pineapple Powder

Beef

Sugar

Water

Beef Stock

Salt

Spices and Natural Flavor

Natural Smoke Flavor

Vinegar

Beef,

Cane Sugar

Gluten-Free Soy Sauce

Honey

Contains 2% or Less of the Following:

Sea Salt

Granulated Garlic

Onion Powder

Paprika

Spices

Beef

Soy Sauce

Brown Sugar

Lemon Juice

Garlic Powder

Liquid Smoke

Organic Worcestershire Sauce

Fine Pepper

Beef

Gluten Free Reduced Sodium Soy Sauce

Apple Juice

Brown Sugar

Pineapple Juice

Water

Natural Hickory Liquid Smoke

Rice Wine

Black Pepper

Granulated Garlic

Apple Cider Vinegar

Ginger

White Pepper

Nutritional Facts (% Daily Value)
Total Fat:

1g (1%)

Saturated Fat:

0g (1%)

Trans Fat:

0g

Cholesterol:

25mg (9%)

Sodium:

460mg (19%)

Carbohydrates:

6g (2%)

Dietary Fiber:

0g

Sugars:

6g

Protein:

11g (19%)

Vitamin A:

0%

Vitamin C:

0%

Calcium:

0%

Iron:

6%

Total Fat:

0.5g (1%)

Saturated Fat:

0g (0%)

Trans Fat:

0g

Cholesterol:

30mg (10%)

Sodium:

520mg (22%)

Carbohydrates:

8g (3%)

Dietary Fiber:

0g

Sugars:

7g

Protein:

10g (20%)

Vitamin A:

0%

Vitamin C:

0%

Calcium:

0%

Iron:

6%

Total Fat:

1.5g (2%)

Saturated Fat:

0.5g (3%)

Trans Fat:

0g

Cholesterol:

20mg (7%)

Sodium:

340g (14%)

Carbohydrates:

11g (4%)

Dietary Fiber:

0g

Sugars:

10g

Protein:

9g 18%

Vitamin A:

0%

Vitamin C:

0%

Calcium:

2%

Iron:

6%

Total Fat:

1g (2%)

Saturated Fat:

0g (0%)

Trans Fat:

0g

Cholesterol:

25mg (8%)

Sodium:

330g (14%)

Carbohydrates:

5g (2%)

Dietary Fiber:

0g

Sugars:

4g

Protein:

11g

Vitamin A:

0%

Vitamin C:

0%

Calcium:

2%

Iron:

6%

Total Fat:

1.5g (2%)

Saturated Fat:

0g (0%)

Trans Fat:

0g

Cholesterol:

25mg (8%)

Sodium:

390g (16%)

Carbohydrates:

10g (3%)

Dietary Fiber:

0g

Sugars:

10g

Protein:

10g 20%

Vitamin A:

0%

Vitamin C:

2%

Calcium:

2%

Iron:

8%

Where to Buy
Website

Online

Grocery

Gas Stations

Convenience Stores

Website

Online

Grocery

Gas Stations

Convenience Stores

Website

Online

Grocery

Specialty Stores

Convenience Stores

Website

Online

Grocery

Specialty Stores

Website

Online

Grocery

Sports/Gear Stores

Specialty Stores

All Natural

No

Yes

Yes

Yes

Yes

Texture
Slow cooked and smoked to get tender, easy to chew strips
Not too dry, has a bit of moisture giving the beef a softer texture
Soft and easy to tear; thicker and more moist compared to other brands
Bigger cuts; dry but not leathery
Dry and tough but gives a nice chew; bite-sized pieces
The Details



Jack Link's Original Beef Jerky
WATCH: Jack Link's Will Help You Power Thru An All-Nighter!
Jack Link's beef jerky was first sold in stores in the 1980s but the recipe that inspired its creation has been with the Link family ever since. This humble family-owned business is a true American success story that stays true to its humble beginnings.
Jack Link's swear by using the leanest cuts of meat, slicing them into the perfect snack-size pieces and using their 100-year-old family recipe to craft their jerky. It is then marinated with their "select, premium ingredients and a unique blend of herbs" before it is slowly cooked and dried in the smokehouse.
WATCH: Link to Link: The Jack Link's Story
A popular staple at gas stations and convenience stores, Jack Link's has been a commercial standard. It is a longtime favorite for on the go people who need their protein fix fast. Their meat products come in strips, chunks, and sticks. Whether you are on a cross-country trip looking for a snack to much on while on the road or you just want to eat an easy, savory snack while watching your favorite movie, Jack Link's beef jerky is perfect for you.
Compared to other beef jerky brands, Jack Link's is the most affordable. The prices of their beef jerky range from $4.99 to $20, depending on the size. Packaging also comes in reasonable proportions. You can choose from a 2.85-ounce or a 3.35-ounce bag for when you just need a pick-me-up snack. They also have shareable sizes like the jumbo bag at 5.85 ounces and the "pounder" weighing 16 ounces. These come in resealable bags to better preserve the meat when you can't seem to finish it in one sitting.
Jack Link's has a variety of flavors to choose from. They have their Original Recipe, Teriyaki, Peppered Beef, Sweet and Hot, Hickory Smoked, Jalapeno, Steakhouse Recipe, and Sriracha. They have other meat jerkies such as pork, turkey, chicken, and even salmon jerky. With the arrival of healthier food trends, Jack Link's have also put out healthier options which include zero-sugar jerky and less sodium jerky.
| | |
| --- | --- |
| PROS | CONS |
| Inexpensive | Not all-natural |
| Big market share | High sodium content |
| Variety of flavors | High cholesterol percentage |
| Available in most stores | |
Our Verdict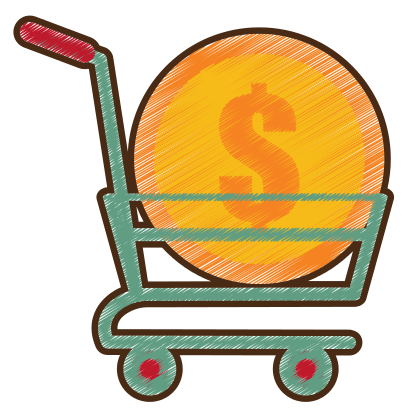 Price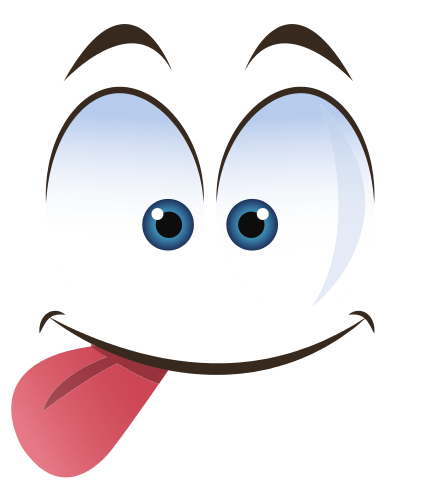 Flavor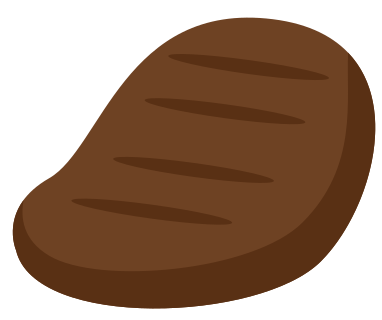 Texture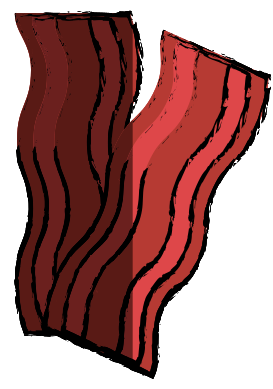 Variations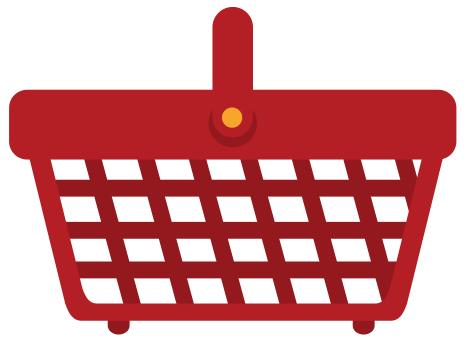 Availability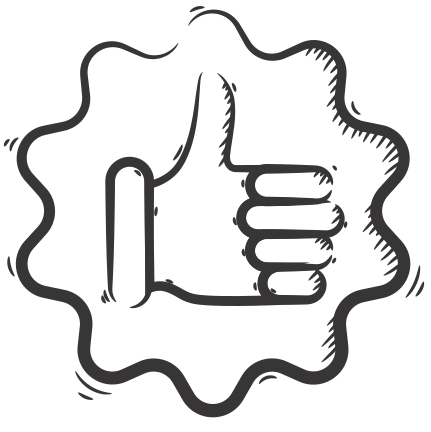 OVERALL (5/5)
Jack Link's Beef Jerky (Original) is available on Amazon!
---
Oberto Original Beef Jerky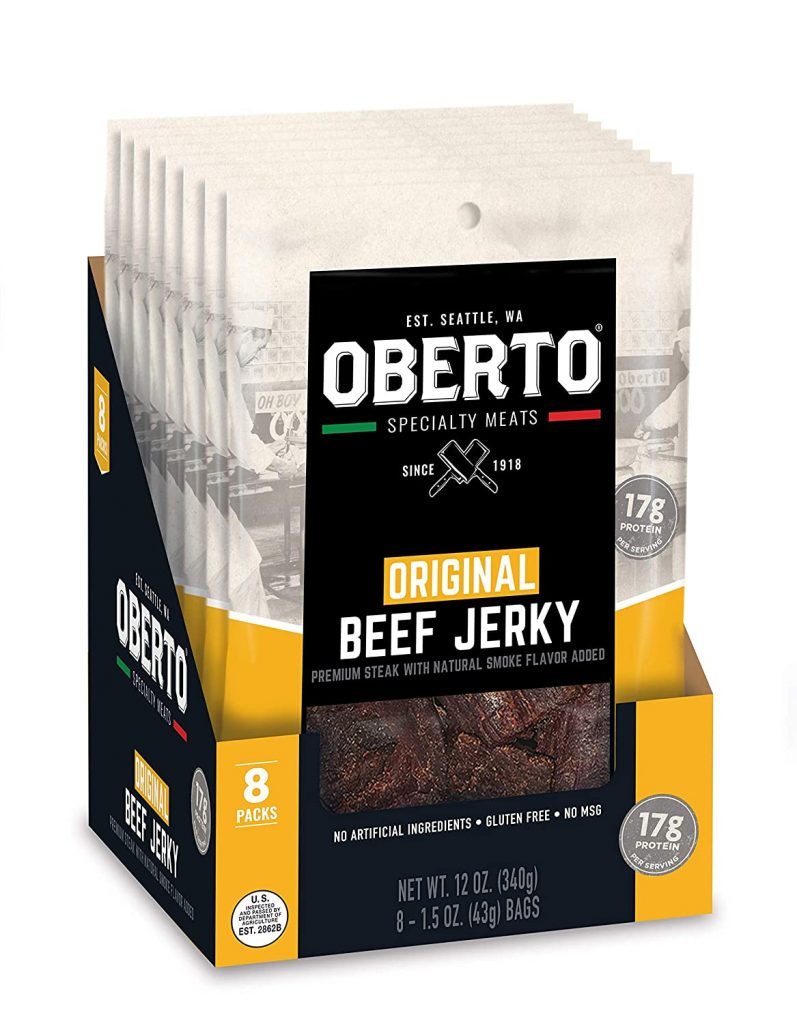 Watch: Bobby Wagner stays ahead of the pack with Oberto
Since in 1918, Oberto continues to create quality meat products. The family-owned business started by selling hand-made Italian sausages. It has since ventured on to produce beef jerky, pepperoni, and other smoked meats. Oberto's beef jerky began from a simple customer request – a request that made the company what it is now today.
That customer wanted to sell inexpensive food item in his bar, and so Oberto Specialty Meats was born. Beef jerky was the answer because it was "easy to pack and ship". It went on to become an instant success and made Oberto the top beef jerky manufacturer in the United States in 1994.
Because of its long-standing presence in the meat snack industry, it is available in nearly every drugstore, grocery store, superstore, and especially gas stations and, of course, AMAZON! It comes in various packs and sizes, including the snack bag at 0.75 ounces, the single-serving bag at 1.05 ounces, the standard resealable bag at 3.25 ounces, and the standard bag at 9 ounces.
You can choose from a variety of flavors – Original, Spicy Sweet, Teriyaki, and Peppered. The brand also carries another meat jerky such as BBQ Seasoned Pork Jerky, Teriyaki Turkey Jerky, and Applewood Smoked Bacon Jerky.
The brand prides itself on using premium steak in their jerky. They claim to produce an "all-natural" beef jerky and it is evident in the ingredients list which are pretty straight-forward and familiar ingredients a regular joe can understand.
According to the label on Oberto's pack of All Natural* Original Beef Jerky, the ingredients are hand-selected, minimally processed, and no artificial ingredients. Because of the use of more natural ingredients, the price of Oberto is higher compared to other beef jerky brands.
Watch: YOU GET OUT WHAT YOU PUT IN
Oberto continues to revolutionize their meat products. Aside from giving a new look to their beef jerky, it brings a new depth to the flavor by drying the beef with natural wood smoke. The new products are more tender than ever, and one can say healthier with less sugar. And of course, without any artificial ingredients.
| | |
| --- | --- |
| PROS | CONS |
| All-natural | Midrange price |
| No fat | Tough |
| Established brand | High sugar content |
| Variety of flavors | |
| Available in most stores | |
Our Verdict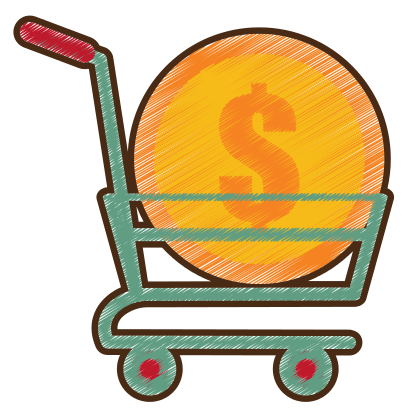 Price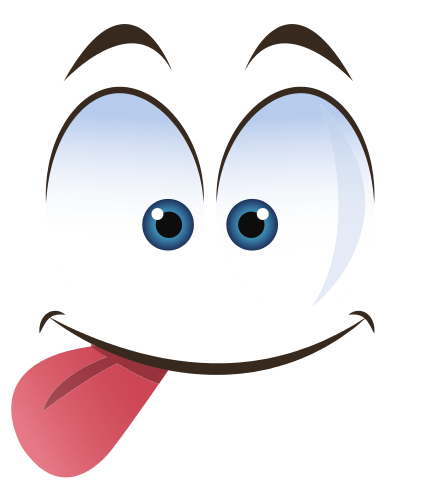 Flavor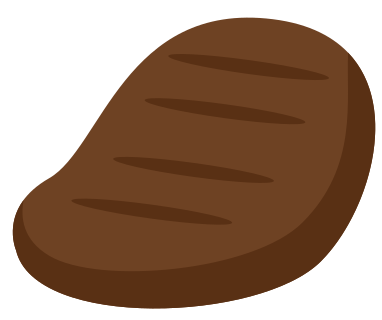 Texture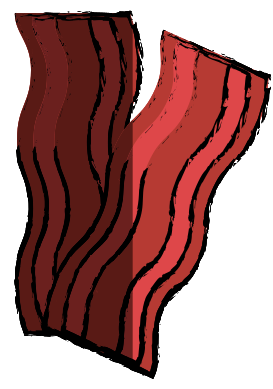 Variations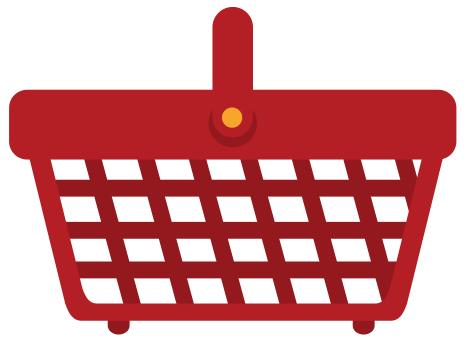 Availability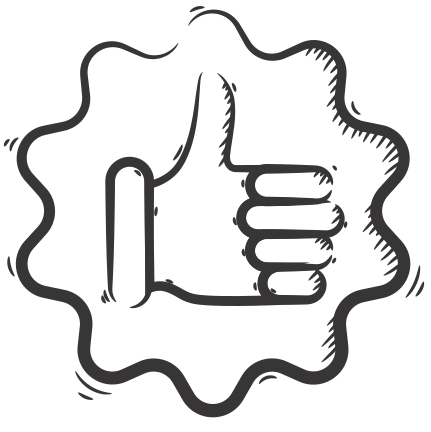 OVERALL (4.5/5)
---
Krave Sea Salt Original Gourmet Beef Cuts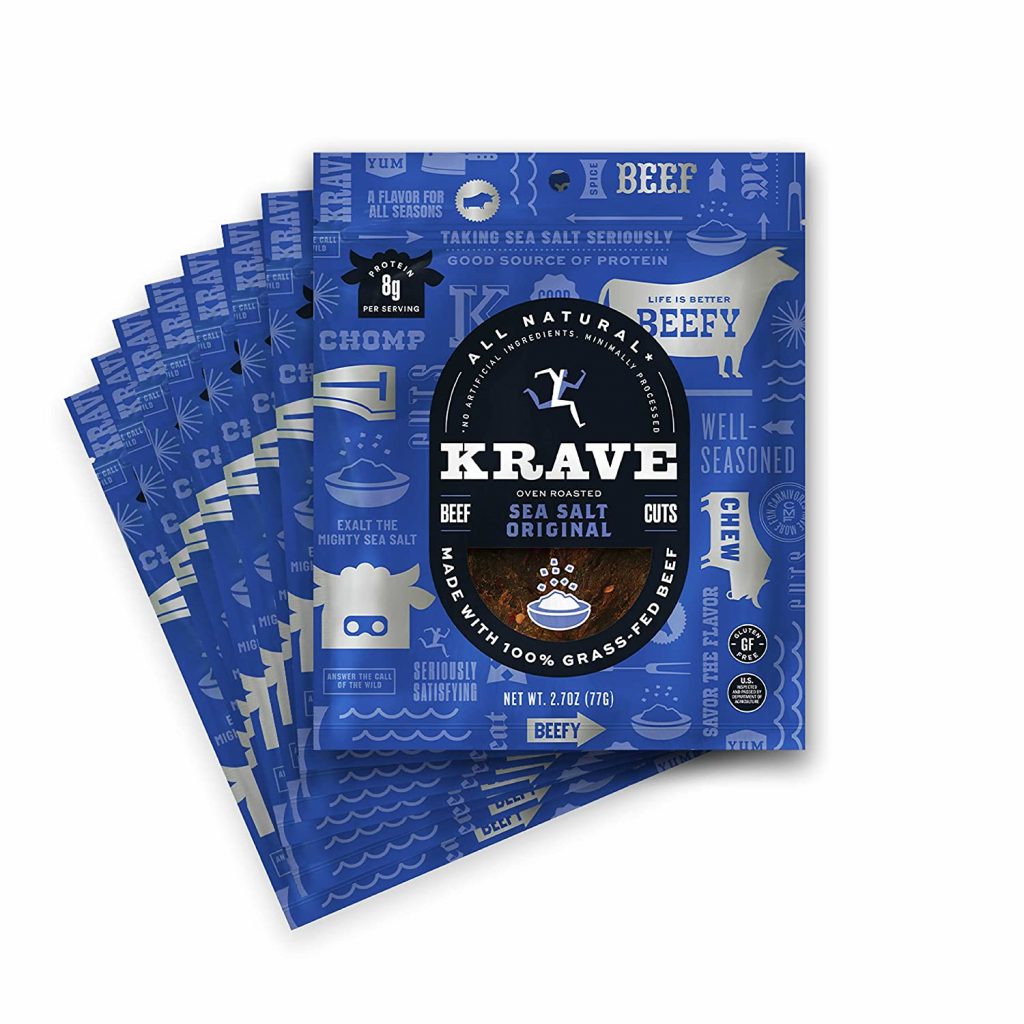 Krave is considered to be the brand responsible for changing the public image of jerky and revolutionized the industry altogether. The company elevated jerky into a respectable snack. What once was known to be an unhealthy, sodium-packed snack typically consumed by truckers on the road, has become an artisanal snack worthy of a gourmet status. What gives Krave beef jerky a different feel is the ling margination process. It makes the beef silky smooth, which is a more appealing texture.
Watch: Krave Jerky: Elevating Beef Jerky into a Craft
Krave was established in 2009 to produce culinary style meat and poultry snacks. Modern consumers take comfort in knowing that Krave uses gourmet cuts of meat and high-quality ingredients give their beef jerky its signature tender texture. Krave uses wide, steak-style cuts of meat which are hand-cut to preserve the delicate texture of the meat.
Unlike most beef jerky brands, Krave beef jerky is more on the tender side. It is a deviation from the traditional beef jerky characteristic of being tough and chewy. However, most consumers are surprisingly fond of the soft texture of the meat that tends to melt in your mouth.
The current market for snacks, millennials, in particular, would opt for minimally processed food products that are packed with natural ingredients but with the taste and trendy flavors that they love. Krave presents their beef jerky as better-for-you snacks which are gluten-free, low in fat, protein-rich, and has no artificial ingredients. Along with their hip, cool, and colorful packaging they have continued to catch the attention of the public.
Krave has limited its sizes to only two variants: 1-ounce bags and 2.7-ounce bags. It is on the more expensive side with prices ranging from $2 to $6 in proportion to their small packaging. Their trendy flavors include modern fusion flavors that cater to the taste of the more adventurous palate.
The roster of Krave beef jerky flavors includes Cracked Peppercorn, Sweet Chipotle, Garlic Chili Pepper, Chili Lime, Sea Salt Original, Lemon Garlic, Black Cherry Barbeque, Grilled Teriyaki, and Honey Habanero.
| | |
| --- | --- |
| PROS | CONS |
| All-natural | Expensive |
| No fat | Not chewy like traditional jerky |
| Unique fusion flavors | Availability is limited |
| High sugar content – too sweet | |
| No preservatives | |
| Attractive packaging | |
Our Verdict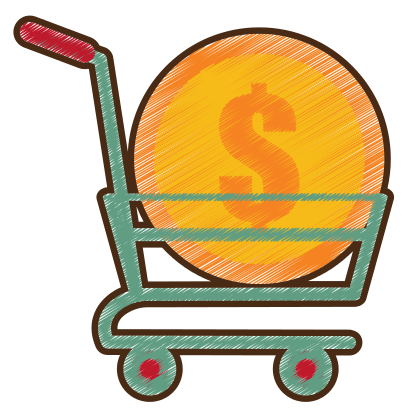 Price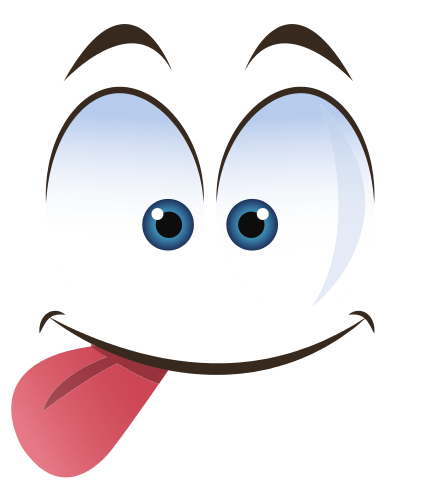 Flavor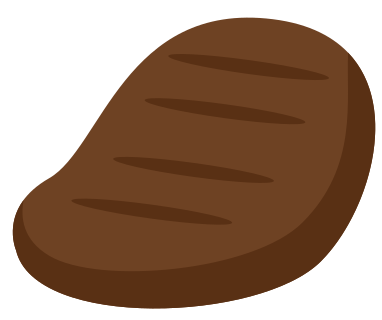 Texture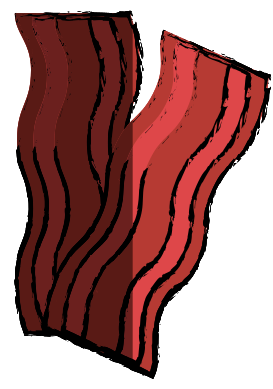 Variations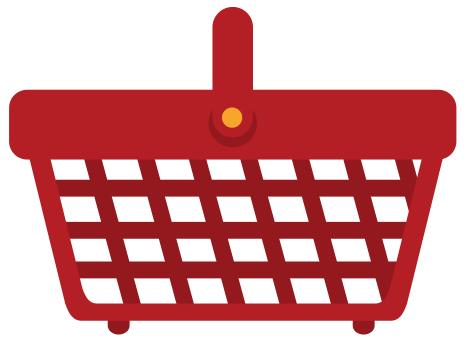 Availability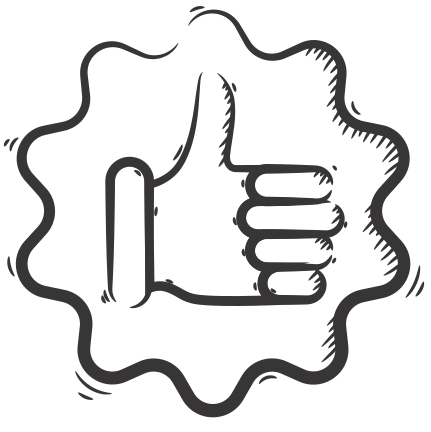 Overall
---
Country Archer Beef Jerky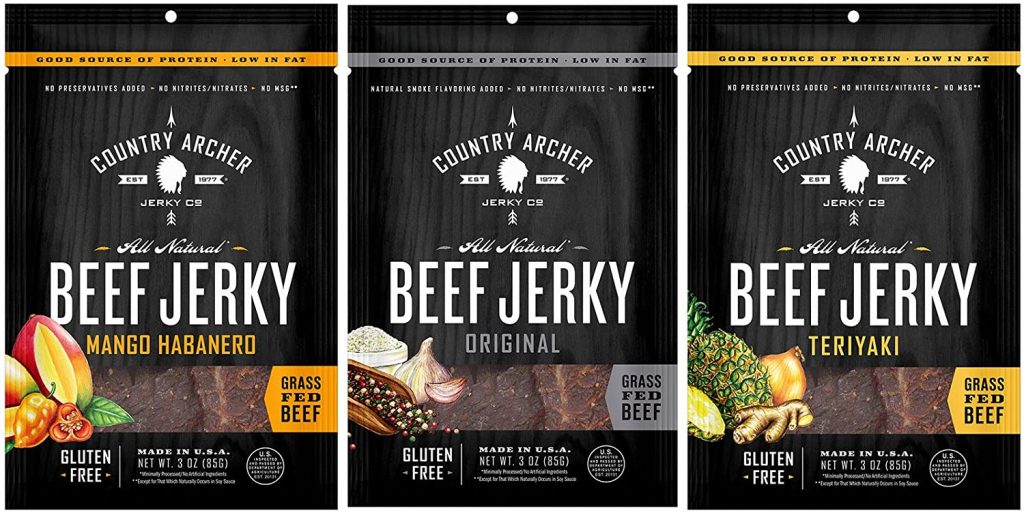 Watch: Country Archer Meat Snacks REVIEW: Quality Protein, Need More Taste
The origins of the Country Archer beef jerky was at a roadside stand along the Grand Canyon, a hidden gem waiting to be found. More than 40 years later, Country Archer has become the leader in clean-ingredient jerky and meat sticks.
A California-based company, the brand sticks to its roots, crafting each batch of beef jerky with lean cuts of grass-fed beef, and simple organic ingredients. The process continues with zero shortcuts with the marinating process and slow cooking the meat to achieve their signature tender and soft texture.
The slogan of Country Archer is "as gourmet as jerky gets" and true enough, the careful process of manufacturing the jerky manifests in the finished product. Most consumers describe Country Archer jerky as very different from the usual gas-station jerkies with having flavors that are "bold, complex, and out-of-the-ordinary".
Country Archer presents one of the simplest and comprehensible ingredients lists which is why this brand is preferred by most health-conscious consumers. Their beef jerky does not include any of the following red-flag components that are typically present in store-bought jerkies: Preservatives, MSG, Hormones, Nitrates/Nitrites, Gluten, and Antibiotics.
This comes as no surprise that Country Archer beef jerky is at the higher price range relative to its size. The smallest size is 1oz at $3, the regular 3oz bag is at $6, and the 1lb bag is at $20. Out of the bag, the jerky is not too dry compared to the standard store-bought jerky. True to its being gourmet, it is tender to the touch and has a melt-in-your-mouth texture which may not be favored by the hardcore beef jerky fans.
Flavors of Country Archer include Orignal, Teriyaki, Hatch Chile, Sriracha, Mango Habanero, Sweet Jalapeno, and Crushed Red Pepper. Because of the complex flavors of Country Archer beef jerky, they tend to be on the sweeter side.
| | |
| --- | --- |
| PROS | CONS |
| All-natural | Expensive |
| Uses 100% grass-fed beef | Soft unlike traditional jerky |
| Uses clean, natural ingredients | High sugar content |
| No preservatives, antibiotics | Limited availability |
| Unique flavors | |
Our Verdict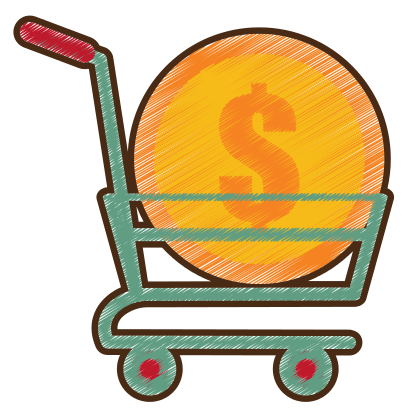 Price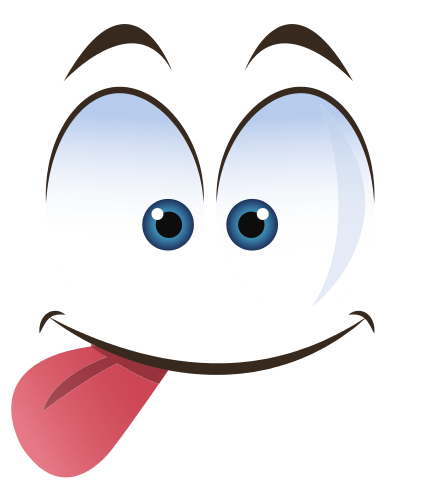 Flavor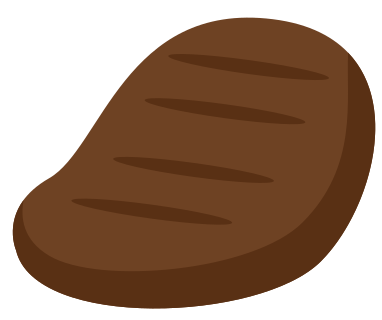 Texture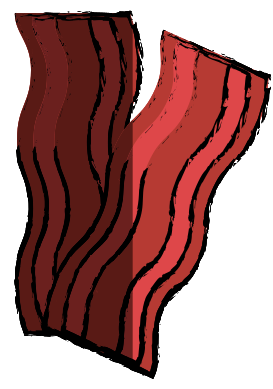 Variations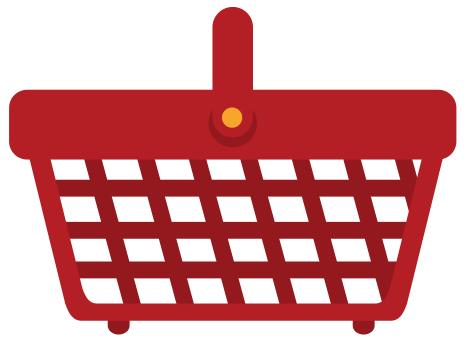 Availability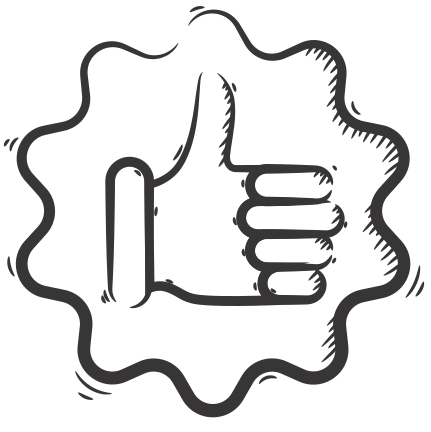 OVERALL (4/5)
---
Field Trip Original All Natural Beef Jerky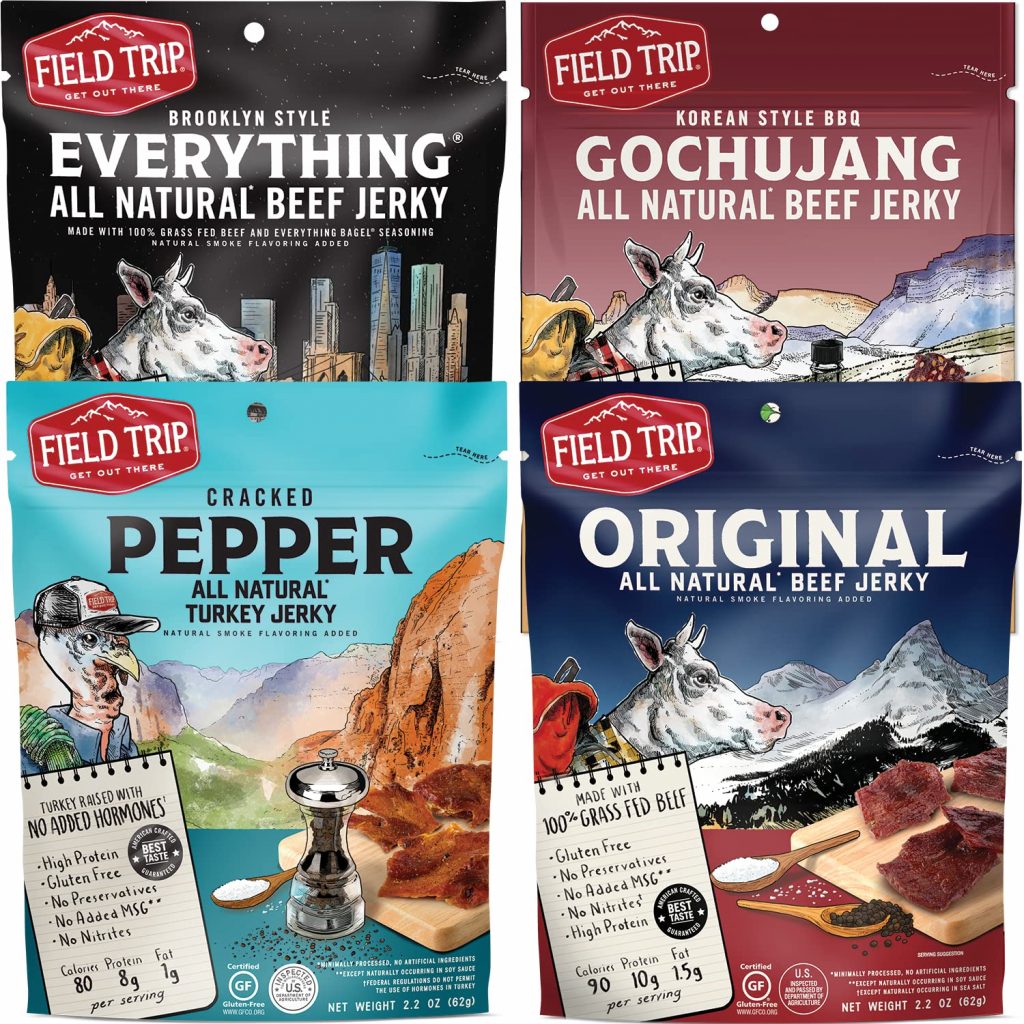 Field Trip beef jerky is the brainchild of three friends Tom, Matt, and Scott. Together, the "saw the need for healthier protein-rich snacks that didn't sacrifice quality and taste." The product is targeted towards the more adventurous niche. Field Trip jerky aims to be the top choice of those who are taking a road trip, hiking, or camping.
According to the package, Field Trip beef jerky is made with 100% grass-fed beef which is high in protein. Their products are also gluten-free, preservative-free, MSG-free, and nitrate-free. The meat is cut thinly into squares which are perfect bite-sized pieces. Field Trip beef jerky is the most expensive beef jerky in this comparative list.
The natural and premium ingredients, as well as the process of ensuring the best quality in terms of uniformity in the taste and texture, offsets the high price tag. It comes in 1oz, 2.2oz, and 12oz which ranges from $3.50 to $20. Consumers have also praised Field Trip for their unique designs on their packaging. These factors add to the attractiveness of the product towards consumers.
There were only flavors in the original lineup of Field Trip beef jerky. The owners believed that sticking to these flavors that have proven to be consumer favorites works well in the competitive market. These flavors were Original, Teriyaki, and Honey Spice.
It was in the later years when consumer demands and consumer purchasing habits have changed when they decided to switch things up flavor-wise. This is in keeping with commercial relevance and having an edge in the competitive market. Now they have Sweet and Spicy Barbeque, and Brooklyn Style Everything. In addition to these, they also ventured into producing turkey jerky, pork jerky, and chicken jerky.
It is worth mentioning that Field Trip now carries non-meat products. This is a way that the three friends welcome vegetarian and vegan consumers into the world of high protein snacks. Field Trip is a proud innovator of plant protein with its Chickpea Butter. It is not hummus. It tastes like peanut butter but does not contain any nuts. Enjoy ChickPete and get your protein fill with Field Trip.
| | |
| --- | --- |
| PROS | CONS |
| All-natural | Expensive |
| Uses 100% grass-fed beef | High sugar content |
| High percentage in calcium and Vitamin C | Limited availability |
Our Verdict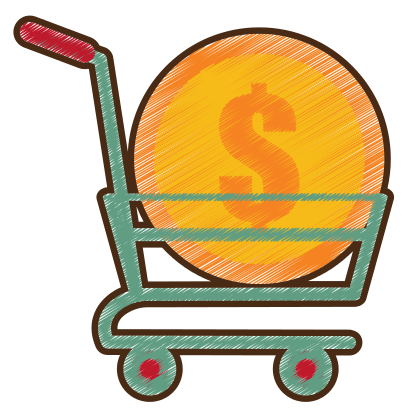 Price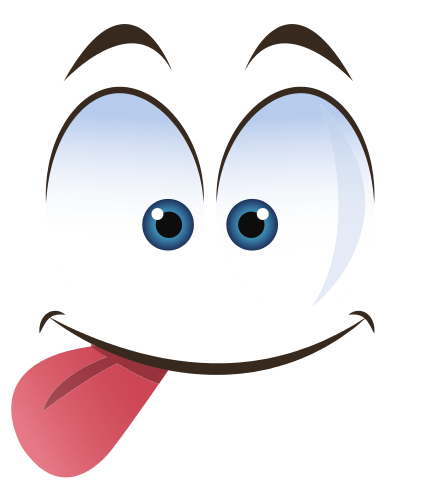 Flavor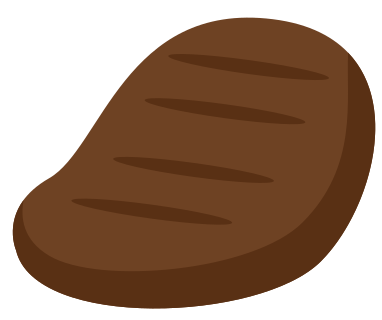 Texture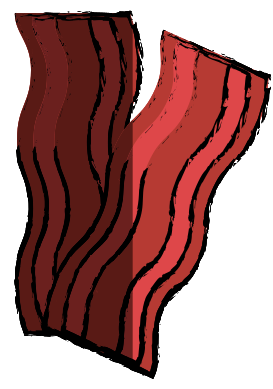 Variations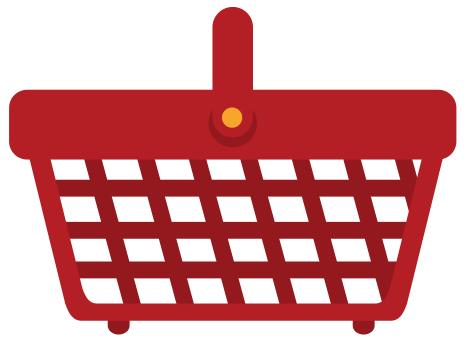 Availability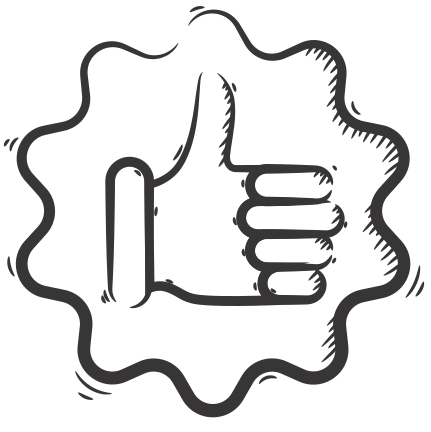 OVERALL (3.6/5)
Homemade Beef Jerky, Anyone?
Some beef jerky connoisseurs choose to make their own homemade beef jerky!
So, what IS the best meat for making a homemade beef jerky? There are many options that include bottom round, top round, flank and skirt steak! Low sodium soy sauce is almost in every traditional jerky recipe. Other ingredients include brown sugar, Worcestershire sauce, onion powder, black pepper, garlic powder and sometimes pineapple juice! Mix all of these ingredients in a large Ziploc bag it's evenly coated and let it marinate. Place the jerky on your oven racks and enjoy some homemade tender jerky!
Recipes can be found all over the Internet!