Coleman Sundome Tent
MOON LENCE Instant Pop Up Tent Family Camping Tent
Pacific Pass 2 Person Family Dome Tent
CORE 9 Person Instant Cabin Tent
BFULL Instant Pop Up Camping Tents
It's summertime! Are you thinking of spending your adventure outside for a night? A camping tent can make or break your nature trip.
Camping trips were once considered a luxury. However, in today's world, it has become a relevant activity for outdoor enthusiasts, families, and even friends. In America, 77 million households have at least one person who camps or is interested in camping. This activity dramatically rose in popularity, with 1.4 million families trying it out for the first time in 2018.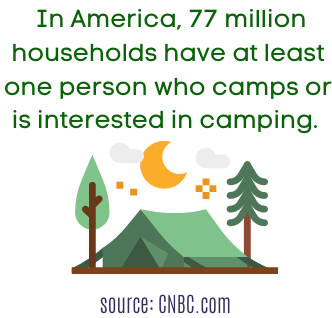 Here are some of the reasons why it remains a favorite activity among Americans:
It connects with nature. In a world of electronic devices and indoor activities, people of all ages can immerse again in the wild and appreciate the environment.
It teaches survival skills. Basic survival instincts are developed especially for young minds as they light their fire and find their water in the wild.
It promotes quality time. Getting trapped in nature without the digital world, friends and family can bond and socialize together.
It has physical benefits. Outdoors is rich in Vitamin D from sunshine, and hiking and walking are excellent forms of aerobic exercise.
It provides an escape. With the bustling city life, camping lets us pause for a minute, reflect and reset our minds brought by daily stress, especially from work and school.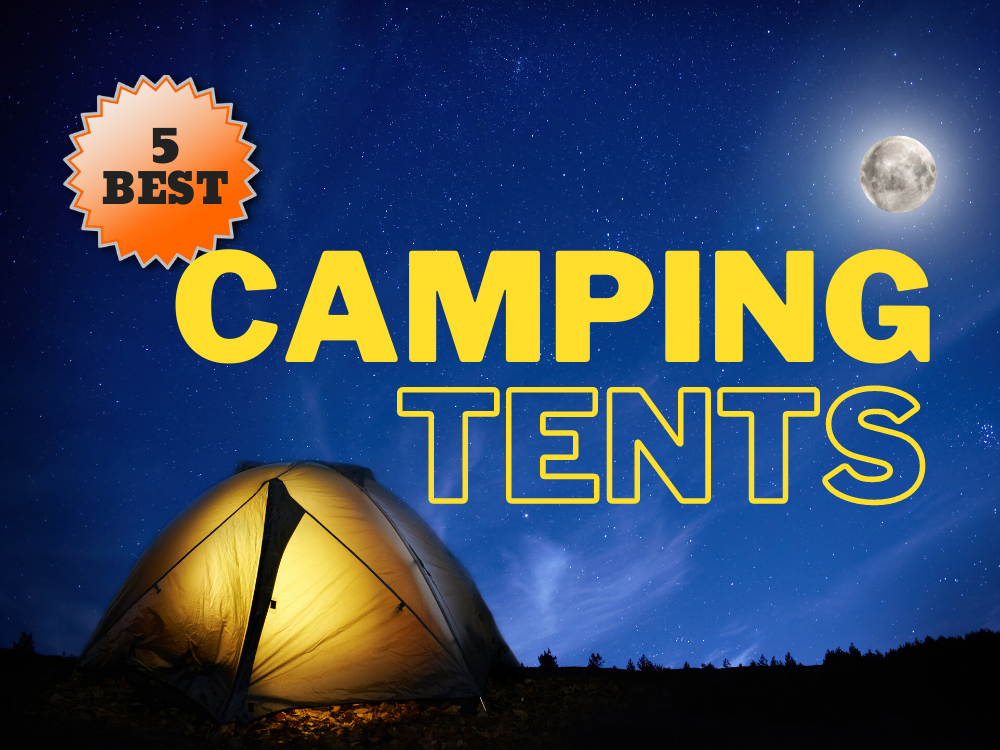 Choosing the right tent for future camping can be sort of an investment, so make a good one! Here, we've rounded up the five best tents for camping that are ready for your outdoor adventure:
1. Coleman Sundome Tent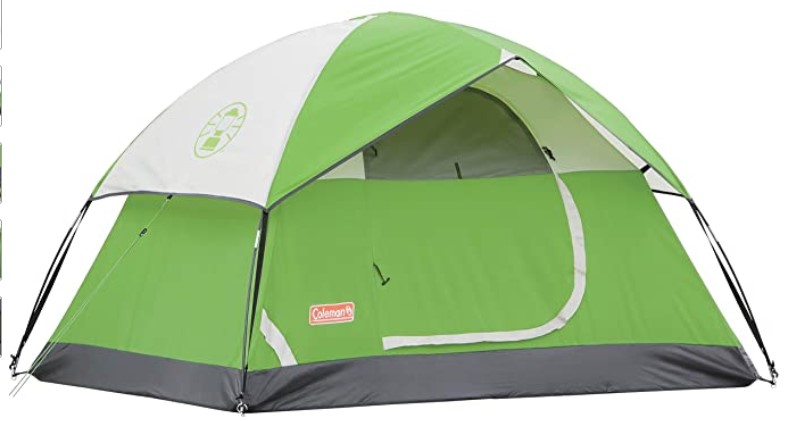 One of the world's respected brands in recreational and outdoor gears, Coleman offers the Sundome Tent of the perfect size for camping couples and families.
The Coleman Sundome Tent has a roomy interior. Its slightly rectangular shape consumes lesser space. The two large windows and a ground vent makes the area well-ventilated. There is also a screen window that can be unzipped right above the door for bug-free and clean air circulation. It is made of imported polyester taffeta 75 denier flysheet that is tear-resistant and waterproof.
Aside from the proper ventilation feature, the Coleman Sundome Tent also has a good interior design featuring efficient use of space. Sundome saves floor spaces with mesh storage wall pockets and lantern ring on the ceiling. The E-Port features make the user stay connected because it makes it easy to bring electrical power inside. Its Illuminative reflective guylines also keep the tent visible at night.
Users speak highly of Coleman tents for their well-designed technology. With its innovative WeatherTec System, Coleman resists moisture and the rain. The whole tent has inverted seams, and there are patented corner welds on the tub floor.
For more torrential downpours, the moisture-wicking door blind and an optional Polyguard rainfly are dependable features! The corner-wielded tub floor remains dry, and no moisture came inside the tent despite several inches of rain standing on the ground. Additionally, it can withstand strong winds of up to 35+ mph.
Available in 2-, 3-, 4- or 6-person capacities, the Coleman Sundome Tent has a one-year limited warranty. It is a favorite pick among campers who had encountered unstable weather conditions.
Our Verdict

You can't go wrong with a trusted name, such as Coleman, for your outdoor gear. Check out the Coleman Sundome Tent today!
---
2. MOON LENCE Instant Pop Up Tent Family Camping Tent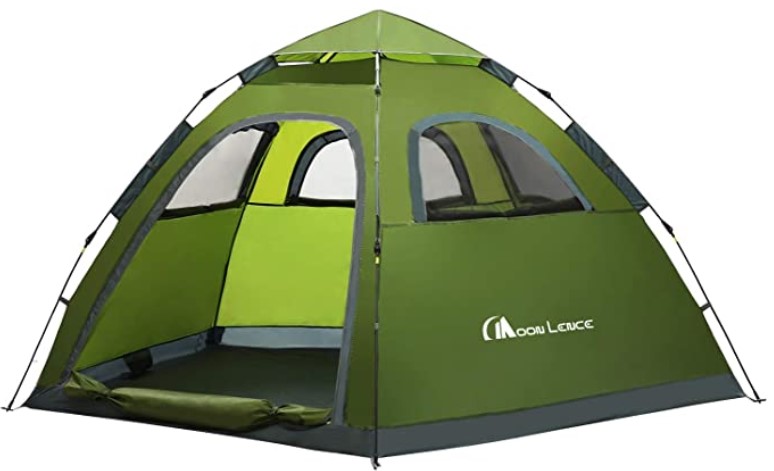 The Moon Lence Instant Pop Up Tent Family Camping Tent is one of the most user-friendly products out there. Outdoor enthusiasts who are changing camping places frequently prefer this tent.
Moon Lence is a beautiful patio tent that can fit up to five sleeping bags. It is also roomy enough for people to sit and stand. The camping tent comes with a carry bag perfect for light trips. It is easy to fold in a convenient and space-saving size, so you can take it with you anywhere!
The MOON LENCE Instant Pop Up Tent Family Camping Tent is equipped with lightweight Alloy pegs, fiberglass poles, and ropes for better stability and security. Aside from its UV resistant exterior, Moon Lence's main fabric is made of waterproof PU material. Its four large mesh windows and double zippered door provide excellent ventilation and resistance to unstable weather.
The flagship feature of Moon Lence is its easy-to-set-up method; even a single person can completely assemble it and it's ready for use in minutes! This type of freestanding tent is self-supporting with pre-assembled parts and pre-attached poles. As its name suggests, Moon Lence's pop-up mechanism works when you press down the top part making it "pop open," expanding the frame into shape. Securing the stakes usually takes less time compared to other tents.
The Moon Lence Instant Pop Up Tent Family Camping Tent comes with the basic components and with a lifetime warranty for a risk-free purchase.
Our Verdict

Are you a hiker? Do you like to move your campsite frequently? This may be the tent for you… Easy take down and set up!
---
3. Pacific Pass 2 Person Family Dome Tent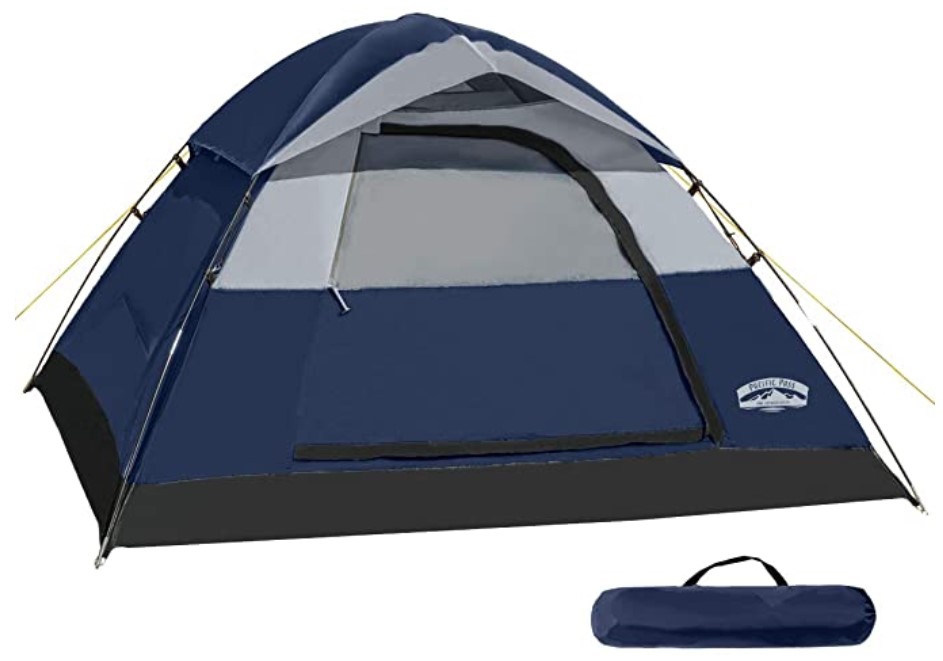 The most lightweight and portable tent on this list, the Pacific Pass 2 Person Family Dome Tent is a relatively new product in the tent market. It is suitable for outdoor activities such as hiking, camping, and even fishing.
Don't be fooled by its natural color and simplistic design; the Pacific Pass 2 Person Family Dome Tent is known for durable construction! The outdoor tent body is made up of sturdy polyester material for keeping campers dry. Pacific Pass also comes with fiberglass poles, sturdy hooks, and large mesh pockets. The mesh skylight is perfect for sleeping time to see the stars in the sky.
To prevent water from getting inside, this tent has a removable rain fly that extends over the door and window for rainy weather. The interiors have two mesh pockets for clearing of clutter and keeping everything organized. Additionally, there is a lantern hook and netted attic for ample storage and spacious sleeping space.
Pacific Pass is ultralight and weighs only 5.7 lbs when packaged! With its small size, it is very convenient to use and store. This tent also comes with a carrying bag for easy portability perfect for backpacking adventures. Once your trip is made, the flex poles and other components can be dismantled without exerting too much effort. They can be placed inside the carry bag for pack up and transport, and stored in the car without taking up excessive storage space.
On top of its cheap price point, this Pacific Pass tent impresses with a 30-day warranty.
Our Verdict

Wow! A skylight in your tent… for star gazing! Where was this when I was a kid!?!
---
4. CORE 9 Person Instant Cabin Tent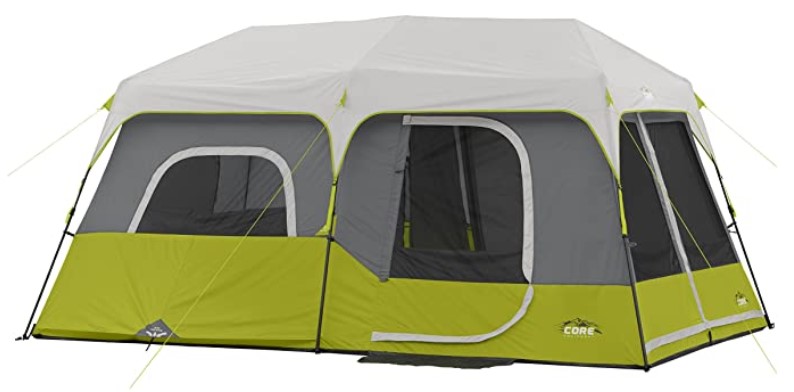 The CORE 9 Person Instant Cabin Tent is designed to accommodate a large group. For campers that prefer a durable shelter and want a comfortable outdoor adventure, this cabin tent best offers a luxurious experience! It is also recommended for different terrain types and can withstand unfavorable weather conditions.
The cabin tent was built to cater to around nine persons. The interior is spacious and can load two-queen sized air mattresses for ultimate comfort in the backcountry. With an ample headroom to move around and stand freely, Core 9 has a floor to ceiling height of six feet and six inches. Its entryways come with two large T-doors and windows, allowing plenty of fresh and clean air. The durable sealed zippers are intended for ultimate protection from external factors.
Additionally, the mesh roof enhances ventilation and reduces moisture build-up at night. To keep things organized, there are large wall compartments and storage pockets for stocking camping materials. Camping in a large group needs privacy, so CORE 9 creates up to three separate rooms. The detachable room dividers can also occupy an open living room space for the family to bond.
This freestanding tent can be set up in any terrain. You do not need to stake it on the ground because it already has self-supporting structures! For inclement weathers, its CORE H20 Block Technology is designed to handle heavy downpours with a removable rainfly. For setting up, it has pre-assembled frames and a very detailed guide to walk users through the assemble and disassemble process. While the price may be higher compared to other camping tents due to its capacity, it is reasonable enough to keep your outdoor experience a comfortable one.
Our Verdict

Pack them all in with this impressive 9-person capacity tent, OR… better yet, this is perfect for a small family spending a week in the mountains. The partitions provide bedroom privacy, as well as a "den" for everyone to hang out in!
---
5. BFULL Instant Pop Up Camping Tents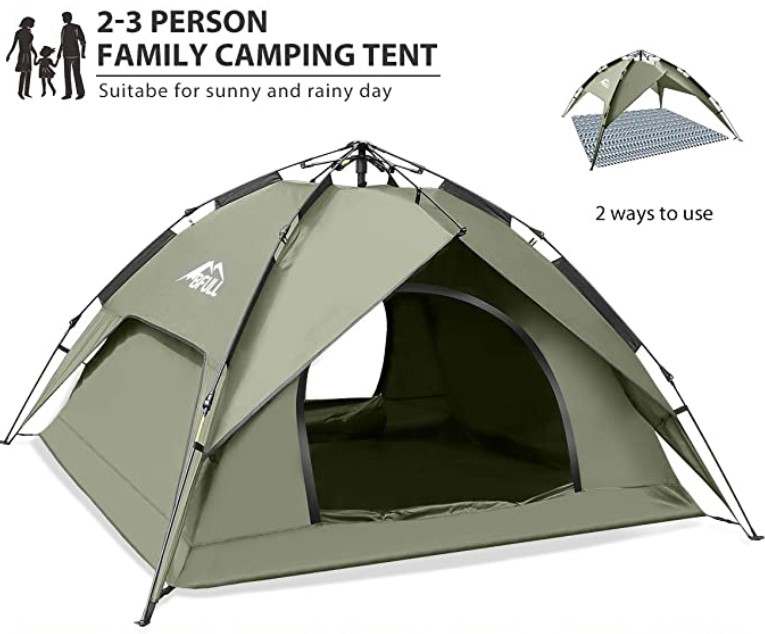 The BFULL Instant Pop Up Camping Tents are some of the fast set-up camping tents in the market. While there are many available Pop-up tents, this newest version of an instant dome has an innovative design most suitable for summer days.
The tent is an excellent choice for small groups and families that can accommodate three adults and fit four kids comfortably. The user-friendy interior also allows two large doors and mesh ceilings, allowing sweet breezes to circulate and a good view of the outside. The wind-stable tent comes with sturdy poles made in fiberglass. For bug-free and UV resistance, BFULL is made of breathable polyester sheet, double-layer construction, and no-seam mesh material. With a waterproof index of 5000MM, the product has high-quality water resistance and heat-sealed seams also. This means that drops from rain will not easily attach themselves to the fabric material, and the seams will prevent water leakage.
The best feature of BFULL is its upgraded hydraulic pump that comes with the package. Its revolutionary design enhances the pop-up tent where it can be assembled in one minute due to its spyder light construction and pre-attached poles on the tent. With this, it makes the product a very reliable and economical quick pitch tent in different camping activities. The quick set up function can be done with simple pressing and folding that even children can do it in a flash. Also, it is not a hassle to carry and transport after disassembling the tent by just lifting and closing. The tent has a free replacement or free refund option should there be any factory defects.
Our Verdict

The Automatic Hydraulic System on this one makes it a no-brainer! AND, don't forget, this one can be used as a canopy for shade or as a full 2-Adult & 1-Child tent!