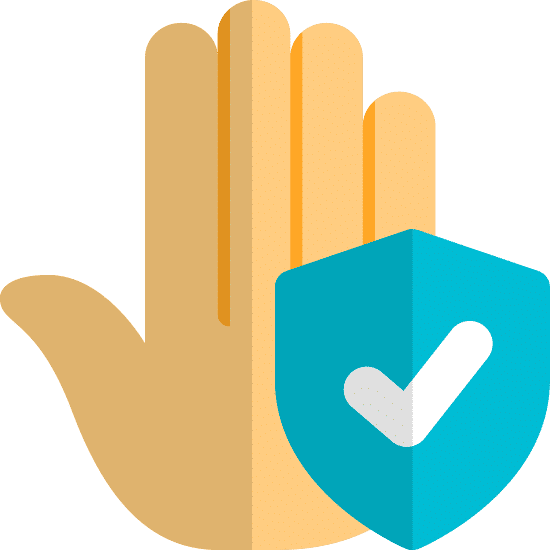 Mrs. Meyers
Dr. J's Advanced Formula
Clark's Botanicals
By Humankind
Bare Republic
Germ-X
CHI Organic Gardens
Saie
Megababe
Vegamour
Green Goo
Repechage
Pipette
Primally Pure
Dr. Brite
Olika
Sol Organics
Twinkle Apothecary
Zatik
As far as personal hygiene is concerned, hand washing is the best way to go. This method is scientifically proven to kills germs and bacteria. If you're out of soap and water, a hand sanitizer makes an excellent alternative.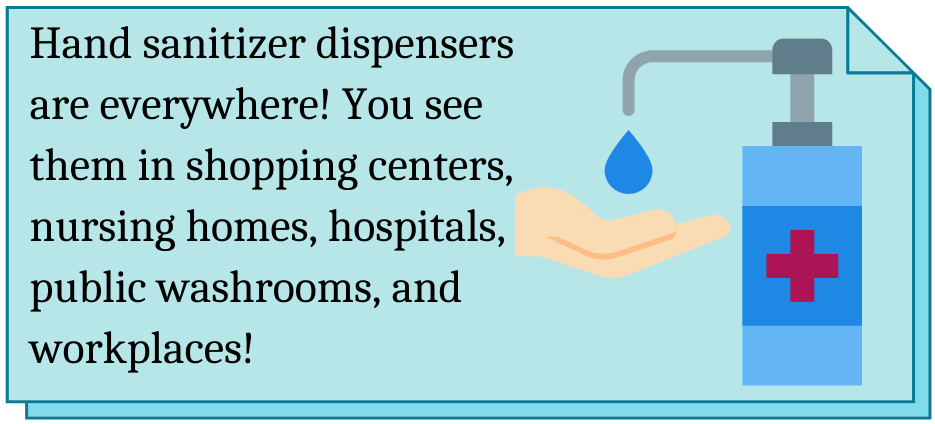 Hand sanitizers have grown in popularity in recent years. Part of the charm must be the idea of convenience associated with these products. You can take one with you and use it on the go. Hand sanitizer dispensers are also everywhere, from the entrances to nursing homes and hospitals to public washrooms and workplaces.
What seemed like a passing trend has now become a great need for many people, especially in light of the current pandemic. Observing excellent and proper hygiene can spell the difference between life and death!
What's A Hand Sanitizer?
Hand sanitizers are typically applied to your hands to remove common pathogens that may cause diseases. They are also called hand antiseptics and hand rubs. Hand sanitizers often act as a replacement for soap and water when they are not available.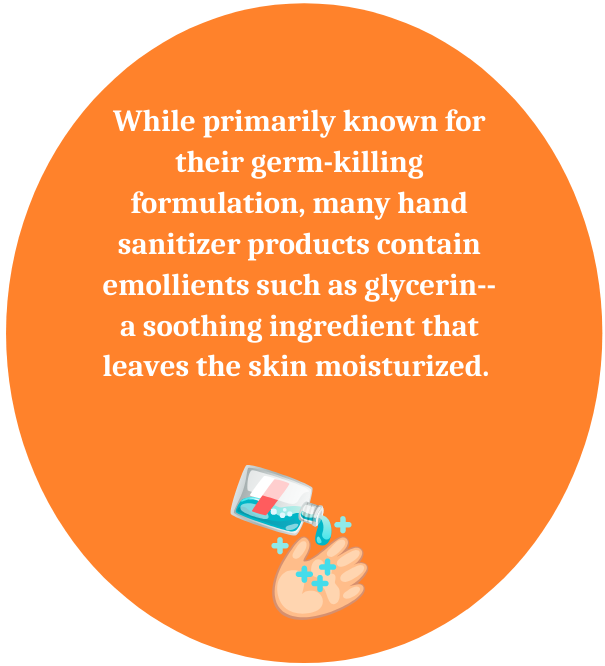 There are two classifications of hand sanitizers: alcohol-based and alcohol-free. Alcohol-based sanitizers are typically composed of 60 and 95 percent alcohol, in the form of ethanol, isopropanol, or n-propanol. Alcohol-free sanitizers, on the other hand, make use of disinfectants like benzalkonium chloride (BAC) or antimicrobial agents such as triclosan.
It is also good to note how most hand sanitizer products contain emollients such as glycerin. This serves as a soothing ingredient that can leave the skin moisturized. Other possible ingredients include thickening agents and fragrance.
How to Use Hand Sanitizers
Just like any other product, hand sanitizers must be appropriately used to reap its maximum benefits. Consider the following steps:
First, make sure that any visible organic matter is removed from your hands, from dirt and dust to food stains.
You can then apply a squish of the hand sanitizer to the palm of your hand.
Rub your hands together. Your hands and fingers—including your thumbs, fingertips, and the spaces between your fingers—must be clean.
Benefits of Hand Sanitizers
Alcohol-based sanitizers are known to kill a broad spectrum of bacteria and viruses. It is a practical alternative if you can't find soap and running water in the vicinity. Its benefits include:
It requires less time compared to hand washing.
Hand sanitizers are very convenient, portable, and easy to use.
It can act quickly in killing microorganisms.
It can reduce bacteria counts on your hands.
It can be less irritating to your skin, primarily if you use those with emollients ingredients.
Now that hand sanitizers become a cultural habit, with schools and even government agencies advocating for their use as part of good hygiene, it can be challenging to find the best products that can provide the best results.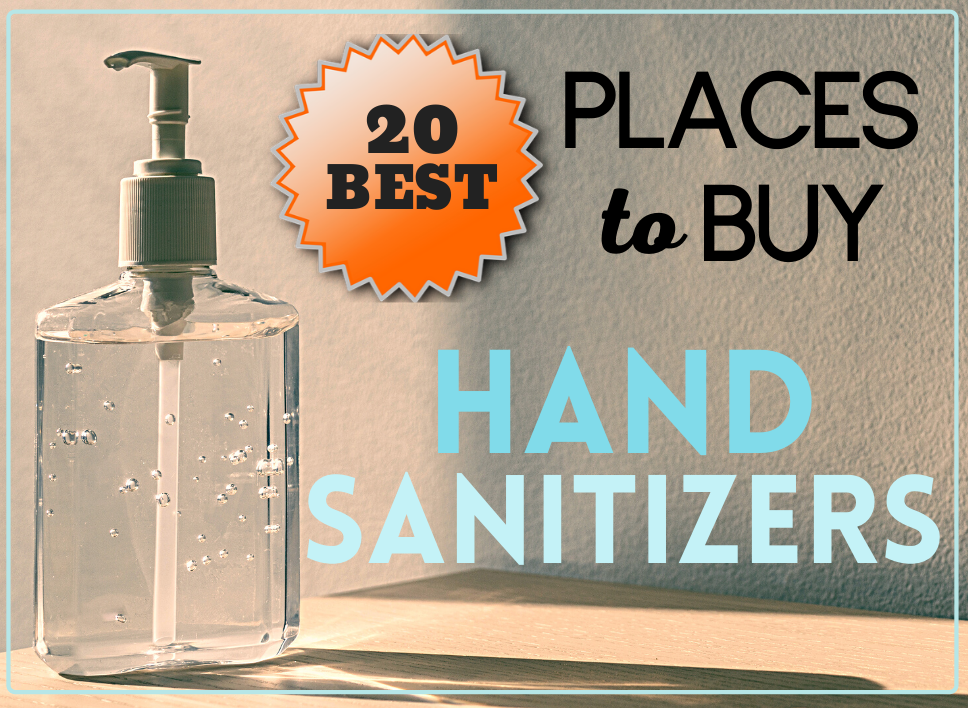 If you are one of those looking for good hand sanitizers for everyday use, then this list gathers 20 products that can provide for your unique needs.
1. Mrs. Meyers

Choosing a hand sanitizer requires careful thought. If you are one to care about the ingredients in a product and how they are made, then this hand sanitizer called Mrs. Myers is a great choice.
Formulated to eliminate 99.9% of bacteria, this product is packed in a light and compact container that allows you to bring it anywhere you go. Its ingredients are thoroughly picked. The cruelty-free formula is plant-derived and includes essential oils that are friendly to your skin. Even better, this hand sanitizer is cruelty-free and not tested on animals, a good quality that vegans and animal- advocates will appreciate.
Mrs. Meyers' hand sanitizer is not only effective in getting rid of bacteria; it also leaves your skin soft and smooth with its gentle formula.
Our Verdict

Available in two scents, Basil and Lavender, you will love how delightful they smell while keeping your hands clean.
---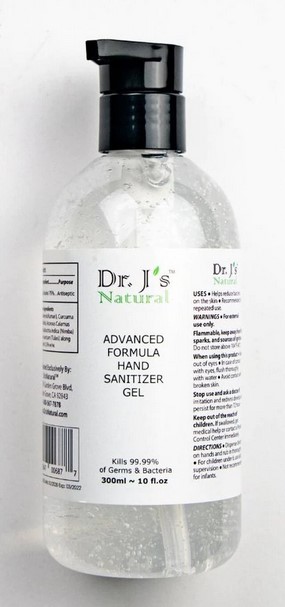 These days, it is imperative to be vigilant about the things you touch to avoid getting sick. Dr. J's Advanced Formula can help you protect yourself from common illnesses like colds and flu by keeping your hands clean of germs, bacteria, and dust. This natural hand sanitizer is made from refreshing Aloe Vera, a wonder plant known for its medicinal properties and skin benefits.
Available in three different sizes, 120ml, 300ml, and 500ml, this product can kill 99.9% of common germs, viruses, and bacteria in 15 seconds or less. It contains 75% Isopropyl alcohol, making it an excellent replacement for handwashing with soap and water. What makes this product one of its kind is its gentle formula. It is formulated with moisturizers and skin conditioners, leaving your hands soft with every use. The product does away with fragrance and dye, too, contributing less dryness to your skin even if used frequently.
You can worry less about germs and bacteria while keeping your hands clean and soft. Plus, it smells fresh, which is a bonus.
Our Verdict

Try out Dr. J's Advanced Formula hand sanitizer today! And it contains Aloe Vera – great for your skin!
---
3. Clark's Botanicals

No access to soap and water? No problem! While they cannot entirely replace hand washing, hand sanitizers are a reliable substitute for soap and water. This particular hand sanitizer fits the bill, leaving your skin clean and soft.
With Clark's Botanicals, you will find a reliable hand sanitizer that can kill 99.9% of germs, reducing bacteria and viruses on your skin. It contains 71% Ethyl alcohol, which makes it effective at what it does. What makes it amazing is that it is made with friendly ingredients that can keep your hands clean without over-drying them. It is evidenced by the absence of parabens, phthalates, artificial colors, and plastic beads. It has less than one percent synthetic fragrance too.
The company now entirely focuses on the production of hand sanitizers because of the skyrocketing demand for the product.
Our Verdict

Clark's Botanicals is cruelty-free and a certified vegan product.
---
4. By Humankind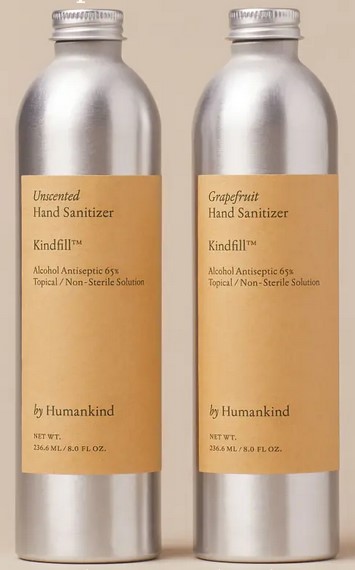 Designed to combat germs and bacteria, this hand sanitizer from By Humankind is a gel formula containing 65% alcohol, meeting the CDC recommendation.
While it is alcohol-based, it does not leave your skin overly dry because of its moisturizing ingredient, hydraulic acid. This is a sugar found naturally in your skin, known for holding water and helping to keep your skin hydrated. It also contains essential oils and witch hazel. So, it does not only fight germs but also ensures that your hand is damage-free even with frequent use.
The product comes in large aluminum bottles. It is perfect for refilling up to 4 travel-sized plastic sanitizer bottles, which is quite handy as you will have enough supply for sanitizers that you can keep at your home, at work, or even in your car.
This hand sanitizer is available in three scents: eucalyptus, grapefruit, and unscented. You can also be assured that they are vegan-friendly, gluten-free, and ethically made, allowing you to use them with a peaceful conscience.
For every sanitizer sold, the company donates $1 to the Robin Hood Relief Fund, which provides emergency support to the people in the NYC area.
Our Verdict

Buy the By Humankind gel hand sanitizer and give to a great cause as well… It's a win-win for everybody!
---

Another hand sanitizer that draws from natural ingredients, Bare Republic is perfect for all skin types. Its plant-based formula contains 60% alcohol that can effectively kill 99.9% of many common germs.
It comes in a handy, lightweight spray bottle that makes it easier to use. Aside from the alcohol, this hand sanitizer also makes use of a soothing blend of Aloe, glycerin, calendula extract, and chamomile extract, all of which keeps skin feeling clean and fresh. What most love about this product is that it does not have an irritating alcohol smell. Even so, it provides excellent protection to keep bacteria away.
You just need to spray an adequate amount into your hands and rub them together until dry. No need to rinse, which makes it time-saving and convenient to use even if you are on the go.
Just like many eco-friendly products, this hand sanitizer is not tested on animals, paraben-free, and fragrance-free. It sells for $5.99.
Our Verdict

Learn more about Bare Republic's awesome products! Keep the bacteria away!
---
6. Germ-X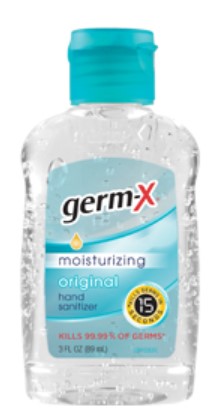 A company that specializes in sanitizing products, Germ-X has a range of hand sanitizers that can help you fight germs in as little as 15 seconds. In the absence of soap and water, these hand sanitizers can be an effective alternative.
With plenty of germ-fighting power, their hand sanitizers can kill 99.9% of harmful germs and bacteria. The formula contains 60% ethyl alcohol to help you keep your hands clean. Its ingredients also include vitamin E, which is moisturizing in nature, leaving your skin soft despite the alcohol content. The hand sanitizer comes in two types, the Aloe Vera-based formula, and the original formula.
They come in different easy-to-dispense bottles of varied sizes. Some are compact and easy to pack, making it ideal for your on-the-go activities. Others are in convenient pump bottles for easy dispensing, perfect for your work station or at-home use.
Our Verdict

With many convenient sizes to choose from, Germ-X comes in two choices; With Aloe Vera or without!
---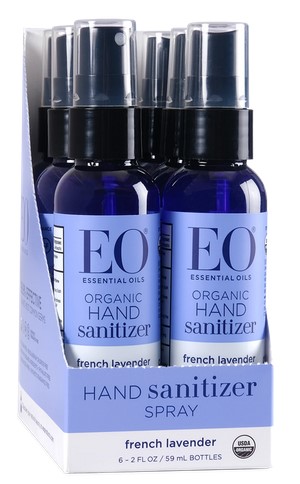 Hand sanitizers do not always come in the irresistible aroma. They often give off a harsh alcohol smell. But not EO Organic Hand Sanitizer. This product comes in many types and sizes, all in a soothing lavender scent.
This product's 62% alcohol content and is derived from non-GMO sugar cane. It eliminates 99.9% germs and bacteria and leaves your hands refreshed and clean. It is packed with vegetable glycerin and jojoba seed oil to keep your hands feeling soft and nourished. They are easy to use too. You can just spray an ample amount into your hands and let your skin absorb them fully.
Since it contains lavender pure essential oil, it has a relaxing and soothing effect. The aromatherapy effect of lavender can make you pause, take a deep breath, and exhale. It has the power to calm your senses. The lavender content, which is part floral and part herbaceous, adds a touch of peace and balance.
Another hand sanitizer variation contains sweet orange. It is like having a bowl of fresh citrus peels around. The irresistible scent can add a touch of joy and calm.
Committed to minimizing their environmental impact, EO sources their ingredients from on-site distilleries where the oil is also processed in the same land they grew on. This way, the quality of the ingredients is never compromised. The company is also one of the Certified B Corporations worldwide, demonstrating its commitment to operations, transparency, and employee satisfaction.
Our Verdict

Tired of the strong alcohol smell when using other hand sanitizers? Check out this brand for pleasant lavender and orange scents!
---
8. CHI Organic Gardens

Want the soothing properties of Aloe in your hand sanitizer? CHI Organic Gardens is 92% natural, moisturizing hand sanitizer that keeps your hand clean, soft, and moisturized, all the while killing 99.99% of germs.
The product contains 77% Ethyl alcohol, which makes it effective in fighting bacteria. It is also packed with the pure goodness of Aloe Vera, a plant packed with essential nutrients, vitamins, minerals, and amino acids. Also, it has glycerin to soothe and seal in moisture, which plays a critical role in improving skin condition and bringing back moisture to dry skin.
The high alcohol content might not make it as fragrant as other hand sanitizer products, but the smell is still pleasant. Plus, it comes in classy-looking green bottles, too, making it perfect for bringing and using it on-the-go.
Our Verdict

Restore your dry hands back to health with the CHI Organic Gardens hand sanitizer!
---
9. Saie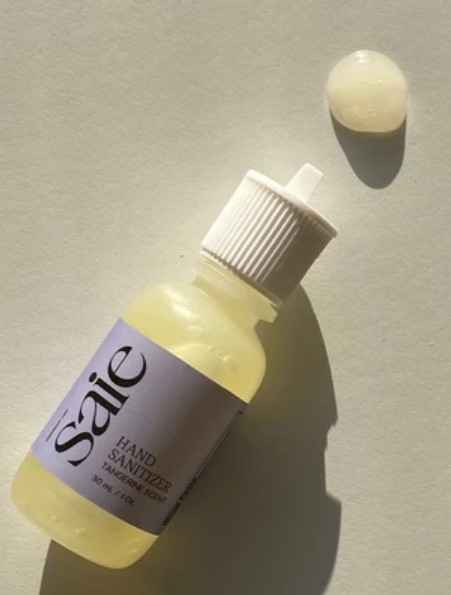 Amidst the shortage of hand sanitizers, Saie made it their mission to manufacture the product in collaboration with local distilleries. Their formula includes glycerin, Isopropyl alcohol, Vitamin E, and Mandarin oil, among many others.
They take pride in producing hand sanitizers with alcohol and nourishing ingredients that help you keep the germs away, leaving your hands clean, refreshed, and moisturized. They added a lovely tangerine oil to give the product a light citrus scent. The latter is such a nice touch, acting as a mood and energy booster. While it can kill 99.9% germs, it does not leave your skin dry and irritated.
The hand sanitizers are available for free with any orders of Saie's beauty and skincare products until supplies last.
Our Verdict

With an orange scent, the Saie hand sanitizer is sure to please!
---
10. Megababe
Not all hand sanitizers are made the same. Megababe proves it with their Squeaky Clean Hand Sanitizer. FDA-approved, this product is known to kill 99.9% of germs with its 60% alcohol content.
It is clean in more ways than one too. The vegan formula makes use of plant-based alcohol and nourishing botanicals that do not only clean and refresh your hand but also leave it soft and smooth. With the Marula oil, sweet almond oil, and Aloe, you can be assured that your skin can lock in moisture, keeping your hands hydrated even with repeated use. Its sweet fragrant scent is all thanks to orange and bergamot oil, producing the perfect citrus-y and soothing smell.
The hand sanitizer comes in a compact, portable bottle that's perfectly easy to stash in your desk, purse, or car. You can always keep your hands clean and safe wherever you go. It is also available in a big, pump bottle that doubles as a refill; a practical choice for those who live in big households.
Our Verdict

For those interested in a vegan option… This one's for you!
---
11. Vegamour

Both vegans and non-vegans alike will love the all-organic Vegamour Hand Sanitizer Spray. This organic hand sanitizer is strong enough to keep your hands clean with its 75% isopropyl alcohol solution that kills 99.9% of bacteria and germs. Yet, it is still gentle enough to take care of your skin even with frequent use, thanks to the added marula oil and aloe vera. The natural ingredients work together to provide effective antimicrobial, anti-bacterial, and anti-fungal protection with every spritz. Customers can choose from a soothing natural lavender scent or a refreshing citrus lavender one.
The product has been developed with care; it is guaranteed to be cruelty-free and completely vegan. The fast-absorbing formula also makes it easy to use, and its moisturizing and softening properties eliminates worries of drying out your hands at the expense of keeping them clean.
The Vegamour Hand Sanitizer Spray comes in a 2oz bottle priced at $8 and a larger 6oz bottle at $16. Every purchase of the Vegamour Hand Sanitizer Spray also allows you to support less fortunate members of the community, as 20% of the proceeds of every bottle bought will be donated by Vegamour to the LA Food Bank.
Our Verdict

This one checks all the boxes: Its organic, smells nice, moisturizing and when you buy from Vegamour, you are helping the LA Food Bank!
---
12. Green Goo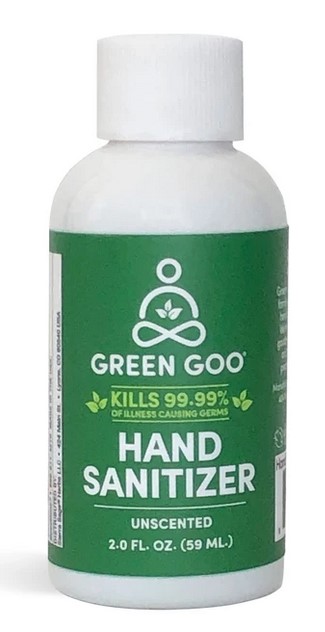 One of the more wallet-friendly options on our list is the creatively-named Green Goo Hand Sanitizer. For only $3.50 for a 2oz bottle, that's an excellent price for a product in such high demand right now. If you're highly sensitive to scented products (which make up the majority of the hand sanitizer market), this unscented product is ideal.
The Green Goo Hand Sanitizer fully complies with standards set by the World Health Organization and the FDA; its 63.5% ethyl alcohol formulation kills 99% of germs that can cause illnesses. Nevertheless, Green Goo's plant-based formula remains gentle enough not to dry out your hands. The small twist-top bottle is convenient for carrying around even in smaller bags, and you can also keep it in locations with limited access to soap and water where quick sanitizing may be needed, such as in your car or the living room.
Pocket-size 1oz Hand Sanitizers in packs of ten are also available. There is currently no implemented limit on the number of bottles purchased per customer, so you can buy and stock up on this product as needed.
Our Verdict

A great UNSCENTED option!!! Buy some Green Goo hand sanitizer for your family today!
---
13. Repechage

This antiseptic spray of hand sanitizer from American brand Repechage boasts a 75% isopropyl alcohol solution that is FDA-approved and provides reliable clean-up wherever you might be. It is also formulated with glycerin, to ensure that skin is nourished even when sanitizing, and hydrogen peroxide, to boost the sanitizer's capability to destroy bacteria.
Each spray bottle of Repechage Hand Sanitizer contains 2oz or 59ml of product, at a reasonable price of $4.95, and is proudly made in the United States. This mildly scented sanitizer is guaranteed to be antiseptic and formulated free from parabens. Repechage's ingredients work together to provide anti-bacterial and antimicrobial benefits and reduce the presence of bacteria where it's used on your skin.
The New Jersey-based company was founded in 1980 by esthetician Lydia Sarfati. It was named after the French word repechage, which means a second chance. Repechage is on a mission to provide clients with another chance to restore their youthful, healthy skin. The brand specializes in harnessing the benefits of seaweed, along with other natural ingredients, for a wide variety of health and beauty solutions. Their online shop also facilitates free returns for customers who are unsatisfied with their products in any way.
Our Verdict

Created by an esthetician, rest assured your skincare treatment is important to Repechage! Check them out!
---
14. Pipette

Those who prefer using a gel type hand sanitizer should check out the Pipette Hand Sanitizer, which promises to clean, soften, and purify at the same time. The product is available in 8oz and 32oz sizes.
This vegan hand sanitizing gel is made from plant-derived 65% USP ethyl alcohol, and it is also formulated with squalene made purely from sugarcane and glycerin, which is also entirely derived from plants. The quick-drying ethyl alcohol used in this sanitizer goes beyond the minimum required alcohol percentage recommended by the Centers for Disease Control and Prevention (CDC), ensuring that 99.99% of bacteria and germs are eliminated. The squalene and glycerin work to restore and maintain moisture on your skin, to balance out the somewhat drying effects of alcohol. Manufacturer Pipette is also planning to release smaller, more portable 2oz bottles.
One 8oz bottle can provide up to 80 individual applications and is fragrance-free, which is good news for those with sensitive skin or those who would rather avoid synthetic scents.
Our Verdict

Fragrance-free, check out the Pipette Hand Sanitizer on their website!
---
15. Primally Pure

This unique product from Primally Pure is not your ordinary hand sanitizer – it offers more than just simple clean-up! The original Immune Boosting Hand Sanitizer is made from all organic ingredients that sanitize the skin and moisturizes it. When applied to your lymph nodes, this product helps boost your immune system.
To sanitize effectively, Primally Pure uses 63% grape alcohol, which is also an excellent preservative. Meanwhile, six organic essential oils – namely lavender, lemon eucalyptus, palmarosa, tea tree, oregano, and thyme – come together to provide an immune system boost. Aloe vera and vegetable-derived glycerin are also present to keep your hands nourished with every use.
Customer feedback requesting for a mildly scented version has also led Primally Pure to develop a Regular variant ($10), which has a gentler scent and uses a smaller group of essential oils (lavender, rosemary, and peppermint). Buying from Primally Pure also allows you to help out those in need, as proceeds from all their hand sanitizer sales (when needed) will go to the Center for Disaster Philanthropy and Feeding America.
Our Verdict

A hand sanitizer & an immune system booster? YES, please!
---
16. Dr. Brite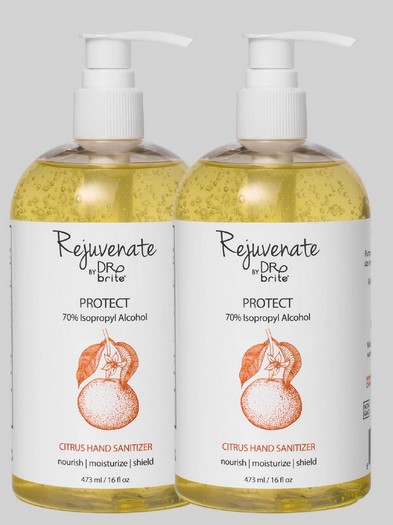 Whether you have a big family or you just feel more secure having a bigger bottle of hand sanitizer ready at home any time, Dr. Brite PROTECT Hand Sanitizer is a great choice. The product comes in varying sizes and packages: those looking for something handy to pop into their bags can opt for the Travel Pack composed of five 3.4oz bottles. Meanwhile, the 16oz bottles can be bought individually or in sets of two (Standard Pack) or four (Value Pack). There's also a Family Pack made up of eight 16oz bottles and eight 3.4oz bottles, so you can make sure each family member stays protected both at home and outside. An eco-friendly 1-gallon refill is also available.
This sanitizer comes in a citrus scent and contains 70% isopropyl alcohol, as well as a blend of essential oils, aloe vera, and hydrogen peroxide for added protection and skin nourishment.
Manufacturer Dr. Brite also aims to give back to the community during these trying times – for each purchase of a PROTECT Hand Sanitizer bottle, Dr. Brite also donates one to frontline or essential worker.
Our Verdict

This vegan and cruelty-free product is EWG verified and is also free from gluten. It comes in a wide variety of size choices… Stock up!
---
17. Olika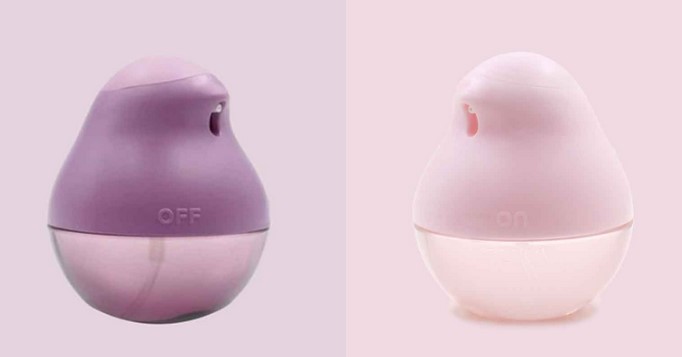 Brand Olika has been featured on multiple magazines and other media, and its innovative products rightfully deserve the hype. The Minnie Hydrating Hand Sanitizer, which they fondly refer to as a bird because of the bottle's shape, is made with 65% ethyl alcohol and is guaranteed to be cruelty-free and gluten-free.
The compact TSA-friendly 30ml bottle with an ON-OFF lock allows easy portability at airports, and it currently comes in two limited edition colors: Pink Marshmallow and Purple Thistle. Olika promises powerful germ-killing action with 65% ethyl alcohol, as well as improved skin hydration for up to 24 hours despite being a sanitizing product through its aloe vera leaf juice and vegetable glycerin ingredients. It's good to know that Olika does not use any harsh chemicals, dyes, or artificial chemicals and fragrances in its products. The Minnie Hydrating Hand Sanitizer's formula is also certified to be vegan and gluten-free.
Value for money is also one of its biggest selling points. A pack of three Minnies sells for $17.99 (roughly $5.99 per bottle), and one bottle can give the user up to 250 applications – much better longevity compared to gel-based sanitizers. Packs of six and twelve Minnies are also available.
Our Verdict

The Minnie Hydrating Hand Sanitizer comes in such a cute "bird-shaped" container! It is cruelty-free and gluten-free!
---
18. Sol Organics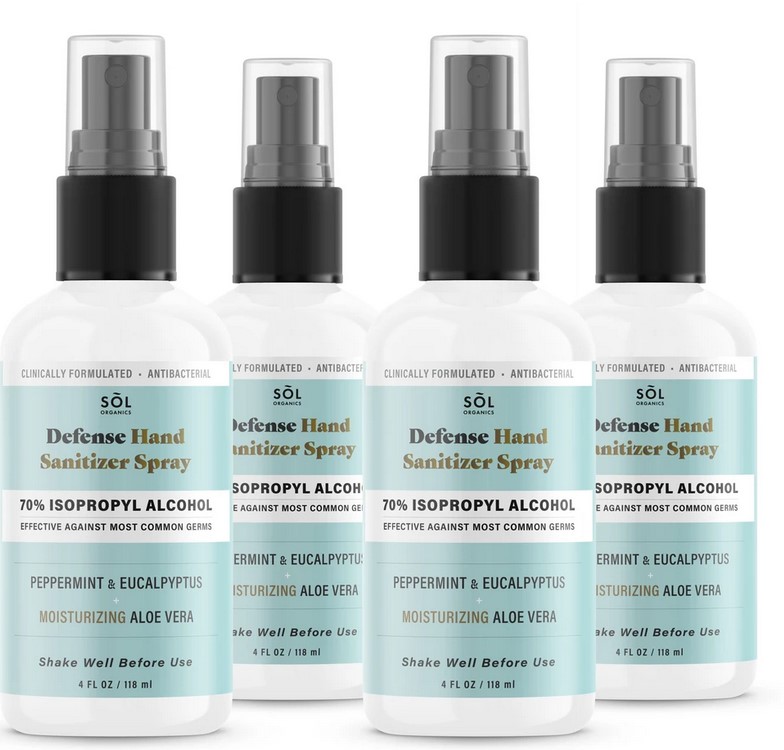 The clinically formulated Sol Organics Defense Hand Sanitizer Spray can give you on-the-go sanitizing while also relaxing your mind and body with its soothing peppermint and eucalyptus essential oils. It makes use of 70% isopropyl alcohol to keep germs and bacteria at bay. At the same time, aloe vera, vitamin E, and vegetable-based glycerol also make up this hand sanitizer spray to keep your hands soft and moisturized despite frequent sanitizing. One of its ingredients is also hydrogen peroxide, a thorough yet mild antiseptic that can improve the product's effectivity.
The small size and the convenient spray nozzle allows you to bring this Sol Organics product anywhere you go, especially outdoors or in areas where you might not have access to soap and water for disinfecting your hands.
The company Sol Organics is known for its commitment to sustainable production and lifestyles, so you can also rest easy that your purchase is right for you and the community. A set of four 4oz Sol Organics Defense Hand Sanitizer Spray bottles is currently being sold for $29.99
Our Verdict

Keep one at home, at the office, in your purse, and… well, you will think of a good place for the fourth one! Perhaps, a spare or in the car?!?
---
19. Twinkle Apothecary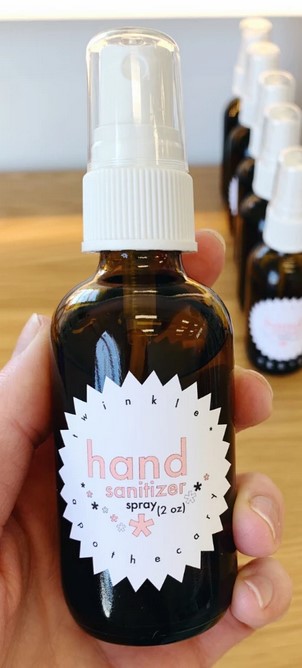 Twinkle Apothecary is led by a one-woman team in Oklahoma City composed of Stefanie Grant. The latter meticulously handcrafts all her products (which range from perfumes to hair care) by hand – a pretty impressive feat! One of Twinkle Apothecary's many products handmade with care is the 2oz Hand Sanitizer Spray, which is currently priced at $24 and qualifies for free shipping within the US. Loyal customers who enjoy the product can also opt for eco-friendly refills, but at the moment, this is only available through their Oklahoma City shop. However, the bottles can be recycled, so those who are not from the area can still do their part in protecting the environment.
Twinkle Apothecary's Hand Sanitizer Spray is made with organic grape alcohol that goes beyond the CDC's recommended amount of 60% alcohol needed to destroy germs and bacteria. At the same time, essential oils of carrot seed, lavender, and chamomile give the product a light but refreshing smell. The fragrance also matches Twinkle Apothecary's healing lotion stick, for those who are particular about products with matching scents. Aloe vera leaf powder is also included in the ingredients, to make sure that your hands are not only clean but also properly moisturized.
Our Verdict

Check out Twinkle Apothecary's website for many unique products. Let's support small business owners like Stephanie!
---
20. Zatik

Zatik Naturals is an all-American company that manufactures a variety of health, beauty, and skincare products, including hand sanitizers, that are made "without a drop of synthetic chemicals," as they say in their official website. All products are cruelty-free, and USDA Certified Organic by Oregon Tilth, and their packaging uses recycled paper and soy inks.
The 2oz Alca Gel Orange Hand Sanitizer has a moisturizing gel formula consisting of 80% alcohol. It keeps your hands clean and healthy and moisturized at all times with its components orange peel oil, rosemary leaf extract, and tea tree leaf oil. It is also formulated with aloe leaf juice and organic glycerin to balance out the alcohol and keep your hands moisturized. A Lavender variant is also available, while frequent users may also want to consider opting for Zatik's 16oz refills.
Zatik has partnered up with LA Homeless Centers, supporting them and the less fortunate during this health crisis by providing one hand sanitizer for every ten that gets sold, which means your purchase contributes to a good cause.
Our Verdict

Yes… Another great company focused on helping others! Check out Zatik Naturals today!