Let's admit it; we make numerous service or product purchases—from simple clothing, groceries, and mobile phones to pricey automobiles and houses—but most of us never read beyond what is presented to us!
The modern technologies that allow us to buy things at our fingertips could be the exact reason for our complacency. We don't look at the entire manual, instruction, tag, warranty, catalog, contract, agreement, or policies attached to our purchases. We deliberately neglect the reviews and disclaimers. Some of us just toss our receipts to the bin as soon as we get them!
Rather than taking the time to make well-informed decisions and weigh our options, we shop what our eyes want at that moment. We easily fall for ads and commercials. We tend to go for cheap and fake product alternatives rather than quality products because, in our minds, they achieve the same purpose anyway. We fail to consider other critical purchasing factors, such as quality, durability, product safety, and warranties.
The trends that consumers follow make or break the market and the businesses of some companies. The thing is consumers never settle for one type or mode of purchasing. The trend changes over time and across generations. There are always various options available and the varying ways they can choose. The two most common are traditional brick-and-mortar shopping and online shopping.
In this modern and fast-paced world, people no longer have the time and energy to visit a physical store. People now prefer convenience, shopping, or purchasing with just a click of a button and having their orders delivered right to their doorstep. Online shopping saves time, provides a broader range of choices, best value options, product information, and reviews, and it gives you a more personalized shopping experience. Statistics on the state of retail reveal that the number of Americans who shop online yearly is at 95%, monthly at 80%, weekly at 30%, and 5% of Americans shop online daily.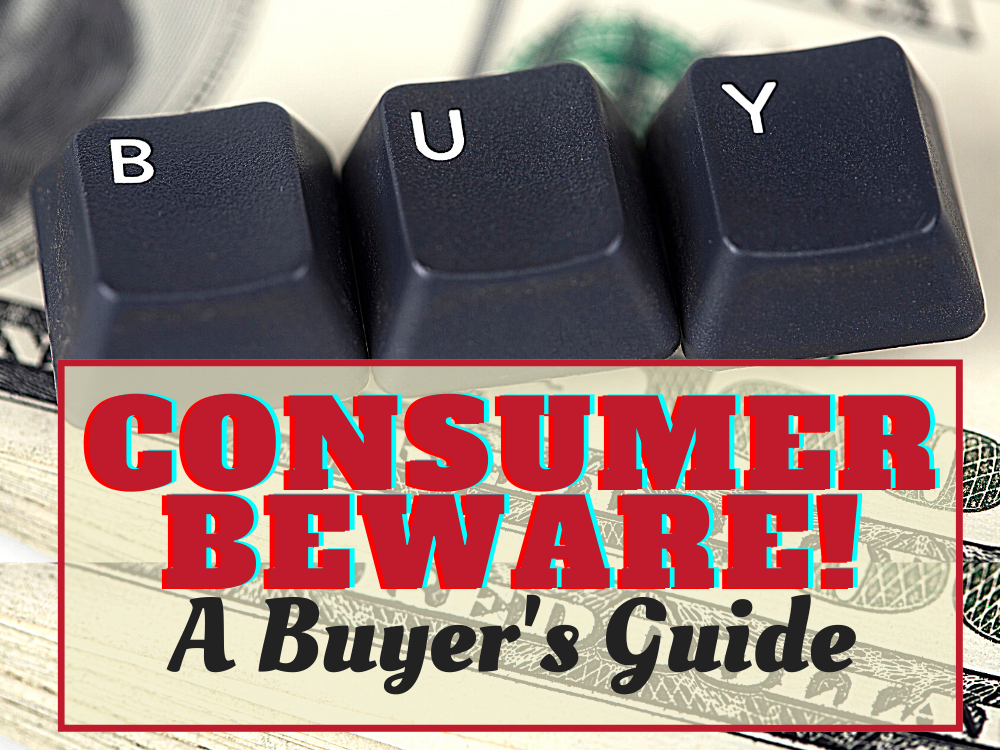 Today, big and small brands alike tend to start an online presence either through various social media channels, online shopping applications, or their very own website. A new term – Omni-channel – has surfaced because of this dual presence digitally and as a physical store. In simpler terms, it refers to a store that sells its products both online and offline, through various modes.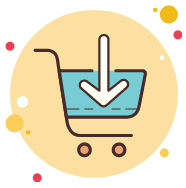 Trends
E-commerce or online shopping has taken over the consumers' world. Retail e-commerce sales are projected to reach $4.9 trillion by the end of 2021, of which 73% are mobile device transactions. These days, the trend is that products "follow" their consumers, which, in most cases, spend most of their time on their phones. It is no longer the consumer who intentionally hunts for the product.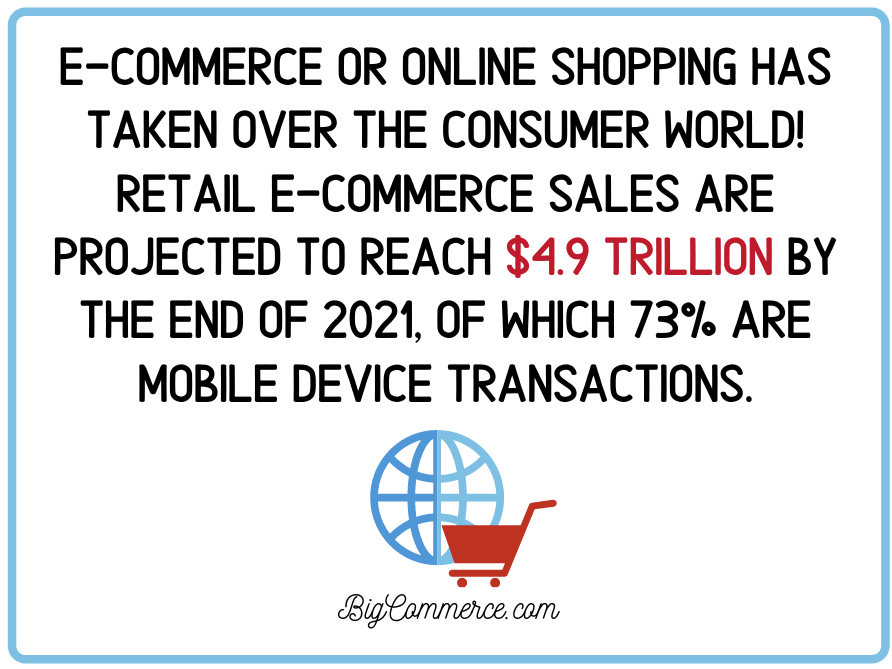 Sustainability is a concept that consumers are increasingly becoming familiar with, driven by their awareness of specific products' environmental impact on our planet. Environmental-friendly packaging, using recyclable and biodegradable materials and products that help conserve and protect our natural resources draw consumers who prioritize sustainability over other qualities of a product. An online survey conducted by Nosto about consumer perspectives on sustainability showed 28% of consumers said they would skip buying company products that were produced under unsustainable principles. Roughly 32% of them said they were willing to spend more on a brand whose product is committed to sustainability. An outstanding 75% of environment-advocate consumers wanted manufacturers to reduce product packaging.
The trend for animal cruelty-free products is also competing with that of environmentally friendly and sustainable. Consumers would check if the products they are about to purchase were manufactured free of any animal cruelty. This started with the abandonment of fur and leather products in the market, especially in the fashion and cosmetics industry. A by-the-book definition of cruelty-free can't be found in the marketplace, and the Food and Drug Administration has not clearly defined it yet. Still, it is generally understood to mean that it does not contain animal by-products or that the same has not been tested on animals. To be sure, you can also check or ask the company for a Cruelty-Free International, PETA, or Leaping Bunny issued cruelty-free certification. You can also search whether the beauty, personal care, or household product you intend to purchase is cruelty-free.
The over conscious advocate against animal cruelty would have doubts as to whether a product is indeed cruelty-free and would instead go for vegan-friendly products. According to Grand View Search, the global vegan cosmetics market size was worth close to $12.9 billion U.S. dollars in 2017 alone. The global cruelty-free cosmetics market is expected to reach an estimated worth of $10 billion by 2024 and a growth rate of 6.0% from 2019.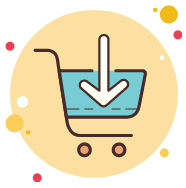 Consumer Preferences
In an omnichannel retailing study conducted by BigCommerce, questions as to how, when, where, and why Americans buy were answered by nearly 3,000 consumers shedding light on today's consumer shopping preferences. Gen Z refers to age group 18-21; Millennials, 22-37; Gen X, 38-53; and Baby Boomers, 54-72.
The preference of consumers as to where and through what medium they opt to purchase varies across generations. The older the generation, the more they prefer traditional brick and mortar shopping or simply visiting a physical store. On the other hand, the younger the generation, the more they are likely to shop online. Baby Boomers comprised 31.9% of those who preferred buying products in a physical store compared to 9.6% of Gen Z. In contrast, Millennials and Gen Z make up the majority of the participants who purchase from social media platforms Instagram and Snapchat.
The #1 reason why consumers purchase from a physical store is that the experience gives you the freedom to touch or try on items before buying them, as cited by Baby Boomers (45.44%) and Gen X (40%). It naturally follows that this same reason remains to be the #1 online shopping inconvenience for Gen X, Baby Boomers, and Millennials included. It is then followed by the reason for "paying for shipping costs," which ranks the same for all U.S. consumers across generations. Site security is also a concern, most notably for the Gen Z and Baby Boomers.
U.S. consumers say convenience, price, and free shipping are the top 3 reasons for buying top-brand products.
The "buy now, pay later" scheme also changed purchasing behaviors. Consumers are drawn to more expensive options than initially planned—which wouldn't be the case without this financing option.
One setback in online purchasing is that the items purchased are most likely to be returned for various reasons since they haven't seen the actual item until they are delivered at their doorstep. Younger generations are likely to return the product. Gen Z consumers return 75% of the products they buy online while Gen X and Baby Boomers return than 50% of their bought items.
Most commonly, consumers return their purchased items because they didn't fit, appeared different than the description, and arrived damaged, along with other reasons reported by the consumers.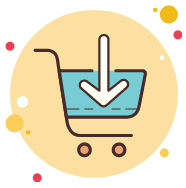 Definition of Terms
Here are some of the most commonly used words in the buying and purchasing landscape. Here's a glossary for a better understanding of consumers' purchasing process:
Better Business Bureau (BBB) – Gives information on the reliability of a company or business
Bureau of Competition – Ensures that consumers can access a variety of choices across all types of products and services
Bureau of Consumer Protection (BCP) – Under the FTC, this agency protects consumers against deceptive or unfair business practices
Consumer – A person who buys or uses goods or services for personal use and not for resale or production and manufacturing purposes
Consumer Product Safety Commission – CPSC sets the standards for product safety by providing information and guidance
Consumer Responsibility – This refers to the duty that consumers must accept for their safety and protection
Consumer Rights – Claims to the power that can be used to protect one's self when purchasing goods or services
Federal Trade Commission – An independent U.S. agency, the FTC promotes consumer protection and advocates the elimination of anti-competitive practices
Food and Drug Administration – The FDA regulates safe, sanitary, and wholesome food, safe and effective human or veterinary drugs, and safe cosmetics and radiation-emitting electronic products
Identity Theft – The stealing of personal information to commit other crimes
Redress – Benefits – usually money that a consumer receives as fair compensation for a company's mistake
Services – Performed by the company for consumers in exchange for payment
United States Department of Agriculture – A Federal department, the USDA is responsible for farming, agriculture, and food policy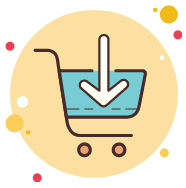 The Common Mistakes and Dangers That Consumers Face Regularly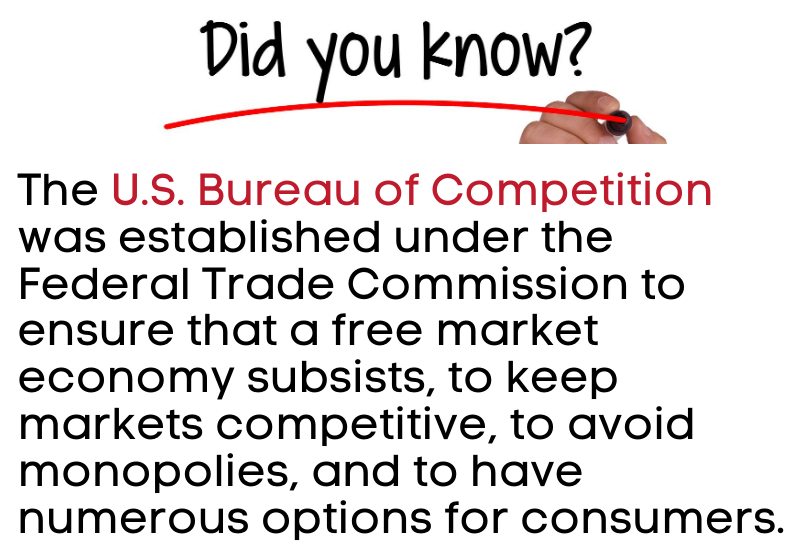 Deceptive Advertising
This happens when a business, company, or seller omits, exaggerates, or withholds information from the consuming public that can affect the latter in making well-informed decisions when purchasing their product in their advertisements or any other form. You may not be well aware of it. Still, a lot of companies engage in deceptive advertising. A product that claims to be gluten-free may not be! Environmental claims of products being biodegradable or made from recycled materials are sometimes false.
The Federal Trade Commission (FTC) has filed and continues to file charges against companies for false advertising. It also obtained settlements for consumer refunds and led the fight against deceptive business opportunity schemes under the "Operation False Promises."
Information Security
Consumers, especially online shoppers, are required to give out personal information like their e-mail, phone number, address, billing information, profession, and other data collected by companies, including one's browsing history. What seems to be a harmless inquiry of personal data, may leave them open for hackers and scammers to be used in illegal transactions if not collected, stored, and used correctly.
A survey revealed that 3 out of 10 Americans fell victim to identity theft. About 21% of them had fraudulent charges on their accounts, and 8% had their social media and e-mail accounts hacked. Roughly 6% said their names were used to open a credit line or get a loan.
According to the Pew Research Center, 62% of U.S. adults think that companies collect data about them daily. Around 81% say that they feel like they have very little to no control over the data collected from them. The same percentage as the latter also believes that potential risks of data collections by companies outweigh the benefits they gain from it. 72% of Americans report that their online activities are being tracked by companies such as advertisers and brands and that the latter are granted infinite access to different types of information based on their online activities alone.
The Division of Privacy and Identity Protection (Consumer Protection Bureau) handles and regulates the handling of personal information in commercial transactions. It is tasked to ensure that consumer privacy and identity are protected against any unlawful or deceptive acts or practices of companies under Section 5 of the Federal Trade Act.
Despite the existence of the Division and the existing laws, most Americans still lack confidence that companies would own up or admit the misuse of data they have collected from consumers.
Scams and Frauds
In telemarketing, phishing – vishing or smishing are some of the methods used by scammers to steal your personal and financial information. They send e-mails disguising as official company representatives, alert you of verification issues, and send you a link that gives away your confidential information. As a result, you give out personal, financial, and other sensitive information.
When you suspect that you're being victimized, end the call immediately, don't respond to the SMS, or don't click any link on the e-mail that will redirect you to a different website. Directly contact the company concerned with the registered details on your record or their official website and ask regarding the truthfulness of the statements made in the correspondence concerned. To avoid being involved in incidents like this, always turn on the two-factor authentication on your accounts to make sure that you are notified, or that additional security measures are in line to protect your account from unknown people.
If you have experienced being scammed or defrauded through phishing, you can report the incident by forwarding the subject's e-mail to [email protected].
Product Safety and Recalls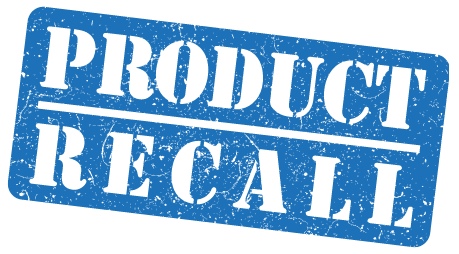 You should also opt to check product recalls for safety and health reasons, especially when purchasing used or second-hand products. Standard products, usually the subject of recalls, are child safety seats, cosmetics, food, medication, toys, and vehicles. Recalls can result in either product bans or repairs and replacements. You can visit the following websites to check if the product you intend to buy is listed as unsafe, hazardous, or defective:
Misleading Origin Claims
More often than not, where a product is made generally affects our purchasing decision. Other manufacturers claim on their tag that a particular product is made in the USA when, in reality, it is not.
Bait-And-Switch
This is a sales tactic wherein the business lures consumers by advertising or introducing to the public a bargain, which is too good to be true. When buyers are considering purchasing the products included in the bargain, they are then convinced to buy an item far more expensive than the original intended one.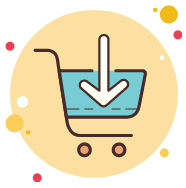 What To Do and What NOT To Do As A Consumer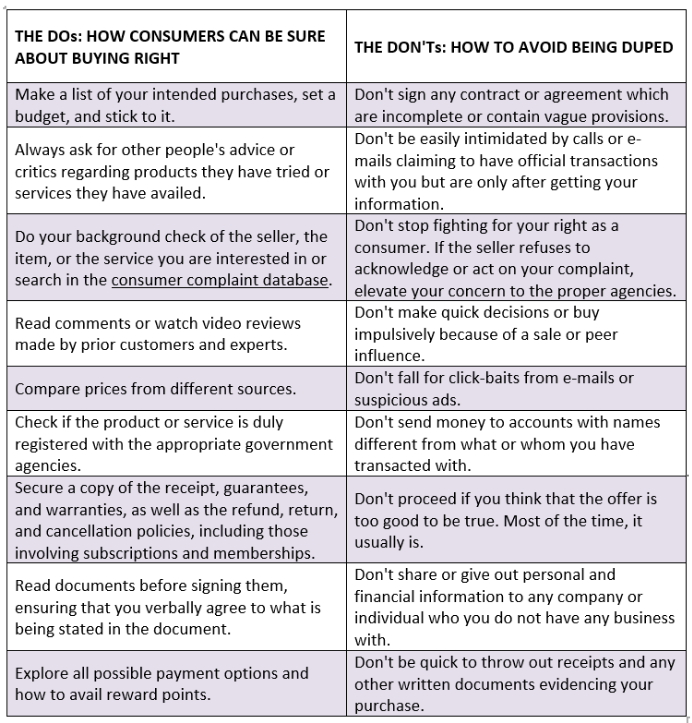 You can also check the Consumer Action Handbook published by the U.S. government for more tips, guides, and information to have the right decision-making skills when it comes to purchasing products or availing of services. It also includes awareness tips on scamming or illegal activities and a guide on how to file a consumer complaint.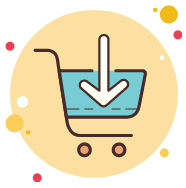 Rights and Responsibilities of a Consumer
First and foremost, to avoid making the mistakes mentioned above and experiencing any of the dangers a consumer may face, we should start from ourselves and be responsible consumers. We should do our part and educate ourselves about our responsibilities as a consumer:
Be Informed. You have the right to be informed but also the responsibility and obligation to be knowledgeable! Do your research or survey of a product or service to come up with the best decision for your purchase. Read the labels, the tags, the nutritional facts, the ingredients, or the instructions. Read and follow instructions, including the fine print, to avoid injury, damage, or being misinformed regarding the product or service.
Choose Carefully. Lay down all available options, research on each one of them, weigh the pros and cons, and then make the right choice that will best suit your need, budget, and lifestyle. Other consumers opt to choose environment-friendly products and animal-cruelty free products which are in line with their beliefs and lifestyle.
Use Products Safely. Most, if not all, products contain a safety manual in the packaging. As a consumer, it is your responsibility to read the manual and use the product correctly and according to its intended use only.
Speak Out. Let a complaint be heard and known by the company or manufacturer so that other consumers may follow and for them to learn, improve, and correct their products or services. More importantly, reports of unfair, unsafe, and illegal practices in the business would help put an end to these practices for the benefit of all other consumers.
Seek a Remedy. If you complain or criticize, but without actually acting on such a complaint by seeking a remedy, then you have just wasted good money on a bad product without being adequately reimbursed. You have still let the business owner win and let them trample on your right as a consumer.
Learn Consumer Skills. The more you research, compare, listen to the news, observe social media trend, and simply read information readily available on the product or in the store, the more well-informed your consumer decisions will be.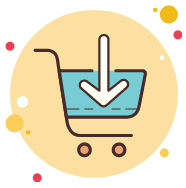 Consumer Protection Law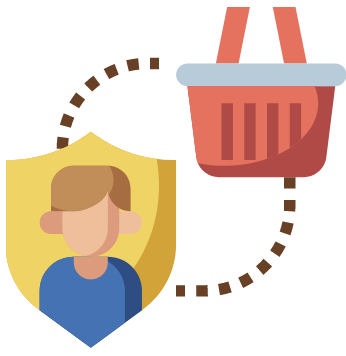 If you have not checked off the Dos and failed to avoid the Don'ts, you still have your fundamental rights and the law to protect you and give you redress against abusive businesses and companies. They will face charges for any unlawful or unethical conduct.
For companies to be held accountable, a right must be violated first. And what are these consumer rights? These are:
Right to be Informed, not just of any information, but accurate ones regarding the product or service to come up with an intelligent and well-informed purchasing decision.
Right to Choose. That is why the Bureau of Competition was established under the Federal Trade Commission to ensure that a free market economy subsists, to keep markets competitive, to avoid monopolies, and to have numerous options for consumers. A lot of products are out in the market, and companies are competing to provide quality products at a lower price. It is this healthy competition that provides consumers with choices.
Right to Safety. The country's Consumer Product Safety Commission makes sure that manufacturers always prioritize the safety of their products to keep consumers away from harm, not just to be physically safe but also safe for the health of the consumers.
Right to be Heard. If you have complaints and concerns regarding a particular product, you should let the store or manufacturer know so that they can address it and improve their product. At the same time, you are also helping the business achieve customer satisfaction through your critics and suggestions.
Right to Have Problems Corrected. You have to get precisely what you paid for, and if the item you received is defective or has damages, you can return it to the store for a product replacement or a refund. If the store refuses or fails, you can go directly to the manufacturer. If the latter also fails or refuses to resolve your concern, you can file an official complaint with the appropriate agency.
Right to Consumer Education. When you are in the decision-making stage of whether to purchase or not, this right comes in handy. You have the right to know and right to access information regarding the market, the best value, the best product.
Right to Service. This refers not just to any service, but polite, prompt, and quality service. It also includes other rights, such as rights against discrimination based on your race, income, age, or gender.
A consumer's rights and responsibilities go hand in hand. As illustrated in The Savvy Consumer, the following rights, and the corresponding responsibility complement each other under consumer protection laws: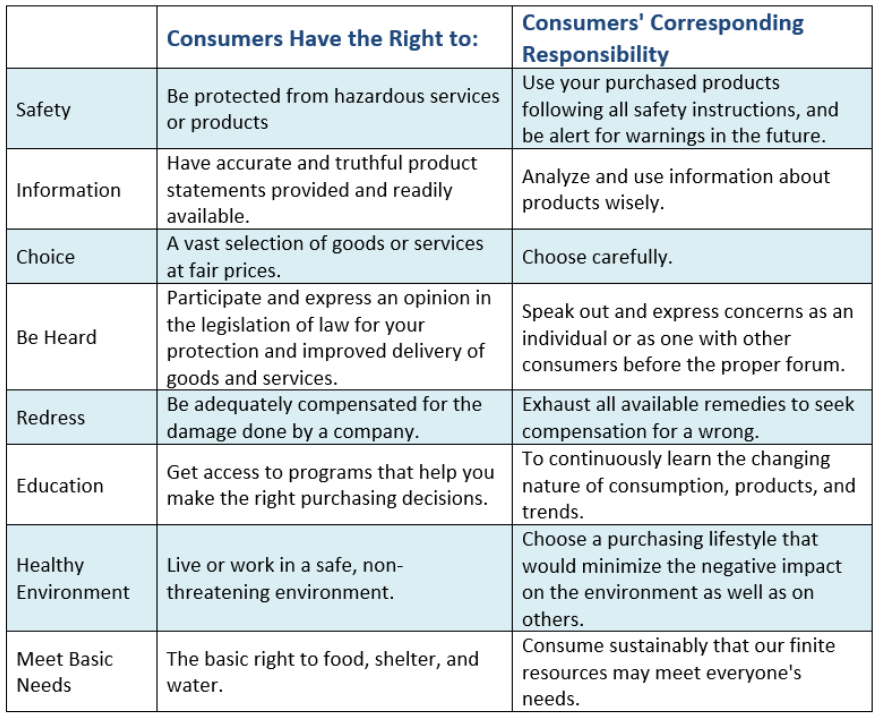 Other laws govern and regulate specific aspects of the marketplace, which directly affects and aims to protect the consumers:
Remedies
If your rights as a consumer have been violated or if you have been a victim of illegal and unethical activities committed by companies or individuals, you can seek redress for the damage done or take legal action against them. By gliding through the map shading of complaints, you can see the number of complaints filed per state, the product with the highest complaint volume, and the corresponding issue of consumers with the product.
File a Complaint
Were your consumer rights violated? Is the seller, company, or manufacturer refusing to reimburse, exchange, or provide any remedy? You can file a consumer complaint by following this infographic and step-by-step guide provided by the U.S. In detail, here are the steps for filing a complaint:
Gather all documentary evidence and other supporting documents related to your purchase like sales receipts, contracts, warranties, work orders, order confirmations, and any communications with the seller about the purchase or complaint.
Write, call, or e-mail the seller through their salesperson or customer service representative regarding the problem concerning your purchase. You will find the contact details you need on the product tag or receipt. You can also look for it on their website. If customer service fails to hear your complaint, contact the management team. You can follow and use the sample complaint letter provided by USA.gov in communicating your concern to the seller.
If, despite communicating your complaint to the seller, the latter refuses or fails to resolve the issue, you can contact third parties and file your complaint with the corresponding agencies – that is, corporate offices, consumer affairs departments, consumer protection offices, and regulatory boards. Here's a list of some agencies to which you can file your complaint:
Alternative Dispute Resolution (ADR), which is a quicker and more amicable way of settling issues, can be sought before going to court. Mediation, arbitration, and conciliation are the most used and popular types of alternative dispute resolution.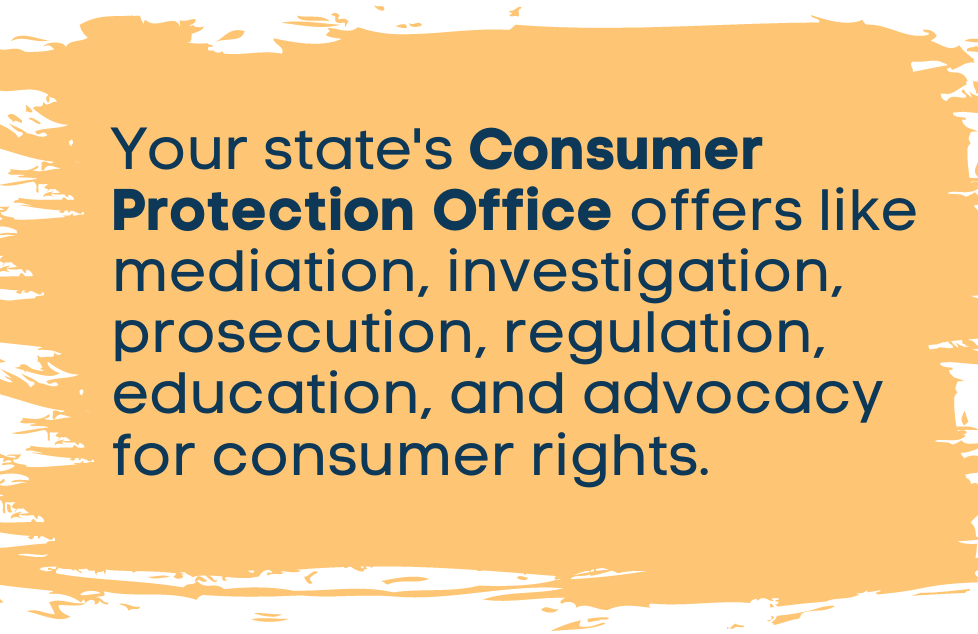 Mediation requires the presence of a neutral third party who is referred to as the mediator and will facilitate the meetings and exchange between the parties so that both parties may come up with an agreed resolution.
Arbitration is somewhat similar to a court setting where there are hearings, presentation of evidence, and examination of witnesses but less formal and an arbitrator or panel makes the award or decision which may be legally binding to both parties. In conciliation proceedings, the parties don't meet with each other but rather with a conciliator who proceeds to hear each party similarly as in arbitration proceedings.

The Federal Trade Commission Consumer Information provides a more detailed and in-depth discussion regarding resolving consumer problems through alternative dispute resolution, more particularly through mediation and arbitration. They also offer help in locating dispute resolution programs in your area as well as choosing the ideal program for you.
The last recourse is to seek legal help and take legal action by bringing your complaint in court. Legal aid in the form of free and low-cost legal services can also be found online. Listed are websites managed by several groups of lawyers who can answer your legal queries, help, and even represent you regarding your complaint:
Contact Your Local Consumer Protection Office
A lot of official hotlines and government websites accommodate consumer's queries and complaints. You can directly contact your state's consumer protection office to avail of the various services they offer, like mediation, investigation, prosecution, regulation, education, and advocacy for consumer rights. Just visit the website and select the state or territory you are residing in or where your concern pertains to.
It is best to call them first before formally filing a written complaint to clarify certain matters and to make sure that their office can officially handle your complaint. Included in the directory are hotlines for specific sectors per state (e.g., New York, California, Michigan, as well as all the other states and territories) such as:
Banking Authorities: Handle complaints against financial institutions and answer general questions about banking and consumer credit.
Insurance Regulators: Provide you with information to help you make sound and well-informed decisions when purchasing insurance and to be in contact with the officials that enforce insurance laws.
Securities Administrators: Help you make informed investment decisions and provide information regarding the laws and regulations concerning securities brokers, stocks, mutual funds, commodities, real estate, and all other matters within that line.
Utility Commissions: Handle consumer complaints involving services and rates for gas, electricity, telephone, water, transportation, and the moving of household goods.
As for the latter, several complaints are required before an official investigation will be conducted as there could be isolated cases in specific households only.
Boycotting
If the company still blatantly refuses despite several attempts for redress, boycotting their products or services is an option. This action can influence others' purchasing decisions, as well. They are obligated to address your concern and improve their service to avoid staining their reputation and causing the business to suffer.
Refunds
You can get a refund from deceptive companies that make promises or guarantees about their product without any intention of fulfilling them just to sell by filing a complaint before the Federal Trade Commission (FTC). For a period of 18 months or from July 1, 2018, to December 31, 2019, the FTC has already returned a total of $1.2 billion as a result of all FTC cases, including refund programs administered by defendants and other federal agencies based on their last annual report.
If you are unsure of getting a refund, check out the recent FTC cases that granted refunds to people who lost money due to illegal and unethical business practices of companies. See if your case is somewhat similar to them. If you have other questions regarding your case, contact the agency through their website or check their FAQs bulletin.
According to the Federal Trade Commission, there are at least six steps involved in every refund program, that is:
Identify who qualifies for a refund.
Assess how the refund will be paid out and divided.
Mail the checks.
Keep the names and addresses up-to-date.
Evaluate if another check mailing can be added.
Send to the U.S. Treasury any remaining money.
You can avail of any of the remedies you deem fit to your case and your circumstances.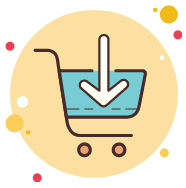 As a consumer—sometimes called purchaser, buyer, customer, shopper, user, or client, depending on your type of transaction—you need to be well-informed! Know not only your options but also the dangers associated with each purchase. Know your rights and existing consumer protection. It is just as essential to know the responsibilities attached to your buying decision.