Vbroad Smart Pet Camera Treat Dispenser
Furbo Dog Camera: Treat Tossing
Iseebiz Smart Dog Camera Treat Dispenser
SKYMEE Petalk AI II Dog Camera Treat Dispenser
WOPET Smart Pet Camera Treat Dispenser
Do you worry about your furry best friend whenever you're away from home? Not all dog owners can afford to get pet sitters, renting out a pet hotel, or even have access to friends or family members who can temporarily look after their dog. Plus, having new people or staying at a different place might stress out your beloved pets as well. That's where dog cameras come in.
Dog cameras are part of the growing smart pet market – products for pets that make use of intelligent technology – which Forbes estimates will reach a value of up to $1 billion by the year 2023. These handy devices allow pet owners to monitor their beloved furry friends even while they're not at home. Most dog cameras also come with a treat tossing function, which gets the dogs to approach the camera so the owner can check on them.
Why should you get a dog camera for your pet?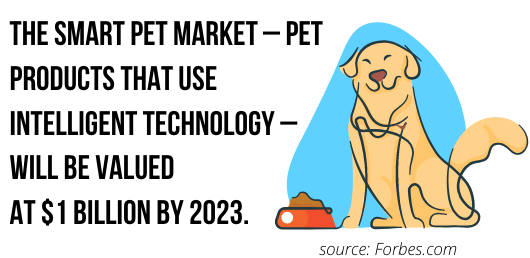 You could argue that having CCTVs would be enough to monitor your dog while you're away from home, but pet cameras, specifically those made for dogs, are a much better option. Our list features dog cameras that dispense treats to get your dog to go near them or even just as a way to cheer them up while you're not there. These dog cameras also allow for two-way communication, so your beloved pet can "talk" to each other even from afar, easing the pain for dogs with separation anxiety.
Plus, there's the added perk of quickly being able to take super cute photos and videos of your furry best friend to post on all your social media accounts.
This innovative product has done wonders for thousands of pets and their humans all over the world, so if you're looking to get one yourself, take a look at our list of the top five treat tossing dog cameras below!
1. Vbroad Smart Pet Camera Treat Dispenser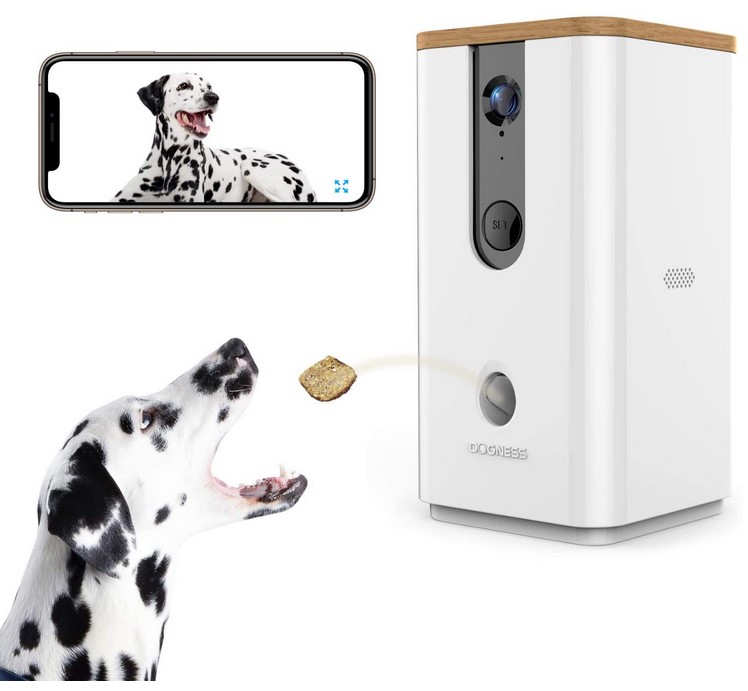 Though the Vbroad Smart Pet Camera Treat Dispenser only offers up to 720p quality video (which is still excellent quality), Vbroad's pet camera also has the widest angle view in our list, offering a 165-degree look for users. It also has excellent night vision capabilities and a snapshot taking function.
This dog camera works with its partner mobile app Dogness, where you can monitor your dear pet remotely and control the treat dispensing function. Vbroad also has two-way audio, so you can also hear your dog and even talk to them. This is useful for pet owners with dogs who are prone to being lonely and anxious whenever their human is not around.
Another excellent addition to the Vbroad Smart Pet Camera is the varying distances you can set for tossing treats, making it more fun for your pet. Fill it up with up to 0.4 liters worth of dog treats (preferably round and not more than 0.6 inches wide) and keep your pet happy and entertained even when you're miles away from them. Also, keep your dog's cutest moments forever by downloading recordings and snapshots and making a highlight reel using the Dogness app.
Our Verdict

With an exceptionally wide viewing angle, the Vbroad Smart Pet Camera Treat Dispenser is a must-have!
---
2. Furbo Dog Camera: Treat Tossing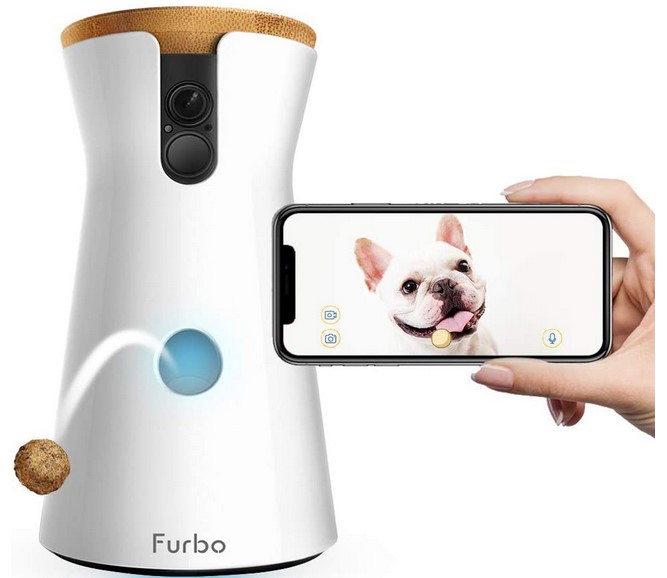 The most important thing about cameras is what they can show you. The Furbo Dog Camera: Treat Tossing offers 1080p full high definition video quality that also has excellent night vision. The camera can also do up to zoom 4x and a 160-degree wide-angle view that gives you great coverage wherever you place it. And then, of course, the treat tossing: use Furbo's free app that works on both iOS and Android to schedule the treat tosses or to toss one to your dog any time. Up to 100 0.4-inch treats can be placed in the treat holder.
The device's barking sensor also adds to a sense of security, as it can alert you when something seems to have set off your pet. The app will automatically send you notifications once the Furbo Dog Camera detects your pet barking. Use Furbo's two-way communication system to call your dog and get them to stop or even throw them a treat to distract them. Furbo comes with a free 90-day trial of its premium Dog Nanny subscription, which offers upgraded features like cloud recording and other types of alerts (e.g., Dog Activity Alerts, which notify you when your dog is doing destructive or unwanted behavior).
The Furbo Dog Camera also works well with the Alexa smart speaker, for more seamless control. Pet owners with little children below three years old should also be mindful about keeping the camera out of children's reach, as the small parts may be a choking hazard.
Our Verdict

Keep an eye on Fido while you're at work or out of town! The Furbo Dog Camera & Treat Tossing camera system boasts 1080p full definition video quality!
---
3. Iseebiz Smart Dog Camera Treat Dispenser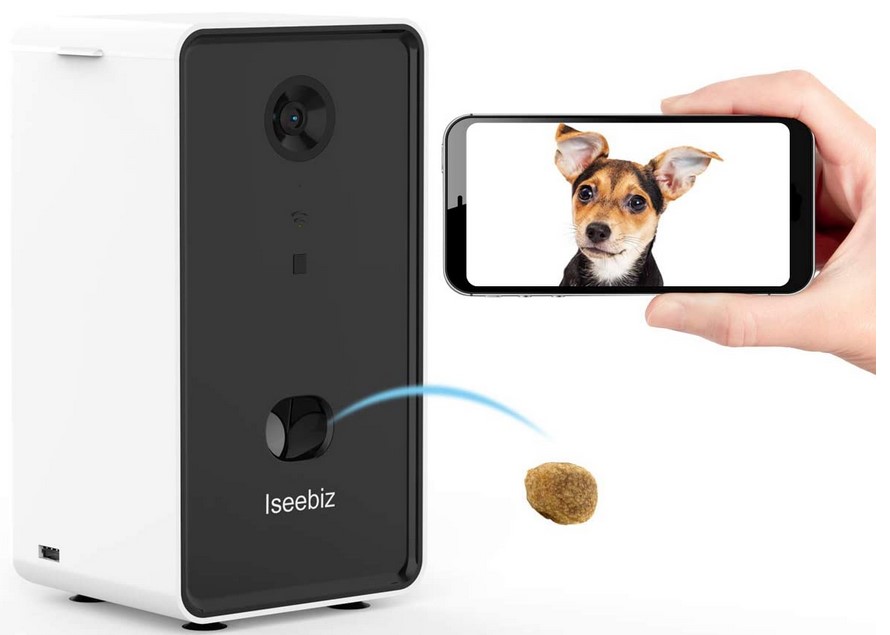 Pet cameras are undeniably useful, and their treat dispensing function also provides hours of fun for your dog. But knowing our furry buddies, they're quick to pick up on the fact that they can get treats from this curious little device. Thus, there's a risk that they might topple over or damage the camera while looking for more treats. The Iseebiz Smart Dog Camera Treat Dispenser has thought of a simple but effective solution to this: they've placed suction cups at the bottom of the device to make sure it stays steady no matter how excited your dog gets!
As for its other functions, the Iseebiz Smart Dog Camera records up to 720p quality videos, takes snapshots, and can be linked up with smart speakers such as Alexa, as alternatives to using the mobile app. Night vision mode is available so that you can keep track of your furry friend even late at night or in locations with low light. The two-way audio lets you hear and talk to your dog any time, and use the Iseebiz app to control the functions, treat-dispensing schedules, and much more. Voice recording is also an option if you want to set fixed commands. The Iseebiz app is proudly developed independently and uses only safe servers, ensuring the user's security and privacy.
Purchasing an Iseebiz Smart Dog Camera comes with the guarantee of a 30-day full refund, along with twelve months of warranty. For issues or troubleshooting, Iseebiz also provides tech support and customer service equipped to address concerns within 24 hours.
Our Verdict

Placed securely with suction cups, the Iseebiz Smart Dog Camera Treat Dispenser stays steady! Keep the treats coming!
---
4. SKYMEE Petalk AI II Dog Camera Treat Dispenser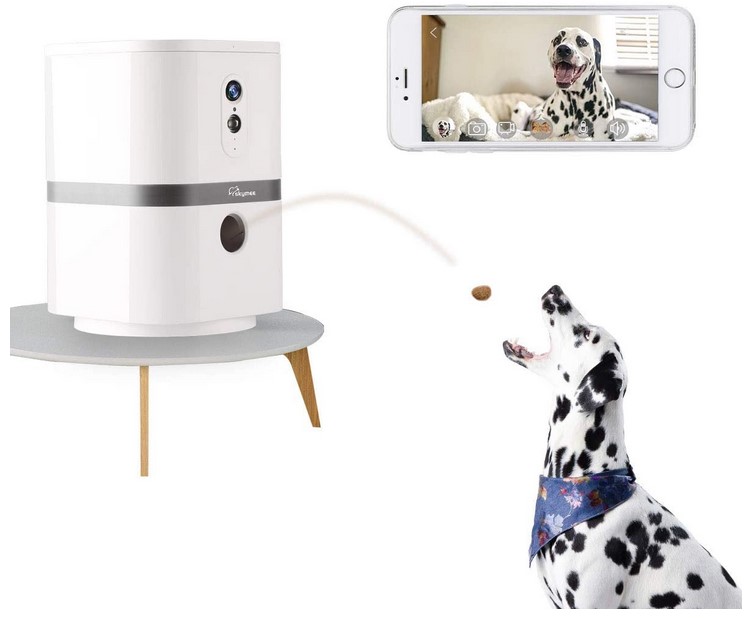 We're sure you're not the only person who loves your dog. The good news is, the SKYMEE Petalk AI II Dog Camera Treat Dispenser allows up to eight users to access the camera's mobile app under one account. This means that your other loved ones can also check on your dog's activities in real time and in 1080p full high definition. They can even help out in feeding and playing with them, too!
The SKYMEE dog camera also utilizes eight infrared lights for night vision, ensuring that you can see your pet any time of the day, and they can be controlled manually or set on an automated schedule. The camera also has a 120-degree wide-angle view, 4x zoom, and allows for two way communication via microphone. Motion detection technology is also employed, and the app will send push notifications once the camera detects movement from your dog.
A unique feature of the SKYMEE Petalk AI II Dog Camera is its capability to do wireless charging for a variety of Qi-enabled phones and devices, giving it added functionality aside from being just a pet camera. It's also compatible with smart speakers such as Alexa.
Our Verdict

Accommodates up to EIGHT users!
---
5. WOPET Smart Pet Camera Treat Dispenser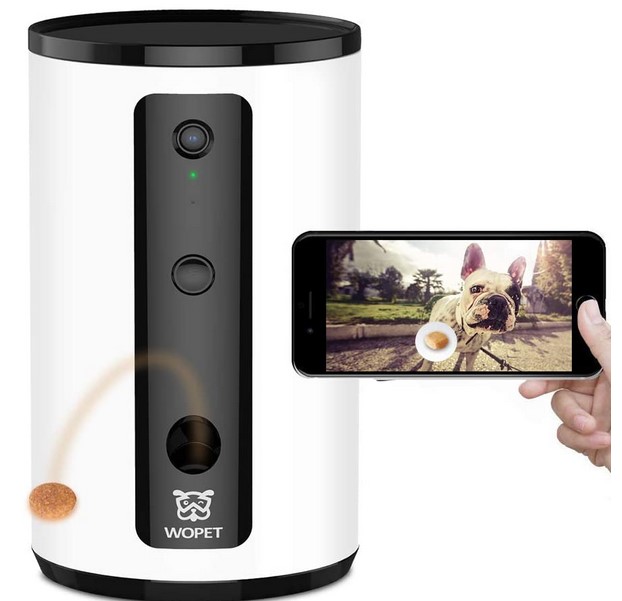 Get high-quality 720p video even under low light and also in pitch black conditions with the WOPET Smart Pet Camera Treat Dispenser. One of the more affordable options for pet cameras, as most options on the market, tend to sell for more than a hundred bucks.
Despite its affordability, WOPET doesn't skimp on the features. Aside from the excellent night vision capacity, this pet camera also has a wide-angle lens of 123 degrees for better coverage, and users can zoom up to four times. Recording and snapshot functions are also available, and the camera can be set up to work with smart speakers like Alexa. Users can also manage settings like scheduled treat-dispensing via the WOPET mobile app that works on both iOS and Android devices.
The WOPET Pet Camera also allows for ten-second voice recordings, which you can use to command your dog or even just to schedule reassuring messages to be played for them. Customers can also be assured that WOPET will assist them with any technical difficulties concerning the product through a year-round technical support service, as well as a professional service center that runs 24 hours a day.
Our Verdict

Affordable and quality… that's what you'll like about the WOPET Pet Camera System.