Quick Links:
Osaki OS-4000 Executive Zero Gravity Massage Chair
Kahuna SM-9000 Superior Massage Chair
Luraco Technologies iRobotics 7 Massage Chair
Inada Dreamwave Massage Chair
Human Touch iJoy-2580 Massage Chair
Getting a massage is always a good idea. It not only relieves your tired body and reduces your stress; it also eases your anxiety and lowers your blood pressure. You can always go to massage therapists for professional services. They can be a bit pricey, but they guarantee to make you feel better.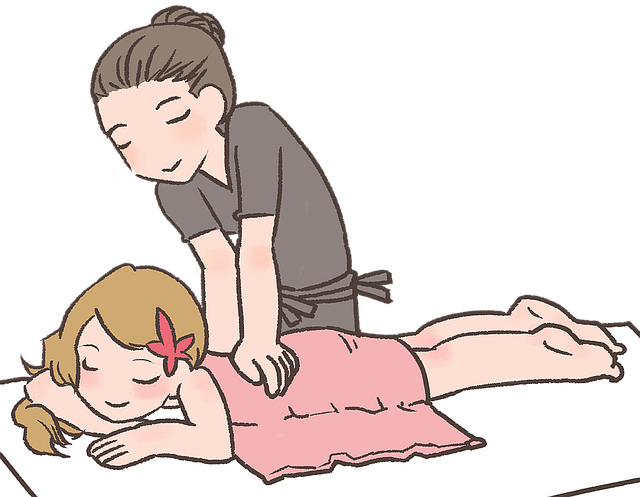 Inviting as all that may seem, the idea of a relaxing spa weekend is a luxury not all of us can afford. It is a fast-paced world, after all, and not all of us get the time to relax when we want it. The meetings lining up, the work piling up, the crazy schedules, and more career obligations are pulling us from all directions.
The solution? Massage chairs that offer the same comfort and benefits without the need to leave home. Massaging chairs are user-friendly and an affordable alternative to frequent visits to the spa.
Imagine coming home after a long day to your massage chair! If you suffer from back pain and soreness of muscles, a massage chair is what you need—it works like magic. Just ask the Japanese; nearly 10% of homeowners in the country own a massage chair!
In this review, we feature the top 5 best massage chairs that deserve recognition. In the United States, an emerging trend is that massage chairs have become increasingly popular and less expensive over the years.
WAIT! THIS IS IMPORTANT!
You can avoid a myriad of body pains and ailments by doing a little stretching while at work or when sitting down. While they do not (and cannot) replace proper and regular exercise, massage chairs relax and soothe the body like massage therapy. In this review, it is our goal to help you enjoy the massage chair's efficiency and take the best pick from your numerous options.
Watch: 18 EASY AND EFFECTIVE MASSAGE TECHNIQUES
Features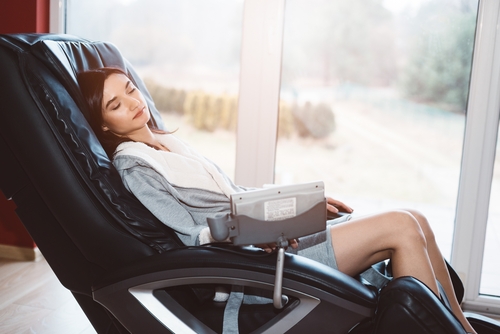 Massage chairs have different features. Depending on the brand, your massage chair could come with a Shiatsu or Swedish massage option.
Shiatsu massage chairs are best for targeting pressure points all over the body. The chair comes with pressing, swaying, and rolling motions to mimic the massaging effect.
Swedish massage, on the other hand, constitutes lighter or lower-pressure kneading movements. There are also zero-gravity chairs that can recline up to a zero-gravity position. It is suggested that you consider different chairs before choosing which model and brand to take home.
It is also important to remember that massage chairs cater to different areas of the body. It is possible that you will not fully utilize the machine to its fullest potential because some of its features are not for you. It is smart to choose the massage chair you can use to target areas in your body you need to relieve from stress. If you feel pain around your neck or shoulder area, find a massage chair that focuses on easing your neck and shoulder pain.
Budget
If we're honest, buying a massage chair is a huge investment. The prices range from a few hundred dollars to tens of thousands. The cost varies depending on various factors, including the chair's features, materials, manufacturer, and appearance. Naturally, high-end massage chairs are significantly more expensive than mid- and low-end massage chairs. However, the price does not define quality and efficiency. Just remember not to go beyond your means. Invest in a durable chair that carries the features you need and use frequently.
Space-saving
Massage chairs are bulky, and you cannot tuck it in any corner of the room. The type of massage chairs we are featuring are those that are for personal use and best placed in your bedroom or your office space. Some models come with head and foot recliners, so a corner or a place near a wall is not an ideal spot. But some massage chairs are designed with wheels so moving them around is a breeze.
Durability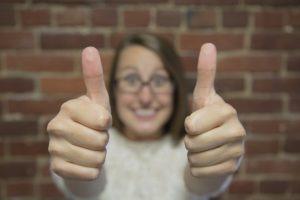 The massage chair is an electronic device with several moving parts, including computer components, wiring, and control buttons. Ordinary wear and tear are to be expected, but you need to make sure that you get a durable product. Considering the money you will spend for your massage chair, a reliable item is the best way to go.
Massage chairs are very complicated machines, and with frequent use, they are prone to damage or malfunction. Choose a heavy duty chair that is resilient and can stand long-term use.
Paying for repairs is a burden that you do not want to carry. A modular design is the best choice as it makes repair work a lot easier. When a massage chair with a modular design needs a part replaced, you can just remove the damaged part and have it repaired instead of paying for maintenance for the entire chair.
Warranty
The terms and coverage of the warranty are essential factors to consider. Look into what is included in the warranty, especially labor and parts. Warranty does not only indicate that the manufacturer stands by the quality of their products; it also speaks for performance and durability.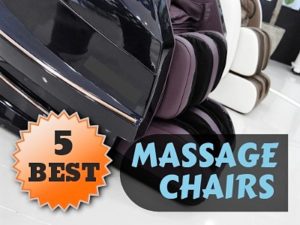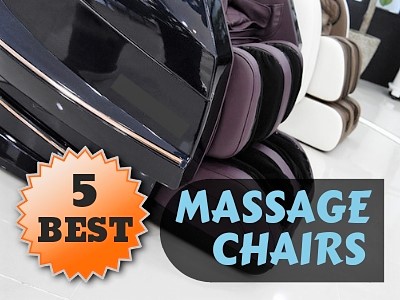 Methodology
Watch: Massage: Best Massage chair 2019 (Buying Guide)
Because massage chairs work like a charm, we came up with our comprehensive review that highlights five products on the market. Our comparison chart provides an overview of the different features of the chairs at face value. These details emphasize the important specifications of each product. A more detailed, individual review of each of the items is also provided.
We rate each massage chair based on the unit's Key Feature, User-friendliness, Body, Warranty, as well as Price. These features are given a star rating between to . An overall rating will be provided for each of the brands, the highest being (5/5).
Comparison Review Chart: 5 Best Massage Chairs
Comparison Review Chart: 5 Best massage Chairs
Osaki OS-4000 Executive Zero Gravity
Kahuna SM-9000 Superior Massage Chair
Luraco Technologies iRobotics 7 Massage Chair
Inada Dreamwave

Human Touch iJoy-2580

Manufacturer
Osaki
Kahuna Chair developed by AJX LLC
Luraco Technologies
Inada (Previously Sogno Dreamwave)
Human Touch
Net Weight
255 lbs
246.92 lbs
265 lbs
265 lbs
88 lbs
Max weight
265 lbs
Up to 320 lbs
Up to 300 lbs
324 lbs
109 lbs
Dimensions
52" x 31" x 34"
55.5" x 30" x 48.5"
47" x 38" x 81"
55" x 37" x 48"
44″ x 35″ x 40″
Materials
Upgraded PU covering; faux leather; steel frame
Zipper covering; faux leather
Real genuine leather; structural hardware
Anti-bacterial, dirt resistant material finish; synthetic leather
Rich leather-like upholstery and velvety SōfSuede
Power Consumption
230 W Max
200 W Max
150 W
170 W
–
Voltage
110 – 120 V
110 – 120 V
110 – 120 V
110 – 120 V
–
Frequency
50/60 Hz
50/60 Hz
50/60 Hz
50/60 Hz
–
Controls
Wireless controls
One touch remote control
Simple, touchscreen remote
Advanced remote control
Built-in control panel
Best for
Full body massage
Casual users, people with chronic back or leg pain
Medical purposes
Daily relaxation; all ages
Relaxing
Programs
Shiatsu

Swedish

Kneading

Clapping

Rolling

Combo

Five speed and intensity settings

Renew

Relief

Recovery

Yoga

Music Sync

Stretching

Calming

Health

Soft

Quick

Night

Sport

Tapping

TV Mode

Stretch

Kneading

Tapping

Kneading & Tapping

Rolling

Shiatsu

Evening

Dreamwave

Morning

Stretch

Air

Full Body

Quick

Youth

Six massage techniques, including human Hands, Kneading, Double Knead, Tapping, Shiatsu, and a combination of Kneading + Tapping

Kneading, Percussion, Compression, and Rolling
Price

(Amazon and Product Site)

$1,999.00 – $2,494.95
$7,999.00 – $8,900.00
$8,480.00
$9,499.00 – $10,499.00
$999.00
Airbag feature

Shoulders – 2

Side Seat – 2

Arm & Hand – 8

Low back – 2

Neck – 3

Hip – 3

Calves –

8

Feet – 6

Full body airbag technology
80 second-generation airbags
101 airbags, strategically placed for maximum comfort
–
Available Colors
Black and Brown
Black, Chocolate, Cream
Black, Cream, Dark Brown, Red, TruBlack
Black and Espresso
Special Feature/s

8 Signature Programs, including Yoga Stretching and Active Yoga programs;

6 Infrared heated roller system; 3 Intensity and 3 massage speed levels; advanced 3 different technique; dual foot roller; 20-minute massage session; 5 manual massage programs; exchangeable zipper covering; space-saving technology;

quick one-touch zero gravity; acupoint body detection scan; built-in Bluetooth speakers; signature Air Float 3D+ Massage technology

Limitless manual functions; built for safety and medicinal benefits; technically up-to-date; intelligent self-diagnosis; 9 automatic pre-set programs; 5 intensity levels; adjustable times

Intelligent massage programming, deep relaxation options for automatic program; Inada 3-D, 4-roller articulating wrist design; child safety lock; breakaway power cord

3 invigorating massage programs; built-in control panel; power recline; cup holder; removable massage softening pad for ease of maintenance; power recline

Warranty
3-year limited warranty (does not include signs of wear and tear)
5-year warranty (all parts and labor)
5-year limited warranty
3-year warranty
Free 2-Year Basic Warranty; 2-Year Premium Protection Plan with an additional fee
The Details
Osaki OS-4000 Executive Zero Gravity Massage Chair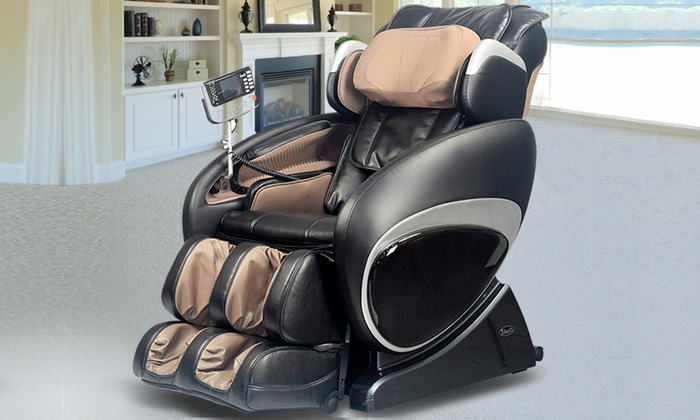 Watch: Osaki OS-4000 Zero-Gravity Massage and Heat Therapy Chair
The Osaki OS-4000 is an impressive machine. It comes with a zero-gravity function and is equipped with a user-friendly control panel. This massage chair is designed with 3D technology, capable of scanning the full body. This feature allows the rollers to map the back curvature with high accuracy which means, more precise massage. Regardless of your size or body type, the Osaki OS-4000 will adapt with its self-adjusting feature.
2-stage Zero-gravity Position
Watch: Osaki OS-4000 Hips and Lumbar Squeeze
Osaki's 2-stage zero-gravity position is inspired by NASA technology. Zero-gravity poses to be the perfect position for the human body to enjoy a massage. Having your back correctly aligned with your thigh will give you the optimal level of comfort. The second position is more reclined, positioning your legs at or above your heart level. This position promotes better blood circulation.
With a true ergonomic S-track design, the contour of spine shapes which varies from one person to another. The chair has fully functional arm air massagers dedicated to massaging the arm area. Plus, it is complete with foot and calf massage to take care of the pressure point nodes at the bottom of your feet. Air bags inflate on the area and firmly press these pressure points, creating an invigorating massage.
Airbag Features
The Osaki OS-4000 incorporates another way of massage techniques. This new technique uses airbags which are strategically located in various areas of the chair where rollers cannot easily reach. There are a total of 40 airbags installed in the chair, making sure that they cover every part of the body.
Features
The massage chair comes with a full size, easy-to-use remote and large LCD control panels. You can easily select from 8 pre-set programs, including Healthcare, Relax, Smart, Circulation, Demo, neck & Shoulder, Back, Lumbar, and Full Air. It also comes with a manual mode that allows you to select the parts of the chair you want to activate. When manual mode is on, you can choose independently from kneading, tapping, shiatsu, rolling, combination or Swedish massage.
With a $2,495 price tag, the Osaki OS-4000 massage chair is not an easy purchase. However, the extensive features and the overall comfort it brings are worth it.
Pros
Pros
Made from durable materials
Extensive massages with eight pre-set programs
Comes with manual mode
Fully padded
Air bag massage technology
2-stage zero-gravity position
Heating and vibrating chair
Easy controls with large display
Cons
Cons
Expensive
Heavy
Not ideal for short users, especially the back pillow
Smart user mode could be painful for some users
60-minute limit
Our Verdict
Key Features
User-friendliness
Body (size, weight, materials)
Warranty
Price
OVERALL MASSAGE QUALITY
---
Kahuna SM-9000 Superior Massage Chair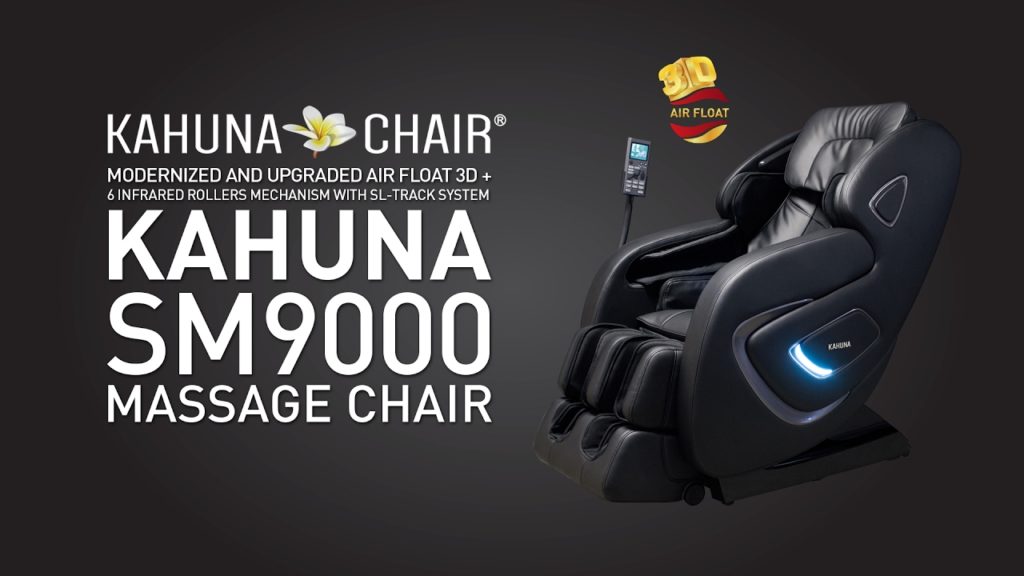 Kahuna Chair is a world-renowned manufacturer of high-end massage chairs. For years, the company has produced impressive massage chairs that become a massive hit in the market. The Kahuna SM9000 Massage Chair is a new, more advanced model from the company. It is a robust chair, with immense therapeutic value.
Watch: Kahuna: A Company that is Responsible for Health
Hybrid SL-Track System
Despite its eccentric design, the chair's hybrid SL-track and six rollers are an impressive upgrade. Standard model features include quad rollers that feel a lot like the human touch. With the addition of two more rollers, this machine offers high-quality massage that works the pressure points. The rollers are heated, too, to soothe the back area while massaging the back of your thighs. Advanced Air Float 3D+ massage mechanism are programmed into the machine to provide a comfortable massage experience.
Features
The model is recommended for casual users and is best for those experiencing chronic back or leg pain. The Acupoint Position Detecting System is a unique feature that allows the chair to determine vital body points of various users with different body types. The chair also detects the areas of the body that are more fatigued and raises the kneading intensity in that specific area.
The Kahuna SM900 is an unusually large furniture that is designed for tall, large people. Unlike other models from other manufacturers, the leg ports on this chair do not fold out of sight. So, when you decide to put it in the living room, the chair might not blend in well with the décor. Regardless, the leg ports give exquisite foot and calf massage complete with scraping, rolling or kneading options.
Kahuna SM9000 offers zero-gravity G setting, giving the user added comfort. You can even listen to music with the chair's built-in MP3 support feature. Considering all these, you deserve this $7,999.00 investment. Kahuna is a reputable company that assures you of a massage chair that performs. Experience Kahuna's trademark Yoga body stretch at home or office when you get one, and experience how it is to be relaxed and stress-free. Plus, it comes with a space-saving technology.
Pros
Pros
Extensive heat levels
Exquisite foot and calf massage
Kahuna's Yoga body stretch
Various pre-programmed massage options
Strong air massage
Zero-gravity seating
Space saving technology
Cons
Cons
Expensive
Massage time is limited and cannot be adjusted
Only one Zero-G seating, no other options
No temperature levels
Our Verdict
Key Features
User-friendliness
Body (size, weight, materials)
Warranty
Price
OVERALL MASSAGE QUALITY
---
Luraco Technologies iRobotics 7 Massage Chair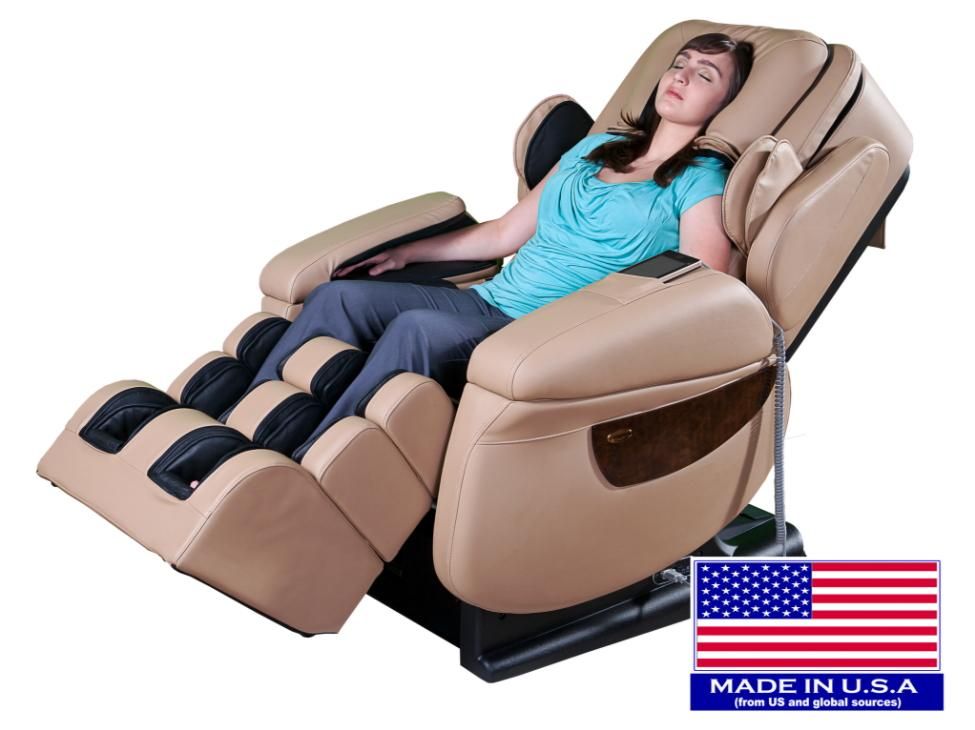 Watch: Proudly made in the U.S.A. – Luraco Technologies iRobotics 7 Massage Chair
Proudly researched, developed and assembled in the United States, the Luraco iRobotics 7 massage chair is the only truly American made product on the list. It is the 7th generation of the iRobotics® patent and trademark. The advanced technology brings together every aspect of the novel technologies that Luraco is known for. The i7Plus is an intelligent machine that claims to be the best massage chair ever to hit the American market, made for the Americans.
This product was named the #1 Medical Massage Chair, and the "Best of Show" by the Residential Systems during the Cedia Tech Show, providing top-quality standard. This specific model packs a range of features as well as therapeutic benefits. It is best for those who suffer from chronic body pain.
Watch: Luraco Technologies iRobotics 7 Massage Chair easy installation guide
Features
The Luraco iRobotics 7 has a standard S-Track frame, a design that allows the quad rollers to follow the natural curves of the spine flawlessly. Regardless of how advanced Luraco technologies are, the iRobotics seven is not equipped with a more impressive Hybrid L/S track frame like the Osaki OS-4000. The Healthcare Device program is installed into the chair's operating system. It can monitor both blood pressure and heart rate, a feature that a medical chair must have.
3D Body Scan
The 3D Body Scanning Technology is the genius behind the overall quality of the massage. Before each session, the chair scans the back and makes needed adjustments to position the rollers at the areas with high-pressure points. For more ease of use, the i7's remote allows users to manually control roller positions as well as the width of the massage area.
Zero-gravity seating
This feature is part of every massage chair in this review but Luraco Technologies offers an enhanced version. The overall massage experience gives deep tissue massage, providing more relief and comfort.
Massage Options
The company has dedicated time and resources to develop unique massage options into the i7 massage chair. Basic massage techniques include kneading, tapping, combined kneading and tapping, rolling Swedish and Shiatsu. These techniques alone provide a remarkable massage experience.
It gives users the option to activate airbags selectively. The system incorporates an air massage mode for a custom massage experience. Using the remote, select from body regions such as the shoulder, head and neck, upper back, lower back, and feet. Custom-design the perfect massage experience. You can choose from 6 different intensity levels and draw up your combinations. There are nine pre-programmed massage options for a more convenient session.
Foot and Calf Massage
The i7 features an exceptional foot and calf massage. Both the calf and foot massage are equipped with airbag massage technology. Plus, there are dual foot rollers and therapeutic heat for better performance. The foot and calf massage doubles as an ottoman that accommodates users who are up to 6"5 tall.
Adjustable Timer
You can enjoy a relaxing massage that lasts from 5 to 30 minutes with a standard time of 20 minutes. The chair will automatically shut off with a timer. Surprisingly, the chair has an MP3 support feature, but you will have to insert a memory card to play music. We believe this is where Bluetooth connectivity would be a better addition.
The memory function integrated into the Luraco iRobotics 7 presents an added feature. It is what sets the i7 apart. The chair carries five memory slots in which you can easily save your customized massage options for future use. Talk about easy and efficient use of technology1 With a 5-year limited warranty, this massage chair is worth investing $8,980 in. You will not only have a massage chair, but you will also be owning the country's #1 Medical Massage Chair!
Pros
Pros
Proudly researched, developed, and assembled in the United States
Quiet
Longer massage; up to 30 minutes
Various massage options
Exquisite design, durable and made of quality materials: genuine leather and S-frame build
5-user memory
User-friendly
Cons
Cons
Fairly expensive
Limited zero-gravity position
Heavy
No temperature control
No Bluetooth connectivity
No hybrid L-track
Our Verdict
Key Features
User-friendliness
Body (size, weight, materials)
Warranty
Price
OVERALL MASSAGE QUALITY
---
Inada Sogno Dreamwave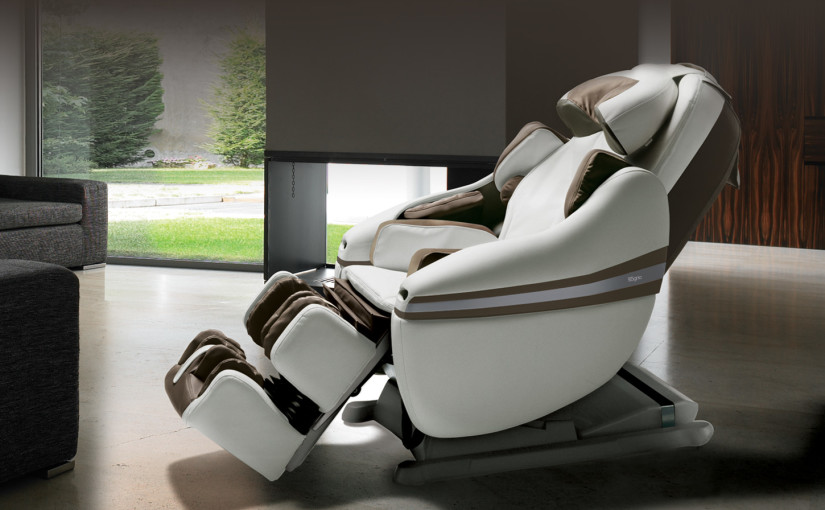 Indulging in relaxation activities that benefit your mind and body is a wise choice. If you're in the market for a massage chair with an exquisite design and delivers full functionality, the Inada DreamWave Chair might be the one for you. It is a masterpiece of engineering, technology, and design.
Manufactured by the leading Japanese brand Inada, the chair holds years of experience and an excellent reputation in the industry. The Inada family is fully committed to excellence and the highest craftsmanship standards. They have translated these to their products, and this does not come cheap. At a hefty price of $7,999.99, the Inada DreamWave it is one of the most expensive chairs in the market. It is made for those who can afford perhaps the most unforgettable experience a massage chair can provide.
Features
The Inada DreamWave is designed to promote and enhance natural healing and wellness. Through the integrated shiatsu massage technology, this massage chair perfectly mimics professional massage. The state-of-the-art Japanese engineering ingenuity is a feature that creates an exceptional experience. It delivers full-body massage which is proven to reduce tension and stiffness while maximizing relief.
The DreamWave is equipped with 3D Body Scan technology that locates pressure points, allowing the rollers to adjust to your individual needs. Of course, manual control is also available. Did you know that the DreamWave massage chair is the only one in the market that promises maximum relaxation by covering more than 1,200 square inches of the body?
S-track Design
Fully functional quad rollers adapt to the curve of your spine. This results in a therapeutic massage. However, the S-track design is limited to the spine and back area. To many users, the product disappointingly lacks this feature that, ironically, is present in its cheaper counterparts.
Zero-gravity Seating
The NASA-inspired technology is also part of the Inada DreamWave's features and expected of a high-end massage chair of its kind. However, the model only offers one position – Zero-G seating. Zero-G seating reclines the user in a position wherein the knees are elevated a little above the chest. The position promotes better circulation and allows for a deeper, more satisfying massage.
Massage Options
The Inada DreamWave offers a wide variety of massage options, and perhaps the reason behind the overwhelming price. There are six massage techniques, including Human Hands, Kneading, Double Knead, Tapping, Shiatsu, and combined Kneading + Tapping.
In addition to these techniques, the chair comes with eight pre-programmed massage options including Full body, Full body air, Youth, Quick, Morning, Night, Stretch, and Dreamwave. These pre-programmed options that are highly customizable. Apart from the original list, you can also choose to set to Deep Relaxation option. The Deep Relaxation feature is a new addition to the model. Enjoy five up to 30 minutes of quiet massage.
Because the DreamWave is installed with 101 airbags, expect to get a deep, relaxing air massage. Inada is particularly proud of their strategically located, completely padded airbags with heat therapy.
Inada's calf and foot massage gives a soothing relief especially for those who spend most of the day on their feet. With an easy-to-use, advanced remote control, all you have to do is press the option of choice. There is a learning curve, but because all the buttons logically placed, users usually get the hang of it in no time.
Pros
Pros
Extensive air bars
Various massage options
Quiet
Longer massage; up to 30 minutes
Exquisite design
Durable and made of quality materials from Japan
Cons
Cons
Very expensive
Only one zero-gravity position
Heavy
No temperature control
No MP3 connectivity
No hybrid L-track
Our Verdict
Key Features
User-friendliness
Body (size, weight, materials)
Warranty
Price
OVERALL MASSAGE QUALITY
---
Human Touch iJoy-2580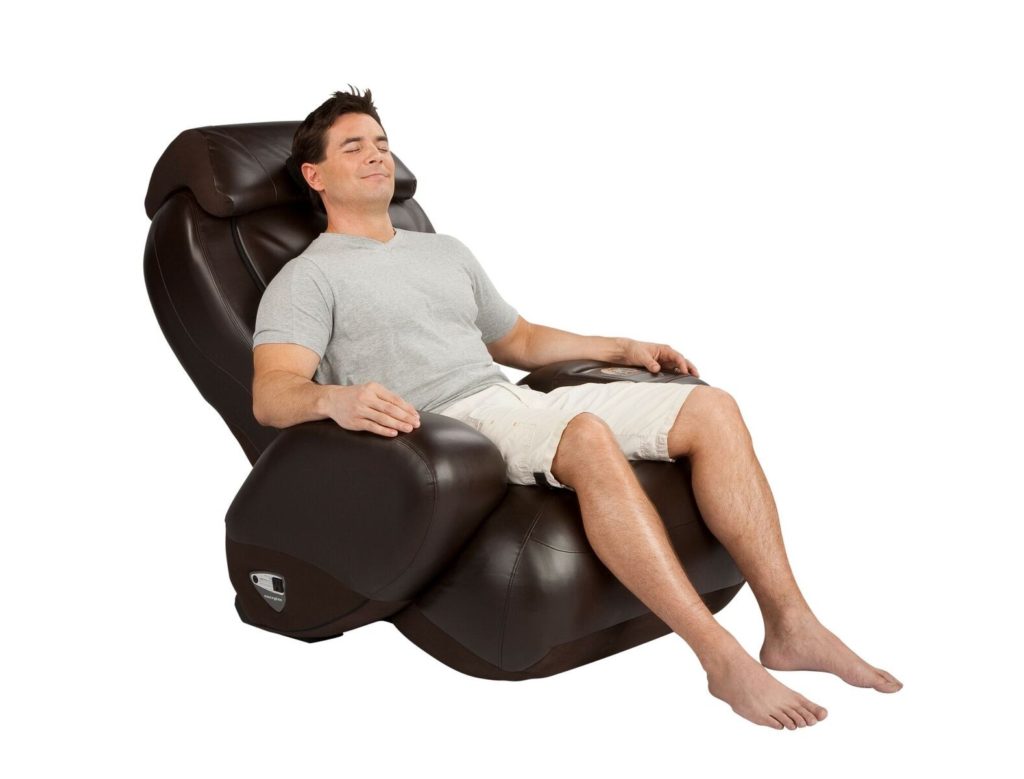 Watch: Human Touch iJoy-2580
Human Touch is one of the manufacturers of affordable, but remarkable massage chairs. Based in California, the company has continued to impress homeowners with a stylish Human Touch iJoy massage chair series, particularly the iJoy 2580 model. It is an exceptionally comfortable massage chair that does what it ought to do.
The Human Touch massage system is a patented technology that eases upper and lowers back pains, tension, and even fatigue. It is of perfect size, a relatively small machine that hosts healthful benefits. Improve relaxation, blood circulation, normalize blood pressure and relieve stress. You can customize your experience by activating any of the 3-back massage programs. All three programs mimic the four primary massage techniques used by professional massage therapists, such as rolling, kneading, compression, and percussion.
The iJoy 2580 is an affordable massage chair at only $999.00. A perfect gift for a dear friend, family member, partner, especially, to yourself. It is not an overwhelming purchase as compared to the other four massage chairs featured in this review. An easy buy! However, this particular model is the most expensive in the iJoy series. The iJoy 2480 is the "chair that offers style, wellness, comfort, and control" in under one grand. A wise investment indeed!
Features
The chair features 3-automatic programs, namely the Back Refresh, Neck/Shoulder Relief, and Lower Back Release. These three programs cater to the body's highest pressure points. You can choose the angle of the back, personalize the angle up to 170 degrees with a single push of a button. This feature is the chair's power recline capability. Compared to earlier models, only the iJoy 2580 carries the power recline feature.
Freely rest your head over the contoured head pillow for added comfort. However, when you want a deeper massage, you can easily remove the softening pads. This is how you control the intensity of your massage. While enjoying a relaxing massage on your Huma Touch iJoy 2580, you can safely sip your coffee or tea. With the built-in cup holder, you can have any drink of your choice. The Human Touch iJoy 2580 does not carry the most advanced massage techniques and programs in the market, but it is a reliable machine.
Pros
Pros
Affordable
3- invigorating automatic massage programs
Small and light
Elegant color and design
Cons
Cons
Limited features
No airbag massage feature
No calf & foot massage
No intensity control
No heated rollers
No zero-gravity seating
Our Verdict
Key Features
User-friendliness
Body (size, weight, materials)
Warranty
Price
OVERALL MASSAGE QUALITY