| Sewing Machine | Ease of Use | Durability and Warranty | Speed and accuracy | Pattern and style | Price and Overall Rating |
| --- | --- | --- | --- | --- | --- |
| | 17/21 | 13/13 | 11/13 | 10/13 | 4.5/5 |
| | 14/21 | 11/13 | 12/13 | 9/13 | 3.5/5 |
| | 16/21 | 11/13 | 11/13 | 9/13 | 4/5 |
| | 17/21 | 11/13 | 11/13 | 11/13 | 4.2/5 |
| | 19/21 | 10/13 | 11/13 | 11/13 | 4.5/5 |
Our Rating System: The Comprehensive Questions Checklist
To help customers decide if the sewing machine is good, we have made our checklist. We formulated five ranking factors to know what will be the best sewing machine, and from that research, we made a comprehensive list with a total of 68 questions. We then score each sewing machine and also state what area or users the said sewing machines work best. Not all ranking questions are equal, so even if one sewing machine has more questions answered with a yes, the total score out of five stars, may be lower compared to another with lesser yeses.
Ranking Factors: questions that must be asked
Let us face it: sewing can be a laborious task, and a sewing machine should make it easier to make clothes, not harder. Here are a few questions we asked to see if the sewing machine is an excellent fit for sewing.
Ease of use: "knot" hard to understand
For preparation before sewing
Can you fill the bobbin quickly and easily?
Does threading the machine take less than 3 minutes?
Are both the Bobbin binder spindle and the winder stopper near to each other?
Is the needle clamp screw easy to change?
Is the thread easy to draw from the bobbin as well as easy to insert in the needle?
If the answer of at least 3 of 5 questions is a yes, then that is an excellent choice.
All in all, preparing should take at most 5 minutes. The filling and drawing of the thread from the bobbin should take the majority of the prep time, around 3 minutes, and the threading less than a minute.
For the sewing

Is it easy to manipulate the needle and thread to make the predetermined pattern?
Are the instructions understandable?
Can you quickly change threads during sewing?
Is it good with cotton fabric?
How about denim?
Is it efficient for beginner-level sewers?
If it is a computerized sewing machine, can it perform more than 20 designs and patterns?
Regarding stitches, are the stitch width and length dials easy to use?
Is the hand wheel accessible?
Are the thread tension dial and the take-up lever easy to use and access?
Can you customize easily, especially for heavier fabrics like canvas?
Does the feed dog work accurately and silently?
Can you make changes quickly when a mistake was made?
If the answer to at least 7 of the 13 questions here is a yes, then that sewing machine is at least above average.
For the aftercare
Can you quickly take the finished product from the needle plate?
Is maintenance needed every other week?
When performing maintenance, do you need to open a lot of compartments?
A respectable sewing machine should answer yes to 2 out of 3 questions.
Durability and warranty: Sturdier than they "seam."
Durability
Durability can be categorized into 2, balance and robustness, which is mostly influenced by physical strength and design.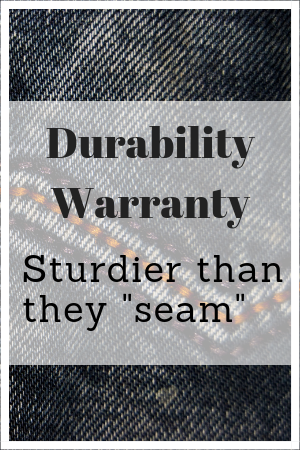 For balance, we have the following questions:
Does the needle stay accurately and steadily after adjustments?
Are the Bobbin and the dial controls for length and width of threads stable?
Does the sewing machine needle stay the course or pattern at the highest speed?
Is the needle plate immovable when in use?
Is the presser foot strong enough to keep the fabric in place and flexible enough for the material to move when sewing requires movement?
Does the spool pin remain at place?
For robustness, we ask the following questions:
Is the sewing machine made from good durable material like stainless steel?
When scratched, does the outer layer not show any signs of dents?
Can the Bobbin cover be easily opened and closed?
Will the Bobbin winder stopper, as well as the hand wheel, remain at place when used?
Does the sewing machine remain silent as possible if in use?
Warranty
Usually, the warranty can be categorized as either a full one or a limited or conditional agreement. Full warranty allows buyers to have their parts replaced, no questions asked. Limited have pre-requisites, like proof that the cause is a factory defect, or that the machine broke down even if due diligence for maintaining the device is done correctly.
The industry standard for limited warranty is within 10 to 15 years. Full warranty is quite shorter compared to a limited one, with full warranties being 1 to 2 years, while limited warranties can go from 5 years to 25 years.
Important things to note: Always have a copy of the receipt. Read the warranty contract for conditions, like being unplugged when the sewing machine is not being used. Unless otherwise stated, it is safe to say that labor costs for repair are not part of the warranty, but light assembly, like maintenance or minor and cosmetic adjustments, can be covered.
For durability, there is a total of 11 questions, with six questions for balance and five questions for robustness. If there are four questions answered with a yes for balance and 3 for robustness, then the sewing machine is above average.
For Warranties, we look at three factors: If the warranty if full or limited, whether or not the warranty period is longer or shorter than the industry standard, and if the conditions are easily met. Full warranty is preferred. People should prefer a longer period compared to the industry standard, which is 10 for limited and 1 for full warranty. Ease of accomplishing the warranty conditions are observed as well.
Speed and accuracy: sew fast, sew good
For speed, we mainly ask these questions:
Can you do more than 350 stitches per minute?
Is the dial easy to use?
Can the needle plate easily change the direction of the fabric to accommodate changes in patterns and designs?
Does the needle follow the speed that you want?
Is the presser foot able to hold the material flexibly, making sewing both fast and easy?
Is it easy to change into free-motion quilting from a patterned one?
Can the hand wheel be readily used?
When the hand wheel is used, will there be a quick adjustment to the height and altitude of the needle?
Will the sewing machine switch easily when the dials are used?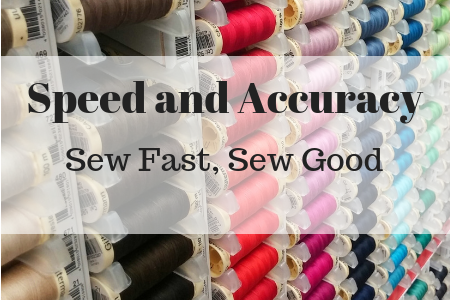 For accuracy:
Does the needle remain accurate, especially with no inaccuracies even after 10 minutes of regular sewing?
Can you hide the stitches easily when you are doing seams at the back or on the edges?
Does the needle clamp remain firmly in place unless consciously moved?
Will the thread be easily lengthened or tensed?
Are the dial controls easily accessible?
If the sewing machine can answer yes eight times out of the 13 questions, that sewing machine is a good one. The standard is higher because the speed and accuracy metric is the most practical and observable.
Sewing speed and accuracy can be quite tricky to objectively judge due to having computerized sewing machines. However, for hobbyists and master artisans alike, free-motion sewing gives the most joy and the most creative results, so combining a standardized pattern with the free-motion style of stitching can make a sewing machine good for everyone. If you are looking for real results, get a computerized sewing machine. If you sew for fun, having a manual sewing machine can be very fulfilling.
Pattern and style: "shear" beauty and enjoyment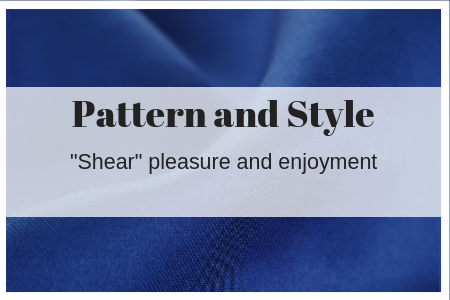 For how efficient the sewing machine is with pattern and style, we ask the following questions:
For computerized sewing machines, do the templates and patterns number at least 100?
Do the controls give you enough flexibility that you can you customize the patterns yourself?
For manual or free-motion sewing machines, can the stitches in your mind be accurately translated to beautiful patterns on the fabric?
Are the dials and controls easily be accessed?
Can the dimensions of the thread be controlled swiftly, i.e., length, combining threads to increase width, etc.?
Does the needle plate ensure that the fabric remains smooth after the sewing activities even if the needle moves fast and strong?
Does the presser foot steadily give enough friction that the fabric smoothly goes through the needle?
Does the feed dog make pulling the material easy and fast?
Can big containers and compartments, like the Bobbin cover, be easily reached within seconds?
Can you do some stretching for the fabric and stitching?
Are buttonholes quick to make with this sewing machine?
Is the transition from a straight stitch function to other thread patterns like a twin needle thread system quick and easy to do?
Is the speed constant with heavier fabric materials like canvas or upholstery?
Of the 13 questions, at least six questions should be answered by a yes. Only six is required since a computerized sewing machine, and a free-motion sewing machine have their uses. It can also be argued that a computerized sewing machine must have stricter standards since you can do both free-motion and programmed sewing.
Price and Overall Rating: let your dollar go the extra yard
Price can be quite a contentious issue, so rather than comparing prices of each vacuum to the market, we look at the price with the benefits and quirks. We will assign a score of the price in relation to the features as well as our checklist of questions here.
Regarding price, we ask the following questions:
Is the price fair?
Are there similarly priced sewing machines but with minor features?
Are there accessories added as part of the sewing machine?
Is the sewing machine easy to customize?
Are there services added as part of the package?
Is the sewing machine energy efficient, i.e., uses around 110 volts?
Is the brand reputable for their warranty, quality, and price?
At least 4 out of 7 questions must be answered yes to have a passing grade. Price will be part of the overall rating.
Now, let us move on to the sewing machines themselves.
SINGER Quantum Stylist 9960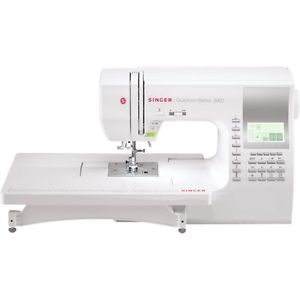 Ease of use
Preparation for sewing is simple; the bobbin is top loading and can be found at the right, so access to it is very straightforward. Threading is also very fast, since the sewing machine has a self-cutting and self-adjusting program, removing the need for a lot of adjusting. All of the five questions in the checklist has a yes!
The same can be said of the sewing abilities itself; a lot of the controls are programmed. This sewing monster has its Digital Advisors LCD, which gives you a lot of control regarding the needle and the Bobbin. No matter what fabric materials you use, this sewing machine can sew and stitch and quilt like it's nobody's business. On the other hand, if you do make a mistake, you may need to pull out the thread. While the sewing machine is very accurate due to its programming, human errors can be made. All in all, of the 13 questions regarding the act of sewing, it can answer yes to 10 of them.
Aftercare is also very straightforward; not a lot of maintenance is needed. There are almost no compartments since the dials and controls are mainly digital. This digitalization of instructions means lesser physical handling for the users. 2 out of 3 questions answered with a yes.
Durability and warranty
For the sewing machine, there is a limited warranty for 25 years. For the essential components like the wiring, dials, speed and length controls, electronic parts, motor and other internal parts, there is a limited warranty for five years. Lastly, for external components, accessories and other optional parts like the belts and rings, bulbs, attachments and even small tweaks on the appearance and controls, there is a limited warranty for just a year.
For balance and robustness, this heavyweight score high marks! The needle plate and the feeder dog are very durable and steady, which improves the accuracy of stitching. Controls are digital, so there will be a lesser risk of damaging a specific part. The sewing machine is relatively heavy, giving it great balance, with the center of its gravity distributed evenly on the lower surface area. 11 out of the 13 questions have a resounding yes.
Speed and accuracy
This is one of the fastest sewing machines in the market, capable of doing 850 stitches in a minute. While this is mainly due to the computerized programs in the sewing machine, the other parts are doing their job correctly. The needle is very stable, and the feed dog and needle plate are firmly in place and flexible enough that manipulating the fabric material is easy. Threading is done automatically, as well as length and width adjustments, especially if the pattern and dimensions of the thread are already part of the program in the sewing machine. The speed control is also effortless to use, so you can be as leisurely or as hurried as you want.
This sewing machine is like a sniper when it comes to stitching accuracy! 30 minutes of sewing and no mistakes that are apparent. Granted, the stitching was a design digitally stored, but after sewing, moving to the selvage is easy to do, and the stitches are immaculate, unlike some computerized sewing machines! Straight stitches are linear without any unnecessary curves, and tacking two different fabrics are easy to both stitch and unstitch.
All in all, 11 out of the 13 questions for speed and accuracy. This sewing machine is more for beginners than experts, but veterans can appreciate how easy it will be to sew.
Pattern and style
For patterns and style, this is a sewing machine that is tough to beat! Since this is a computerized sewing machine, you can expect hundreds of designs and stitches already programmed. There are also dimensions, like thread length and width, have their pre-built specifications as well. Making embellishments, like buttons and beads on the surface of the fabric, is also possible with the smart button hole feature.
Quilters can also rejoice since you can do quite a beautiful patchwork with all of the designs pre-set in the library of more than 600 stitches and patterns. While it is advisable to stretch the fabric before using this machine for sewing, the needle plate and feed dog can take care of directing the fabric material with no problems. Whether quilting or stitching, this sewing machine can do elaborate or simple patterns and styles.
Answering yes to 10 of 13 questions, the Singer Sewing Machine can give the basic patterns while providing flexible customization.
Overall rating
Scoring perfectly with preparation as well as getting very high marks with sewing, styling, and durability, the Singer Sewing Machine is best for beginners as well as industrial sewers. The price point is very fair, as compared to other sewing machines from other brands with the same features, this sewing monster can do more at the lesser price point. The limited warranty is also a lot longer than others at 25 years, and this heavyweight sewing machine lessens the risk of damaging controls as most instructions can be inputted digitally instead of manually. Also, the sewing machines stitch immensely fast, able to do 850 stitches in a minute.
One of the best sewing machines in the market today, we give this sewing machine a well-deserved 4.5 stars out of 5!
Brother Sewing Machine XM2701

Ease of use
Threading is above average; less than 40 seconds for inserting the threads in the bobbin and another 30 seconds connecting the thread to the needle itself. Factoring in the preparation of the thread measurements as well as other pre-sewing activities like fabric positioning, preparation takes less than 3 minutes. The automatic needle threading system helps the speed. Three out of five questions have a yes.
The sewing itself is quite easy to do. The machine has an excellent free motion capability. However, if you want to even get more range of flexibility, purchasing a separate free motion quilting foot will make sewing and stitching a lot easier and faster. Of course, the free arm makes stitching and sewing easy, especially for pockets, sleeves and even skirts. However, the machine has a simple buttonhole system, as well as limited stitches. Nine out of thirteen questions answered with a yes.
On the other hand, the LED light is not that bright, so it is highly recommended to sew in a brightly lit room. After-care is hampered by the low visibility (I almost cannot find a white thread that I pulled out) so better prepare your glasses or a have a flashlight nearby. 2 out of 3 questions answered with a yes.
Endurance and warranty
For critical internal components like the chassis, motors and even the steel needle head and internal wirings and controls, the industry standard of 25 years applies. For the labor, especially for assembly, disassembly, repair and maintenance work, there is only a year given. The same applies to parts and accessories; the warranty lasts for only one year. Interestingly, the electronic parts, as well as the circuit board, has a warranty of 2 years.
The sewing machine, even if it has a lower cost compared to other sewing machines in this review, is quite durable. The material is very strong, with a design that protects the bobbin perfectly. The sewing machine is also very light, so it has additional points for being portable. Balance is good as well, with a flat surface that distributes all the weight in a stable manner.
12 out of 13 questions answered with a yes. Very durable and stable for its size and price.
Speed and accuracy
It has a maximum of 800 stitches per minute which is above average for the industry. However, this sewing machine is not the fastest in the review. On the other hand, this is the lightest and cheapest, so the pros definitely outweigh the cons.
Button holes can be a different concern due to the limited process with this machine only having one button hole design, and there are only 27 stitches pre-designed. This can be a challenge for those looking for lots of flexibility, but this is a plus for speed; lesser choices mean faster dial settings and decision making on the part of the person stitching.
For accuracy, this sewing machine is like a sniper! Unless you are a beginner, you can be rest assured that the needle will remain firmly in place, and the feed dog takes the fabric pretty well.
A heads-up though, we used the lighter fabric materials since this sewing machine is quite smaller than most. We did not use the heavier fabrics like canvass and denim.
All in all, we give 12 out of 13 for speed and accuracy. What it lacks in pattern and design flexibility, it makes up for speed and accuracy. While not the fastest in this review, the sewing machine is very accurate.
Pattern and style
Only one button hole style limits the style of this sewing machine, which means a lower score for pattern and style. Unlike other sewing machines with hundreds of stitches and designs, the library of templates is actually limited. On the other hand, there are 63 stitch functions, so more complex patterns can still be done, but with added time. Compared to other sewing machines, this one has a lower versatility score.
That does not mean that you cannot make beautiful patterns and designs. The sewing machine has all the necessary pre-set basic patterns and stitch styles. To make the more complex ones, you simply just have to combine the stitches and patterns.
9 out of 13 questions answered with a yes. Respectable flexibility of design and can get the job done, but veterans and people who love complex patterns may prefer a different one.
Overall rating
We can say that the Brother XM2701 is an excellent choice as a gateway sewing machine; it is very easy to thread and use for beginner stitching. At the same time, the price is very inexpensive. The sewing machine is above-average overall, but for the price and target customers (beginners), it is very worth it. 3 stars out of five for veterans and industrial sewing professionals, but a solid 4 stars out of 5 for beginners. Overall, the sewing machine should deserve 3.5 stars out of 5.
JUKI MO644D Portable Serger

Ease of use
Arguably, this is the easiest to use sewing machine in the list, for the right person. Both for preparation and for stitching and sewing, you can finely control the threading. The ease is very apparent in the preparation and control of the thread; for the insertion of threads as well as the length and width for your stitching needs, all the dials are easy to reach. Heads up though, for beginners, especially with those who have not used a Juki sewing machine before, the controls for threading is on the left side, so opening the compartment is always needed.
However, for those who are accustomed to the automatic computerized sewing machine, this may not be the best choice.
For veterans and for those who enjoy working more manually, i.e. no input of design or patterns digitally, then this is a perfect fit. Out of 21 questions for preparation, sewing and aftercare, we give out 16 yeses.
Endurance and warranty
One of the lighter sewing machines in the market, the Juki MO 644D is portable and extremely durable. Compared to the sewing machines in the list, this one can be easily carried, and at the same time have a very sturdy race hook and feed dog. Another benefit is that it is very easy to set up without any negative effect on its balance.
The warranty for this sewing machine is quite a bit lower than most; JUKI, the company, only gives a limited warranty of 5 years for all parts. The company also offers a much lower limited warranty for internal pieces and related labor; motors, wiring, stitches, and circuit boards are only provided a warranty of 2 years, as well as any light assembly. Interestingly, should parts of the sewing machine break down, there is only a warranty of 60 days. 11 out of 13 for durability.
Speed and accuracy
Speed is excellent, especially considering that this is a smaller portable version. While not as fast as 600 stitches per minute with computerized ones, this manual sewing machine is faster compared to other manual machines in their size area. Stitching can be done quickly, and the dials to control the length and width of the thread are easy to access and use.
Manual accuracy is amazing, but is limited since there is no free arm. Accuracy is a bit relative, since this is a manual machine so for beginners who expect automatic error-free stitching, this might not be for you.
11 out of 13 questions answered with a yes, so it is above average.
Pattern and style
Unfortunately, the Juki MO 644 does not have a free motion capability since there is no free arm available. This lack of free arm can make patterning and styling the stitches difficult, if not laborious. However, a sewing machine can still be a good one without a free arm, provided that the needle is accurate and the stitching speed is good. This sewing machine is a good manual alternative to the computerized ones in the market. All in all, 9 out of 13 questions answered with a yes.
Overall rating
Factoring in the different target craftsmen and hobbyist for this sewing machine, we give it 4 stars out of 5. This machine can improve anyone's stitching, since it is a manual one. Highly recommended for the serious hobbyists who love to work with their hands without any computer supervising their work.
Janome Magnolia 7318

Ease of use
Another lighter and portable sewing machine, the Janome Magnolia 7318 is a Japanese sewing machine that is easy to use. The thread cutter slices the threads accurately and quickly. The needle eye faces you directly as well, so lesser time and effort in inserting threads. Conveniently placed below the face plate, threading becomes a lot faster because of the thread cutter, even compared to computerized sewing machines, for threading alone.
Sewing and aftercare are also very easy to do because the sewing machine is very compact. Again, the manual way of sewing may take more time than a computerized one, but this sewing machine is still quite fast. The controls are also easy to access and easy to clean.
17 out of 21 questions answered with yes.
Endurance and warranty
The Janome Magnolia 7318 is sturdy. The presser foot lift gives it better balance, so you can be rest assured that the sewing machine will stay in place. The hook bobbin is top loading and the controls can be easily set up, so there will be lesser risk of doing damage to the sewing machine.
According to the warranty contract, needles, knives, loopers, needle plate, bobbin case, light bulb and rubber parts are replaceable within two years of purchase, while the motor, foot control, and belts can only be replaced under warranty in the first year.
Limited warranty for this sewing machine is slightly lower than average; there is 15 years for most materials and parts. However, please note that several components are only replaceable within the first warranty period of 2 years or even just one year if the reason for replacement is faulty quality or material.
11 out of 13 for durability and warranty.
Speed and accuracy
At 830 stitches per minute, the Magnolia 7318 is faster than most sewing machines. Of course, you can go slower, since it is very rare that you need to do 830 stitches in one go. Of course, this speed means that you can finish sewing before your hands get tired, so it is a big plus. Accuracy is also very high, as the needle stays stable with the needle plate. Dials are easy to reach and use. You can even steer the direction of the fabric easily and quickly. All in all, a very high-quality manual sewing machine. 11 out of 13 questions answered with a yes.
Pattern and style
As a manual sewing machine, the Magnolia 7318 does not have a lot of patterns and stitches that computerized sewing machines have. However, the dials have a pre-set pattern already, which gives a lot of possible patterns and designs whenever you change the controls. All the basic stitches are present as well. Of course, you can control the fabric relatively well due to the great needle plate and feed dog, so you can be assured that your sewing project looks great. Simple but elegant will be a common compliment for your handcrafted masterpieces with the Janome Magnolia 7318!
Styling is also easy to do with the controls all in front of you. You can change from making buttonholes to making seams very efficiently as well.
All in all, the Magnolia 7318 scores pretty high for pattern and design for a manual sewing machine. 11 out of 13 questions answered by a yes.
Overall rating
For the serious hobbyist who wants to make great clothes without the aid of computers, the Janome Magnolia 7318 will be an excellent choice. With high marks for speed and accuracy as well as ease of use, this compact and portable sewing machine does its job well. 4.2 stars out of 5.
EverSewn Charlotte: 70-Stitch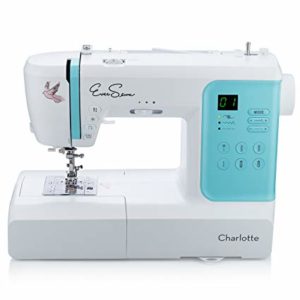 Ease of use
Immensely versatile and modern, the Charlotte has very practical parts, especially the adjustable feed dog and the automatic needle threader. Lesser time to thread and easy to use LED screen allows you to control the stitches and patterns while your hand moves the fabric along your intended stitch line. Easy to maintain and clean after as well, with the durable frame being easy to wipe and compartments easy to clean. Almost as if automated, sewing is made easy. Keep a close eye on the thread remaining in the bobbin though, since it can easily finish emptying the thread. 19 out of 21, which is one of the highest scores for ease of use.
Endurance and warranty
Warranty is lower than most; there is 10 years in case the mechanical parts need replacement. Labor will be provided for light assembly, provided that the sewing machine was used for a year or less. The warranty for electrical parts follows industry average; there is a limited warranty for one year. Also, a special provision is in the warranty contract; the product must be unplugged from the power source when not in use.
Durability is also great. The balance of the sewing machine remains even if the sewing machine moves a lot. Since this is a computerized sewing machine, there is a lesser need for opening and closing compartments, which makes the lifespan of the sewing machine longer. The sewing machine may look small, but it is definitely not terrible, especially with how reliable it is!
10 out of 13 questions answered with a yes.
Speed and accuracy
As a computerized sewing machine, the EverSewn Charlotte is faster than most. With the ability to sew 850 stitches per minute, finishing a sewing project is both fast and simple. With more than 70 stitches already programmed, switching between a basic straight stitch to a cross or zig-zag is easy with just a push of a button. Seams can be done in a matter of minutes and patchwork is done efficiently with just a small amount of time and effort. Even in denim and canvass, the speed remains where other sewing machines have to slow down due to the strength of the fabric. This sewing machine scores high with 11 out of 13 yeses.
Pattern and style
Whether you want to make an ornate embroidery or you just want a stitch you can hide efficiently, this sewing machine has 70 stitches already programmed inside. A pull-out stitch can also be used immediately, and you also can just use the templates and stitches as the default style. The LED screen is easy to use and the controls are simple; no complex hand motions here! A solid styling sewing machine, 11 out of 13 questions answered with a yes.
Overall rating
For those looking for a light but heavy-duty sewing machine, then this computerized sniper of a tool will be your best ally! With 850 stitches per minute and 70 stitches prepared, you can style stitches quickly and accurately. The price can be a bit higher, but this sewing machine made in the United States is worth its weight in gold. Scoring 4.5 stars out of 5, this sewing machine is highly recommended!