Indoor Whirlpool Massage Hydrotherapy Bathtub with Water Heater
Lifesmart Rock Solid Luna Spa with Plug & Play Operation
Hudson Bay Spa with Stainless Jets
SDI Factory Direct Indoor Hydrotherapy Spa
Woodbridge Water Jetted and Air Bubble Freestanding Bathtub
Hot tubs and spas are considered luxuries. Some see it as worthwhile investments at home. Others don't realize the importance of owning one. Busy professionals, couples, and families who prefer a Zen-like environment while having a downtime will not think twice about purchasing a hot tub. Installing it within your reach is as good as staying in a high-end hotel. It's giving in to your dream indulgence of a perfect avenue for relaxation.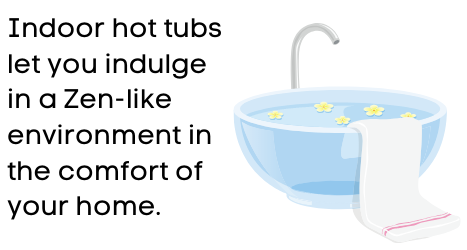 Hot tub spa provides recreation and therapeutic benefits like getting rid of the aches in your body. But how exactly will you know which hot tub spa is right for you? Remember, there are things to be considered when choosing the right hot tub. You can't buy an indoor hot tub just because it is aesthetically compatible with the theme in your home. Features and benefits are essential when you want to invest in one.
Many indoor hot tubs on the market come in all sizes, shapes, and materials, but finding the best and most appropriate one to put in your home doesn't have to be complicated!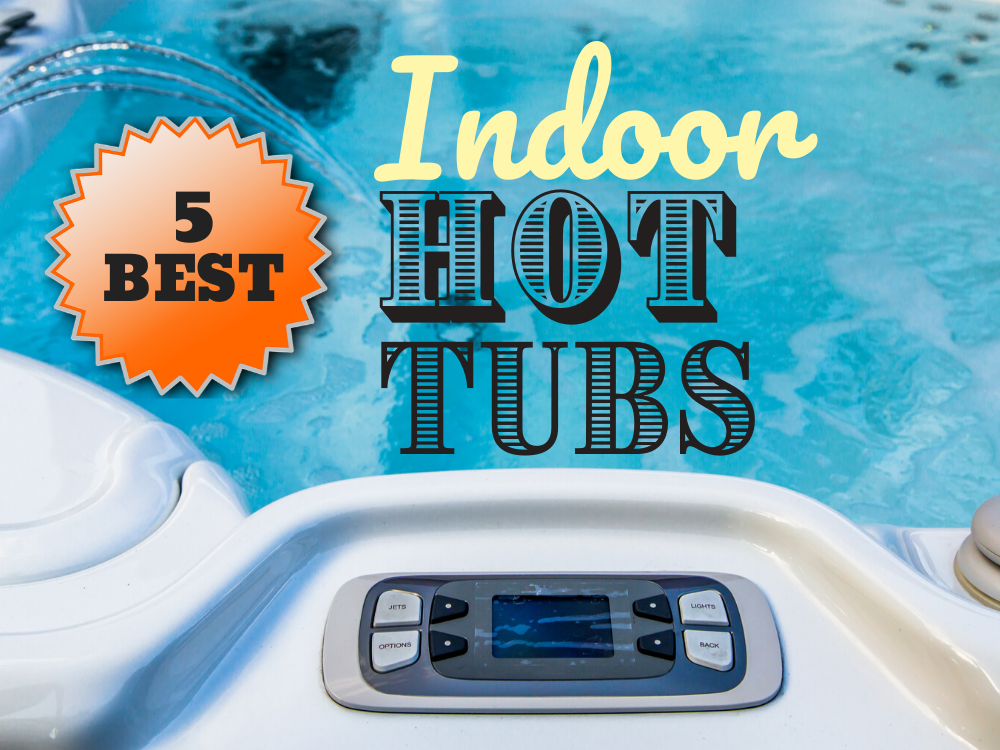 We're here to help! Here are the five best indoor hot tubs we think you should keep in mind when you do your shopping:
1. Indoor Whirlpool Massage Hydrotherapy Bathtub with Water Heater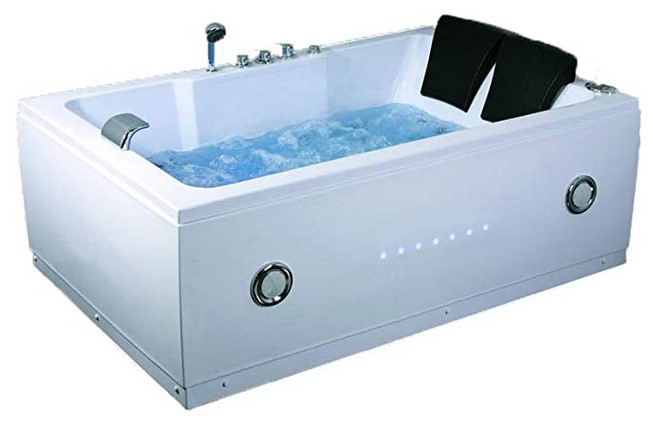 Technology plays a massive role in everything; even hot tubs have Bluetooth features. This Indoor Whirlpool Massage Hydrotherapy Bathtub with Water Heater for two persons is equipped with Bluetooth and comes with a handy remote control. Of course, this also has an in-line water heater to keep the water warm while you enjoy your dip. The tub has a sleek white finish that will perfectly go with a modern minimalist bathroom.
Other amazing features for this indoor hot tub, are the massage and air jets which provide hydrotherapy spa experience. As mentioned earlier, it is similar to getting a gentle full body massage. An LCD Control system will allow you to see every function you select. Even the radio station that you prefer can be found on the control panel. An FM radio in your hot tub, who wouldn't like that? Serene background music will surely set the mood for you and your partner.
This comes with accessories, too, like the two soft padded waterproof headrests, handheld shower wand, and the thermostatic faucet, which has an Ozone water cleaner. The final touch for this indoor hot tub is the lighting effect underneath, keeping the scene light and bright while enjoying your hot spa is a sure possibility.
The materials used for this tub are acrylic and three layers of fiberglass with the ABS compound feature. You will not have problems with the sturdiness because the base is reinforced with a stainless steel frame. The tub structure has warranty coverage of 5 years and one year warranty for electrical issues.
Our Verdict
Talk about relaxation… THIS IS IT! Everyone needs an Indoor Whirlpool Massage Hydrotherapy Bathtub. Interested?
---
2. Lifesmart Rock Solid Luna Spa with Plug & Play Operation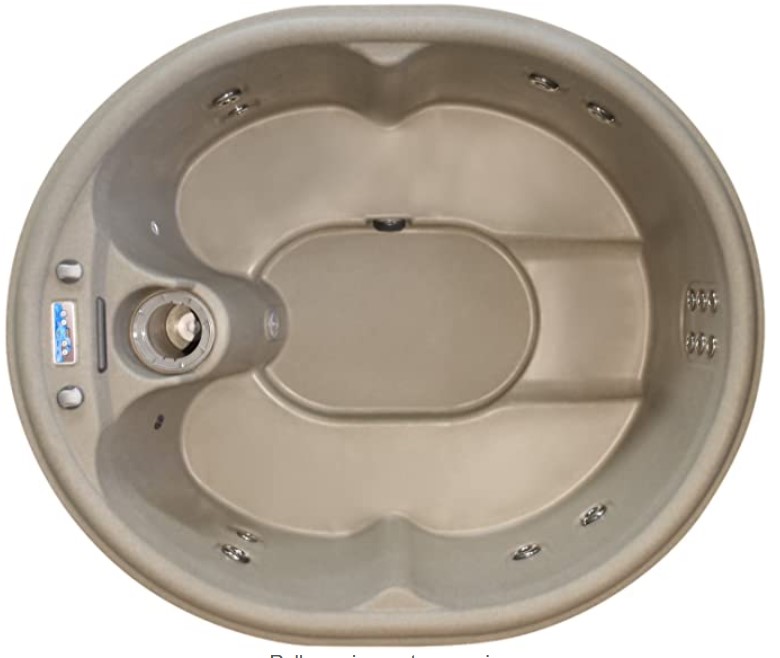 If you wanted something durable but sophisticated, Lifesmart Rock Solid Luna Spa with Plug & Play Operation is the brand to look into. Every penny spent is never wasted if you own one of their hot tub spas. They show comfort and luxury at its finest. The tub has jets with interchangeable functions, which you can set to your preferred massage strength. The control panel can be found on top of the tub exterior for easy access. A comfortable deep bucket seat with spinning jets at your back and the footwell jets, are features to take advantage of when you have a Lifesmart Luna Spa.
One of the distinctive specs for this hot tub is the plug and play. There is no hassle on the installation since you only have to find the right spot and plug it in. This brand makes sure that its tubs are not only user-friendly but equipped with Eco Smart technology too. High electric usage will not be an issue because it has a built-in low energy management system. You can enjoy having a spa for as long as you want on any given day.
The Lifesmart Luna Spa shows off its high-class accessories such as the full foam insulation system as well as the spa cover with the energy-efficient feature. It also has a spa light with an exchangeable mood lens, which sets the atmosphere while reveling in your leisure time.
Our Verdict

The Lifesmart Rock Solid Luna Spa with Plug & Play Operation has a beautiful and sleek design, sure to complement any home decor!
---
3. Hudson Bay Spas with Stainless Jets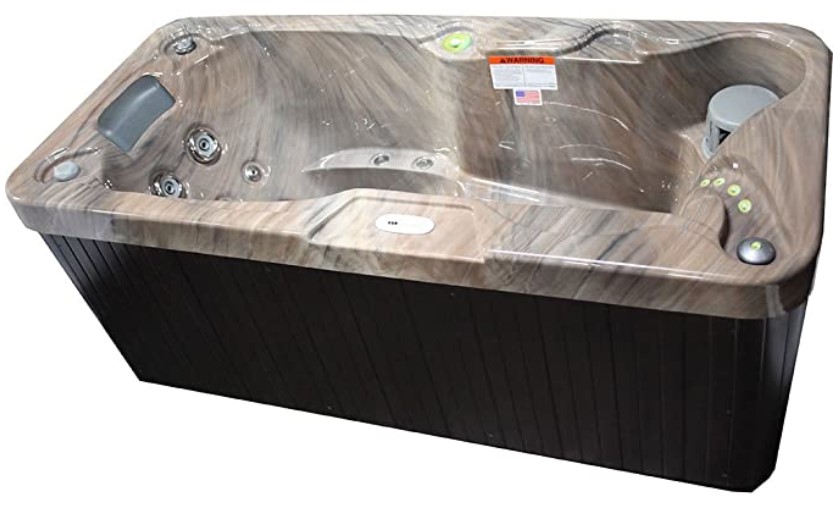 If you want a spa that's solely for yourself, this Hudson Bay Spa with Stainless Jets for one person is something to keep in view. It is powered with 19 stainless jets and 110V. No need to worry about the excessive electric bill; this indoor hot tub features low energy consumption with guaranteed high performance. Typically, it is a disturbing thought when electric equipment or home appliances do not have this type of feature. Your electricity bills just blow up quickly without you noticing it. That will not happen when you have a Hudson Bay tub spa.
The base is made of acrylic and reinforced with different layers of fiberglass. It has an anti-slip resistance to protect you from any dangers of slipping off. The tub is not bulky like any other hot tubs, with 80x35x30 inches in dimension, this fits easily into a corner of your bathroom. It has a mocha exterior with a dark brown wood-finish base, a very sleek-looking tub that can complement any contemporary bathroom design.
The Hudson Bay Spas with Stainless Jets comes with a one-year warranty on parts and a 90-day warranty on labor.
Our Verdict

Hudson Bay… a leader in-home spas. Take a look at the details on Amazon!
---
4. SDI Factory Direct Indoor Hot Tub Hydrotherapy SPA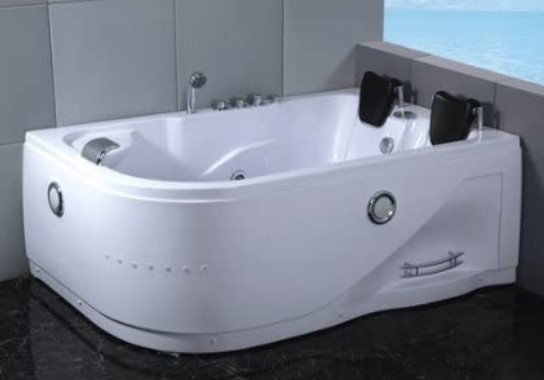 If a hot tub with sophisticated design is what you need, this SDI Factory Direct Indoor Hydrotherapy Spa hot tub for two persons is a good option for you. Equipped with high technology features such as Bluetooth and with massage bathtub hydrotherapy, this tub will make you and your partner experience luxurious leisure time.
Some key features to bear in mind are the six adjustable massage and six powerful back jets, which can be adjusted to your desired pressure for your hydrotherapy experience. The in-line heater has an ozone water cleaner that can prevent the formation of bacteria, viruses, and molds. This heater will also keep the warm water temperature longer.
Like in other fancy hot tubs, this comes with accessories such as handheld shower wand, waterproof pillows, which are soft padded, adjustable faucet, and LED lighting underneath to set a romantic mood in the bathroom. Each function you pick from the control panel can be read on the digital LCD screen for easy maneuver of the equipment. The remote control that comes with this tub will also make life simpler for you when navigating it.
When you want to create a dreamy environment on your own or with your partner while having a spa, turn on the FM radio, which comes with speakers, and tune in to the right music. By pressing the appropriate buttons on the remote control, you can also control the pressure of the massage jets. There is no need to get up on your feet; everything is within your reach.
The casing is made of acrylic and ABS compound materials. As for the frame, it uses stainless steel and reinforced with three layers of fiberglass. Free yourself from worrying in case there will be damages to the entire tub structure later on because it has a five-year warranty and a one-year electrical warranty.
Our Verdict

With an exceptional warranty, you can't go wrong with this one! Let the RELAXATION begin!
---
5. Woodbridge Water Jetted and Air Bubble Freestanding Bathtub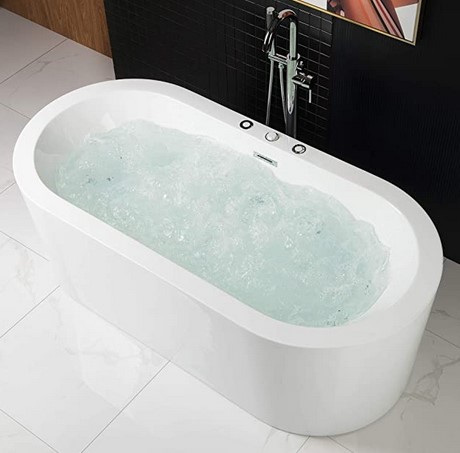 Function and style are essential points when you are shopping for bathtubs. The Woodbridge Water Jetted and Air Bubble Freestanding Bathtub is worthy of being on your list of possibilities. If you are considering a classic style that will complete the minimalist design in your bathroom, this air bubble tub is a sure fit. The tub is ergonomically designed to fit any body shape. It may look expensive, but it is low maintenance because the exterior is scratch- and stain-resistant. It will look good as new all the time.
Apart from its physical features, it also has ten body massage and whirlpool bubble bath jets that you can adjust to your preference. The drain and pipes used are of high quality; they do not wear out quickly. The V-shaped drain stops the awful smell from the sewage pipe. A sanitary feature is its bug cover that protects the tub from unwanted insects and bacteria formation.
The warranty of this equipment will help seal the deal. You will enjoy a 5-year coverage for the outer part of the bathtub. With the sturdy materials used on its casing, surely, you won't be calling for repairs for a very long time. In addition, there is also a one-year warranty on the bathtub parts. Usually, finding or replacing parts is the dilemma. But Woodbridge handles any missing parts for the first 12 months, so don't worry about it.
Choosing the right indoor hot tub requires a thorough assessment. You have to remember all the necessary points to consider. This will narrow down your options and eventually pick the best one for you. Regardless of your choice, once you have installed the hot tub spa, you are guaranteed exceptional relaxation experience right inside your doorstep.
Our Verdict

This special bathtub looks awesome, is functional, and is reasonably priced!