Every year, one out of four Americans die of heart disease. It is also the leading cause of death in the country with one fatality every 37 seconds. Knowing the signs and symptoms of this silent killer—such as rhythmic irregularities—will allow you to determine the crucial point between life and death, and do something about it!
If you have a history of cardiac complications, you can conveniently monitor your heart health with the help of EKG machines that now come in portable versions.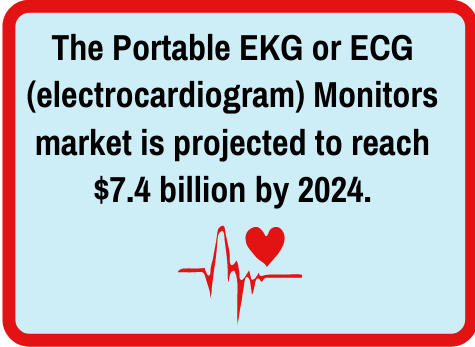 Portable EKG or ECG (electrocardiogram) Monitors measure heart activity displaying the information in graph form in the comfort of your home. Comes with six leads, the handy device works by tracking your cardiac electrical conduction system over a given cycle. The promising market is expected to soar to $7.4 billion by 2024 globally. While it is not a substitute for paying a regular visit to your physician, it is very convenient because it is:
Lightweight and small. These handheld monitors, either battery-operated or rechargeable, can be placed in the chest area, wrist, or other parts of the body.
Transmitting real-time data. The current results of the EKG monitor can be transferred to a computer or smartphone. Some have an option that allows your results to be directly forwarded to their physician for abnormal readings in cases of emergency.
Easy to operate. Some kits are wireless, while some have individual electrodes. Either way, guided instructions are provided where some are single button.
With the rise of wearable technology, more and more brands are popping up in the portable EKG Monitors arena! To help you make an excellent buying decision and pick the best from your numerous options, we rounded up the best portable EKG heart rate monitors available on Amazon.
1. SonoHealth Portable EKG Heart Rate Monitor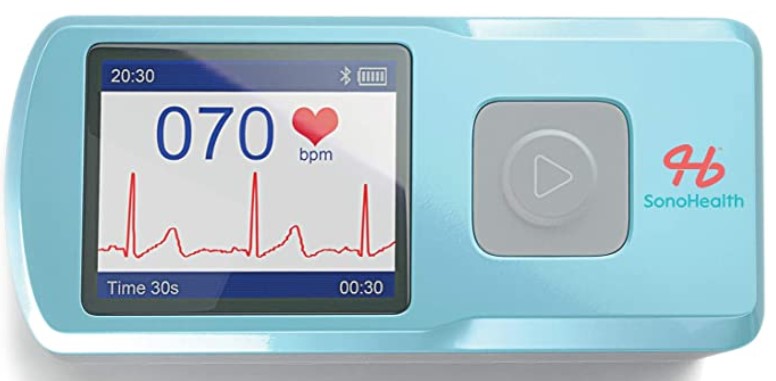 SonoHealth Portable EKG Heart Rate Monitor is the most user-friendly portable EKG machine in the market. 
This product's biggest selling point is its easy-to-operate features. Redefining digital experience in the field of health, this SonoHealth device comes with simple menus that allow users to see their current health data in real-time. Its heart information can be synchronized instantly from your Handheld and wireless SonoHealth device to your smartphones. After connecting with an Android and Apple compatible app, users can get unlimited free storage without additional hidden costs. However, you can also opt to use it without a smartphone app and just read results on its colored screen.
The three-lead sensors placed on the chest wall are made for more exact health readings. You can also place your fingertips for 30 seconds on the sensor, and it will start tracking your heart activities. With a brightly-colored LCD screen, users can see real-time displays of ECG wave patterns, heart rate, and time captured. It accurately presents the regular and irregular states of the cardiac cycles, detects an early arrhythmia, and the other heart analysis classifications. Their irregular tracings can be emailed or printed. Users can quickly put in their pockets while working, studying, or driving. This reasonably priced product has a 60-day satisfaction guarantee for those who are not happy with it and an unlimited warranty against manufacture defects.
Our Verdict

Heart health is important… Keep an eye on your blood pressure with the SonoHealth Portable EKG Heart Rate Monitor!
---
2. EMAY Portable EKG Monitor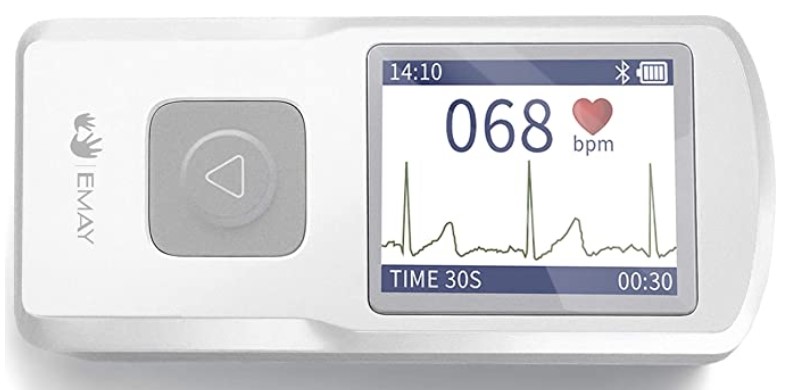 One of the most reliable homes and office EKG-detection machines, EMAY Portable EKG Monitor, offers a quick and reliable reading within a few seconds. From the detection of cardiac abnormalities, it is recommended for users with recurring problems in tachycardia bradycardia and arrhythmia. It has no hidden subscription fees, locked features, and upsells. 
EMAY Portable EKG Monitor is only one lead but is precise enough to monitor for cardiac irregularities and heart status. The bottom electrode can be placed on your chest, inside your wrist, leg, or opposite hand. Its easy-to-read display with a large LCD screen shows all the updated and relevant information in an instant. This personal EKG machine can capture ECG tracings and save it for clinical-grade reviews based on its offline data storage and history lookup.
EMAY can take unlimited readings with a medically-accurate ECG record for a better understanding of your cardiac status. For techy users, they can sync their data in their smartphones or download them in Mac or Windows computer optionally via cable. Its Bluetooth capacity makes it easier for sharing the data, and with your physician the most. The device also features multiple support that is suitable for the entire family. 
This small and portable gadget is lightweight at 0.22 pounds that can be placed in your pants pocket or carried in a purse. Being one lead and one-button operation, users are generally free from clutters of wires and cables. EMAY is also easy to use, needing half a minute to load and track all your current health status required. In the event of a factory defect, users have a 12-month period to get a new one free of charge.
Our Verdict

Take a look at the EMAY Portable EKG Monitor on Amazon.com!
---
3. Wellue Portable Handheld Heart Monitoring Device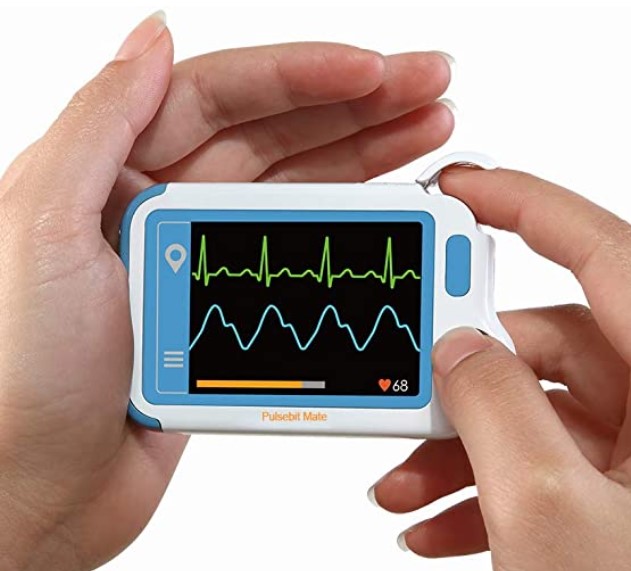 Wellue Portable Handheld Heart Monitoring Device is one of the smallest heart detectors without compromising the quality and functionality of the device. With the name itself being handheld, its compact size lets you carry this cardiac tracker practically anywhere and everywhere. It can work and stand-alone even without a smartphone. 
As a reliable heart-monitor-on-the-go monitor, it can professionally analyze irregular heartbeats such as arrhythmia, heart pause, atrial fibrillation, tachycardia, bradycardia, and premature ventricular contraction. Wellue's functional design also monitors pulse and chest measurements. The different wave detection modes are provided by different leads. For more accurate results, users can use reusable electro pads attached to cables. These external cable and electro pads can get you noise-free EKG tracings. Its colored LCD touch screen can be operated in one single button and takes three seconds to boot.
For night use, this gadget has an adjustable backlight. With unlimited storage in the mobile phone App, users can manage their EKG data. They can track, view, and share their reports clearly and intuitively. Wellue is only compatible with Windows users, where heart results can be downloaded and printed. Your physician can print a professional ECG report directly in a PDF/JPG format based on your heart status history.
Wellue Portable Handheld Heart Monitoring Device is available in a single or dual mode, which is perfect for family use. Each member can manage, store, and review their history data separately. The rechargeable lithium-polymer battery can test 500 heart rate recordings on a full charge with a charging time of 2-3 hours. Wellue comes with a one-year warranty from the manufacturer and a thirty-day return guarantee.
Our Verdict
The Wellue Portable Handheld Hear Monitoring Device is compact and convenient… but it's charge is impressive allowing 500 uses before needing a re-charge!
---
4. Vive Precision EKG Monitor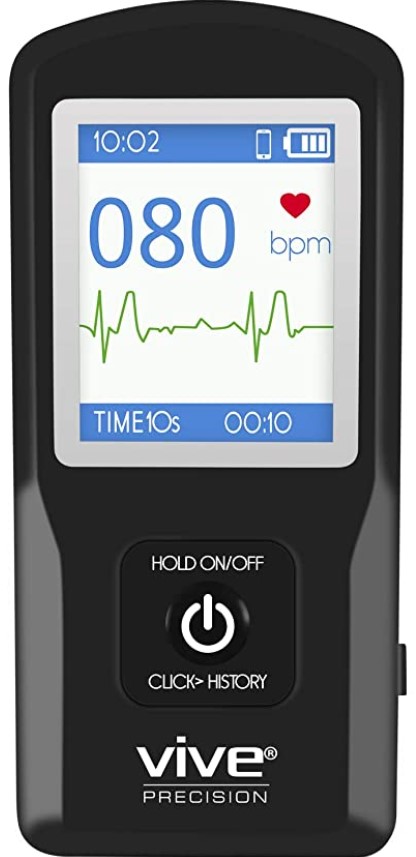 If you want to purchase a low-price point EKG machine since your insurance does not cover it, Vive Precision EKG Monitor is one of the most budget-friendly gadgets. This medical-grade EKG machine is indeed a bargain at $62.99 and with above-average features.
Vive Precision EKG Monitor is simple to use for at-home cardiac monitoring. This wireless and electrode-free machine have three integrated leads that can be attached to the chest, wrist, palms, or calf to allow heart health status readings. For proactive heart health management, it can quickly detect 14 cardiac conditions such as arrhythmias, ventricular premature beats, bradycardia, tachycardia, and missed beats. The portable EKG machine records in every 10-seconds. Vive Precision has a large and colored TFT-LCD screen with a readable heart rate, case number, and date and time of testing and ECG waveforms. These ECG readings can be transmitted directly to your healthcare providers in real-time.
With its smartphone compatibility, users can connect them on both iOS and Android devices for both monitoring and sharing. The gadget's memory can store 100 readings on the device and practically unlimited via the app. The Vive Precision EKG Monitor is also rechargeable, powered by a long-lasting lithium battery that can continuously check up to 500 records. For your convenience, a USB charging cable and a power charger are included in the box. It also comes with a 60-day unconditional warranty from the manufacturer.
Our Verdict

Need it fast? Buy from Amazon Prime and enjoy FREE 2 day shipping!
---
5. Oxprovo Portable EKG/ECG Heart Monitoring Device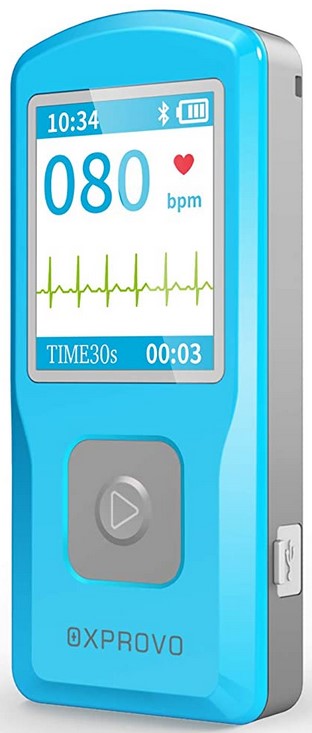 Oxprovo Portable EKG/ECG Heart Monitoring Device is one of the best portable EKG machines. This convenient monitoring device can fit in your pocket like a mobile phone while tracking your heart rates and rhythm. 
This personal EKG machine has four different methods in monitoring cardiac health status that is cable and wire-free. These methods include the chest lead, wrist, ankle, and palm of the hands. In a single-button operation, you can start Oxprovo within four seconds. In the single-channel EKG, it is more convenient as it can record a heartbeat within 30 seconds of automatic sampling. On its colored LCD, you can see the heart rate, ECG tracings, current time, last time checked, and the battery life.
Data from Oxprovo can be transmitted via Bluetooth technology or USB cables. Users can download the software and app to their computer or smartphone. Through its built-in memory, you can download, save, and review these recordings and email to your health care providers. It stores more than 100 readings before overriding the previous ones. Oxprovo's innovative technology lets users get a medically accurate electrograph trace for review and analysis by the physician. This heart monitor on the go is lithium-battery operated. It also has no other hidden costs and subscription fees.
Our Verdict

With today's stress levels, everyone should be aware of their heart health. Make it a priority and order a heart monitoring device today! It could save your life!