Lokatse Home Patio Bar Swivel Stools
Keter Pacific Cool Bar Outdoor Patio Furniture and Hot Tub Side Table
Patio Sense Deluxe Coconino Wicker Chair
Purple Leaf 10ft Patio Outdoor Square Umbrella
Bali Outdoors 28″ Square Table Fire Pit
Patios are considered an extension of your home. This is the place where you can accommodate your guests for intimate gatherings or celebrate your kid's birthday over a barbecue. It's also the spot for some R&R for you and your family! A good patio deck will cost roughly $4,000 to $11,000, depending on the style you are aiming for. If you want to save on hefty service fees, you can proceed with DIY purchasing quality but elegant pieces to revamp your patio.
As of 2020, the cost of owning a home is still on the rise! From 3.3% in 2019, it is projecte to increase by 5% by this year. While the pandemic may have slowed the demand for real estate, investment experts maintain that, compared with other industries dealing with assets, the sector still provides a good risk-adjust return in the long run. Keep these facts in mind if you're planning to revamp your patio for selling anytime soon!
Are you planning on sprucing up your patio? A few key elements, such as patio chairs and tables, are worth looking into if you're redecorating on your own! Pieces like pots and canopies also play a key role in creating an inviting space.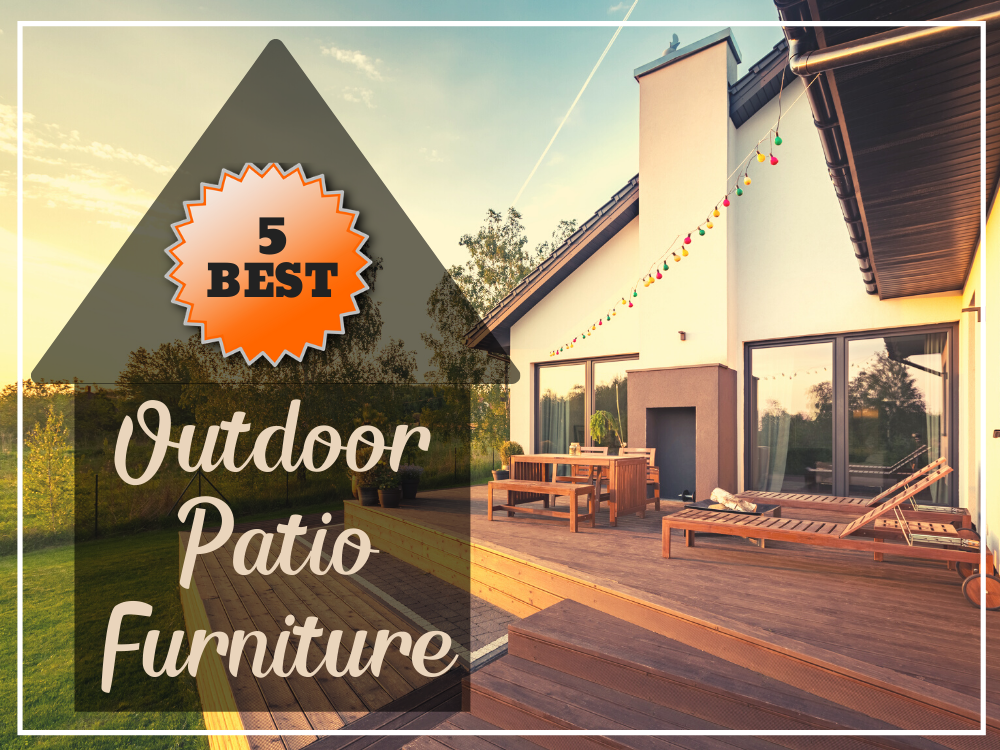 Here are five must-haves for your patio project. These patio furniture pieces stand out from the rest because of design, quality, and affordability! They reflect Amazon's prices as of publishing.
1. Lokatse Home Patio Bar Swivel Stool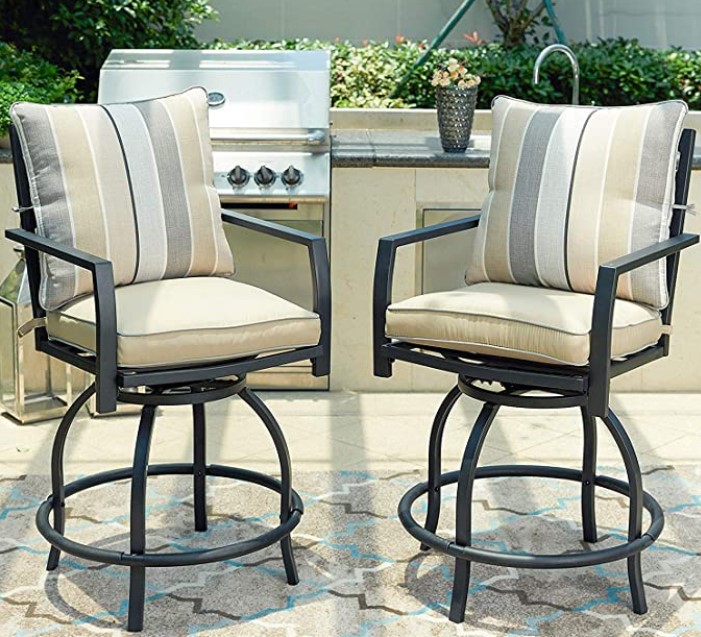 The Lokatse Home Patio Bar Swivel Stools is a perfect addition to bring out the style of any patio.
Its neutral shades allow it to blend with most themes. So, if you're looking to renovate your home any time soon, this LOKATSE HOME furniture will not disappoint! It's a versatile piece that blends well in your backyard patios or provides continuity of style from your interior decors.
It's a must to purchase a product for the long-haul to save up some money. With this set of two swivel chairs, you are assured that you're getting quality products for many years of use. Unlike most steel-type patio furniture, this comes with a rust-resistant feature, so it doesn't break down quickly from hot and wet conditions. The 360-degree swivel feature allows for ease of use as it allows the user to turn to all sides. For extra comfort, each chair has armrests with durable but comfortable back and seat cushions. It's the perfect furniture fit for social gatherings and parties.
If you're looking for a bit of elevation to go with your existing bar table, these bar chairs give a romantic European ambiance. When you need to take the cushions out for cleaning, you can untie the covers and dry clean the cushions.
These chairs require assembly, so refer to the manual for further instructions. Keep at least 6 feet from obstructive locations such as fences, electric wires, and overhanging branches to prevent any entanglements or damages.
If you're looking for affordable patio furniture fit for any outdoor settings, this set will only cost $224.02.
Our Verdict

This Patio Bar Chair Set comes with cushions to blend with any type of decor. All you need is a beautiful sunset and a cold glass of lemonade!
---
2. Keter Pacific Cool Bar Outdoor Patio Furniture and Hot Tub Side Table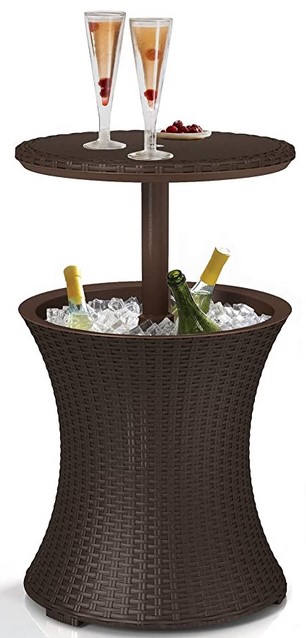 The Keter Pacific Cool Bar Outdoor Patio Furniture and Hot Tub Side Table combine functionality and sleek in one.
If you're uncertain with color combinations, black or brown shades might do well with most themes. With a height of 33.2 inches, it's an ideal height for those sitting on a standard chair or a cocktail table for guests standing up. Not only will this save space, but this table can also be used to serve excess guests.
With function in mind, this Keter espresso brown side table has an extendable tabletop that can be transformed into a coffee table or a cocktail table. For small spaces, this side table can serve as a standard table for a small gathering of family and friends for late afternoon coffee or tea.
Once the top is extended, you can use the available space at the bottom for cooling beverages. Add ice before your guests arrive. This extra storage can accommodate up to 7.5 gallons of ice and beverages. After use, take out the drain plug at the bottom and wipe out excess water using a dry cotton cloth.
No need to worry about the regular wear and tear since this table is made of durable polypropylene resin that can withstand heat and wet conditions. Weighing 13.5 pounds, it can also be brought inside to serve as an extra table if you have additional guests inside the house as well.
Our Verdict

For a reasonable price, this versatile tabletop is a worthwhile investment you can use for a long time!
---
3. Patio Sense Deluxe Coconino Wicker Chair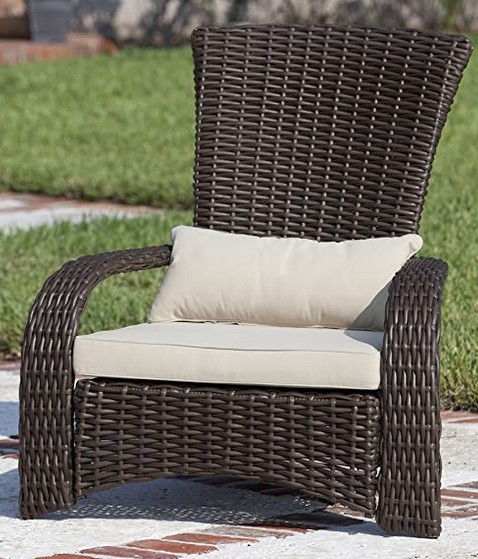 Keep it natural but stylish with the Patio Sense Deluxe Coconino Wicker Chair.
You may feel disconnected when you make a massive shift from indoors to an outdoor setting. To balance this, blending your furniture with its natural surroundings will bring continuity to its environment.
Wicker chairs will be a great addition if you're considering exotic or retain an organic garden setting. FireSense specifically made this for versatility, meaning you can use this both indoors and outdoors. The Adirondack design ensures that you experience the utmost comfort as you relax during downtimes out in the patio or your living room.
As outdoor furniture, it is built to last for a long time. It's made of weather-resistant and durable wicker interlaced around lightweight tubular steel frames for stability. If you need to move your furniture to a different location, it can easily be lifted and set into place without much effort. Expect these wicker chairs to be low-maintenance and will not require frequent cleaning. To remove dirt, you can use a damp cloth and let it air dry.
The mocha-colored cushions complement the frame without sacrificing style. This Coconino series chair frame has a backrest inclined in a 45-degree angle to maintain a relaxed position as you bask in the sun over tea or coffee. Cushions are detachable and can be cleaned using a soft cloth dipped in warm water with or without launder. After cleaning, dry accordingly, and it's ready to be used again!
Our Verdict

If you have existing furniture, this wicker chair also pairs nicely with most contemporary classic designs. It's a great, inexpensive pick!
---
4. Purple Leaf 10ft Patio Outdoor Square Umbrella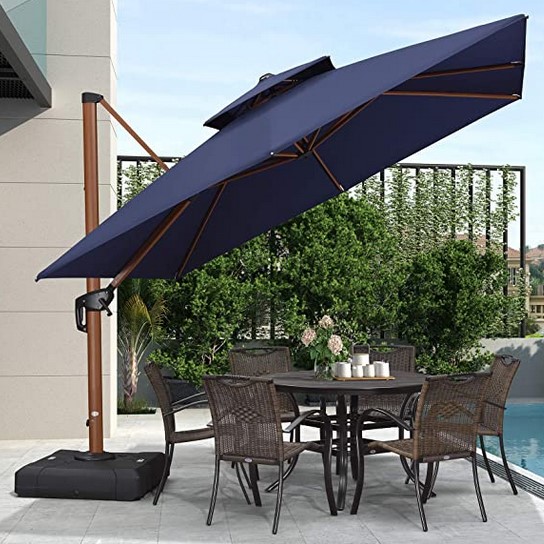 Fancy doesn't have to be expensive. This classic Purple Leaf 10ft Patio Outdoor Square Umbrella brings the shade in style!
No trees nearby? No problem! This space-saving canopy by Purple Leaf is an excellent item to have for open patios. It sports a vibrant deep color to complement contemporary or classic wicker settings. It's the perfect item for your next patio renovation!
The polyester fabric material used for the umbrella is weather-resistant, so you don't have to worry about hot or wet conditions. Clean it easily with a damp cloth to wipe out dirt and other debris. UV rays are easily deflected, ensuring maximum comfort even on hot summer days.
The umbrella frame and bones are made of durable alloy steel for maximum durability. Anti-oxidation spray further lengthens the longevity and protection against regular wear and tear. Its unique handle design makes it easier to crank the umbrella to different vertical positions. There are six levels to choose from so you can adjust according to your preferred height. You can also choose any angle you'd like the umbrella to be positioned without much tool or assembly needed.
If your patio is situated in the middle of the garden or poolside without any walls, you can purchase a solid base to insert the umbrella frame. It's such a versatile piece that you can also reposition this canopy as needed. Invest in this quality piece for your patio for only $549.
Our Verdict

With this patio umbrella, enjoying lazy days with family and kids is made more comfortable and relaxing! Check it out on Amazon.com!
---
5. Bali Outdoors 28″ Square Table Fire Pit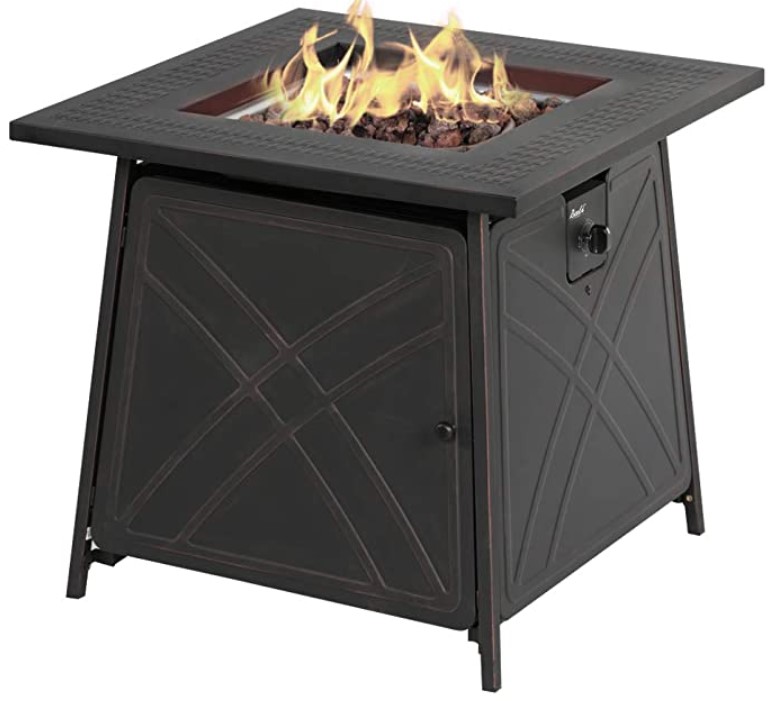 The blend of aesthetic and efficiency perfectly describes the Bali Outdoors 28″ Square Table Fire Pit.
Small accents such as this table fire pit piece by Bali Outdoors can be added in contemporary patio designs. This would make an elegant side table for two on dinner date nights with your spouse or special someone. Its compact design also makes for an ideal side table for intimate gatherings of friends and family.
This gas fire pit is made from 50,000 BTU quality stainless steel to withstand hot and cold conditions. A hidden control panel on the side contains the electronic ignition to start the fire with ease. The tank can accommodate up to 20 lbs. with still enough space for combustion and air entry.
If you're hosting a cookout, this makes for a functional starter fire pit. You can invite friends to your alfresco lounge during a weekend over beer and burger or steak with grilled vegetables. Or you can also spend quality time with your kids over some hot cocoa and s' mores.
Compared with traditional fire pits, this one comes with blue fire glass to keep the heat longer. It's an excellent item to have to keep you warm if you want to stay outdoors for a while to relax. With this versatile fire pit, you can now enjoy the outdoors for any season!
Your patio serves as an extension of your home. With this furniture, you get more than what you pay for!
Our Verdict

Did someone say s'mores? How about a wiener roast? Whatever the reason, this is perfect for a great family night!