ASUS Chromebook C202 Laptop
MobileDemand Flex 10A Windows 10 Pro Rugged 2-in-1 Tablet
ASUS VivoBook W202NA-YS03
Lenovo N23 2-in-1 Convertible Laptop (2017)
ASUS Chromebook Flip C213SA-YS02
Dell Latitude 12 7212
ASUS VivoBook W202NA-YS02
Samsung Chromebook 3
Asus Chromebook C202SA-YS01
ASUS Chromebook Flip C302 2-In-1 Laptop
Information technology has deeply penetrated our lives. These days, a laptop is not just a want. It is a necessity. Laptops are easy to use without any additional devices. With its lightweight and compact size, you can quickly access it wherever you are. Its offline operations are also convenient for all kinds of presentations.
In today's world that is full of technology, having a laptop is useful, especially in school and business. These laptops let students learn using multi-media learning modules while it helps professionals in their business plans and presentations. Being portable gives them access to an unlimited amount of information by searching the web and also as a form of entertainment by watching videos and listening to music.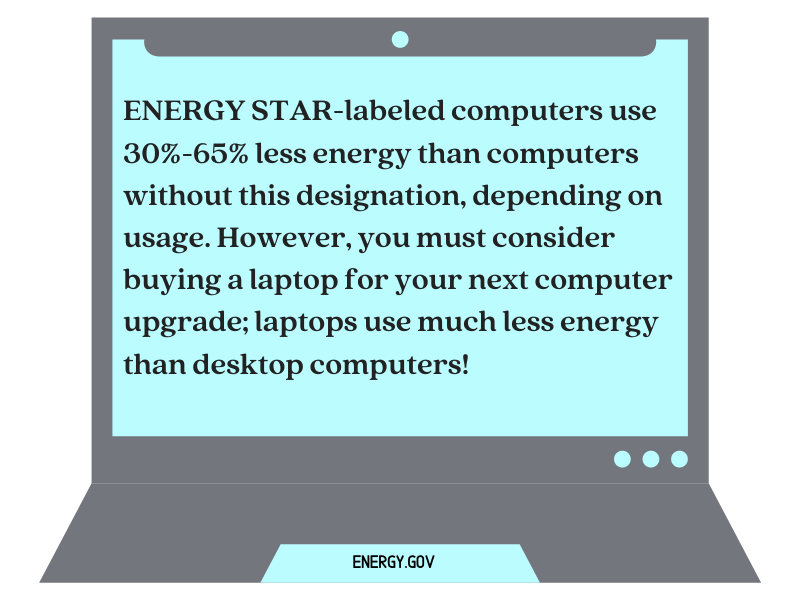 In the US alone, the technology landscape is changing. Statistics show that 74% of Americans own either a desktop computer or a laptop. While others prefer a desktop computer, people nowadays are shifting to portable and mobile devices. In another site, it reveals that 54.11% of people in the world use either mobile and tablet. Meanwhile, the remaining 45.9% use desktop only. Thanks to the changing digital world, most of us have a primary way to access the internet and do basic computer functions.
In selecting the right laptop model for you, it has to fit your present and future needs. One should first review the specifications of RAM, hard disk space, and performance before buying one. As mid-range laptops usually last around 4-5 years, consumers also have to consider its durability. Built to last, these durable laptops will keep your work, connectivity, and entertainment in one mobile device for a long span. Even if there is no short supply of laptops, and there's one for every budget, consumers find it overwhelming to choose the best one for their needs.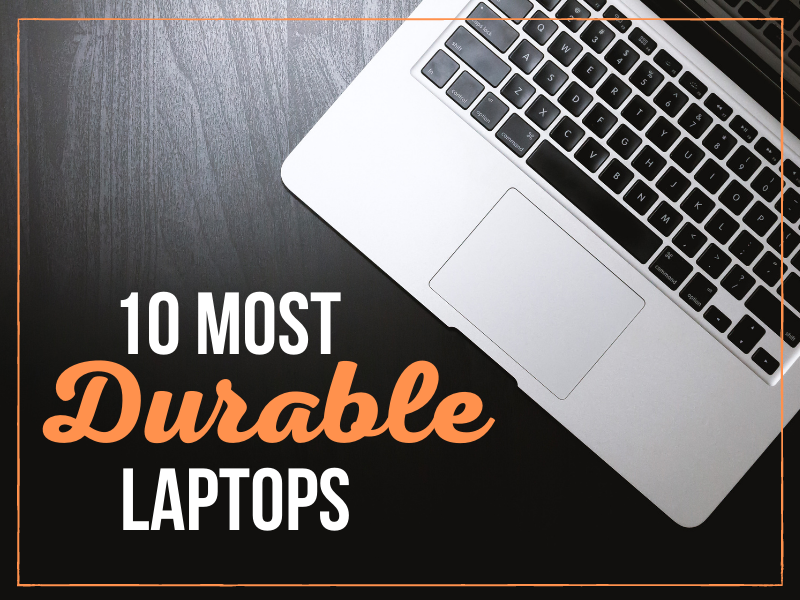 Below are the 10 most durable laptops currently available on Amazon:
1. ASUS Chromebook C202 Laptop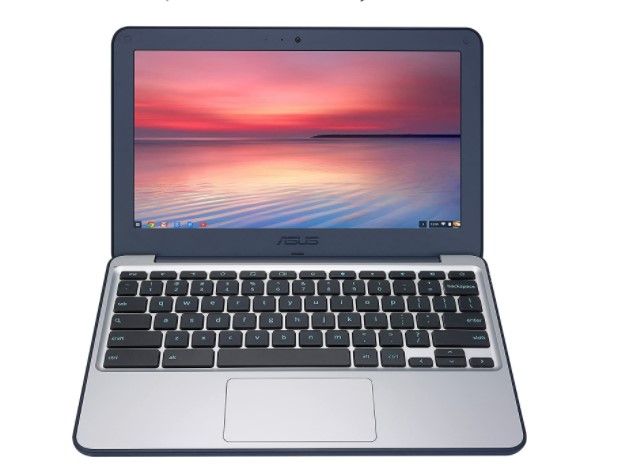 Operating System: Chrome OS
RAM: 4 GB
Storage: 16GB/ 32GB
ASUS Chromebook C202 Laptop is a notebook-worthy tool for every student and user alike. This lightweight 2.65 lb body is built with a rough-and-tumble design. Its main line of defense is a rigid shell added with reinforced rubber bumpers along the exterior edges. As accidental slips and drops will make your laptop less likely to survive, the C202 has an easy-grip handle and a good degree of resistance from the drop, ding, and dents. The nano-molding technology can withstand a 3.9-foot drop landing flat and a 2.5-foot fall landing on its side.
ASUS C202 runs on Googe operating system with 1,366x 768 resolution. There are Google pre-installed apps, including Google Docs, Slides, Sheets and Forms, and the Play Store, which offers a wide library of apps, games, books, etc. The built-in storage can also be backed up with 100GB of cloud space for your library.
This laptop from Asus also boasts of its spill-proof keyboard as it can repel up to 66cc of liquid. Should there be any leaks into the interior, uses can drain it by simply flipping the laptop over. For easy typing and accuracy, the C202's chiclet-keys is comically larger and 2.1 millimeters of travel. It has a dedicated search key and a row of Chrome functions instead of F1-F2 buttons for a user-friendly experience.
Our Verdict

Tech users can use it throughout the day without being tethered to an outlet since it can last more than 10 hours compared to most Chromebooks.
---
2. MobileDemand Flex 10A Windows 10 Pro Rugged 2-in-1 Tablet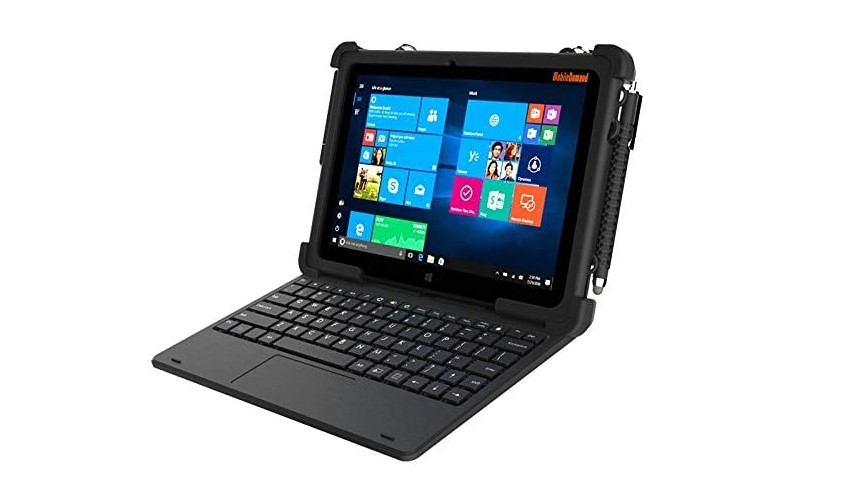 Operating System: Windows 10 Professional
RAM: 4 GB
Storage: 128 GB eMMC
Flex 10A Windows 10 Pro Rugged 2-in-1 Tablet is a remarkably durable tablet for a wide range of customers. The lightweight (2.5 lbs) hybrid device comes with a case, handle, capacitive pen, easel, and hand strap. As some rugged tablets cost thousands of dollars, one feature of Flex10 is it costs less than its predecessor. With a price that is not prohibitive, it offers more ruggedness than consumer-grade tablets can deliver. It can perform in challenging environments, being MIL-STD-810G certified. It can withstand multiple drop tests from four freet onto concrete and drastic temperatures from 32 to 120 degrees Fahrenheit. It comes with a scratch-proof screen protector, a heavy-duty protective case with bumpers, and a carry handle.
Offering good performance, the 10-inch lightweight mobile computer is built for light and medium-duty applications. The Microsoft Windows 10 Pro operating system with an Intel Quad-core processor makes it a competent performer in terms of productivity. Aside from decent IPS of 1280 x 800 pixels, the 10-point projected capacitive multi-touch display works well with tapping, panning, zooming, and pinching. An optional keyboard converts it into a productivity-enhancing 2-in-1 hybrid. With a very sturdy hinge, it has excellent tactile feedback, good key travel, and full keyboard functionality.
As most business and on the job tablets come with docking and mounting options, Flex 10A has Standard Vehicle Mount, Snap Mount, and Standard Wall Mount, which makes handling these devices effortlessly.
Our Verdict

Whether for vehicle use, field operations, or from tablet to a wall, the mount features make your rugged device ergonomically handy.
---
3. ASUS VivoBook W202NA-YS03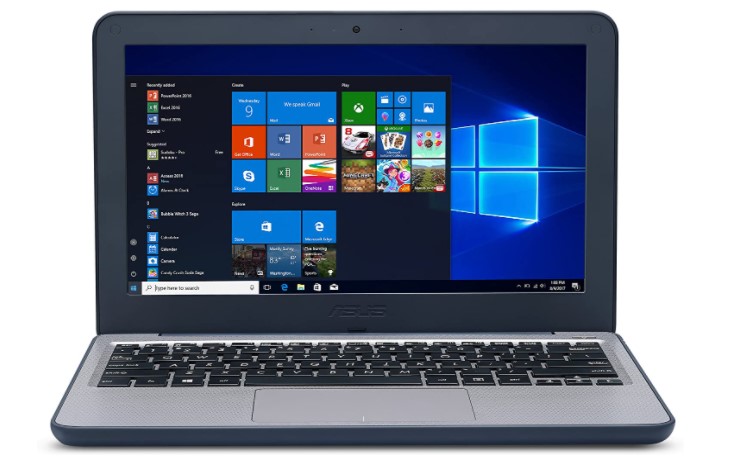 Operating System: Windows 10
RAM: 4 GB
Storage: 64 GB eMMC
Designed for education, ASUS VivoBook W202NA-YS03 is everything a K-12 student needs in one place. A Windows laptop with an 11.60-inch HD-matte display, it has a rugged yet sleek look design with minimal features. Aside from grip handles that make it slip-proof, the sturdy and reinforced rubber guards have survived the most rigorous drop tests. This makes it tolerable to damage unless done intentionally.
ASUS VivoBook is built keeping a student's life in mind- from working, streaming, chatting, and playing. Running on the Intel Dual-Core Celeron N3350 processor, it is enough to perform the basic tasks. It does all the functions satisfactorily from typing documents, making presentations, adding graphs in their educational project. With a 4GB Ram and expandable 64GB eMMC storage, students can store their data all year round without saving some back-ups. Since it is fit for a classroom environment, ASUS VivoBook has wireless connectivity features and sharing. There are also USB 3.0 and HDMI port bringing advanced peripherals and additional multitasking needs in their project.
As a student, ASUS VivoBook's 1.18-kg weight makes it possible to carry it around the campus. The 180-degree hinge makes it flexible and easier for viewing and sharing your screen content with colleagues. The spill-proof keyboard is also soft with minimal travel time, and its touchpad offers intuitive support. If you want to go mobile with your learning endeavors, the rugged ASUS VivoBook is highly ideal!
Our Verdict

Perfect for students, the ASUS VivoBook is lightweight and nice for portability.
---
4. Lenovo N23 2-in-1 Convertible Laptop (2017)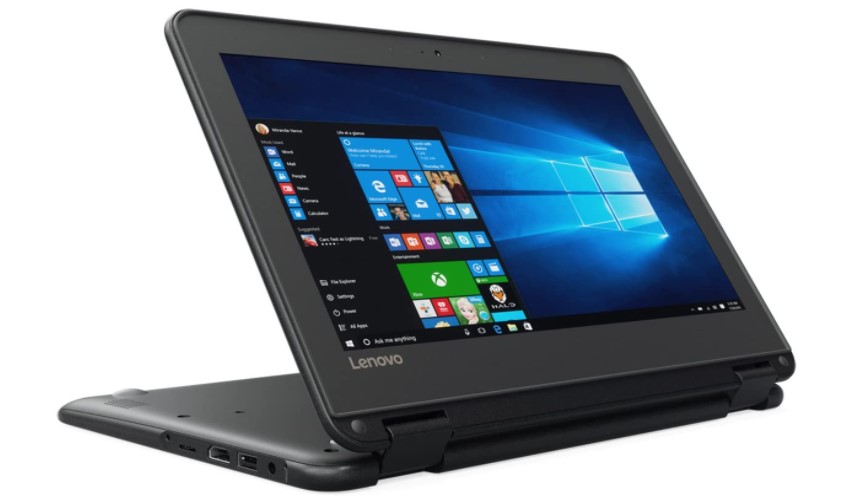 Operating System: Windows 10 Professional
RAM: 4 GB Memory
Storage: 32 GB eMMC
Lenovo N23 is a for budget-strapped users with light computing needs for basic home or school usage. Its main selling point is the 360-degree convertible body. You can bend it back and use it as a tablet, a laptop, a stand, or a tent. While many 2-in-1 touch screen devices come with hefty price tags, this model offers extra versatility with a low-cost solution.
In Lenovo N23 2-in1 Convertible Laptop it has a plastic design but more firmly built than you might think. Adside from the hinges and being keyboard–crumb resistant, it also folds nicely. It can also hold up against a few drops of water even if it is not entirely waterproof. Users can take it anywhere they like, as it can also withstand heavy usage and being jostled in your backpack regularly. Another advantage is the full version of Windows 10 Pro. You can rarely find a budget-friendly 2-in1 model as most come with chrome OS or only a Home version of Windows. It is also worth considering for users who need and are comfortable with Pro working capabilities but opts for a lighter package than an ordinary laptop.
Being an 11.6-inch HD touchscreen with IPS Display, Lenovo N23 2-in-1 Convertible Laptop has bright and responsive screens. The keyboard is good and responsive, too! With Intel Celeron Dual Core as its processor, the model can perform lightweight tasks. In terms of battery life, users can do emailing, streaming videos, and do their reports as it can last on a regular day at school or work, especially those consumers whose gadgets are always connected to the Internet.
Our Verdict

The Lenovo N23 if affordable, has a bright touchscreen, and is great for everyday lightweight tasks or school!
---
5. ASUS Chromebook Flip C213SA-YS02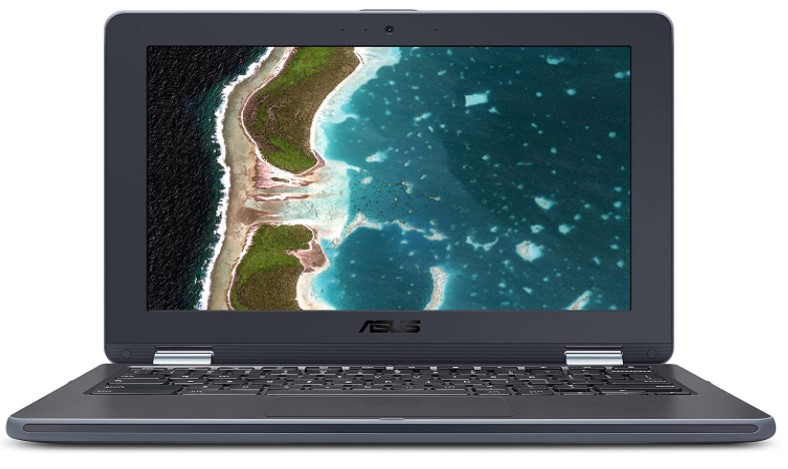 Operating System: Google Chrome
RAM: 4 GB
Storage: 32GB eMMC
One of the least expensive in the Chromebook series, the tough Asus Chromebook Flip C213SA-YSO2, is a convertible laptop built for intense days at school and workplace. Users can twist it into Tablet, Stand, or Tent mode with its 360-degree zinc alloy hinges. The weight of 2.75 pounds is not heavy enough for users to carry, especially when using it in Tablet mode single-handedly. It is surprisingly sturdy in these various configurations. It may not be the lightest or smallest system in the series, but it is also built to withstand for years of abuse.
The rugged design is not designed for looks as it has rubber bumpers covering the entire body. There are also two rubber grips on the gadget's surface for providing traction during transport and holding it in place while you work. Met with MIL-STD 810G military specifications, a couple of drops will only cause minimal damage to the Chromebook. The textured coated chassis prevents it from scratching and fingerprint marks. And having a spill-resistant keyboard and buttonless trackpad provides a functional user experience.
Aside from Chromebook Flip's anti-glare coating and good viewing angles, the dual-bottom-firing speakers are surprisingly clear and loud. Its 4GB Ram and Intel Celeron processor is enough to perform typical Chromebook tasks, document creation, and web browsing. As this is a good gadget for all-day school, students need not worry about lugging a charger with its 11 hours of battery life.
Our Verdict

This solid Chromebook is a wallet-friendly laptop that lets you learn, share, communicate, and play!
---
6. Dell Latitude 12 7212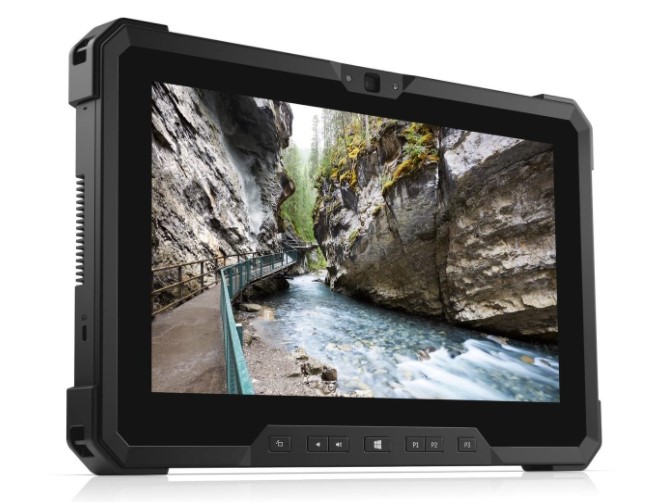 Operating System: Windows 10 Professional
RAM: 8GB DDR3-1866MHz
Storage: 256GB M.2 PCIe SSD
The ruggedness of Dell Latitude 12 7212 is designed for outdoors and harsher conditions. It is an ideal option for businesses, given their durability. The decked out with standout features that can resist plenty of abuse and puts up with the beating. One look, and you'll notice the level of protection that has gone into this tablet. The angled corners are protected with nearly an inch thick rubberized bumpers. It has thicker bezels functions to hold the tablet comfortably. Passing the MIL-STD-810G durability test, users will experience no problems if it will slip in their hands as the bounce in the corner shows no visible damage surviving 4-foot drops.
Another stand out with Dell Latitude is the IP6 water and dustproof protection. With such extreme conditions, it can still operate in temperatures from minus -20°F to 145°F. The matte finish of the 11.6-inch FHD (1,920 x 1,080) with Corning Gorilla Glass has a vibrant display. It has a highly adjustable brightness level, which is perfect in working outdoors. Performance-wise, CPU intensive programs like Lightroom and Adobe Photoshop loaded fairly quickly with 8GB RAM configuration for a decent amount of multitasking. The plenty of optional accessories offers swappable batteries to extend uptime and can also function as a laptop depending on different user requirements and work conditions.

With Dell Latitude, it markets professional whether you are an architect needing a tablet in the construction for reference or a police officer who needs the gadget to take a beat as it will give you that kind of user durability!
Our Verdict
---
7. ASUS VivoBook W202NA-YS02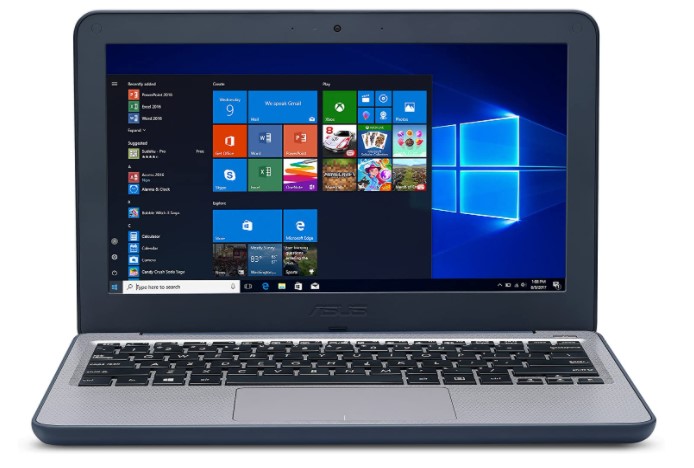 Operating System: Windows 10 S
RAM: 4 GB
Storage: 64 GB eMMC
Another from the Asus Series, this rugged VivoBook W202NA-YS02 is a laptop built for learning. These are perfect for students, given its highly robust and versatile design. Being a rugged laptop, the very simple design is surrounded by rubber for extended durability. It has superb grip handles as the upper material is covered with rubber mesh, which makes it looks sophisticated in not slippery at all. The 180-degree hinge is also sturdy to handle the pressure. The military specification durability of this model enables the laptop to be tough in drop tests.
Under the hood, the 11.60 inch HD screen is matte-finished with an anti-glare coating for easy viewing inside and outside as well. Asus VivoBook W202NA-YS02's keyboard is spill-resistant with 1.8 mm of key travel, making it comfortable to type with. The trackpads are highly responsive and have multi-finger gesture recognition, too! The operating system of this model allows working with Microsoft apps and products. With an Intel Celeron N3350 Apollo Lake Dual-Core 2.4 GHz processor, students can perform their school tasks with ease. The flash storage allows them to store random files, music, videos, and data.
Asus VivoBook W202NA-YS02 has different connectivity options from HDMI, SD card slot, USB 3.0 Type-A ports, dual-band 802.11ac WiFi and Bluetooth 4.1. In terms of battery life, it is fueled by a 38Whr or 11 hours of extended time to keep your daily mobile activities on the go.
Our Verdict

With this K-12 education laptop, it covers all the major elements of a learning device.
---
8. Samsung Chromebook 3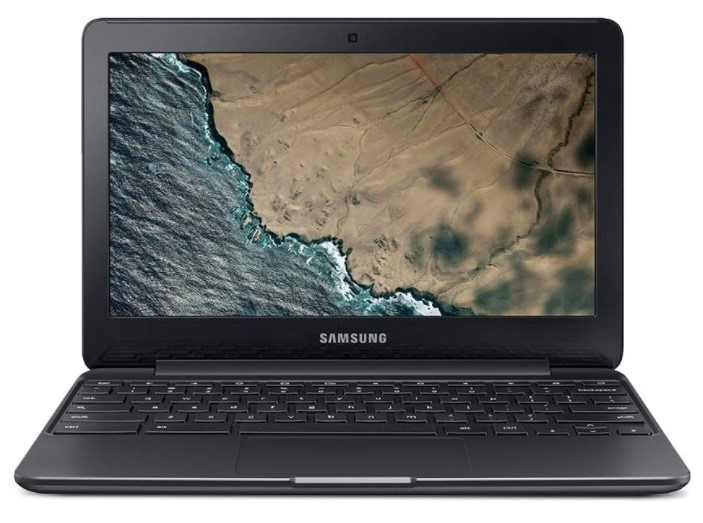 Operating System: Chrome OS
RAM: 4GB
Storage: 32GB of eMMc flash storage
Samsung Chromebook 3 is intended for younger kids, frequent travelers, and students for both school and entertainment. In the budget Chromebooks category, it has good features that are worth considering. Even if it's made of plastic, the strong-built design is surprisingly good. From the metallic black texture to the silky-smooth palm rest of the chassis, it has a classy feel to any setting. Being able to tilt the screen to 180 degrees, the hinges are strong and flexible. Though Samsung's laptops are not technically ruggedized, they are durable enough to survive drop tests from 2.5-4.5 feet onto carpets and concretes.
One of the main highlights of the Samsung Chromebook is its 1366 x 768 LED display. With such an exceptional screen, the colors are realistic and deliver warmer tones that have more details and authenticity to videos and pictures. The Chromebook's performance can handle multitaskings such as word processing, stream videos, a couple of web applications, and web surfing with its 1.6-GHz Intel Celeron N3060 processor and 4GB of RAM. You can explore the world with Chrome OS and have everything backed up safely in the cloud. The spill-resistant keyboard of this model is very comfortable as it is very well sized and takes full advantage of the width of the device.
Samsung Chromebook 3 can last for almost 11 hours of battery usage time on a single charge. This means that your laptop can be work on a full day without bringing its charger.
Our Verdict

As a model, this Samsung Chromebook is a solid option for students and users alike who loves to surf the web.
---
9. Asus Chromebook C202SA-YS01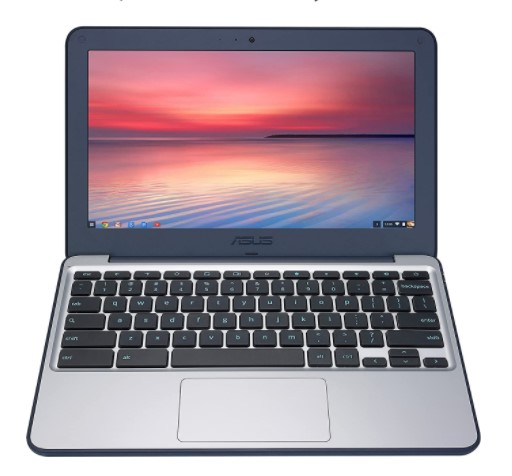 Operating System: Chrome OS
RAM: 2GB
Storage: 16GB eMMC
Praised for its classroom-friendly design, Asus Chromebook C202SA-YS01 is ready for students to use out of the box. The lightweight 2.65 body has a two-tone casing, rounded edges along the rim, and a clear quad-color Chrome logo makes it attractive from afar. The rugged frame is covered with a 3mm rubber rim around the outside for protection and easy-grip handling. The model is also ready for spills and accidental falls, which can resist damage from 3.9 feet drops.
Being one of the early Chromebook series of Asus, it runs on Chrome OS, which has fewer apps compared to competing Windows. However, if students are only working on the basic functions of a laptop, then this model is enough for them. Powered by the Intel Celeron N3060 Processor and 2 GB DDR3 RAM, it delivers medium-built tasks and activities for its users. For additional storage of their document, files, and presentation, it includes a free 100GB drive storage for two years.
Asus Chromebook C202SA-YS01 can be rotated in a 180-degree angle for easy viewing. The 11.6 inches HD screen has an anti-glare display, too! It also has a spill-resistant keyboard that can withstand up to 66cc of liquid, especially for students who have their coffee or soda on the table. With 2mm of travel, it has the right amount of resistance and responsiveness. There's plenty of ports around- speaker ports, SD card slot, HDMI, USB 3.0- giving different connectivity options.
Our Verdict
Having a cheap selling point, this Asus Chromebook does everything that your laptop needs right now. Order today!
---
10. ASUS Chromebook Flip C302 2-In-1 Laptop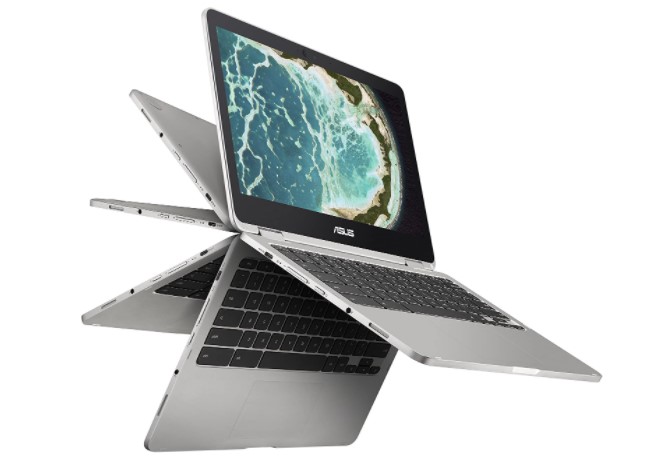 Operating System: Chrome OS
RAM: 4GB RAM
Storage: 64GB Flash Storage
A small laptop with big value, ASUS Chromebook Flip C302 2-In-1 Laptop is armed with interesting features. The posh and sleek design is made from its elegant aluminum body construction. Measuring 12.5 inches and weighing 2.65 pounds, this lightweight travel companion is easy to fit in your bag or carry during a commute. As a hybrid laptop, it has two-stable hinges which make the lid to rotate in a 360-degree angle. It can easily fit your needs with its varied configurations.
ASUS Chromebook Flip C302 is packed with an Intel Core m3-6Y30 CPU and 4GB of RAM, which is good for multitasking activities. With a Chrome-based operating system, users can download apps in their Chrome Web Store. Another feature of this model is its good screen quality. It has a sharp and vivid HD display with crisp images perfect for reading articles and watching a video. When you're not using the model in a tablet mode, the backlit keyboard is full size, which makes it easier to type with multi-responsive commands on the wide touchpads.
The model can also last up to a solid 10 hours of battery life. Given its portability, students can carry this whole day round on the campus without having to slip in the charger or bring a bag for it.
Our Verdict

With its compact design and user-friendly functionality, this Chromebook is very future proof giving anyone years of enjoyment.