Coleman Portable Camping Quad Chair with 4-Can Cooler
Tommy Bahama 5-Position Classic Lay Flat Folding Backpack Beach Chair
GCI Outdoor Freestyle Rocker Portable Folding Chair
Kijaro Dual Lock Portable Camping and Sports Chair
Rio Beach Classic 5 Position Lay Flat Folding Beach Chair
The 2019 North American Camping Report revealed that over 78 million households in the United States have taken on camping! This is an increase of over 7.2 million households in the past five years, a positive development indeed.
The increase is attributed to several key factors, namely, the influx of more diverse campers (ethnicity) and younger campers (millennials and their children). There's also the well-known fact that North Americans have a love for the outdoors, especially with the abundance of places suitable for camping.
Of course, the increasing popularity of camping can also be attributed to its wide range of health benefits! These benefits can be enjoyed regardless of the duration, place, and type of camping you're undertaking.
Get your natural exercise. You don't have to bring along small exercise equipment as walking, climbing, and jumping activities will burn calories and build muscles.
Eat healthier food, especially if you catch fish, forage for fresh produce, and bring along healthy options.
Enjoy relief from the stress of modern life with its hustle and bustle, even escape the anxieties brought by the pandemic.
Enjoy the woods or forest, wherever you like.
But camping can be hard on your legs and back, too! You will want a comfortable camping chair to rest on after all that walking, climbing, and standing around. You will also want it when sitting around a campfire, exchanging stories with family and friends, and making smores.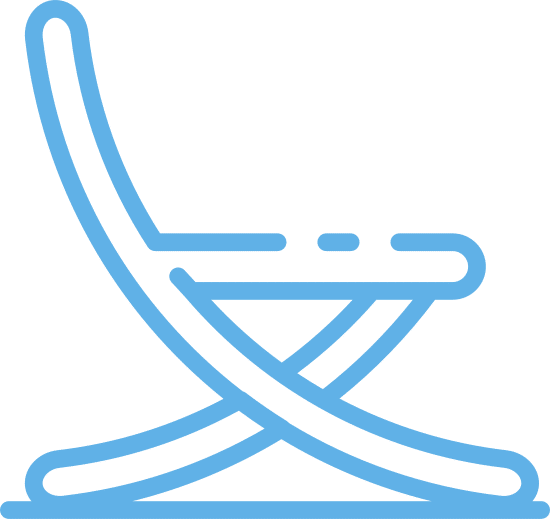 Just remember that not all camping chairs are made equal. Choosing a camping chair can make or break your camping experience, so, here are tips for choosing the right one for your specific needs.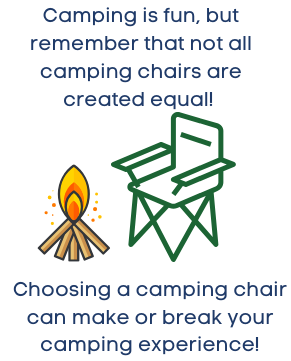 Consider the convenience of carrying it to your campground. You should then look for a lightweight foldable chair that can be stowed in the trunk of your car and carried efficiently in your hands.
Look at the materials used for the frame and seat. The frame should be made of a sturdy yet lightweight material, such as aluminum alloy, and designed for stability on the nearly-uneven ground. The seat should be comfortable to sit on, preferably with little sagging, and sturdy enough to carry the weight of a full-grown adult.
Check the weight capacity of the camping chair. The higher the weight limit, the better for your safety.
Factor in the height of the chair, too. You should be able to get in and out of it, so to speak, with little effort. Too low and too high camping chairs aren't great for your back and legs.
Consider the simplicity of use. If the chair requires several steps to open and close, then it may not be the best chair for you.
Determine if the extras are worth the money. The extras usually include footrests, cup holders and side pockets, as well as head and lumbar pads.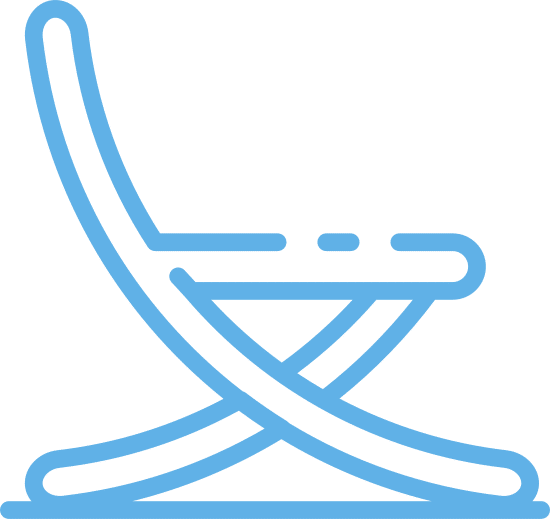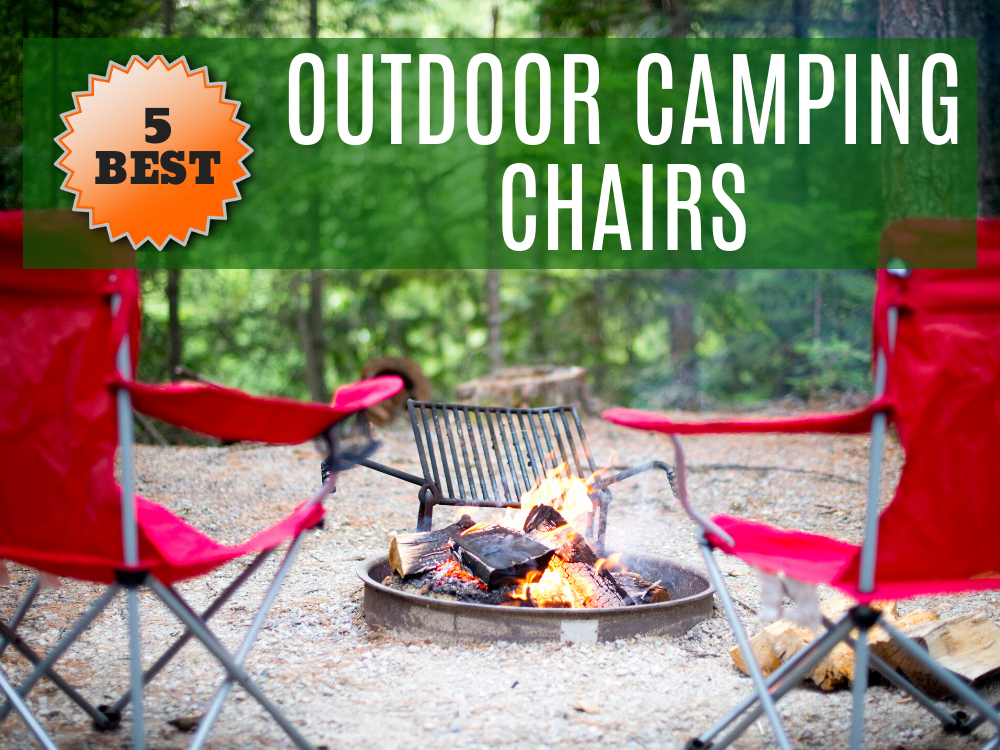 With these things in mind, we chose five of the best outdoor camping chairs from dozens of choices.
1. Coleman Portable Camping Quad Chair with 4-Can Cooler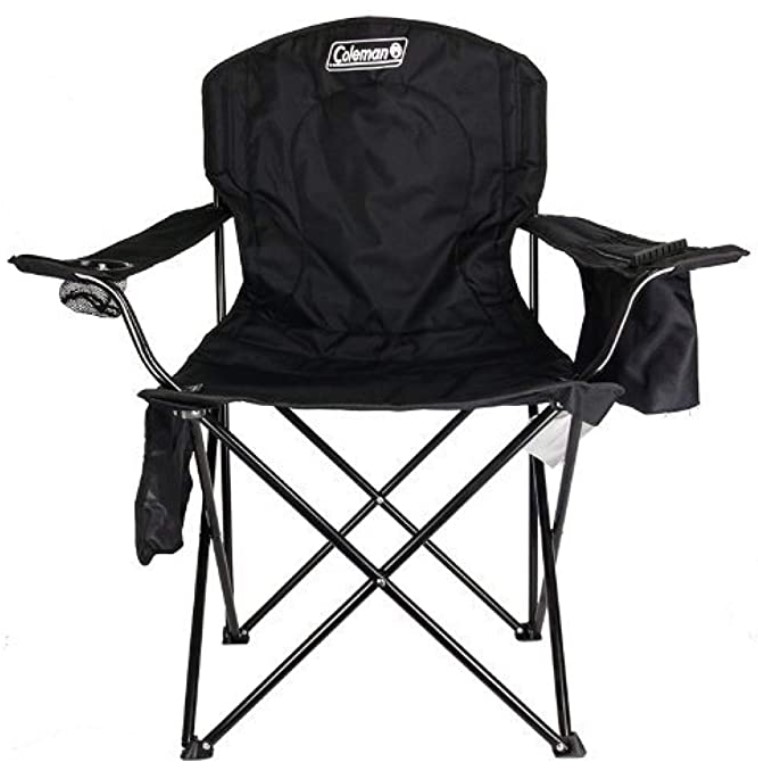 The Coleman brand is well-known for its diverse line of outdoor recreational products, particularly its camping gear. The Coleman Quad Chair is among the best because it's sturdy, easy to set up, and comfortable to sit on.
It's an oversized chair that can carry a 350-pound adult and allow for easy getting up and down on it, thanks to its 18" height (seat-to-ground height). Its seat doesn't sag too much under the weight, while its cushioned back provides enough support for a relaxed position. Its polyester material comes in several colors, such as black, blue, and red, and it's easy to clean, too.
We like that it has a durable steel frame with four reinforced legs for excellent stability on soil and gravel. It should withstand years of regular use in outdoor settings – no rusting, no bending.
It has several cool features, too, which extends its functionality beyond being a simple seat. It has a built-in cooler with a 4-can capacity (beers and sodas are a favorite during camping trips), a mesh cup holder for your coffee, and side pockets for your odds and ends. The side pockets consist of a large pocket and two smaller pockets.
Did we mention that the armrests are padded and adjustable, too? It's a small design detail that adds so much to your overall comfort.
Our Verdict

Coleman… a trusted name associated with outdoor activities. Check out the Quad chair on Amazon.com!
---
2. Tommy Bahama 5-Position Classic Lay Flat Folding Backpack Beach Chair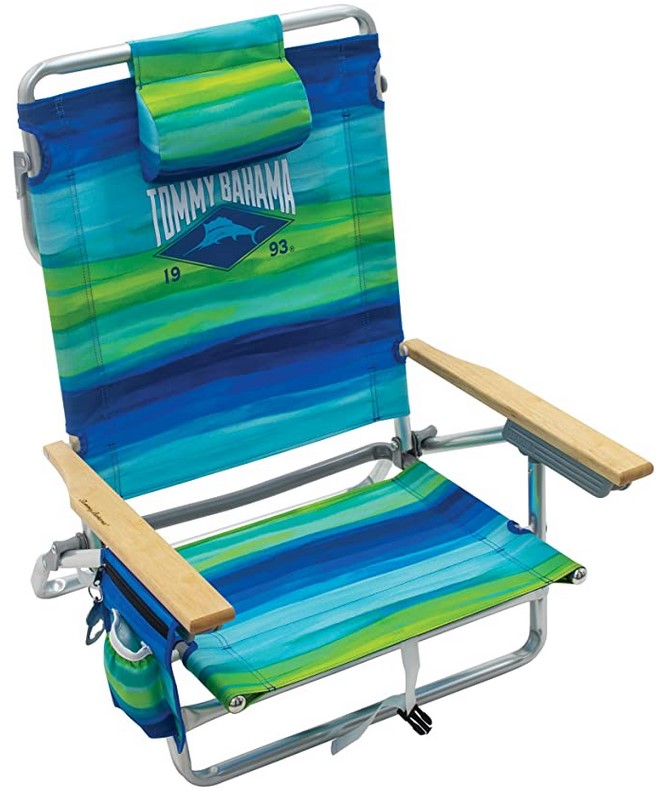 The Tommy Bahama beach chair does double duty as a camping chair, excellent value for your money. It's a colorful chair, too, with shades of blue and green evoking the ocean, a stylish feature. It has a low seat height, however, so you may have a bit of difficulty getting in and out of it.
On the bright side, it can easily adjust from one position to the next, thanks to its pinch-free adjustment mechanism. Its five positions range from full sitting to full recline and, as such, it can be used as a chair and as a bed. It even has a contoured headrest that doubles as a pillow! Just imagine being able to relax and sleep on it whenever you want.
With a rust-proof aluminum frame, it's sturdy enough to last for several years with proper maintenance, too. Its weight capacity is 250 pounds, just enough for most adult users. It's lightweight, too, so carrying is easy on the arms and hands.
Extra features include a mesh pouch for storing your phone, wallet, and other things; a bottle opener because camping isn't complete until you have a cold drink in hand; and a bar at the back for your towel and clothes.
Our Verdict

Whether you love camping in the mountains or sitting on the beach, this chair is perfect for both! And the best part?… It reclines so you can take a nap!
---
3. GCI Outdoor Freestyle Rocker Portable Folding Chair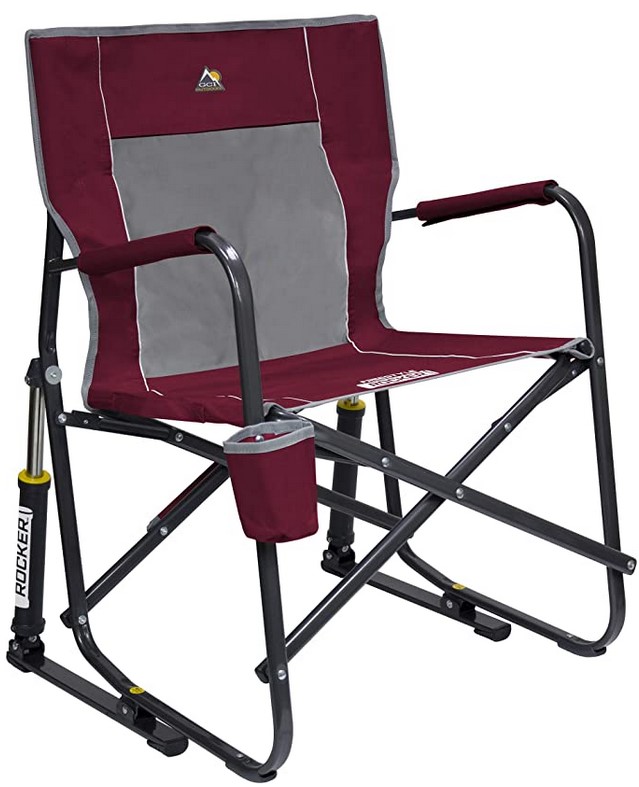 Yet another double-duty camping chair is this GCI folding rocking chair! First, you can use it as a rocking chair, thanks to the pair of shock absorbers on its back legs. When rocking, it provides a gentle, smooth rocking movement that relaxes your mind and body.
Second, you can also use it as a standard camping chair without making any adjustments. This is because of the fixed front legs, which provide stability to the chair. Just stop with your backward tilting motions, and the chair will cease to be a rocking chair.
When not in use, it can be easily folded for carrying and storing purposes. Its powder-coated steel frame supports up to 250 pounds, a weight capacity enhanced by the crossover frame design. Even when a 200-pound adult rocks back and forth, the frame will not creak.
The mesh backrest allows for excellent airflow to your back while the padded armrest makes for relaxed arms. We like the seat material, too, because it's both sturdy and easy to clean, a must when camping in rugged environments.
This comes with a limited warranty. There's no assembly required, a great thing when you're outdoors.
Our Verdict

Are you a new mom? How are you going to rock a baby to sleep on a camping trip? With the GCI Folding Rocking Chair, your baby will be snoozing in no time!
---
4. Kijaro Dual Lock Portable Camping and Sports Chair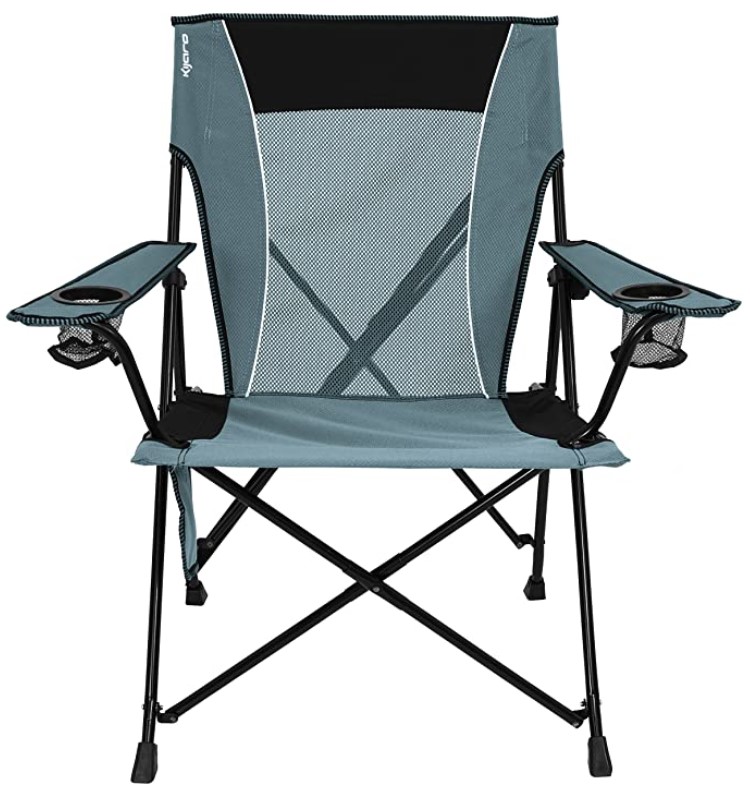 The coolest feature of this Kijaro camping chair is its dual lock mechanism and a quick-release button. The button easily releases the lock when folding and unfolding it. The dual lock mechanism keeps the chair in a secure lock in both positions. There's no risk of it accidentally folding when you're sitting on it or unfolding when it's stored in the trunk.
You will like its comfortable design, too, from the firm padded seat with little sagging under your weight to the padded headrest. Just sit back and relax in your 300-pound capacity chair that will not fold under. Your legs should be at a comfortable height, too.
The extra features include a mesh pocket, a zippered pocket, and a cellphone holder as well as two mesh cup holders. With these features, you can use the chair for other non-camping activities, too. You can easily transport it, too, thanks to its built-in shoulder strap.
Our Verdict

Order today… Be prepared for your next camping trip! Buy extras for neighbor campers to sit around the fire with you! Don't forget the s'mores!
---
5. Rio Beach Classic 5 Position Lay Flat Folding Beach Chair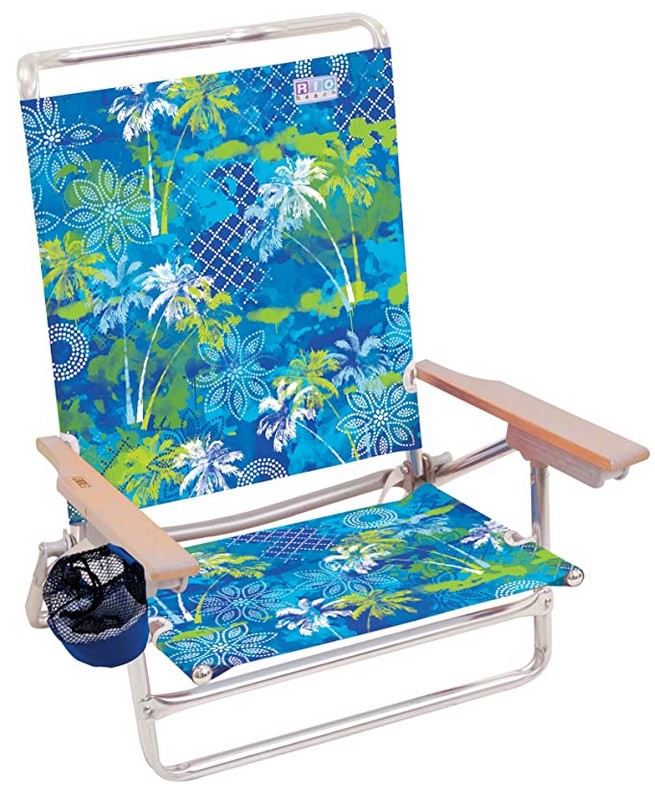 When camping on the beach, you will appreciate getting this Rio Beach folding chair. You can relax on it while enjoying the view and take a nap, too, thanks to its 5-position design. It's as comfortable as a chair, as a recliner, and as a portable bed, although it doesn't have a built-in headrest.
Made of high-quality 600-denier fabric, the seat doesn't sag too much even under the weight of a 250-pound adult. The aluminum frame is stable and sturdy, a must when using it on various terrains.
Other features include a towel bar at the back and a mesh holder for cans and other things. When not in use, simply fold and carry the camping chair through its padded adjustable straps.
Our Verdict

The Rio Beach Classic 5 Position Lay Flat Folding Beach Chair is perfect for taking a nap while listening to the waves crash! Order today from Amazon.com!
***
All of these five camping chairs have a sturdy frame and seat, provide comfortable seating, and can be carried virtually everywhere. But which one is the best? We have to say that it's the Coleman quad chair because of its overall design, from the oversized seat to the storage options.
Of course, that's only our opinion! You have the freedom to choose which one will meet your needs, whether it's the practical Coleman chair or the beach Rio Beach or Tommy Bahama chair.