In choosing that perfect family vacation, time, and budget should always be factored in. Most of these vacations (especially millennial parents) reach their highest during spring, college breaks, summer, or Christmas. While not everyone will be taking their vacations abroad, foreigners are coming into the U.S to spend quality time with their kids. Though some families might be opting for a comfortable staycation, nothing beats a well-planned vacation to nearby states. If you have enough time to plan, it's ideal for preparing a few months or a year before your vacation to achieve a sufficient travel allocation and make the most of this experience.
It's important to find time for family vacations to cultivate family togetherness. For parents, vacations provide you a much-needed break from your busy schedules. As depression, stress, and burnout are common among employees, taking the time to relax with the kids should provide you a good 'excuse' to have fun! On the other hand, kids experience better brain development from taking vacations. Introducing new experiences helps them interact with their environment that can help shape their experience. Encounters of different cultures allow your child to develop social awareness too. Traveling keeps them curious, and learns to respect other people's traditions and cultures.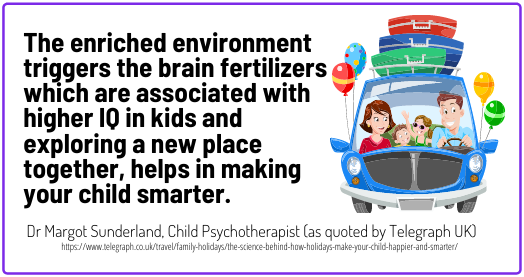 In your travels, visiting museums can give you valuable experience to boost happiness better than purchasing goods. As children develop their sense of "self"' at 3 to 5 years old, enriching trips like these could improve their self-confidence and identity. Moreover, this could enable them to complete tasks as they search for new ways to solve problems through these experiences.
Since traveling exposes them to a different environment, it can have a tremendous impact on their ability to adapt to changes. Traveling takes them out of their routine while forcing them out of their comfort zones in handling a variety of situations along the way. Experiences such as delays in flights, lost luggage, a chance encounter of a magnificent snorkeling spot, or discovery of a local market all contribute to their ability to adapt in these 'unforeseen' situations.
And finally, traveling provides a valuable lesson in budgeting. While not a very notable concept for family vacations, teaching them the value of money make them responsible adults in the future. Plus, traveling provides an opportunity to teach them about spending money wisely. Before traveling, you can employ this by giving them practice money earned through chores or getting good grades gives them an early hands-on experience in financial literacy.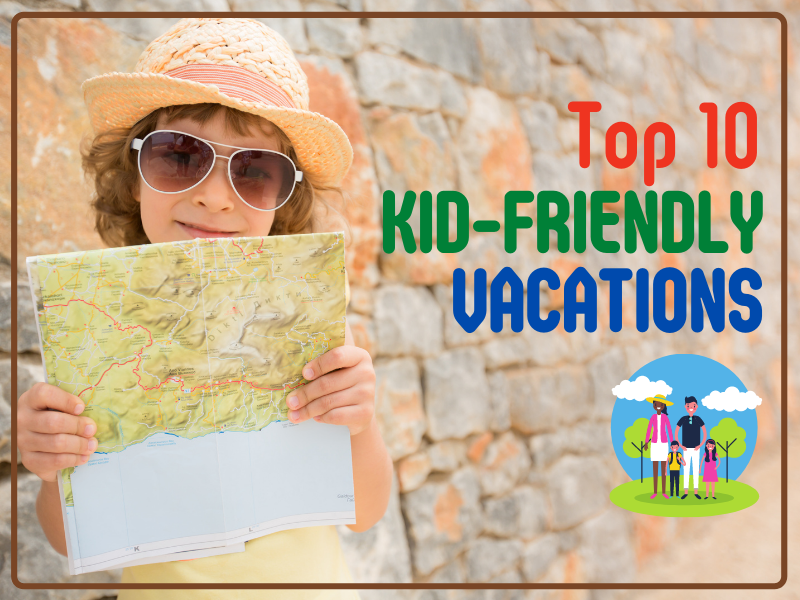 We present 10 places across the United States where a myriad of must-visit spots await to be discovered and enjoyed by your children (and yourself too!):

~ Big Island, Hawaii ~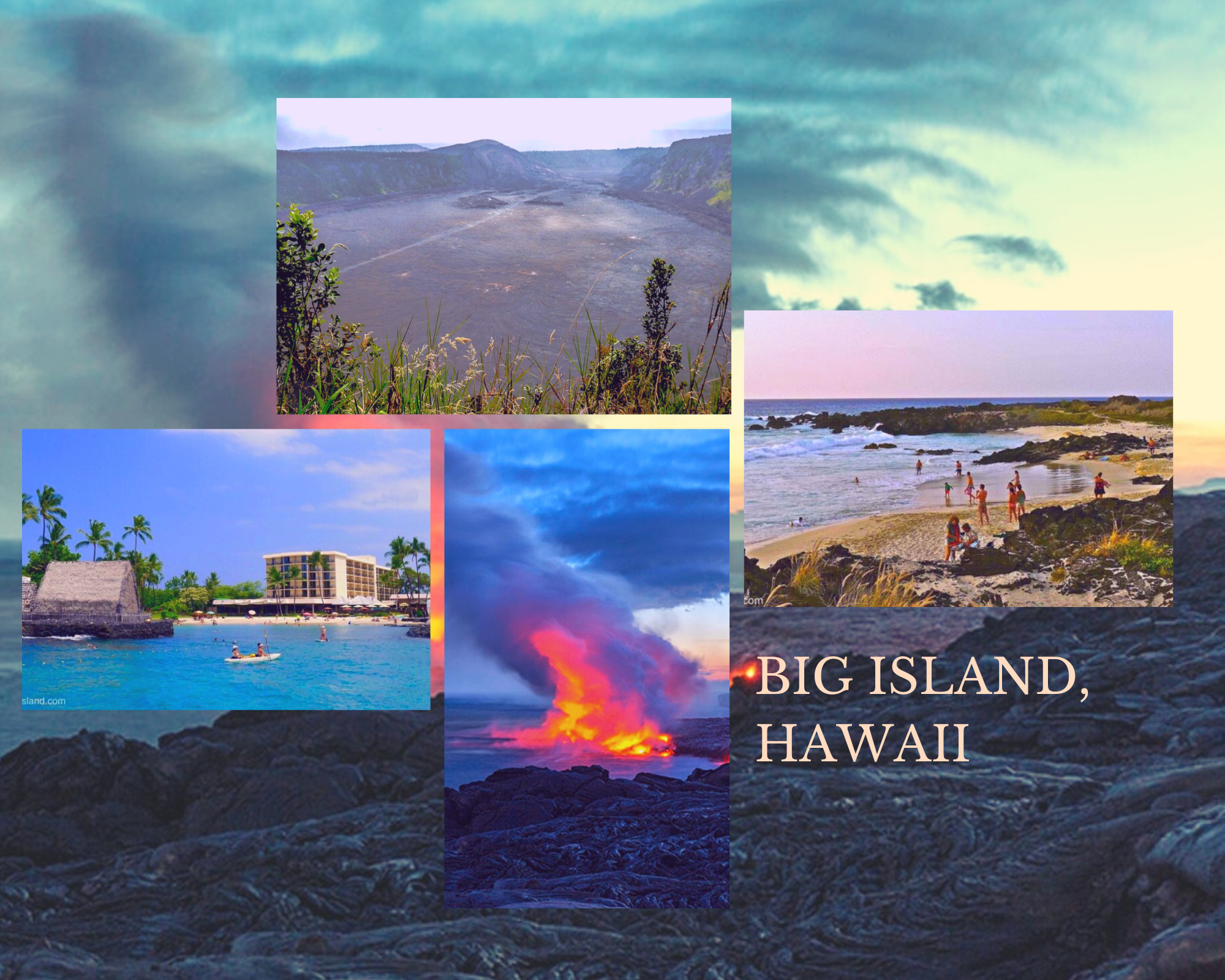 Hawaii is one of the most frequented places for a family vacation and couple retreats! Though it poses some challenges for East Coasters, Big Island offers many activities to help create lasting memories with your kids, aside from resort entertainment. Luau performances are a must-see tradition among vacationers to get a glimpse of Hawaii's culture. To see performances of this age-old traditional Hawaii dance, it's best to check schedules beforehand since these don't run nightly!
Families with older kids may also take an adventurous turn to snorkel near the Kailua-Kona village coves. Fun fact: these are feeding areas for giant mantra rays. This type of exploration occurs at night time where SCUBA divers go to the bottom and light up to the snorkelers to attract planktons, the manta ray's primary food source.
Well-known for its volcanoes, any family trip is not complete without checking these magnificent structures over the Hawaii Volcanoes National Park. It's unlikely that any lava action will be happening near these volcanoes, but the scenic hiking trails and fun tours are just too good to miss out on!
Helicopter rides above give you and your family a once-in-a-lifetime view of Hawaii's magnificent blend of water, nature, and beauty. Be sure to check the 442-foot Akaka Falls for a unique hiking trail, including the 100-foot Kahuna Falls.

~ Santa Monica, California ~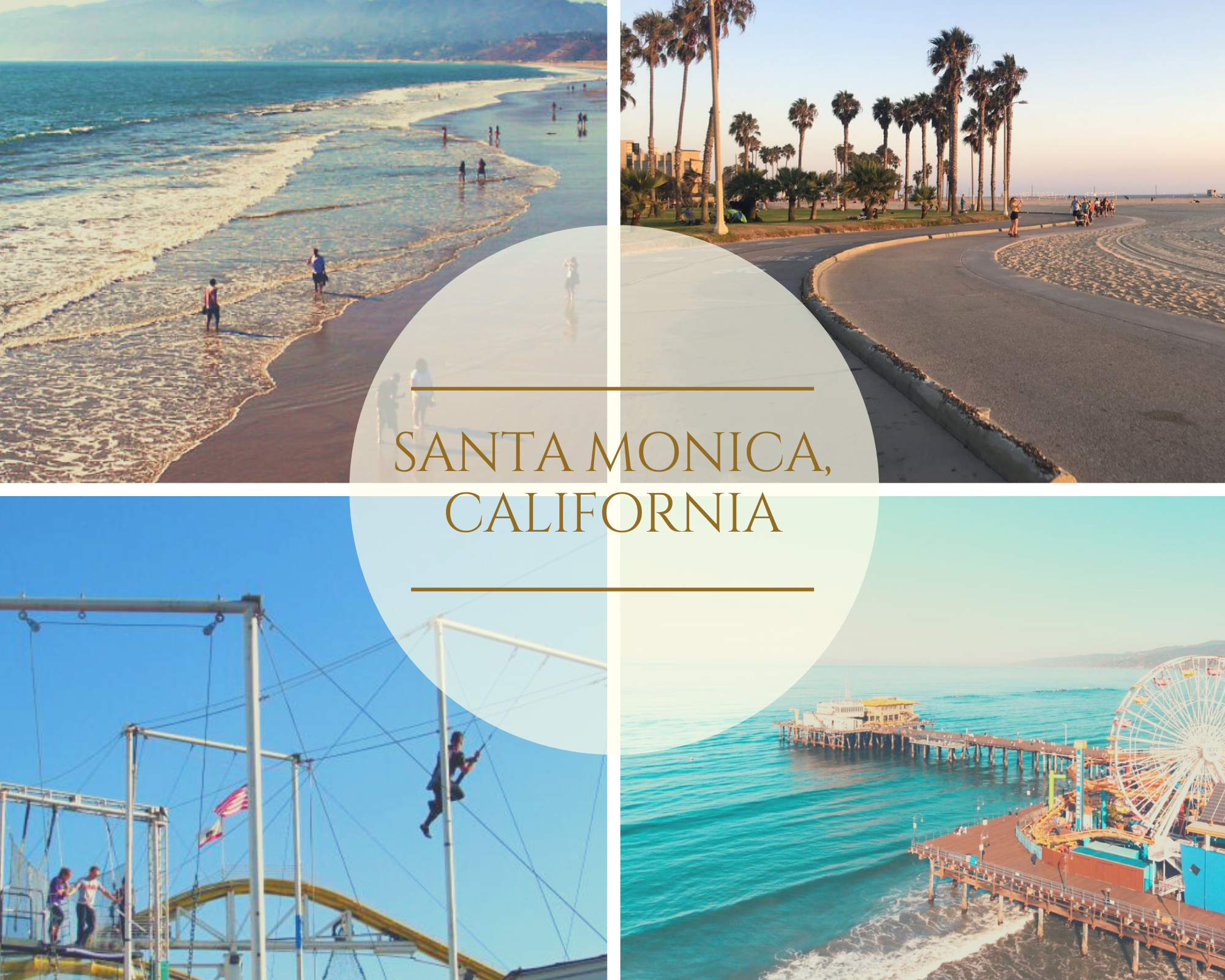 The plethora of attractions in Santa Monica Beach makes it a perfect escape for you and your kids for some quality time together! Its wide 3.5 miles of exquisite Californian beach is enough to keep your kids occupied the whole afternoon. Lifeguards are always on the lookout from their stations for everyone's safety. After a satisfying dip, you can head to nearby restaurants for a bite (or two!). Take a bike tour along the Marvin Braude Bike Trail for a small rental price as you coast along the 22-mile stretch starting from Santa Monica Beach, ending at Torrance County Beach.
The Santa Monica Pier offers a multitude of entertainment for kids, from its iconic yellow Ferris wheel to an amusement park filled with restaurants, souvenir shops, the Looff Hippodrome Carousel, entertaining street performers, and more than 200 arcade games to choose from! You can take a relaxing time eating dinner from nearby food stalls while chilling to some music played by local bands. For your little daredevils, the Trapeze School of New York is a great place to visit! Get a unique class with the kiddos as you learn killer aerial maneuvers fit for casual learners.

~ Washington, D.C ~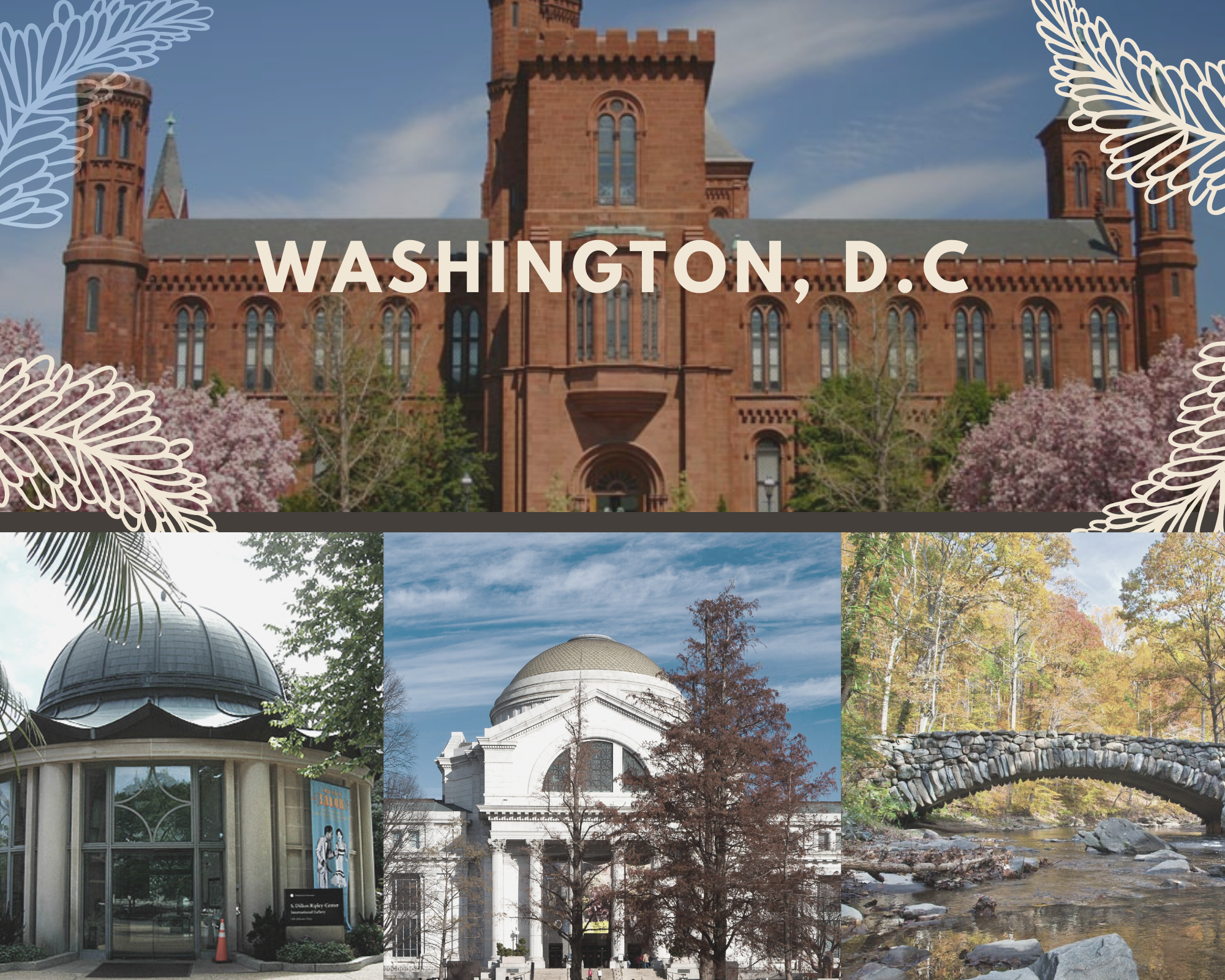 With a huge pool of family-friendly attractions, Washington, D.C. never runs out of fun things to see—and do—for everyone! Home to 390 species, the National Zoo is a must-visit for anyone coming to this place. Best of all: admission is free! Get a dose of wildlife as with beautiful giant pandas, giraffes, bears, Komodo dragons, and myriads of animal inhabitants set in Rock Creek Park, a location owned by the infamous Smithsonian Institution. Expect daily feeding, tours, and animal training in this park, with most crowds coming in during summer.
History-buffs may find great delights browsing through ancient artifacts in the National History Museum. Here, you get to explore with the kids an 80-foot dinosaur skeleton, an eye-popping 45-carat jewel (Hope Diamond), and a huge white shark, to name some of its attractions. Kids can also have hands-on experience in the Discovery Room. They feel various animals like crocodile's skin, jaws of various animal skeletons, and even try cultural clothes from anywhere worldwide (be sure to take lots of photos!).
Discovery Theater is another favorite among school-age children where they get to see live performances such as puppet shows, musicals, and story-telling. The whole family will certainly enjoy the hands-on robotics and field trips set for special days.

~ Gatlinburg, Tennessee ~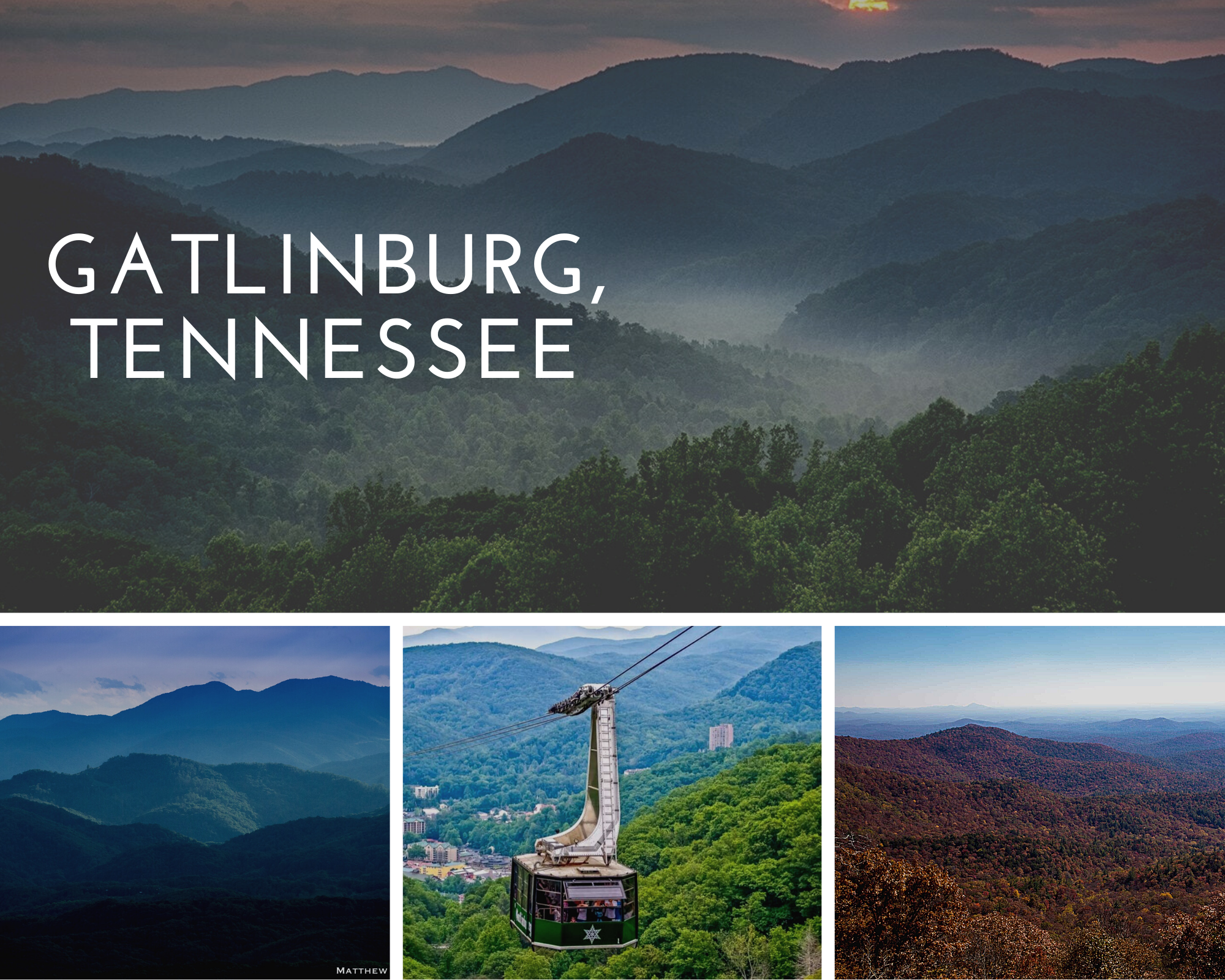 Expect great crowds when you're coming to Gatlinburg for summer. This Southern summer heat drives locals (and tourists!) to the Blue Ridge Mountains in Western North Carolina with its comfortable and cooler temperatures. Adventure seekers will find great delights in exploring the exquisite Great Smokey Mountain National Park waterfalls and trails. In Pigeon Forge, TN, you can check out Dollywood! And, just a short drive away in Ashville, NC, explore Biltmore Estate's guided tours to satisfy the curiosity as you learn and understand the estate's arts, culture, architecture, and the Vanderbilt family. Get the chance to explore a swimming hole near Springer Mountain as well!
Check out the Gatlinburg Pinball Museum with more than 100 pinball machines and classic retro arcade games. Considered one of the biggest collections in the U.S, this is a must-visit place for the family and have them experience classic favorites like Attack from Mars, Metallica, The Addams Family Gold Edition, and Medieval Madness to name a few!
The Ober Gatlinburg Aerial Tramway is the 120-passenger tram ride 2700 feet above the ground. Be sure to take your cameras as you snap pictures of the beautiful mountain views and grounds below. It's a short 10-minute ride from Downtown Gatlinburg to take you to the mountaintop recreational park. From here, your kids can further explore the Ski Mountain Coaster, water raft rides, carousels, wildlife tours, and other snowboarding activities!

~ Memphis, Tennessee ~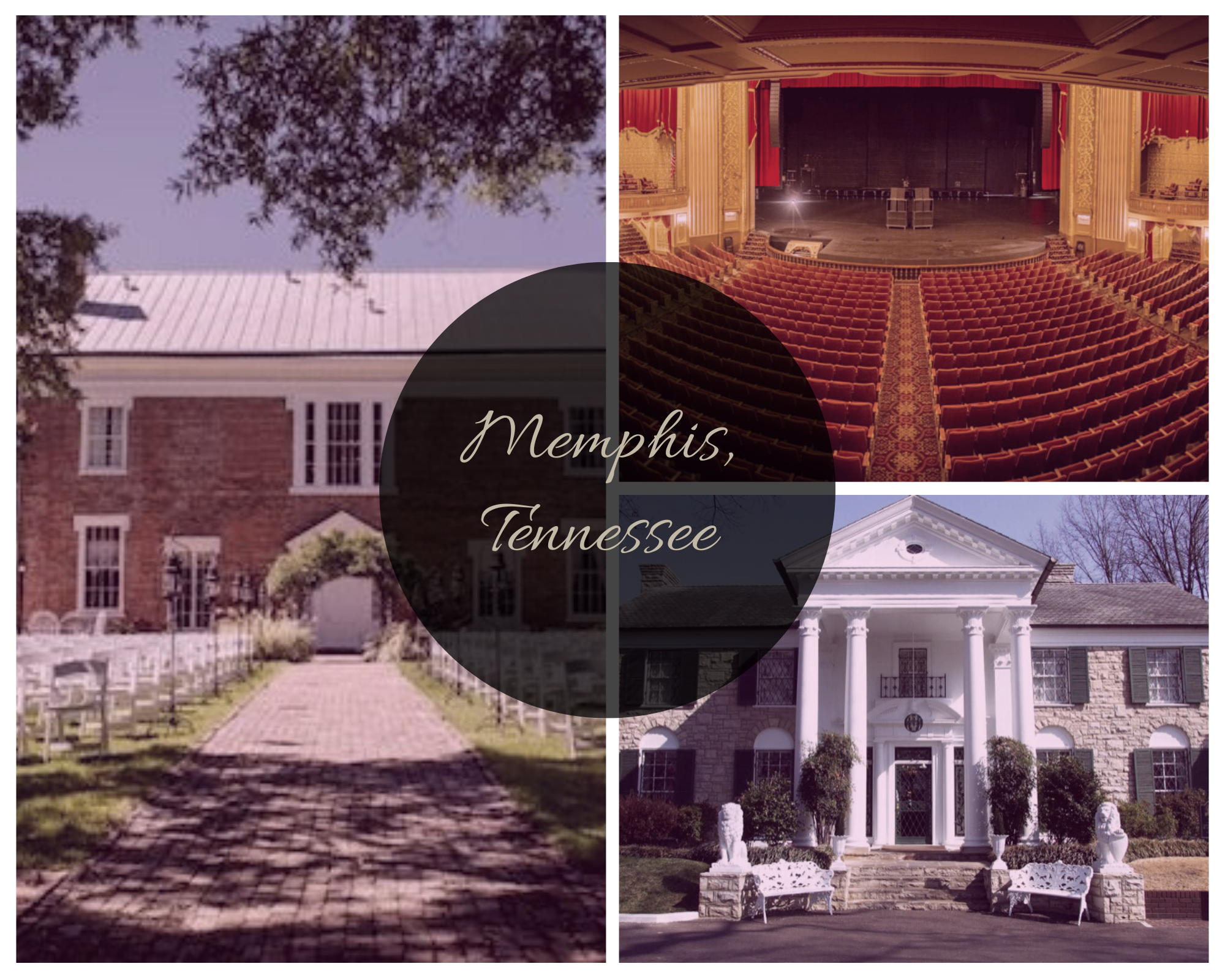 Home to rock-and-roll, Memphis is the center point of iconic musical artists and origin. Even a cultural runabout around a specific area can already give you a glimpse of Memphis' music saturated roots, starting with the King of Rock Elvis Presley himself at Graceland! Not only that, this place is a musical melting pot for African American music styles such as blues, gospel, and soul. You'll likely encounter several live performances from local bands while enjoying the best of Memphis' cuisine and treats!
If your kids are fond of farm visits, the Cedar Hill Farm offers a variety of entertainment for the whole family as you take a stroll in one of the best Agri-Tourism places in the Mid-South! Start your exploration with a tractor tour around the farm while you check out farm animals. If you happen to come by during special seasons, the Easter Egg Hunt Field in spring, berry picking fields in summer, Pumpkin Patch and Corn Maize during fall, and Choose and Cut Christmas Tree field in winter are something you wouldn't want to miss along the way!
The Orpheum Theatre is another spot you shouldn't miss when you're taking a vacation in Memphis. This cultural center also gives you access to the Halloran Centre of Performing Arts and Education for artists. It's never a Memphis-kind-of-trip without checking live performances in the theater ranging from concerts, family shows, comedy shows, dance troupes, and other shows for the whole family to enjoy!

~ Miami, Florida ~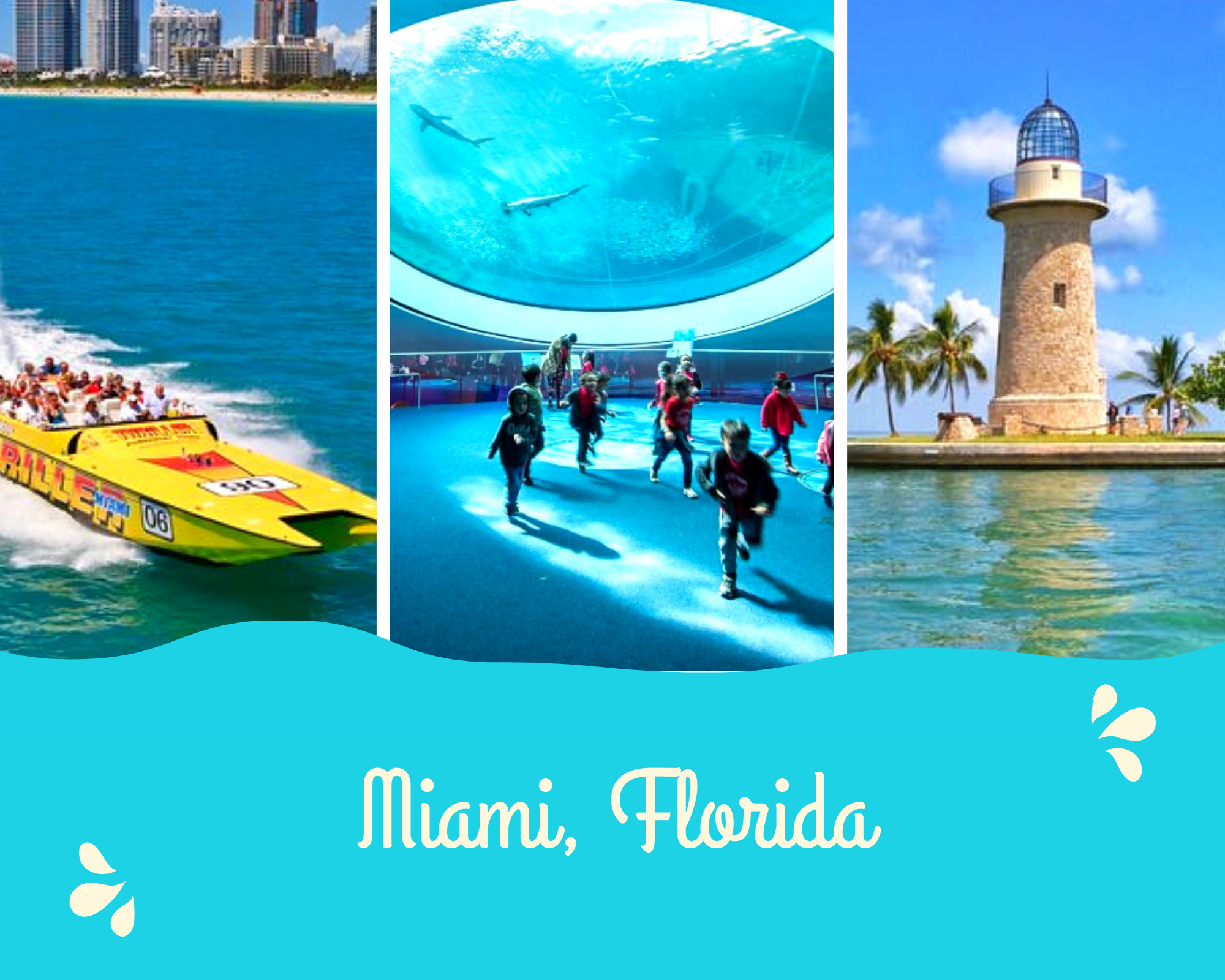 The Biscayne National Park garners 500,000 visitors every year, including local visits. For adventure-seeking kids, this place offers plenty of spots for tours, trails, and hiking with its breathtaking views and wildlife creatures. Though frequented most by boaters and divers, this is a recreational space to unwind from the busy city life as you and your kids go on boating, camping, snorkeling, wildlife watching, and several other explorations this place has to offer! Go into an eco-adventure with a guided tour as your family takes a dip in the Maritime Heritage Trail, cruise along with Boca Chita Key, and look into the beautiful Biscayne Bay and Jones Lagoon!
Located Downtown is the Philip and Patricia Frost Museum of Science. This 250,000 square foot museum is composed of four buildings where you can also check life-size machines inspired by the great Leonardo Da Vinci-Inventions exhibits. There are also other science and nature exhibitions you can explore in the 3-level Aquarium, the Frost Planetarium, the Ocean Gallery, Feathers to the Stars, MeLab, and River of Grass.
Experience a unique and thrilling ride with the Thriller Miami Speedboat Adventures. Located in Downtown Miami, your kids will surely enjoy this 55-foot catamaran that can reach up to 50 miles per hour as you zip through Miami's waters passing South Beach, Cape Florida, Fisher Island, and Stiltsville, where rustic wooden houses on stilts can be found smack in the center of Biscayne Bay! This is 45 to 75 minutes of a fun ride, allowing children ages three years old and above.

~ Chicago, Illinois ~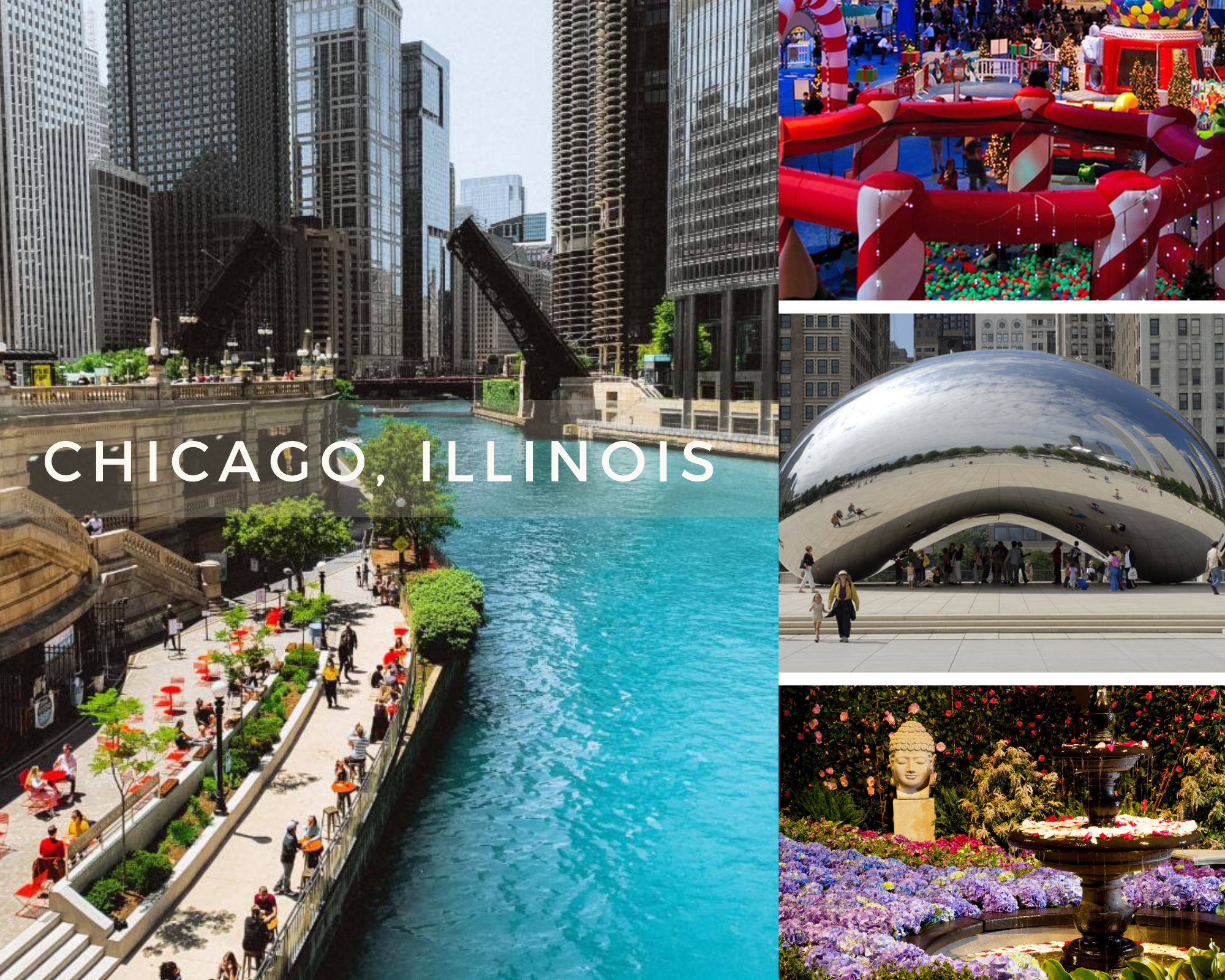 Ideal for summer getaways, Chicago is one of the best places to take your kids for a vacation. This Windy City is not only home to the iconic mirror bean in Cloud Gate, there's also a lot more to this city than meets the eye. The Navy Pier is a miniature amusement arena for boat tours, movie theaters, and scrumptious food selections in the food court. The massive 200-foot Centennial Ferris wheel is located in the glass-enclosed garden where you get to experience the magnificent view of the city's skyline. Don't forget to check exclusive gondolas with glass bottoms!
The IMAX Theatre boasts of a 60 by 80-foot screen to give you a different kind of 3-D movie experience that your kids will surely remember. Go to the colorful exhibit in the Festive Hall offers a feast for the eyes, especially when you visit during the annual Chicago Flower and Garden Show as well as the Winter Wonderfest.
After a fun-filled day in the Pier, head out to the Chicago Riverwalk. You and your family can spend the afternoon kayaking the river at affordable hourly rentals. If you're a beginner, you can avail of the one-hour lesson, so everyone gets every bit of action as you bask in the city's marvelous skyscapes.

~ Portland, Maine ~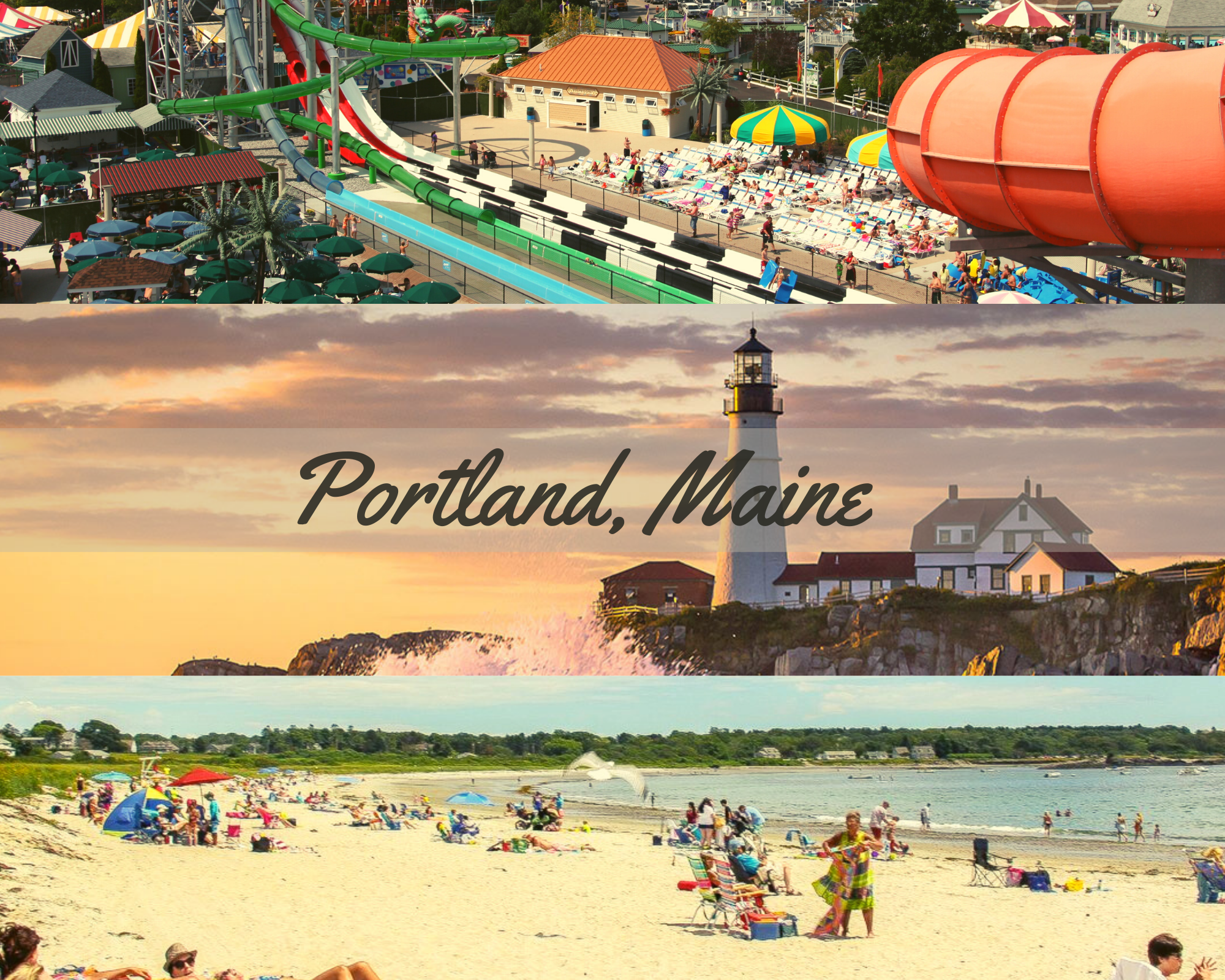 This coastal town is lined up with waterfront shops and nearby restaurants serving the best of Portland's dishes while overlooking beautiful beaches. The Crescent Beach is one of the best beaches to visit with its unique crescent-shape shoreline lined with tourists on a break from the hustle and bustle of the city. Creature comfort amenities such as restrooms and nearby picnic tables are available if you're planning to take a dip in the late afternoon with the kids.
This trip is not complete without visiting Portland Head Light. This iconic structure provides a beautiful view of Portland's beautiful coastal scenery. Along the way, take a hike and walk the trails exploring various spots highlighting sceneries with regular viewing lenses located along the way. A nearby park also provides something for the kids to explore and have fun while taking a break from the tour. There's a museum to check cultural artifacts and a gift shop to purchase some souvenirs for keepsakes! Feeling hungry? Be sure to try the delectable lobster rolls and gelato sold by nearby park vendors.
Visit two parks in one just 25 minutes towards the south of Portland. The Funtown Splashtown is a tourist destination for families offering 50 of the best rides the whole family can enjoy! Compared with traditional coasters, you get to experience wooden ones in one of the longest and tallest log flumes in New England. It's a 220-foot hair-raising drop from the Dragon's Descent tower not suitable for the faint of heart!

~ San Francisco, California ~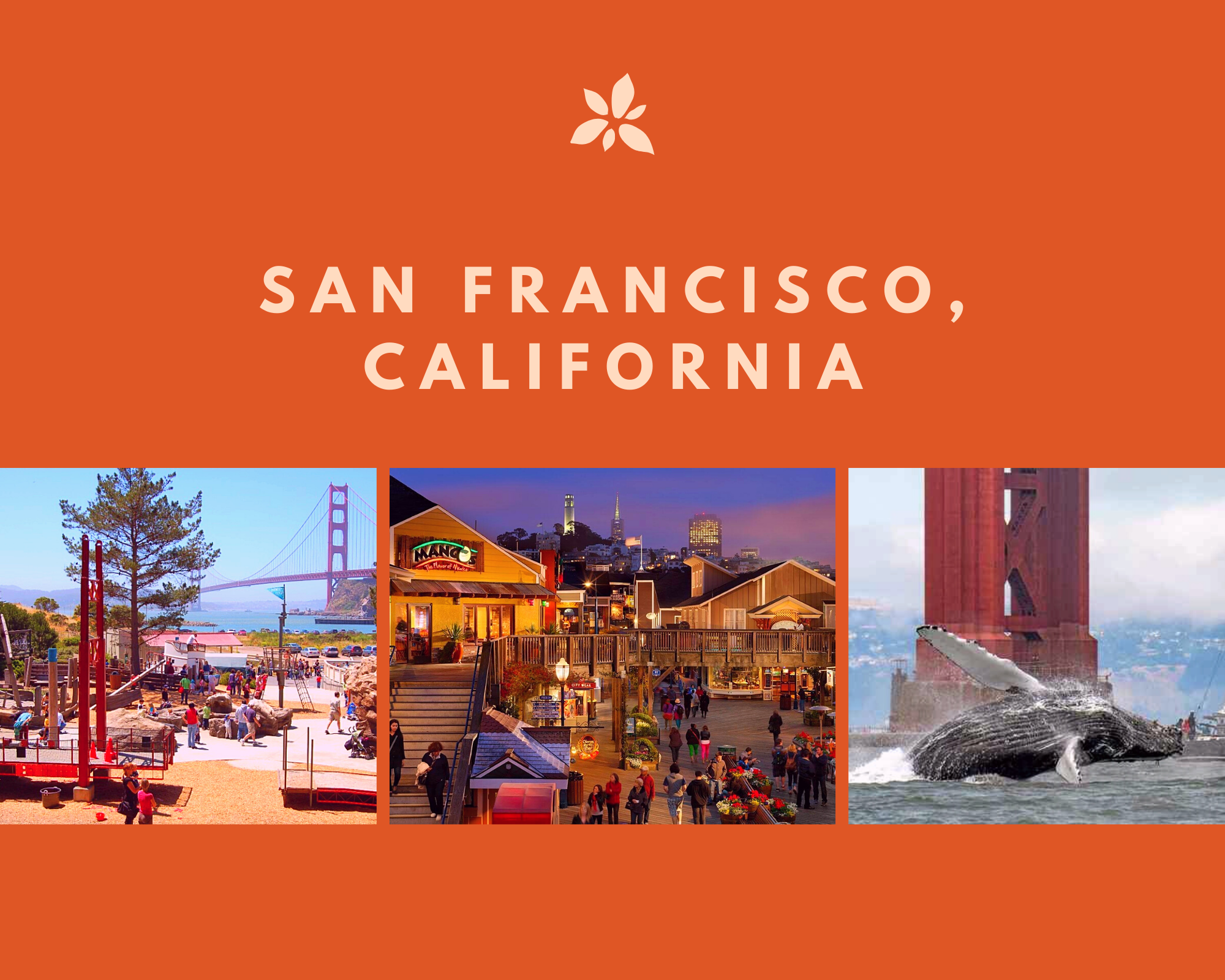 San Francisco is more than just its 82 recreation centers, 182 playgrounds, and 60 soccer fields. Swing by Sausalito for the Bay Area Discovery Museum—the perfect entertainment center for children ages 0 to 10. The 7.5-acre space provides adults (and kids!) an entire day of activities and entertainment. Camps and classes include summer camps, infant class, toddler class, and engineering class to fit your child's age and preferences. As most of the activities include STEM-based approaches, kids (and adults!) can learn while having fun at the same time! Pier 39 is another favorite among locals and tourists.
Touted as the "Disneyland of San Francisco," this place does not disappoint, offering the best views of the Golden Gate and bay as well as Alcatraz. You can also get a glimpse of the sea lions resting on the floating docks. Enjoy a better view of the bay in all its natural glory with bay cruises. You can also take the 90-minute catamaran ride with free snacks and drinks as you cruise along the bay. Or you can also take a 2 1/2-hour whale-watching tour along the Golden Gate and get a glimpse of gray whales from December to May and humpback whales from May to November.

~ Cheyenne, Wyoming ~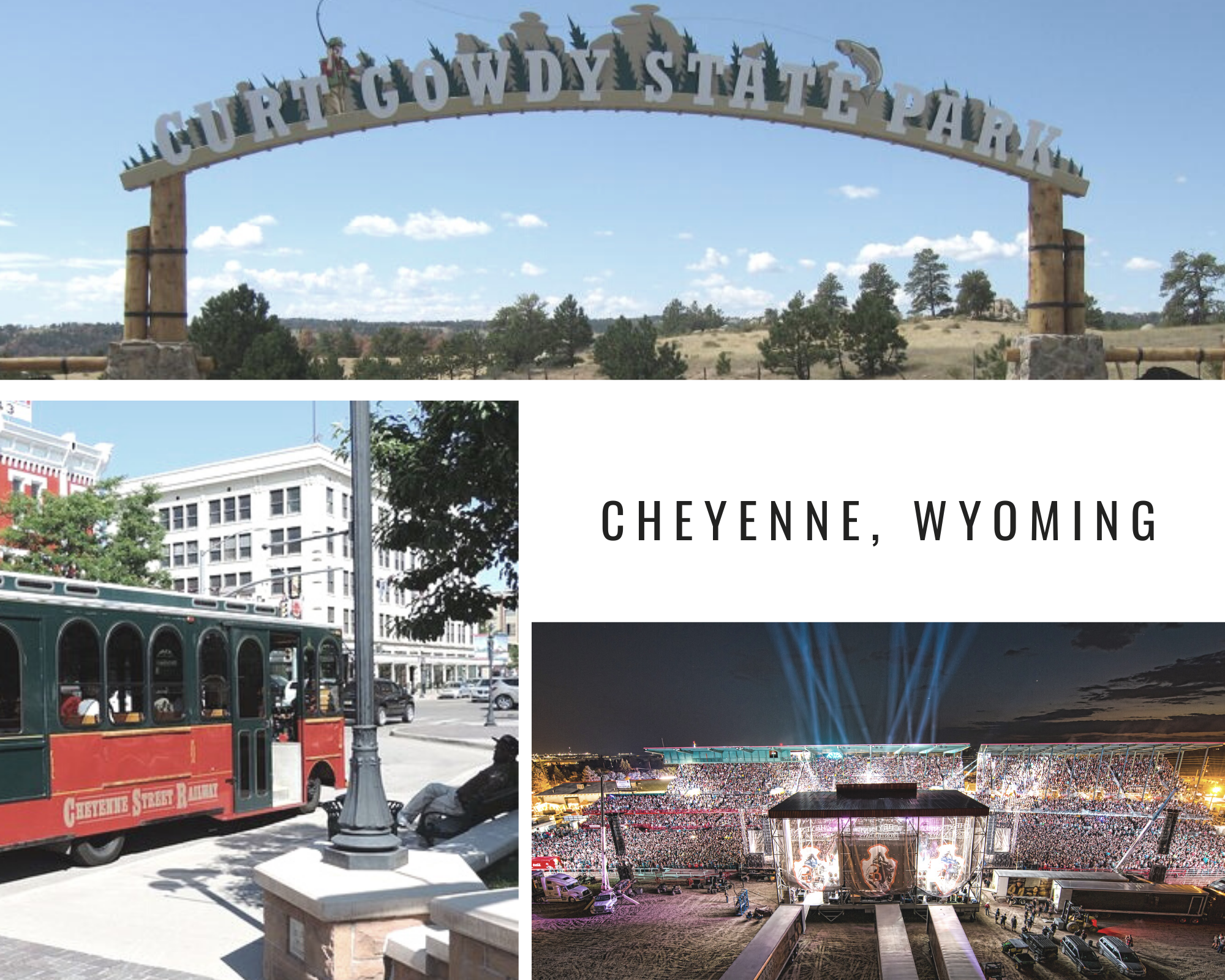 Get the authentic 'wild west' experience in Cheyenne! Your family can have a grand time watching live concerts and western celebrations. The Cheyenne Frontier Days is an anticipated event where the largest outdoor rodeo will take place. Kids can expect a variety of western-themed entertainment, including trick riding, air show, and wild-horse races! Considered a 'red carpet' event, you shouldn't miss live concerts performed in the arena. Nearby vendors also offer local Cheyenne treats such as funnel cakes and pancake breakfasts.
Enjoy a fun ride in the Cheyenne Street Railway Trolley located in the downtown area. This tour provides an educational yet entertaining trip as you learn fun facts about the cattle baron, where gunfights happened, and other important events marking Cheyenne's rich cultural history. There will be seven stopovers in this loop, such as the State Museum, Old West Museum, Botanic Gardens, and the Governor's Mansion.
Just 24 miles west is the Curtis Gowdy, an ideal spot for hiking, fishing, biking, and archery. Explore around 35 miles of scenic trails as you go hiking or biking along Curt Gowdy State Park. Don't forget to check the Granite Springs, Upper North Crow, and Crystal along the way!