Do you find cleaning the house and keeping it in order exhausting? Are you one of those people so often set it aside for last? You're not alone! Like everyone else, you deal with a seemingly endless list of to-dos. You go to work. You do the chores. You take care of the kids.
And with kids in the house, you can't just settle for anything less than spotless. For starters, you need to keep your floors clean. If you want to do it without heavy lifting, innovative robotic devices are the best way to go. While the idea of a robot doing the chores for you seems a bit odd, these smart, heavy-duty types of equipment have been around for a while.
In 1996, the Swedish appliance manufacturer Electrolux released the first-ever robotic vacuum cleaner. The novelty of the "Trilobite" gained the attention of the electronic industry, as well as in the media.
The International Federation of Robotics said some 31 million domestic robots would have served households worldwide in 2019. Robot vacuums comprise 20% of the worldwide vacuum market, according to iRobot, which holds 70% of that market.
Why Buy a Robot Vacuum?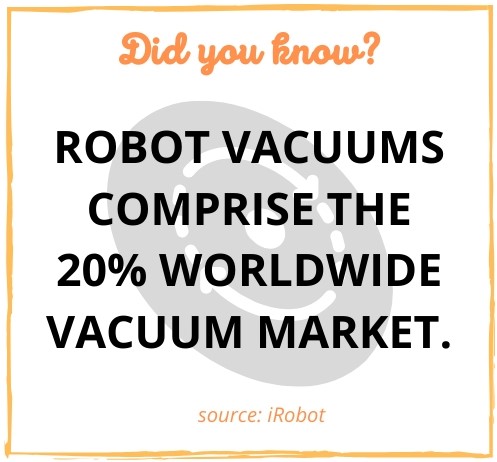 Robotic vacuum cleaners are a brilliant work of technology and innovation. They're the help you never thought you'd need! Often called a robovac, a robotic vacuum cleaner is equipped with intelligent programming that allows for autonomous function.
Robot vacuums will significantly reduce cleaning time; you can even set a regular vacuuming schedule. They are compact enough to fit even the most constricted areas, especially under the furniture. Most robot vacuums are lightweight, durable, and can work on any surface. Their functionality outweighs their cost, making them a good investment.
Today's robovac is a far cry from the original design. New models feature smartphone and WiFi connectivity, which make vacuuming away from home possible.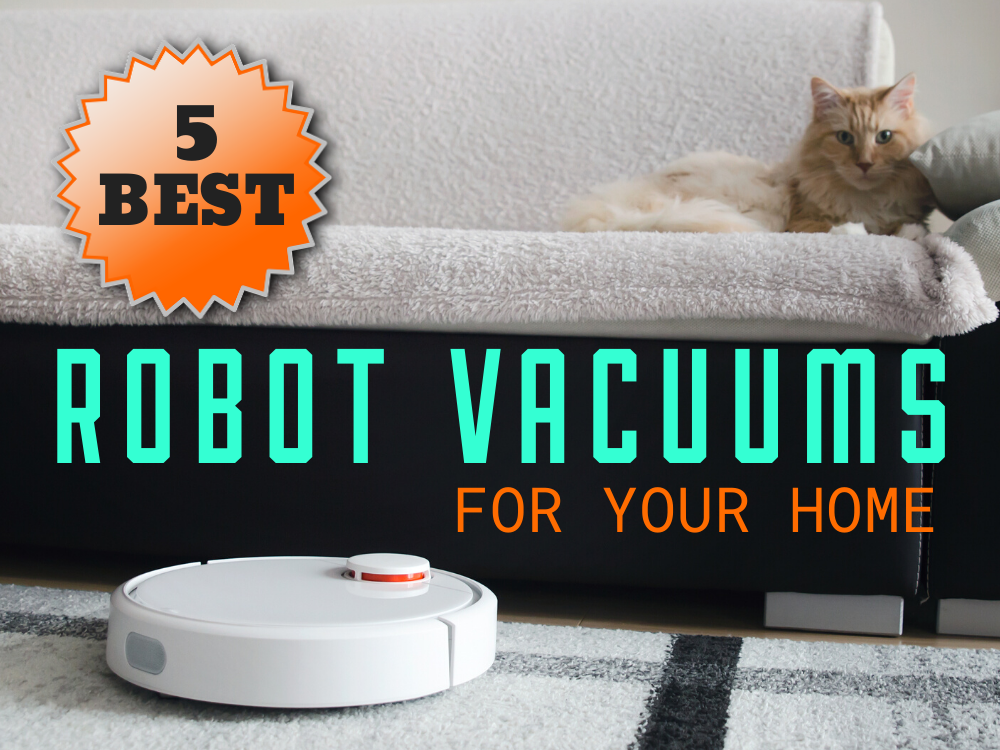 Say goodbye to slaving away to bulky and heavy vacuum cleaners! Here are five excellent robot vacuums to make your chores less exhausting.
1. iMartine Strong Suction Robotic Vacuum Cleaner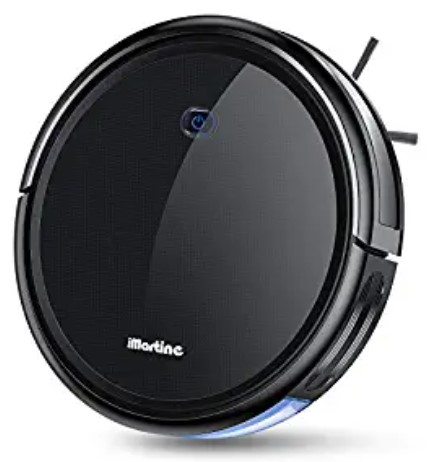 The iMartine Strong Suction Robotic Vacuum Cleaner makes for a perfect gift for anyone who enjoys vacuuming the floor. It is an all-new design from iMartine, featuring an ultraportable body 2.7" super thin robot. But do not be deceived by its sleek exterior as it is packed with 1600Pa robust suction system which will seamlessly pick up everything on its way. This is perfect when you have indoor pets. The iMartine Strong Suction Robotic Vacuum Cleaner will remove pet and human hair, fine dust from your carpeting, and even the tiniest crumbs on the floor. It will automatically change to C800, the machine's maximum suction feature when it identifies the carpet surface.
Customize your iMartine robot's functionality by choosing from the four cleaning modes – automatic, spot, max vacuuming, and edge cleaning. You can rely on its 2600mAh lithium batteries to finish the job up to a 120 square meter area or up to 120 minutes of run time. And if it does run out of battery, it will automatically return to its charging dock to recharge. It only takes 5 hours to charge and do the entire vacuuming task for you. While it charges, you may remove and empty the 550mL washable HEPA Filter. All filtration parts are 100% washable and made of sustainable materials.
Operate your iMartine Strong Suction Robotic Vacuum Cleaner through its exclusive remote controller without worrying about the collision or falling down the stairs. Its 360°anti-collision sensors and anti-drop technology make it safe around the house, even around your precious furniture. This slim robotic vacuum will leave your floors clean and dirt-free without making any fuss, and quietly.
The iMartine Strong Suction Robotic Vacuum Cleaner is available on Prime from Amazon!
2. Coredy Self-charge Robot Vacuum Cleaner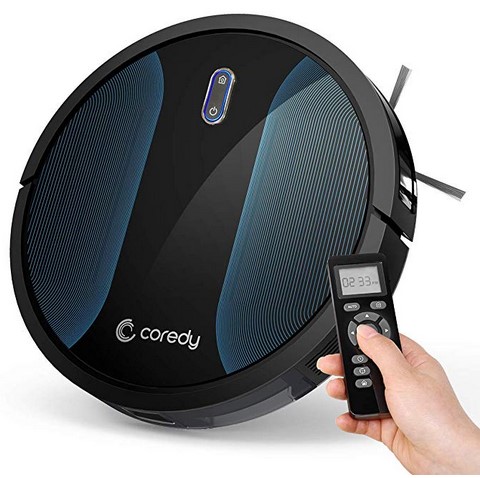 Keep your floor and carpet and even the hard to reach areas under the bed or sofas with zero effort when you get the Coredy Self-charge Robot Vacuum Cleaner. The robot vacuum is more than just a vacuum; it comes with a 3-point cleaning system and dual edge-brushes. It works with any surface even on hard floors and thick carpets where dust and pet hair quickly pile up.
Customize the cleaning preference on your Coredy robot vacuum and also set a cleaning schedule making vacuuming more convenient for every homeowner. With its sleek exterior, it easily complements your home décor. Plus, the top is covered with anti-scratch tempered glass so you do not have to worry about a few bumps here and there. But the anti-collision feature helps prevent unnecessary crashes, while the anti-drop intelligent sensor technology avoids falling.
The Coredy Self-charge Robot Vacuum will finish the job, whether on a dry or wet surface. It supports wet-dry mopping so you do not have to switch to a mop. However, the water tank and cleaning mop cloth come at an additional cost.
It is a smart vacuum cleaner with five efficient cleaning modes – Spot Cleaning, Edge Cleaning, Max Vacuuming Cleaning, Single Room Cleaning and Manual Cleaning. Easily change the suction power between these modes. Relax while the machine cleans your home for up to 120 minutes. And with its self-charging technology, the vacuum will simply go back to its charging base after it is finished vacuuming or when it's low on battery.
Interested in the Coredy Self-charge Robot Vacuum Cleaner?
3. Muzili Wi-Fi Robot Vacuum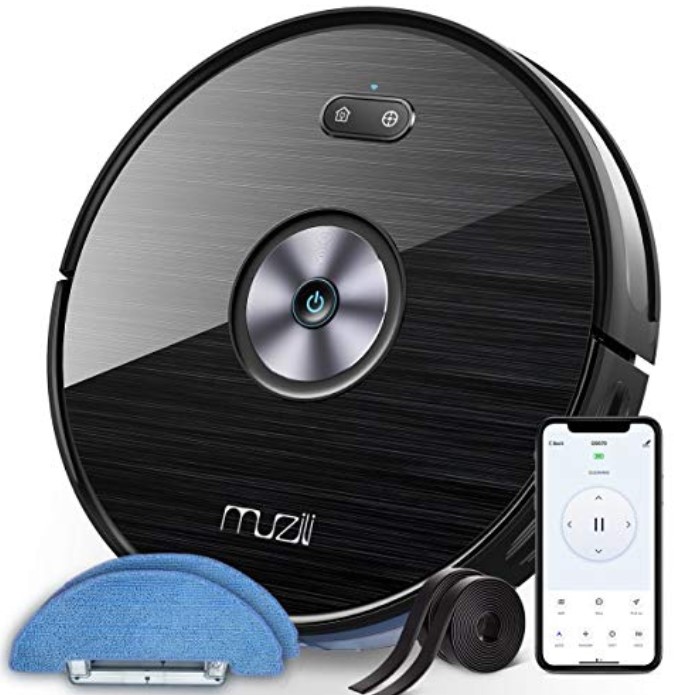 The Muzili Wi-Fi Robot Vacuum Cleaner and Mop promises to keep your floors clean without lifting a finger. It is an all-around robot vacuum powered with a powerful 1500pa suction, which operates quietly at only 55 dB. You can sleep or be away while it does all the work for you. Plus, you can even set the cleaning schedule time for extra convenience features. Imagine getting home to perfectly clean floors! After the machine finishes vacuuming, you can easily switch to mop. This will leave your hardwood floors shiny and free of any unwanted debris.
You can rely on the Muzili Wi-Fi Robot Vacuum to complete the job with its long working time, reaching a maximum of 120 minutes. It is built to self-protect with its infrared-sensors. It is easy to clean and maintain. Multi-customized modes include six cleaning options – auto, spot, max vacuum, edge, and row by row cleaning. With the built-in gyroscope, this compact machine is a master at navigating your space making sure that nothing is left untouched. This smart machine will return to its docking station when it is low on battery, even during a cleaning cycle. But it will automatically resume its work once it has sufficiently recharged because there are more important things for you to worry about.
One word: PRIME. You can get the Muzili Wi-Fi Robot Vacuum in just a couple of days!
4. GOOVI 1600PA Robotic Vacuum Cleaner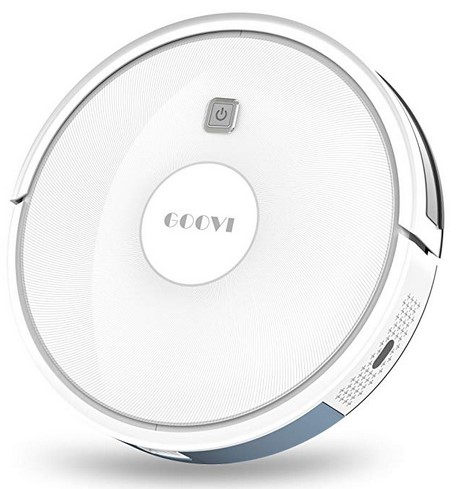 Packed with powerful suction, the GOOVI 1600PA Robotic Vacuum Cleaner will pick up dust, crumbs, and dirt along its way. It is designed for hardwood floor carpet and ideal for every American household. Easy operation eliminates the often intimidating interaction with household robots. You can control the GOOVI robot vacuum with a click of a button. With an intelligent setting, the mode offers multiple optional cleaning options and pre-set vacuuming time for effortless and worry-free cleaning.
GOOVI's slim and compact 2.83" body makes it possible for it to glide underneath your furniture, beds, and sofas where the dirt likes to hide. It also returns to its charging base when it needs to recharge. This will make sure that it is always charged and ready to clean your floors for you. With two large wheels, it will move effortlessly while vacuuming your floor fast and efficiently. And when it comes into contact with an obstacle, it will make a Didi-Didi sound to notify you. It will stop working until you correct its path.
Five words… Prime. Free ONE DAY DELIVERY! Get your GOOVI 1600PA Robotic Vacuum Cleaner NOW!… Well.. tomorrow!
5. dser 1600Pa Robotic Vacuum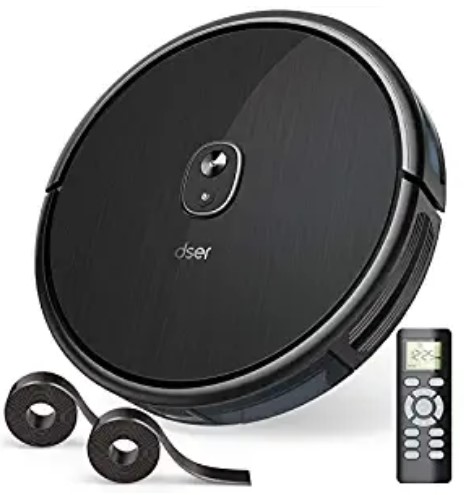 The dser 1600Pa Robotic Vacuum boasts its BoostGen Technology, a unique feature that guarantees perfect clean by using superior suction power. Its brushes and suction automatically increase to its maximum within 1.5 seconds once it detects a hard-to-clean surface. Your rugs and carpet will be free of dust, hair, and debris once the dser 1600Pa robot vacuum finishes the job.
The slim and strong exterior and smart cleaning system will leave your floors with the best possible clean. The 2.83" body maneuvers easily even under areas which are typically hard to reach. It will clean non-stop with consistent, powerful suction for up to 100 minutes. The dser 1600Pa robot vacuum is a reliable machine that never misses a spot. With a 600 mL dust box, it will pick up more without needing to empty it frequently.
It is safe around the house, even when you use it on the second floor. The anti-drop technology is equipped with infrared sensors and upgraded making it more sensitive to its location. And when it needs to recharge, it will automatically return to its station so it is always ready to clean. The magnetic boundary stripes function as a virtual wall barrier which helps fix the vacuum's sweeping pattern. Plus, it prevents the sweeper from entering places that do not need sweeping.
The affordable dser 1600Pa Robotic Vacuum is super easy to purchase on the 'Zon!