Graco Sense2Snooze Bassinet with Cry Detection Technology
Arlo Baby Monitor
BABYBJÖRN Baby Carrier
Doona Infant Car Seat & Latch Base – Car Seat to Stroller
Spectra Baby USA S1Plus Electric Breast Pump
Baby Brezza Formula Pro Advanced Formula Dispenser Machine
OMORC Baby Bottle Sterilizer and Dryer
SwaddleDesigns Cotton Muslin Swaddle Blankets
Babycurls Baby Changing Mat with Foam
Boppy Bare Naked Nursing Pillow and Positioner
After nine months of waiting, your baby has finally arrived! Motherhood is such a wonderful season in a woman's life as you care and nurture your bundle of joy. After getting all the labs and monitoring done, it's time to bring your little one home. For new parents, this new phase in life is filled with questions that are exciting and frustrating at the same time. With planning, it can alleviate all those frustrations and worry off your shoulders and start looking into items crucial for your child's developing years.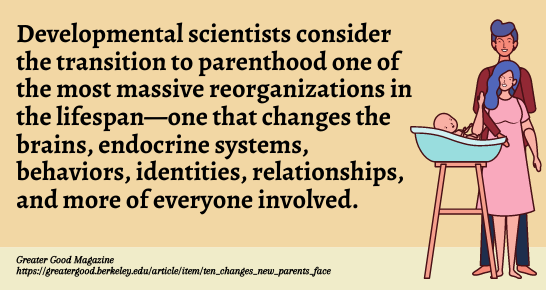 A common problem most moms-to-be ask about is breastfeeding with topics ranging from latching, pain, milk supply, and mastitis. During post-partum classes, it could help new mothers understand proper latching, breastfeeding time, and the use of appropriate apparatuses such as breast pumps for their baby's health.
Comfort and safety is another aspect you'll need to look into even before the nesting period. Choosing age-appropriate items such as bottle feeders, bassinets, car seats, strollers, and swaddles are just some of the few things you need to have on your list to cover at least a year's worth of baby essentials. As a new mom and dad, these are challenging times but can be met with ease with planning and proper execution.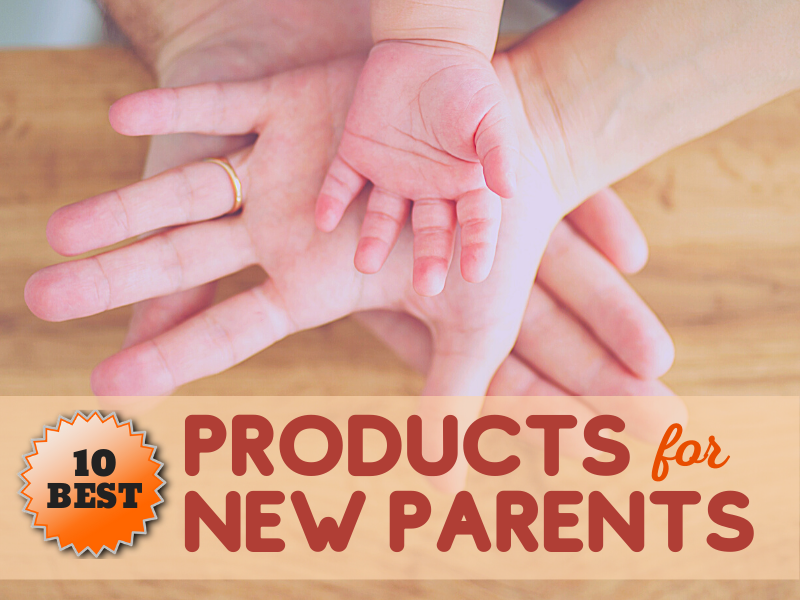 1. Graco Sense2Snooze Bassinet with Cry Detection Technology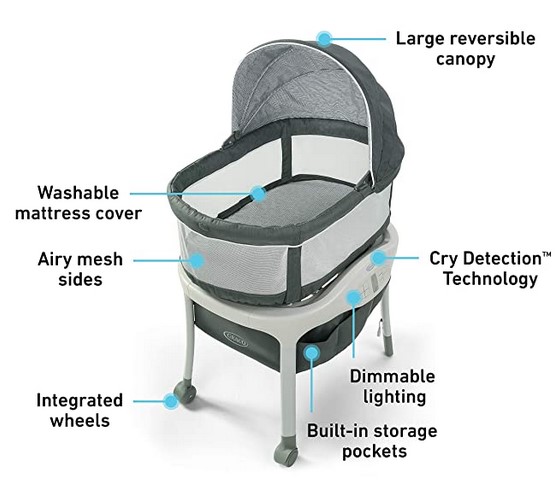 Innovative and elegant, this smart bassinet brings your baby's best rest each time with the Graco Sense2Snooze Bassinet with Cry Detection Technology.
World-renown Graco offers this product for parents who are looking to smart solutions to help their baby sleep more soundly. The unique cry technology allows the product to detect your baby's cries to help them ease back to rest. It comes with a built-in microphone to help the crib adjust the motion, speed, vibration, and sounds to lull them back to sleep.
This smart technology gives you the freedom to go about with household tasks nearby while the bassinet gives them adequate comfort to help your baby take their naps. It is capable of three motion settings and adjusts according to your baby's needs. There are two types of speed vibration to choose from to improve comfort as the bassinet smoothly moves back and forth, similar to a mother's rocking motion.
Built for maximum comfort, parents would be delighted to know that this bassinet is also equipped for humid weather. The airy mesh keeps the bed cool and comfortable while letting you easily check on your baby as you work nearby. Gray and white color exteriors make this a sophisticated piece that blends well with most contemporary baby interiors. This crib comes with dimmable lighting using the parent controls to help you adjust the settings at any time of the day.
There might be instances where the room needs to be well-lit. The reversible canopy covers your baby from the light while keeping them cool. Unlike conventional cribs, this one comes with integrated storage to have immediate access to essential items such as wipes, diapers, and other essentials. If you need to move the bassinet to a different room, there are two integrated wheels to move this anywhere in your home.
It's quite common for a baby to be restless and irritated. This fully-packed bassinet also comes with a white noise, nature, and music player (accessible in the front panel) to help your baby sleep better. Your ideal settings can be saved in the system, so there is no need to keep re-adjusting. The removable mattress cover also allows you to clean the sheets as needed. Built for optimum safety for your child, it is a JPMA certified product passing all safety standards for baby bassinets.
It comes at an affordable price that your child can enjoy from newborn up to six or seven months.
Our Verdict
---
2. Arlo Baby Monitor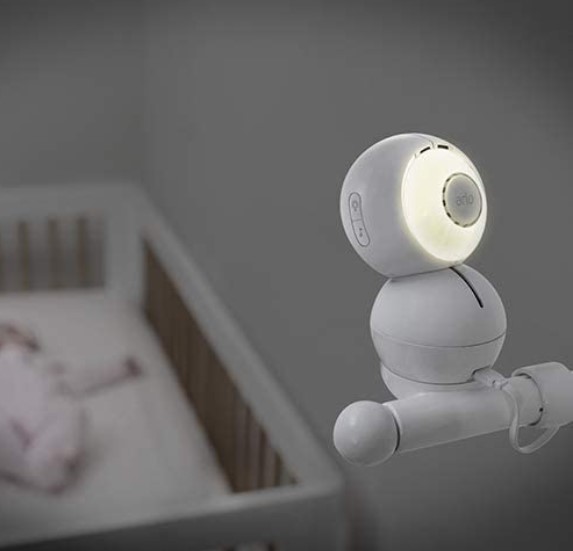 Considered as "the baby monitor to beat," the Arlo Baby Monitor delivers high-quality video to your devices for your peace of mind.
This product by Arlo is an exceptional product to have to help parents monitor their young ones everywhere at any time. Sporting a 1080P HD video quality, this baby monitor produces clear and crisp live video streaming to keep you updated on your baby's surroundings all the time. It can also do video recordings so that you can review it later.
Setting up the camera will only take a few minutes without using any complex tools. Connect this with your smartphone or laptop easily up to five accounts to show live feed simultaneously. It is designed to look almost inconspicuous like a toy to blend easily with the baby's nursery room. Aside from high-definition video, it's capable of crisp night vision video using advanced infrared LEDs with quality audio output. Now, keeping track of your young one is more convenient where you don't have to keep checking their rooms physically.
Compared with traditional cameras, this one allows for a 2-way talk if you're out of town or taking errands for the day. You can speak with your baby any time using your smartphone as if you're there. There's also an option in the Arlo app to 'Always Listening Mode' to allow the continuous streaming of audio from the camera to your smartphone even when your phone is locked or used with other apps. This baby monitor is equipped with a 2400 mAh battery charged for two to seven hours, with one charging lasting about 20 hours. Or if you're opting to have all-night monitoring, plug the USB power cord to the power source.
Is your baby feeling restless? It has a built-in music player derived from your cloud account using your choice of music and even audio you've pre-recorded yourself. You can customize the app settings for motion alerts to focus on the crib and not its surrounding environment. The embedded air sensor feature in the camera also gives you a reading on the nursery's room condition, including temperature and humidity. The multi-colored bulb could serve as an ambient light to help your young one rest more easily.
Complete with motion and sound alerts, this device can be used even into their toddler years or later serve as a home monitoring device!
Our Verdict

---
3. BABYBJÖRN Baby Carrier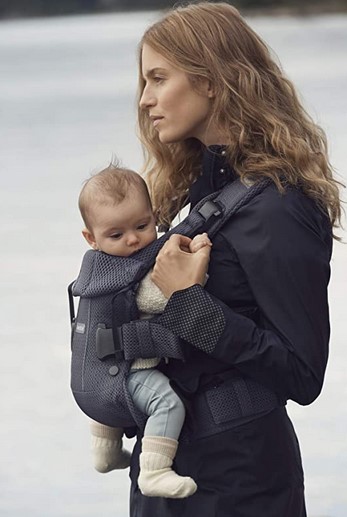 The BabyBjörn Baby Carrier is an ergonomic way to help you carry your little ones with ease while providing good support for their hips.
This is an upgraded version of BabyBjörn's classic baby carrier but with better head support and fabric. It sports a unisex color, so you don't have to wait for that big gender reveal before purchasing one. Created over the years by specialists in baby carrying, moms, and trusted pediatricians, this product sports exceptional seat support with shoulder padding. It's made of breathable polyester mesh to keep your baby cool even through hot and humid days to keep sweat and bad odors at bay for you and your child.
It allows you to carry your newborn with ease with no inserts needed. Front carrying position keeps your baby in close contact as you move around during their first five months. Sport the front carrying position once the baby hits five months and up to give them a glimpse of the world around them as you go around doing errands or just taking a nice stroll on the beach. And lastly, the back carrying position is ideal for children 12 months and up to give you the best hip support as you secure them for traveling. There's also a baby seat option by unzipping the bottom fabric to adjust the legs comfortably into an "M" position and prevent any hip problems or dysplasia. This baby carrier allows for a comfortable range of motion for their hands and feet with head support suited for quick naps as you move around.
For rainy weather, you can purchase a carrier cover to protect them against the wind and rain. It can be cleaned regularly using some warm water with gentle or bleach-free soap. The item should be air-dried afterward to maintain the quality and integrity of the product.
Let Amazon.com help you prepare for your little bundle of joy. At an affordable price with quality material, this baby carrier is sturdy enough to carry children even up to 3 years old—and can even be used later on until the next pregnancy!
Our Verdict

---
4. Doona Infant Car Seat & Latch Base – Car Seat to Stroller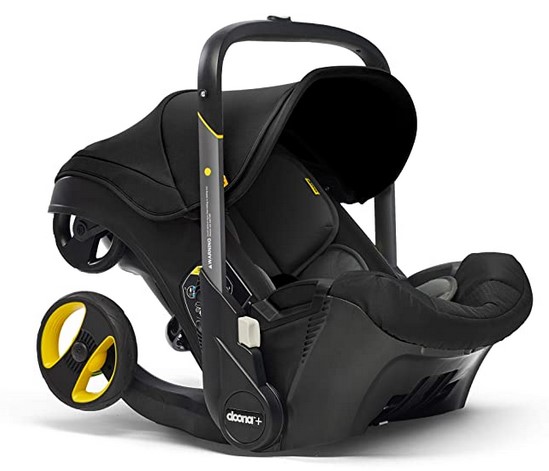 The Doona Infant Car Seat & Latch Base is a versatile and stylish hybrid of your conventional stroller, and car seat rolled into one compact tool.
This product from Doona provides comfort while meeting the highest safety standards parents need for their child. And when you're a mom or dad on-the-go, you need baby essentials that can keep up with your lifestyle. This is the versatile product needed by city dwellers living a hectic schedule.
Unlike conventional infant car seats, this can be fully integrated into your travel system. Moreover, it minimizes the disturbance babies experience when they're being transferred from a stroller to a car seat. Using a few simple motions, you can easily turn this into a stroller, car seat, and pull-along. No need for a car seat base to be installed since this is already equipped with one using a LATCH system. You also have the option to install this using a seatbelt too!
Though it comes at a cost, this is a worthy investment you can use for the next two to three years. It uses a 5-point harness system with a steel framework made of highly durable charcoal aluminum wrapped with sturdy, well-stitched, and solid fabric to ensure optimum safety for your baby. It also comes with a UPF 50+ and water-resistant canopy to keep your baby shielded from the sun and wind as you stroll in a nearby park or taking them for a quick walk.
Every material used is free from harmful chemicals and got a seal of approval from REACH regulation, European standards, and Substances of Very High Concern. The fabric allows air to circulate inside, so your baby is well-ventilated as you move around. Need to clean the carrier? The fabric textiles can be removed and washed easily.
The double-wall structure in this carrier not only tucks in the wheels but also serves as a safety barrier. Your child is further protected from accidental impacts through shock-absorbing plastic, including layers of foam, EPS, textiles, and foam. This Doona carrier is equipped with an Anti-Rebound Protection feature to lessen the impact of rebound injuries.
On average, this Doona product can be used from 1 to 3 years old. However, depending on your baby's weight or height, it can be cut down to 1 to 2 years old for the car seat feature.
Get strolling today with the Doona Car Set & Stroller! Parents looking for quality and versatility for years to come will find this a worthy investment!
Our Verdict

---
5. Spectra Baby USA S1Plus Electric Breast Pump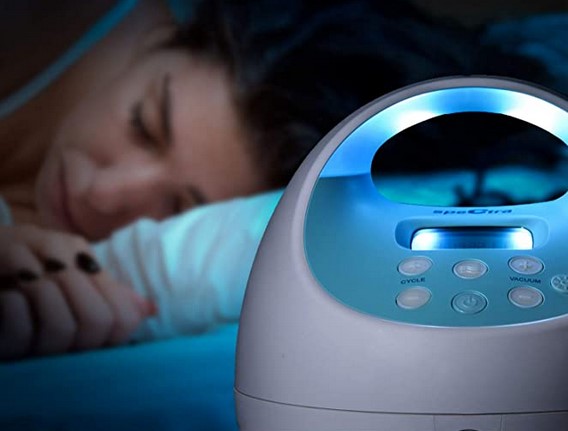 Pump in style and ease with the Spectra Baby USA S1Plus Electric Breast Pump. This is a hospital-grade breast pump that makes it easy to extract milk from the breast with as little discomfort as possible. It's an ideal tool for sensitive moms who needed a little more 'gentleness' taking out the extra milk supply. This device works with a single or double breast pump, depending on how often and how much you'll need. Each set comes with a 12-volt AC power adapter, flanges, detachable cord, Spectra tubing, backflow protector, and duckbill valve.
As a mother, you'd want to get things done as fast and efficiently as possible. It's portable and lightweight, meaning it can be easily carried in your everyday bag or a travel bag if you needed to take a short trip. The rechargeable battery gives you the freedom to pump milk anywhere at any time without worrying where the nearest power outlet is to use the device. One full charging can give you a 1-hour of use (at least three pump cycles) before it needs charging again.
It's natural to feel wary with breast pumps, especially the discomfort that comes with it. This Spectra product uses a closed system, so moms don't need to worry about contaminations, including molds and bacteria infiltration. Moreover, a closed system makes it easier to clean and decontaminate than those using an open system.
You can also customize the pump's settings suited to your comfort, including the speed and rhythm. Adjust the suction, expression mode, and let-down cycling accordingly. Compared with other breast pump devices, this one does the work quietly. It's a very convenient item to bring to places where you can discreetly express milk without having to worry about the people nearby. If you need to express milk at midnight, this pump comes with a soft nightlight so you can ease back to sleep as easily once you're done. A timer also conveniently keeps track of the pump cycle instead of checking on the bottle for milk flow.
For a good price, you can enjoy this product for as long as breastfeeding is needed for your child!
Our Verdict

---
6. Baby Brezza Formula Pro Advanced Formula Dispenser Machine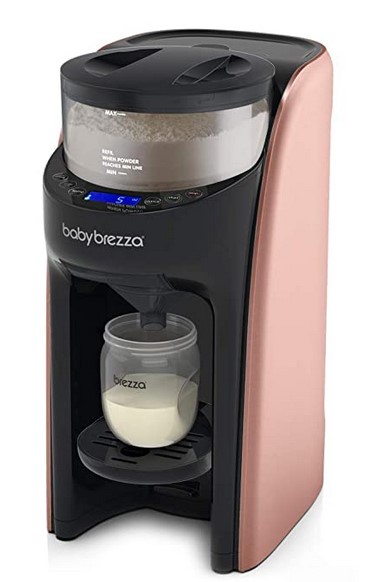 The Baby Brezza Formula Pro Advanced Formula Dispenser Machine is a smart and no-fuss way to give your child the best tasting formula milk each time.
At first sight, it might come off like a sophisticated coffee maker and a Keurig machine. But this Baby Breeza device is intended to create a 'perfect' baby formula every time. Parents understand the amount of time needed to prepare those bottle formulas, especially when you need to make it in the middle of the night. With this device, it takes out the hassle of the preparation by simply pressing a few buttons.
With just a few steps, you can easily prepare a bottle. It is designed for busy parents to create quick and easy formula feed for their children minus the mixing and feeding. This innovative product uses a pre-determined mixing technology to facilitate milk preparations that are already heated with a consistent mixture and served at just the right temperature. As an added plus, it doesn't produce air bubbles, a primary cause of bloating among infants.
The device already stores the formula and water in the same device. So, when your baby starts to feel cranky and hungry, push the button and let the machine do the work. Best of all, it is compatible with other feeding bottle brands, so you can always choose the ones that you think are best for your baby.
It's fully customizable according to your preference, where you can choose bottle sizes (1-ounce increments between 2-10 ounces). Assembly takes only a few minutes, and it heats and mixes within 30 seconds or less.
Each container can hold up to 700 grams of formula powder while the water tank can hold up to 50 ounces of water, a sufficient amount for 20 mixes of 8 oz. baby bottles. You can choose from three heating settings: room temperature, body temperature, and warmer than body temperature.
This is also compatible with Similac Alimentum for parents who prefer this kind of infant formula. You can remove the water tank and have it flushed and cleaned thoroughly as needed. No need to worry about bottleneck sizes since this device can fit wide and narrow baby bottlenecks.
If you're looking for a long-standing device you can use from infancy to toddlerhood, this is an essential investment for your convenience!
Our Verdict

---
7. OMORC Baby Bottle Sterilizer and Dryer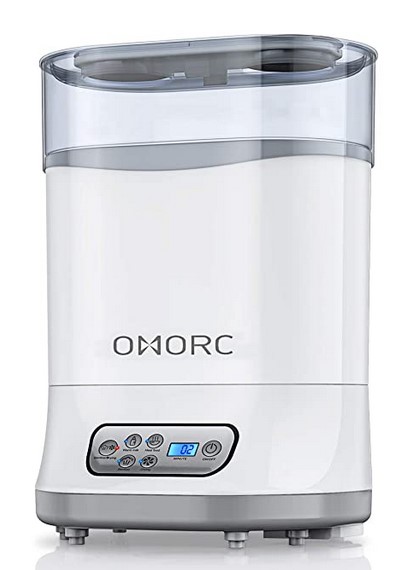 For busy parents, the OMORC Baby Bottle Sterilizer and Dryer should be added on your list of practical purchases.
This is a powerful tool to relieve you of individually defrosting or warming milk, streaming, and sterilizing. As the product implies, this 5-in-1 appliance is boasts of a 550W motor compared to conventional sterilizers only powered between 200 to 330W. It is an appliance that can operate longer with the most intense steam output.
As parents know, each bottle and baby product requires varying sterilization time. With this OMORC appliance, you get 6 to 15 minutes of sterilization time than the standard 3 to 6 minutes. Meaning, you get all items steamed (or sterilized) from baby bottles to food items.
Each layer corresponds to different types of items to help maximize its steaming capacity. There are three layers that you can use specifically for milk alone, sterilizing and steaming for food and other baby items, or a combination of both. You can also choose to go for sterilization only and have it dried automatically. Since steam droplets can harbor bacteria and other germs, this device is equipped with a hot air drying feature that automatically starts once a sterilization cycle is completed.
Each sterilizing cycle can accommodate six pieces of 6-ounce bottles or four pieces of 9-ounce bottles. It is still spacious to fit other baby items, including bowl, spoons, fork, cup, and breast pump accessories using the smaller basket placed on top of the bigger basket (for baby bottles).
The metal heating plate is lined with a special coating meant to reduce scale formation, making sterilization germ-free each time.
This impressive product is quiet and comes at a good price geared towards newborn until toddler years.
Our Verdict

---
8. SwaddleDesigns Cotton Muslin Swaddle Blankets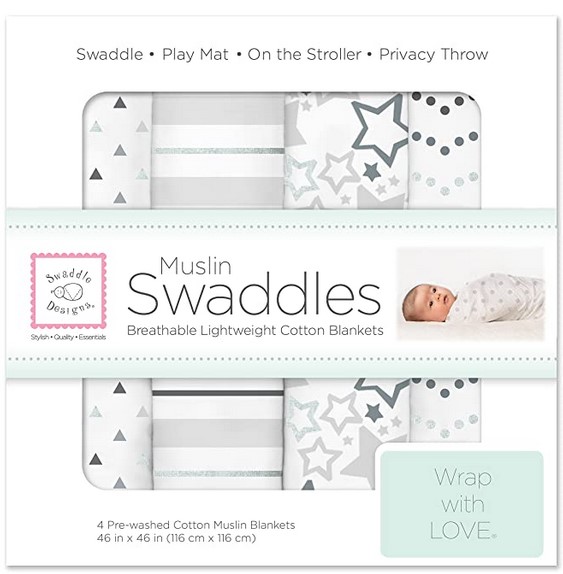 Make their 'womb to cradle' meet with heavenly softness using the SwaddleDesigns Cotton Muslin Swaddle Blankets. This set of 4 swaddles by SwaddleDesigns is perfect for new mothers looking for quality material to keep their baby comfortable and warm. It's made of high-quality cotton muslin that has already been pre-washed. Parents will appreciate the softness and breathability of the material, especially during humid weather. It helps your baby sleep better when used for swaddling and prevent startle reflexes upon waking up.
With its subtle printed design, you can take baby photo ops at any given time in the comforts of your home. It helps create a beautiful backdrop, making this a cost-efficient material to use for special celebrations where your baby's photos can be taken with ease and convenience. You can also use this as a mat to lie on during diaper change or play. Parents will notice that the softness and 'fullness' of the cloth only get better with every wash.
Can't remember the last time you swaddled a baby? Each cloth comes with a 123 swaddling instruction to help you remember the steps with ease. If your baby needs additional coverage when you're out for a stroll, it can be used as a cover over the stroller to keep the baby protected from the sunlight or wind. Nursing moms can also use this muslin swaddle as a cover during breastfeeding periods since it conveniently tucks easily in a standard diaper bag.
This premium muslin cloth can be used as a burp cloth to help ease your baby's bloating and protect your shirt at the same time.
With a generous cloth size, this muslin swaddle can be used from newborn to toddler years. Order today!
Our Verdict

---
9. Babycurls Baby Changing Mat with Foam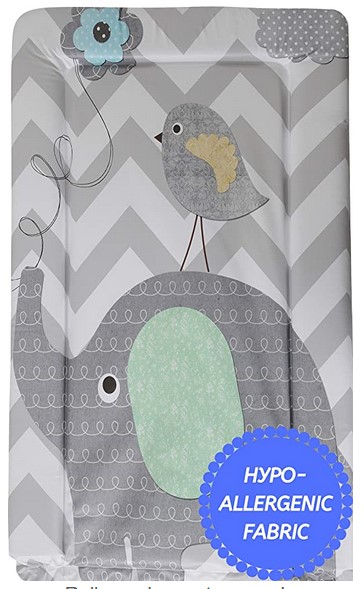 Make every diaper change a good experience with the Babycurls Baby Changing Mat with Foam. Diaper changes are an inevitable activity for parents. With an anticipated ten diaper change a day, this item would come in handy in your home. To keep your baby fresh and clean, MollyDoo created this baby changing mat for you and your baby's comfort.
Compared with traditional changing mats in the market, this product is made of hypoallergenic material that's safe for your baby's skin. It uses CMHR 25 density foam with printed designs made of baby-friendly ink on non-toxic PVC. This product is a good item for babies who develop rashes easily or have known allergies to certain fabrics.
The exterior is made of waterproof baby-friendly PVC, so you don't need to worry about spills and accidental poop explosions with this mat. Easily wipe the surface using a clean, soft cloth soaked in water or with some gentle soap. Unlike fabric mats, the exterior prevents molds and mildews from seeping inside the foam.
The sides are made of raised foam edges to keep your baby from falling over. The 3-sided raised pads also keep your baby snug and comfortable when you place a new diaper. The soft but highly durable foam inside the mat is ergonomically created to support their back while maintaining its shape even with constant use.
The Babycurl changing mat has passed the UK and BS 1877 Part 10 safety standards for newborn and infant use. It has also acquired certification for BS 7177 for mattress fire test.
For an exceptional mat at an affordable price, this is a good purchase fit for everyday use!
Our Verdict

---
10. Boppy Bare Naked Nursing Pillow and Positioner
Best for moms and babies, Boppy Bare Naked Nursing Pillow and Positioner offers a versatile solution to ease discomfort in nursing. While Boppy Bare's products have gained popularity among parents, this nursing pillow is a fitting item to have before and after pregnancy. It is made of 100 percent polyester fill enclosed with a pure 80% poly/20% cotton shell that's soft to touch. Its unique crescent shape enables you to rest your baby on the cushion during feeding time or as sitting support as they grow. It's also great for tummy time!
The cushion further provides support to ease your baby to breastfeed and provide nursing comfort on your end. The shape allows you to adjust the nursing position depending on which is most comfortable for you. It's the ideal support for your baby's head while breastfeeding.
If it needs cleaning, place the pillow in the washing machine using a gentle cycle and mild soap. Rest assured that the pillow will retain its shape even after washing. If you don't have a spare pillow cover, you can use this without one too. However, if you would like, you can choose a Boppy cover (white) or a design to fit your nursery's theme or color scheme. It's made of quality materials to withstand everyday use.
Created for moms by a lactation consultant, you can rest assure that each material used for this pillow is BPA, latex, phthalate, and lead-free that are safe for you and your child. Fit for newborns to toddler years, this product is fit for prolonged use!
The Boppy brand was created for Moms… by a Mom back in 1989! If you're preparing to welcome your little one, get one (or two) of these must-haves!
Our Verdict