* GoPro HERO7 Black
* Sony FDRX3000 with Underwater Camcorder
* Garmin VIRB Ultra 30 Action Camera
* Contour ROAM2 Waterproof Video Camera
* Panasonic HC-W580K Full HD Camcorder
Are you going on an exciting trip soon? Do you want to document everything so you can show your friends, family, and the world the fun you had while you were away? Are you worried that your expensive smartphone might get wet or soaked in the dirt while attempting to take a selfie? Are you looking to buy one of the best action cameras for your next adventure?
Well, if you have no clue what brand, model, or specifications to look for in a good action camera, you have come to the right place. Since these devices can be pricey, we will highlight the practical choices that can easily keep up with your lifestyle, but especially your budget. Read on to find the action camera that will bring life to your next adventure.
What to Look For
Action cameras have become extremely popular for their portability, efficiency, rugged design, and the fun first-person perspective. It is an impressive innovation in tech and photography, which has successfully amassed millions of dollars in market share. What is now a staple in every thrill-seekers rucksack was once a man's dream—a passionate surfer who wanted to take professional-looking pictures while riding big waves.

As the name suggests, action cameras are designed to capture extreme action activities, especially in sports. You can simply mount your action camera on whatever sports equipment you use – ski-boards, bike, surfboards, bicycles, and cars. And if you like to have a closer look at your experiences, you can mount the camera on your body, on your helmet, cap, or worn around your neck. Because it is lightweight, you will not feel anything on you.
Capture high-quality pictures and high definition videos on your small, lightweight, but reliable action camera. You can even change your camera's point of view! From linear, narrow, wide, and night mode, customize how your photos would look. Digital cameras are larger and bulkier and are often fragile despite the high price tag attached to them, making it impossible to shoot first-person photos and videos. This is what sets action cameras apart from other cameras in the market. And it comes as no shock that the action camera market will continue to increase in the coming years.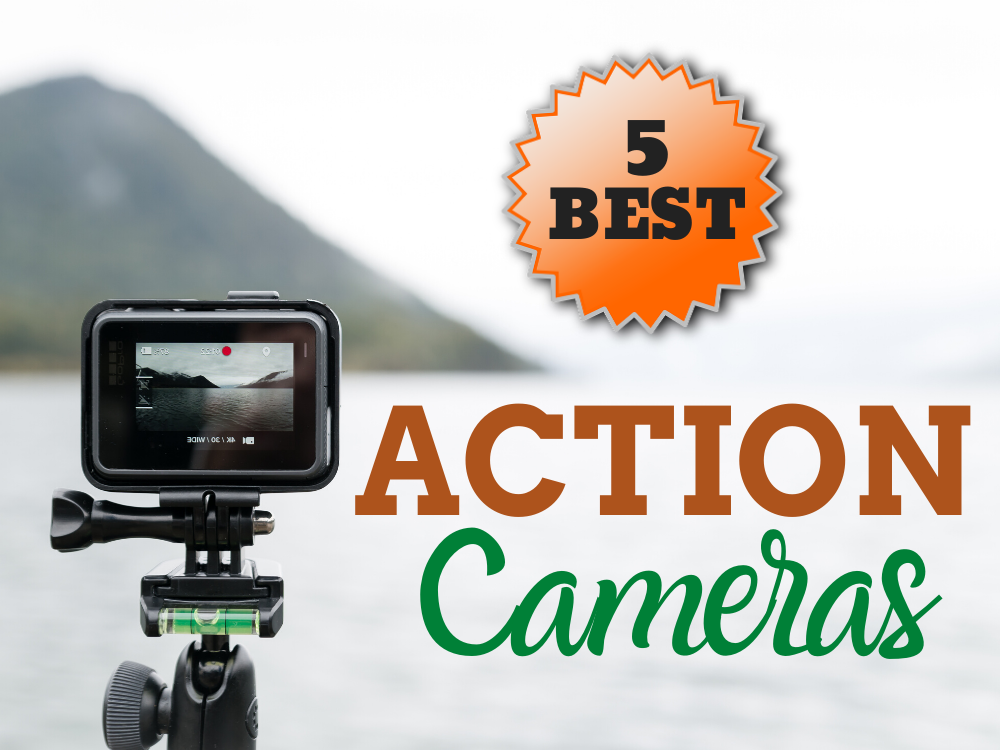 The Market Research Future (MRFR) reports that the action camera market will implode into a $7.64 billion industry by 2023. There are many action cameras sold in the market today with varying specs and prices. Check out the following products – you might just find the right one for you:
1. GoPro HERO 7 Black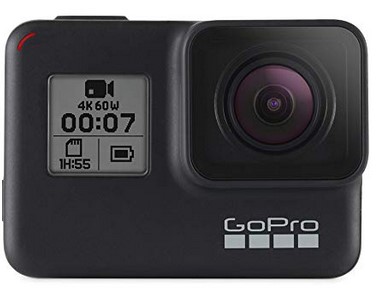 The action camera that needs no introduction – GoPro HERO7 Black – is a go-to product for everyone who is looking to invest in one. For something so compact, it is impressive that a pocket-sized camera is capable of taking smooth 4K60 video footage and high-quality photos. You can also relive funny videos by slowing it down up to 8x!
The GoPro HERO7, unlike its predecessor, is battle-tested and encased in a waterproof body even without a waterproof casing. You dive in as deep as 33 feet or 10 meters without worrying about any damage. This means more freedom for any adventure! You can even capture pictures through voice control.
Featuring GoPro's HyperSmooth stabilization technology, the GoPro HERO7 Black is among the company's most advanced model to date. And with an intelligent photo mode, your new GoPro will also give you brilliant 12MP images without adding a filter. If you like sharing your adventures and experiences with your social media for the whole world to see, this is the perfect action camera for you. Through the live streaming accessible via the GoPro app, you can share your every moment as you live it!
HERO7 Black is priced at $369.00 – a reasonable amount to pay for a whole new level of performance.
Our Verdict

GoPro… One of the most recognized names in action cameras!
---
2. Sony FDRX3000/W Underwater Camcorder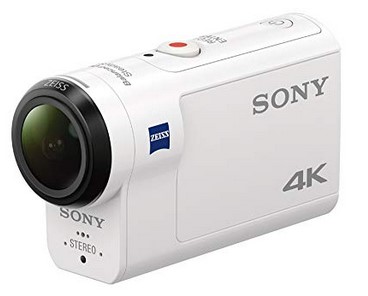 From the trusted family brand comes the Sony FDRX3000 with an underwater camcorder. It is an action camera the opens your world to spectacular footage, images, and mesmerizing 4K quality with reliable stabilization technology. The FDRX3000 is equipped with Sony's exclusive Balanced Optical SteadyShot feature, bringing a new level of point of view to action movies. You get to capture stable images and videos anywhere you bring your action camera without worrying whether it can keep up with you or not. It is ready for the real-world with the rugged design.
At $398.00, you get an action camera with a splash-proof body or can opt to use the waterproof housing. You are free to dive as deep as 197 feet, without worrying about your camera. Choose from 3 viewing angle – wide, medium, or narrow – and up to zoom 3x. When you get the Sony FDRX3000, you can catch fast-moving action with the burst shooting mode. It will allow you to take a maximum of 10 high-quality shots while recording tricks or transition. This is a perfect action camera for those who enjoy editing and analyzing the footage they have. With built-in WiFi, Bluetooth, NFC, and HDMI, connectivity will be a breeze.
Our Verdict

Perfect for your next underwater adventure!
---
3. Garmin VIRB Ultra 30 Action Camera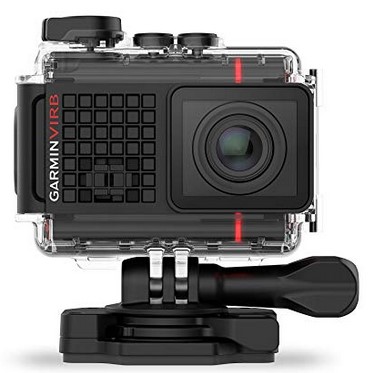 The most affordable action camera on this list, the Garmin VIRB Ultra 30 Action Camera is a practical choice for anyone. The Garmin VIRB Ultra will give you spectacular footage with its crystal clear 4K or 30 fps lens. Ideal for people who lead active lifestyles but keep their spending to a minimum, this action camera is compact, lightweight, waterproof. With a friendly interface, it is easy to use. It features G-Metrix technology. This brings an additional layer to your experience. With this feature, you can overlay gauges and graphs using your action data.
Don't worry about blurred images or shaky videos, the Garmin VIRB Ultra 30 Action Camera has built-in image stabilization. Expect crisp, steady videos and photos. With the voice control feature, you can easily control your camera even without a wireless remote. You can start and stop recording or snap a photo by giving a simple spoken command. Get a glimpse of your adventure when you view it on the Garmin's clear 1.75-inch display. Compact, efficient, and dependable. Do not hesitate to jump into action with the Garmin VIRB Ultra 30 Action Camera. It is waterproof and fully functional with or without the waterproof case.
Our Verdict
For a trusted brand in action cameras, Garmin offers a quality camera at a reasonable price. Amazon has an excellent deal for you on this extraordinary action camera!
---
4. Contour ROAM2 Waterproof Video Camera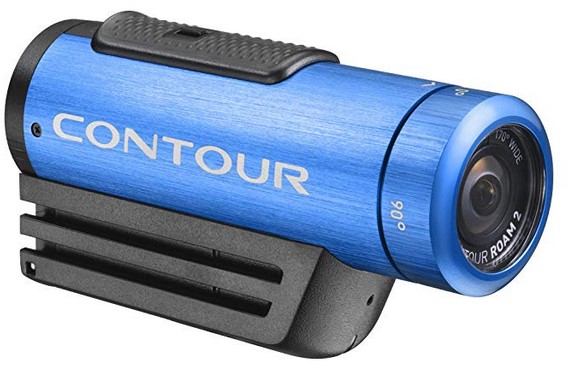 The Contour ROAM2 Waterproof Video Camera will allow you to live life in color with this brilliant innovation. Bringing new, innovative, and useful updates to a beloved camera, the Contour ROAM2, is a worthy replacement of its predecessor. It maintains the features that made Contour a bestselling action camera. To spice things up, you can choose what color to get. This comes in three colors – black, red, and blue. And because good things come in small packages, the ContourROAM2 is waterproof with or without a case. Claiming to be the most user-friendly action camera on the market, the Contour ROAM2 still features the Instant On-Record switch.
This is the only action camera on this list that does not have a power button. But do not worry. You should just slide the Instant On-Record switch into a locking position and be ready to shoot whatever, whenever. With an improve 60fps at 720p, you will get good quality videos with incredible clarity. Get fine-tuned footage at an affordable price.
Our Verdict

Need it fast? Get the Contour ROAM2 Waterproof Video Camera through Amazon Prime within two days AND you can enjoy FREE SHIPPING!
---
5. Panasonic HC-W580K Full HD Camcorder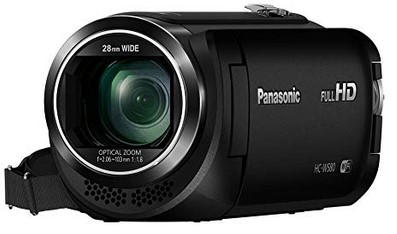 From the household brand Panasonic comes the Panasonic HC-W580K Full HD Camcorder. It is a handheld camcorder that is bringing joy to adventurers and thrill-seekers of the world. Much like any other action camera, the Panasonic HC-W580K Full HD Camcorder captures essential images and videos with precision and crisp overlay. If you get the Panasonic HC-W580K, you will get you to experience the joy of video creation. This camera is the perfect companion for those who find purpose in video creation. With the multi-camera scene picture-in-picture feature, you can create footage like a pro! You can easily connect with another action camera through linking with a mobile device and WiFi.
Despite its lightweight and compact body, the Panasonic HC-W580K is packed with a 50x optical zoom and 5-xis image stability features. On top of these is a 90x intelligent zooming feature. And if you want a deeper depth of color, use the High Dynamic Range (HDR) mode. Bring your adventure to life by documenting everything with the Panasonic HC-W580K Full HD Camcorder. Based on the current amazon listing, the camera is priced at $338.00. Share your photos or videos with another, or through social media by using the dedicated application. Start sharing your adventure in pictures and videos with the Panasonic HC-W580K Full HD Camcorder.
Our Verdict

Yes….Please! Panasonic is another household brand guaranteed to bring you success in recording all of your family's precious memories!