Prospo Oversized Windproof Umbrella
aholicshop Auto Folding Windproof Umbrella
OREZI Art Double Layer Inverted Umbrella
TOPX Windproof Travel Umbrella
JUHANG Windproof Canopy Inverted Umbrella
Unpredictable weather conditions force most of us to bring umbrellas wherever we go. It is better to be safe than sorry as they say. Unfortunately, not all umbrellas are made the same. Some are good for sunny and rainy days. Others are made to withstand strong winds. Windy conditions during the storm, after all, demand windproof umbrellas.
Traditional umbrellas may do the work on mild weather conditions, but if there are heavy rain and strong wind, you will need sturdier protection. Naturally, they are more expensive than ordinary umbrellas. They are designed with a specific purpose in mind and, as a result, require tougher materials.
How Do Wind-Proof Umbrellas Work?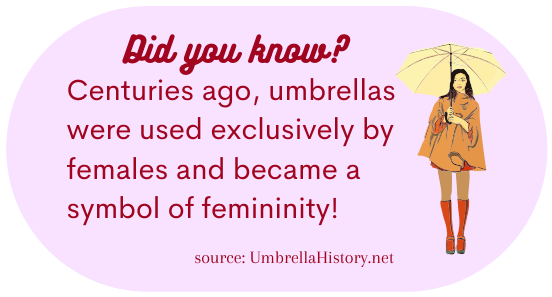 Unlike other types of umbrellas, wind-proof umbrellas are not easily battered by the wind. They are designed to have sturdier foundations that can weather sudden gust pressures.
The umbrella's canopy showcases contain vents that keep pressure from building. Instead, it allows pressure to even out on the double canopy, letting the air pass through. There's also an elastic cord that runs around the canopy, halfway down the center point of the main shaft. It provides instant support to the canopy, keeping the latter from being ripped apart by a heavy gust of wind.
The materials are also tougher. The wind-proof umbrella stick is thicker, heavier, and doesn't easily bend or break. The joints are covered with tempered steel to provide it with extra durability. Wind-proof umbrellas won't easily break in the face of strong winds, especially with its mechanism allowing air circulation and making it more flexible against pressure.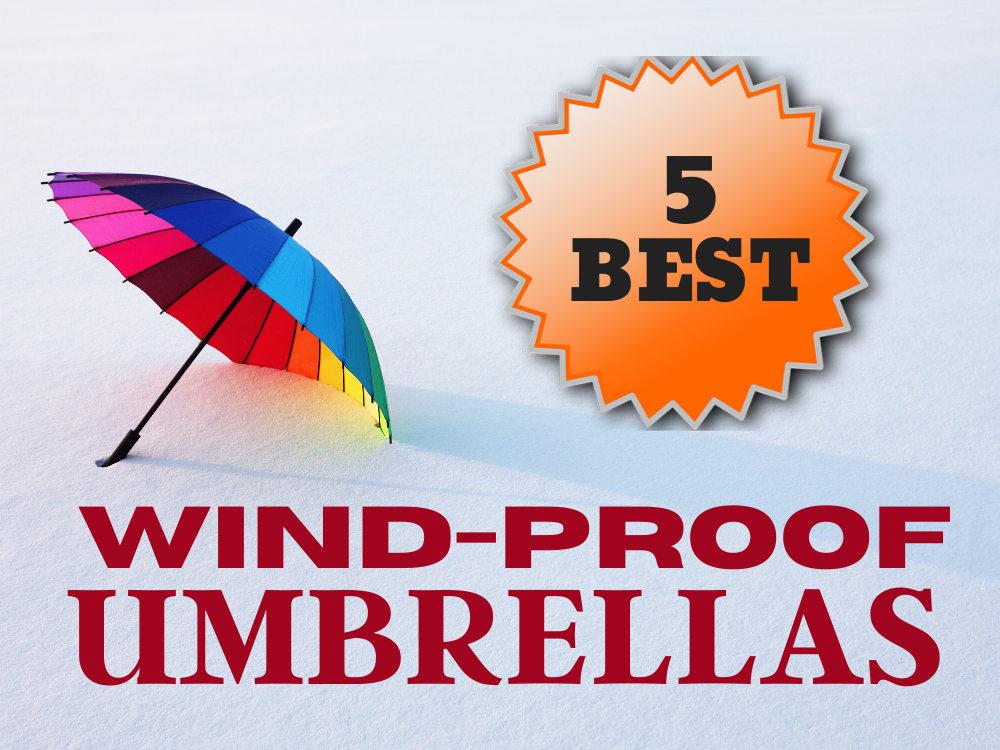 If you want to get one, then these five wind-proof umbrellas can help you narrow down your choices.
1. Prospo Oversized Windproof Umbrella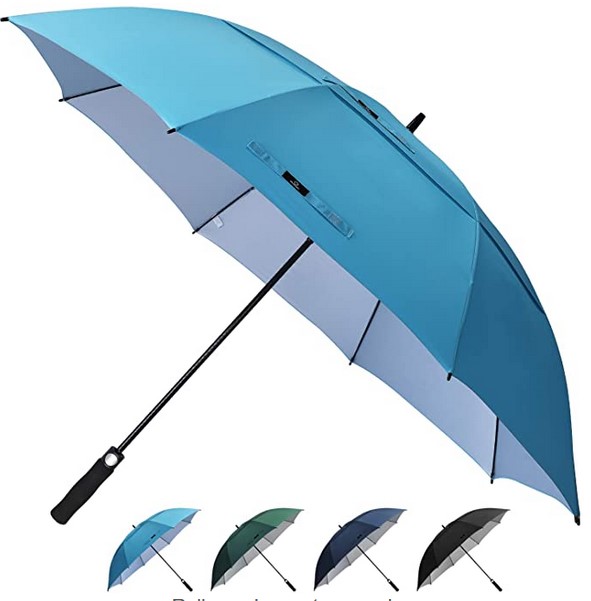 Worried about the UV rays and the pouring rain? Changing weather conditions require you to be prepared at all times. Prospo Oversized Windproof Umbrella is the right choice. Designed to stand the test of time, this windproof umbrella has a variety of features that can protect you from unexpected rain, damaging sun, and strong winds.
It features a silver coating inside, which isolates UV rays and reflects heat to cool you down. Its UPF 50+ addition provides ample protection, blocking 99.95% sun rays. It also makes use of ultra-high density pongee fabric, which is water repellant and quick to dry. Its most interesting feature, however, lies in its double vented canopy design, which prevents it from inverting during strong gusts of wind, enabling you to brave through strong weather conditions. This mechanism lets the wind pass through the gap without breaking the umbrella or leaking rain.
While most windproof umbrellas are heavier, this one features a fiberglass shaft and ribs, considerably reducing its weight. Plus, the windproof umbrella can accommodate two people, making it an excellent choice for families on outdoor activities.
Our Verdict

Don't let a rainy and windy day keep you at home! Get the Prospo Oversized Windproof Umbrella on its way to you today!
---
2. aholicshop Auto Folding Windproof Umbrella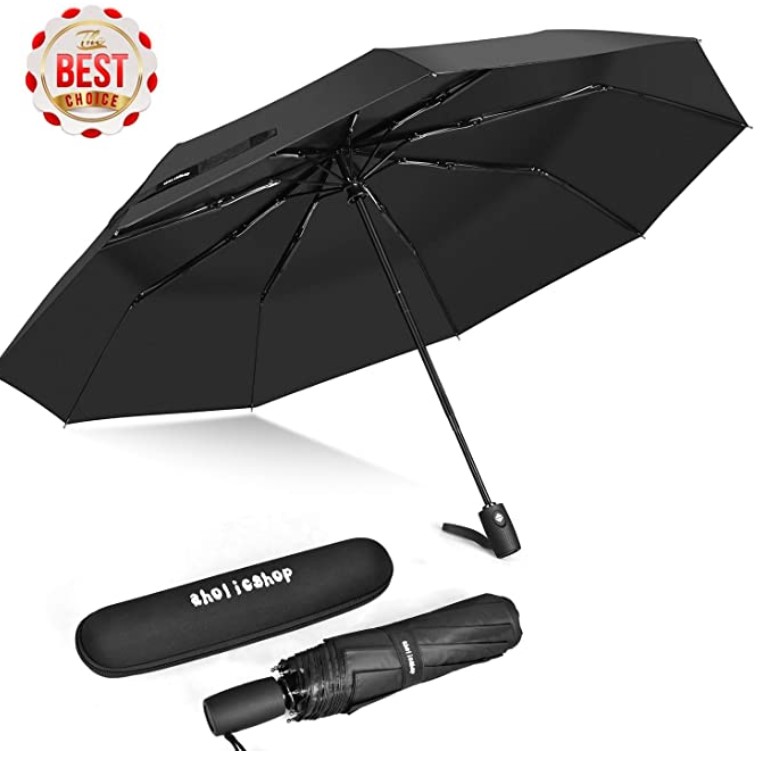 Walking under the rain and strong gusts of wind will require more than just an ordinary umbrella. For ultimate protection, you would need something sturdier and designed to withstand the harsh weather conditions.
Look no further than aholicshop Auto Folding Windproof Umbrella. Fortified with windproof reinforced fiberglass ribs, this necessity can endure 60 MPH gusts without turning inside out or breaking with pressure. The high-grade metal shaft and fiberglass ribs are abrasion resistant while the durable pongee polyester canopy is waterproof and quick drying. Portable and compact enough, this windproof umbrella can be kept in your schoolbag, briefcase, or backpack, making it an ideal companion for your travels. It comes in a classic black color too, perfectly suitable for any occasion.
Since it is foldable, you can easily open it one-handed. You won't encounter problems with its rubberized handle, too, as it is designed for a non-slip, convenient, and comfortable grip.
Our Verdict

This one is compact when closed… great for a large purse, tote bag or briefcase.
---
3. OREZI Art Double Layer Inverted Umbrella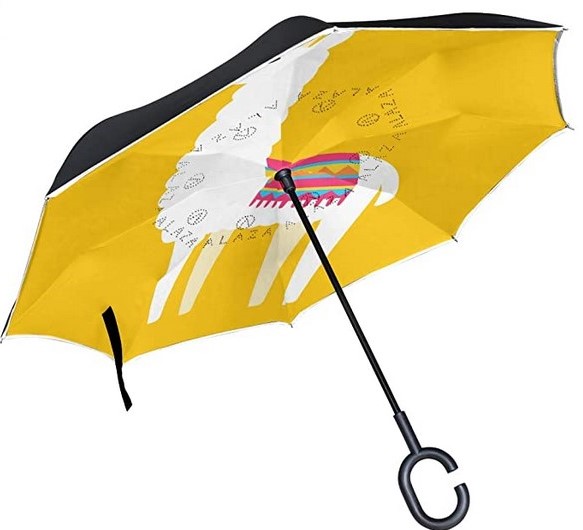 Travel umbrellas should not only protect you rain or shine but also do well against strong winds. OREZI Art Double Layer Inverted Umbrella is both waterproof and windproof while portable and lightweight enough to be easily carried around.
If you want durability, this windproof umbrella is the way to go. It is light and made of waterproof pongee fabric, with a breathable double layer canopy and smooth top. You can't go wrong with its high-quality stainless steel frame for all weather conditions, especially strong winds. Its soft C-shaped handle allows you to cross it over your arm, freeing your hands for urgent tasks like lifting grocery bags under the rain.
Its inside-out design means you can open this inverted umbrella as you open the door or car without getting wet. When closing it, the wet side of the umbrella reverses with the dry inner side, which means you avoid getting your clothes, bag, car, or floor wet.
Our Verdict

The unique handle on the OREZI Art Double Layer Inverted Umbrella and its inverted design make it an ideal piece of your rainwear ensemble!
---
4. TOPX Windproof Travel Umbrella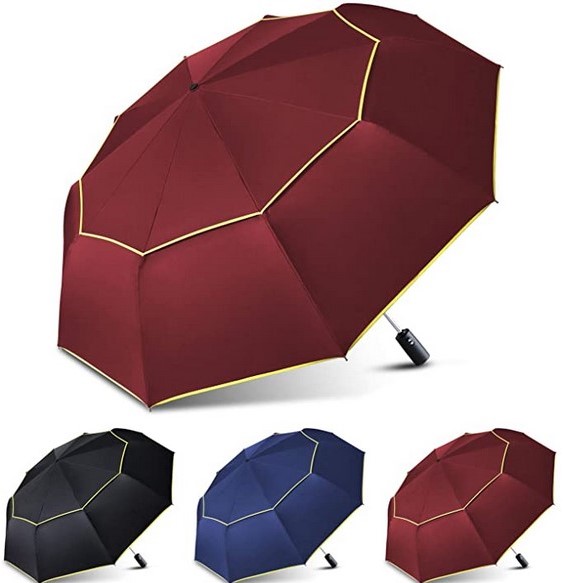 Bringing umbrellas during travel can be quite inconvenient, but unpredictable weather conditions create this necessity. TOPX Windproof Travel Umbrella can be your perfect travel companion, whether you're storing it in your backpack or leaving it in your car.
Unlike traditional umbrellas that can quickly flip backward at the first blow of the wind, this windproof umbrella employs a double canopy that makes it able to withstand strong gusts. The wind passes through the gap and minimizes the pressure on the umbrella. Its quick open-close mechanism helps you stay dry as you enter your car or door. It can open with a press of a button and close just as quickly. The handle is bigger and covered in a soft material that makes it easier to grip.
Its compact size makes it ideal for trips, comfortably fitting in your travel bag or briefcase. It can even accommodate two people.
Our Verdict

The TOPX Windproof Travel Umbrella is big enough for two people to get under! Buy it on Amazon Prime… and if you do, receive FREE SHIPPING!
---
5. JUHANG Windproof Canopy Inverted Umbrella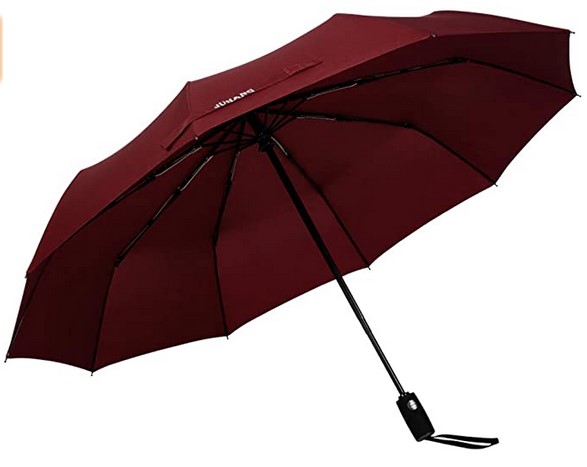 Foldable and compact, JUHANG Windproof Canopy Inverted Umbrella easily opens and closes inside out with one push of a button, an advantage from most traditional umbrellas. This function allows you to stay dry and keep your car and floors from getting wet.
Perhaps its strength lies in its ability to withstand strong winds under harsh weather conditions. This windproof umbrella is fortified with ten resin-reinforced fiberglass ribs that flex slightly to endure powerful gusts without turning inside out. Its canopy is also durable, being made from high-density waterproof material. Its one-hand quick-release function lets you push the button just once to open and close, allowing you to go hands-free while getting in your car or carrying your grocery bags.
The compact design allows you to easily store this reliable windproof umbrella in your briefcase, backpack, or travel bag. It is ideal for travel, business, and camping. You can also give this as a practical and thoughtful gift for any occasion.
Our Verdict

With the JUHANG Windproof Canopy Inverted Umbrella, you'll be "Singing in the Rain" in no time.