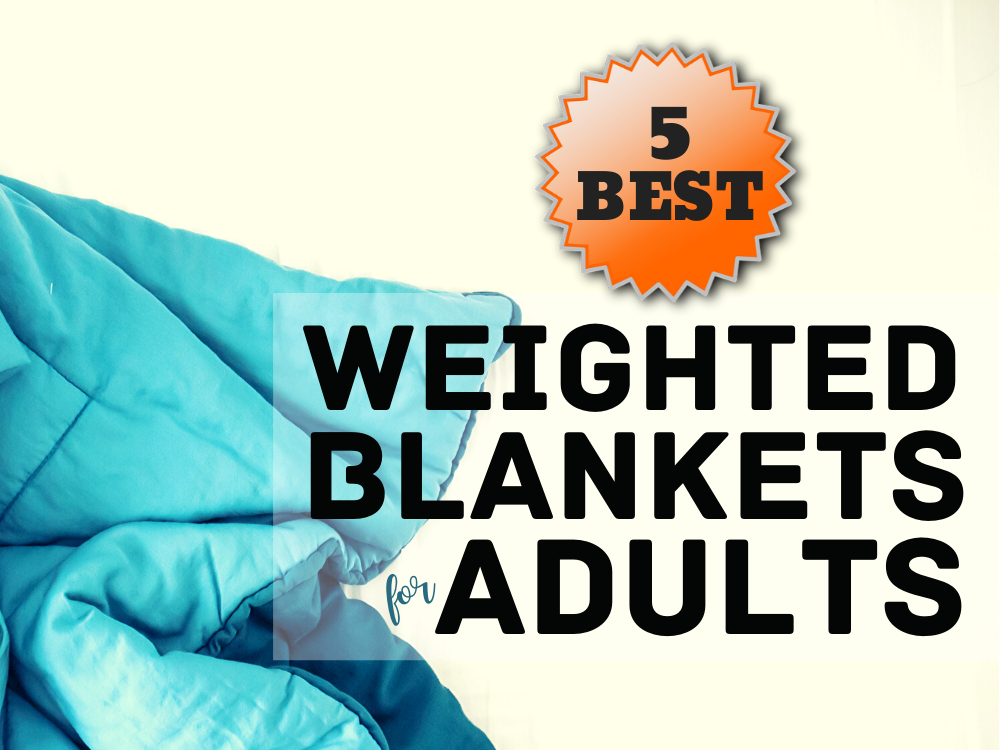 BHSOSO Cooling Weighted Blanket
LUNA Adult Weighted Blanket
Pine and River Ultra Plush Weighted Blanket
ZonLi Adults Weighted Blanket
Weighted Idea Adult Cooling Weighted Blanket
Not everyone is blessed with a good night's sleep. Many of us struggle to give in to sleep each night because of a variety of reasons, such as stress, anxiety, or a health condition.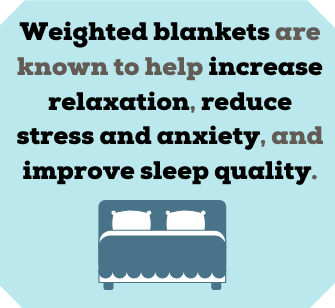 While the market abounds with sleeping pills, noise-canceling devices, and meditation apps, another product that has been making the rounds is the weighted blanket for adults.
This innovative creation is known to ease anxiety, help with sensory problems, and soothe the elderly. Also called gravity blankets, weighted blankets are filled with small objects such as pellets, discs, or beads of plastic or glass.
This gives them an added weight, which makes it seem like a hug to the person using it. It applies soft, even pressures to the body, helping you relax in the process.
What to Look Out for in an Adult Weighted Blanket
Just like any other product in the market, weighted blankets come in different forms and sizes. When shopping for one, consider these factors:
Size
Weighted blankets are available in various sizes. Experts recommend choosing a sheet that fits you snugly. Make sure that it does not hang off your bed to keep the extra weight from pulling it off your body while you sleep. Generally, weighted blankets have smaller dimensions than your usual twin-size comforter.
Weight
Weighted blankets for adults can weigh from around 10 to 30 pounds. They can often give more pressure than a typical king-size blanket of the same weight due to its weight distribution.
Material
Weighted blankets are constructed of different types of fabric. This includes microfiber and cooling fabric. Some weighted blankets have a blend of soft materials like cotton, making it akin to traditional duvets. You will feel more comfortable if you pick your preferred fabric material.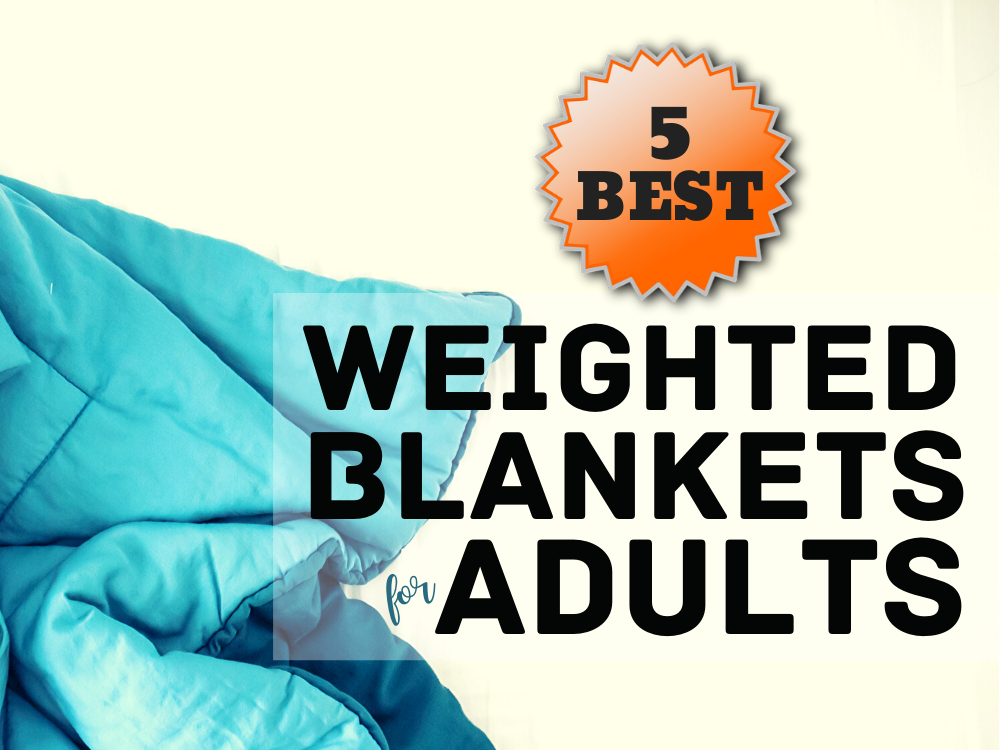 Are you ready to choose your weighted blanket?
1. BHSOSO Cooling Weighted Blanket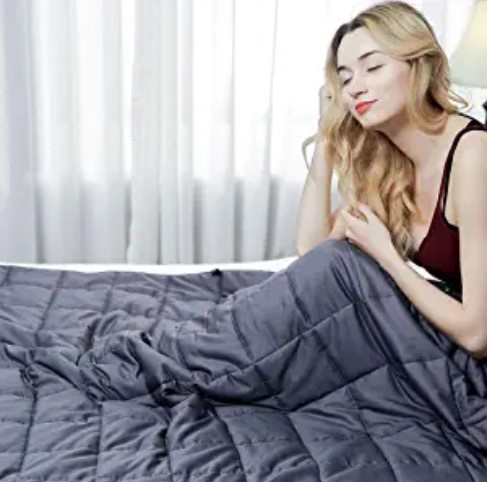 Are you looking for a weighted blanket to provide you with better sleep at night? The BHSOSO Cooling Weighted Blanket is made from a two-layer breathable microfiber inside the sheet, using high-density sewing technology. This prevents the loosening of the thread and leakage of the beads.
To make sure that the weight will be distributed evenly, there are small pockets that keep the beads inside, keep it from moving, and eliminate the inner shifting noises. The beads themselves are made from natural, hypo-allergenic, non-toxic, and odorless materials, making them perfectly safe for your health.
This blanket is great for stimulating the feeling of being held, allowing you to sleep faster and better throughout the night. Just remember, however, that you might need to get used to its weight in the first few nights. It might feel too heavy or too light. Eventually, your body will adjust, and you can finally experience the wonder of this magical blanket.
Our Verdict

Buy the BHSOSO Cooling Weighted Blanket from Amazon.com!
---
2. LUNA Adult Weighted Blanket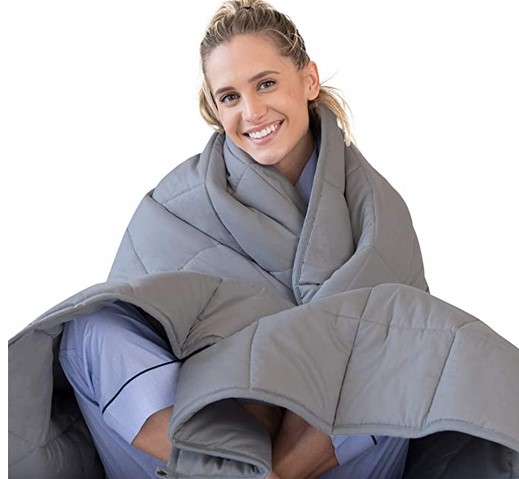 Sleeping better with the help of deep pressure stimulation is made possible with this LUNA Adult Weighted Blanket. Its innovative, smart design combines seven layers of streamlined design.
If you want breathability and comfort, then this weighted blanket is perfect for you. It is covered in a naturally soft cotton fabric and filled with cloud-like material that helps with temperature control. The beads are woven into the fibers, creating a more even weight distribution and making it a comfortable companion when you sleep. Made from quality materials, this weighted blanket is OEKO-certified. This means that it is organic and does not contain chemicals and synthetic.
What is more, this weighted blanket is easy to maintain and care for. You only need to wash it cold in a gentle setting. You may also opt for a hand wash.
Our Verdict

Get a good night's sleep with the LUNA Adult Weighted Blanket!
---
3. Pine and River Ultra Plush Weighted Blanket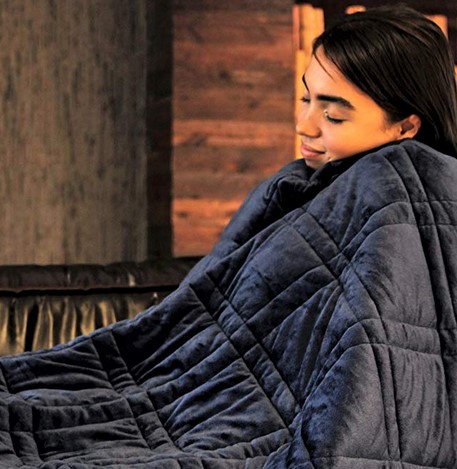 Who does not want to snuggle into a warm, minky weighted blanket after a long, tiring day? Pine and River Ultra Plush Weighted Blanket is an ideal choice… if you want to improve your restful sleep quality throughout the night.
Made from a warm, snuggly material, this weighted blanket is engineered with silica blend inside the smallest weight pockets for even weight distribution. It feels soft and pleasant to the touch, a fact owed to its kind of fabric. The minky fabric is perfect for wintertime or cold nights, where you need added warmth.
You would not have any trouble washing it either as it is machine washable, as long as you keep it on a low, gentle cycle and use cold water. This blanket gives excellent value for your money. It is also a perfect, thoughtful gift for your loved ones.
Our Verdict

The Pine and River Ultra Plush Weighted Blanket is an ideal gift for someone else or for yourself!
---
4. ZonLi Adults Weighted Blanket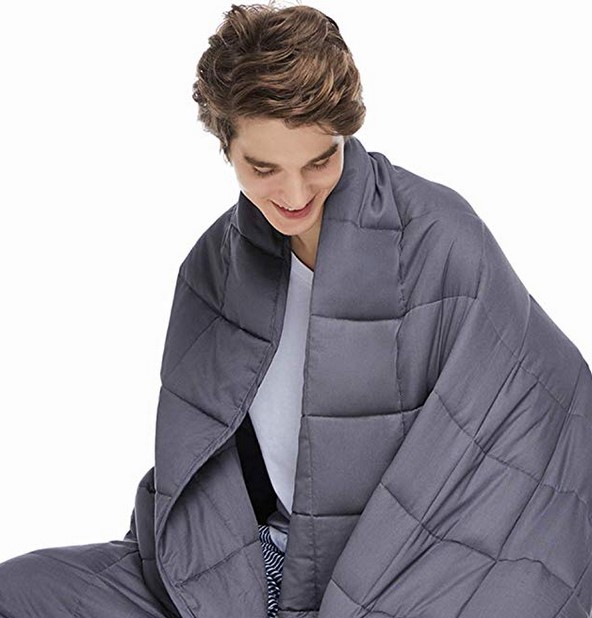 Why would you choose a weighted blanket? It will give you better sleep and is a perfect addition to your bed. It can also be used for all-season comfort. Oh, and it is a great gift! ZonLi Adults Weighted Blanket provides all of these.
Designed to fulfill a unique role, this weighted blanket is made using high-density sewing technology. It is made of a two-layer microfiber that reduces the risk of loosened beads or leaking. It also features smaller square pockets to distribute the glass beads evenly. Its use of 100% cotton regulates the temperature, making it cooler and more comfortable.
For an ideal weighted blanket, you need to choose one that weighs 6 to 10% of your body weight. This weighted blanket is recommended to be accompanied by a duvet cover for a variety of reasons, including natural cleaning and extending the blanket's life span. It also comes with loops to secure the duvet cover.
Our Verdict

Just the right weight… This one is great for all seasons!
---
5. Weighted Idea Adult Cooling Weighted Blanket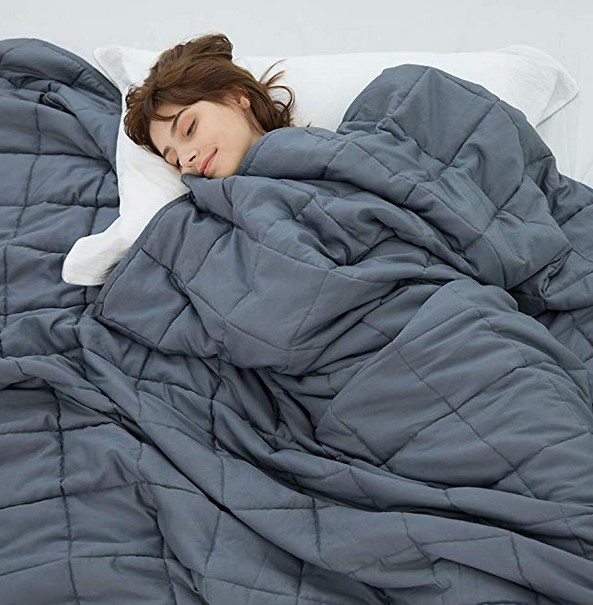 Made from 100% cotton, the Weighted Idea Adult Cooling Weighted Blanket is designed to help you get all-natural, restful sleep throughout the night.
The cotton fabric is high-quality, soft, and cozy, providing superior breathability and comfort, no matter what season you are in. It is comforting and does not make you feel too warm when you are under it. It has loops around the sides that make it attachable to a duvet. The comfortable weight lets you feel its calming effect. It greatly helps in preventing you from tossing and turning.
Just like other weighted blankets, this product requires you to give it several days as your body adjusts to its weight before you can fully reap its amazing benefits.
Our Verdict

Wrap yourself in luxurious comfort… Buy this weighted blanket now!