* Duo Mini 7-in-1
* Pioneer Woman LUX60 Breezy Blossom 6-in-1
* Instant Pot Duo 7-in-1
* Max 9-in-1 Unlimited Smart Programs
* Duo Nova 7-in-1
Modern living allows us to lead a life of comfort and convenience. It extends to what we do in the kitchen! If you're on top of the latest trends in kitchen appliances, you have undoubtedly heard of instant pots.
Think of pressure cookers, but even better. With instant pots, you will be able to make slow-cooked meals and bake cakes and other desserts quickly. Living up to its "multi-cooker" name, instant pots lets you sear, brown, and sauté food the way you could in your stove-top skillet. Apart from its function as an electric rice cooker, instapots can also steam fish, eggs, and vegetables.
If you are the type of prepare elaborate meals for your family, then instant pots are just perfect for you. You don't need to heave a sigh in frustration as you wait for your dish to cook for hours on end. Its slow-cooler function makes it possible for your soups and stews to be ready in several hours.
Why You Need to Find the Best Instapots
While the market has all sorts of instapots on offer, don't pick the first thing you see. Chances are, you will be using this a lot, so finding the best deal for your budget and needs must come first.

Instapots come in many shapes, sizes, and functions. Some are equipped with slow-cooking, sauteing, rice cooking, and steam settings. Others only have hi-pressure features, while some include a low-pressure setting, which comes in handy for baking. Some instapots are equipped with sterilize and yogurt functions.
Knowing what functions you require for your household will help you narrow down your choices for this all-in-one kitchen appliance that every mom (or dad) will love.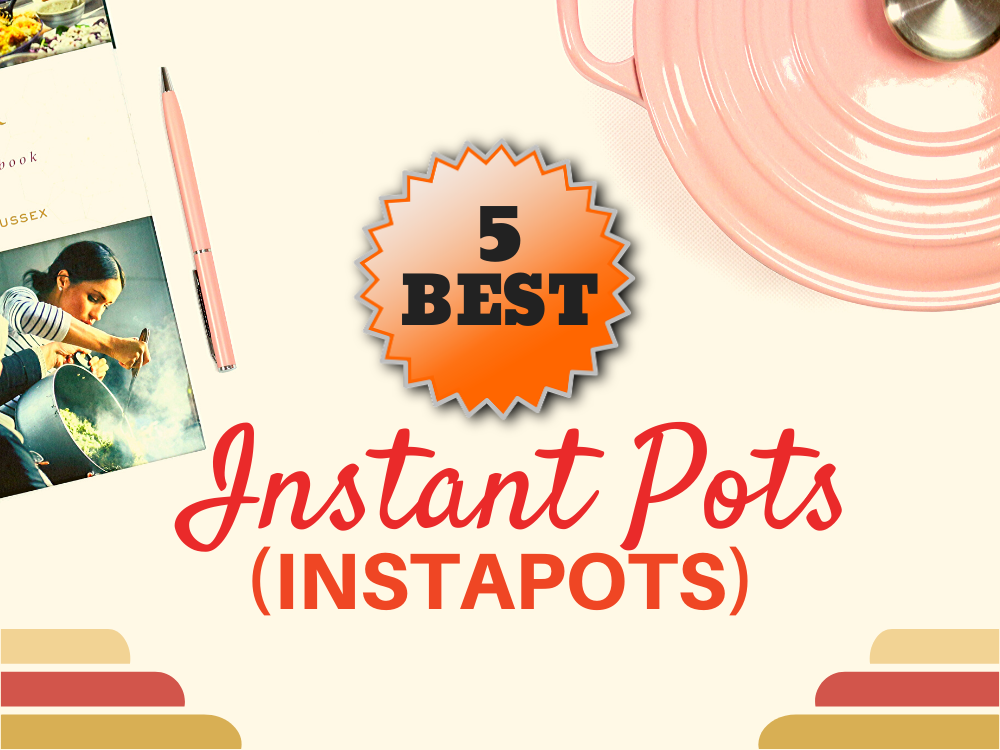 However, if you're unsure about which instapot to get, we've got you! Check out our list that features five of the best and highly recommended instant pots on the market.
1. Duo Mini 7-in-1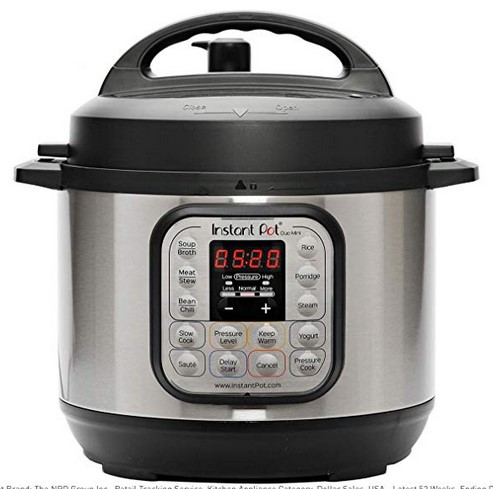 Are you looking for an instant pot that is just the right size for your home? Instant Pot's Duo Mini 7-in-1 is perfect for small households and limited spaces. It comes with some of the best instapot features in a very compact size.
Just like any other instant pot, this one can replace up to 7 appliances in your kitchen and save you more space. It is your dependable rice cooker, pressure cooker, steamer, sauté pot, slow cooker, yogurt maker, and warmer. It is equipped with 14 one-touch cooking presets to help you cook faster. Just tap on the settings and options every time you need to prepare dishes, from soup, broth, stew, bean, and chili to searing, steam, rice, and porridge. It has everything you require to prepare quick, easy, and even elaborate meals for your family. For easier and more efficient use, it also includes functions that would allow you to monitor and adjust pressure, temperature, time, and heating intensities.
Giving you peace of mind, this instapot includes ten safety mechanisms. It is also considerably cheaper than other instant pots because of its compact size.
Our Verdict

Get cooking today with this awesome Mini Instapot. Ideal for small families!
---
2. Pioneer Woman LUX60 Breezy Blossoms 6-in-1
With multi-functions, Instant Pot's Pioneer Woman LUX60 Breezy Blossom 6-in-1 can replace up to 6 kitchen appliances. This versatile kitchen tool is a pressure cooker, slow cooker, rice cooker, sauté, steamer, and warmer all in one.
This instant pot is equipped with 12 built-in programs such as soup, stew, cake, rice, porridge, and slow cook, to name a few. This function makes your meal preparations as easy as pressing a button. If you are into baking, this instant pot offers you an ideal way to make New York-style cheesecake, banana bread, and other moist cakes. This instant pot is built with the 3rd generation technology that allows you to monitor the pressure and temperature. You can also adjust the cooking duration and temperature.
This instant pot can save you 70% of cooking time. It also comes with ten safety mechanisms to ease your mind. Plus, the design and color can spice up your kitchen top.
Our Verdict

We all know and love the Pioneer Woman! Her line of kitchen tools and appliances add just the right spark of color and interest to any kitchen. Get this on its way to you today!
---
3. Duo 7-in-1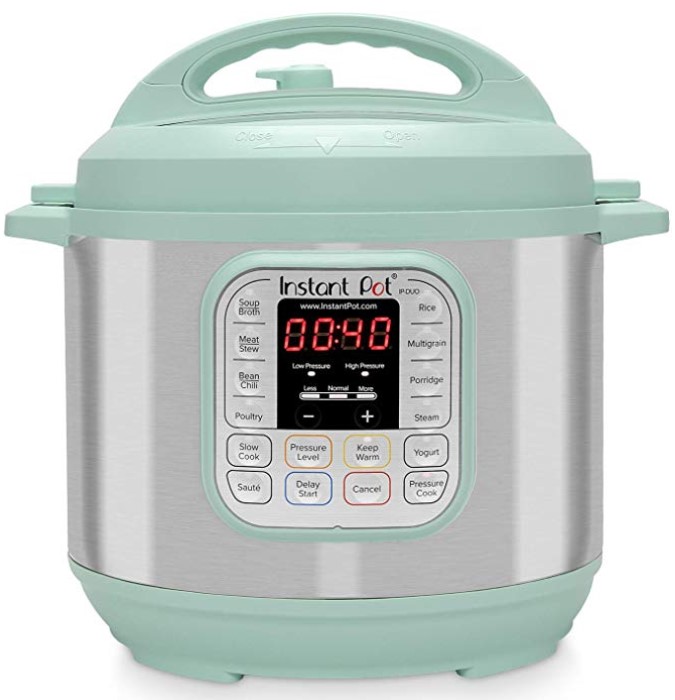 Instant Pot's Duo 7-in-1 comes in a pretty teal color that you will love. You can use it as a pressure cooker, a slow cooker, a rice cooker, a steamer, a sauté pot, a yogurt maker, and a warmer with 14 one-touch programs.
You only need to press a button if you want to steam, sauté, and stew, among many other settings. For great results, you can also monitor the pressure, temperature, and time. You may adjust the heating intensity and cooking duration. This instant pot also comes with accessories, including access to a recipe app, more than 250 recipe and how-to-online videos, 18/18 stainless steel inner pot, sealing ring, steam rack, soup spoon, rice paddle, and lid holder. These accessories are also dishwasher-safe.
Getting this instapot can help you prepare meals 2-3 times faster. Not only will you save time and energy, but you can also retain more of your food's nutrients.
Our Verdict

Instant Pot… a trusted name in pressure cooking appliances. Get this one in this cool retro color. Get ready to spice up your kitchen… in more ways than one!
---
4. Max 9-in-1, Unlimited Smart Programs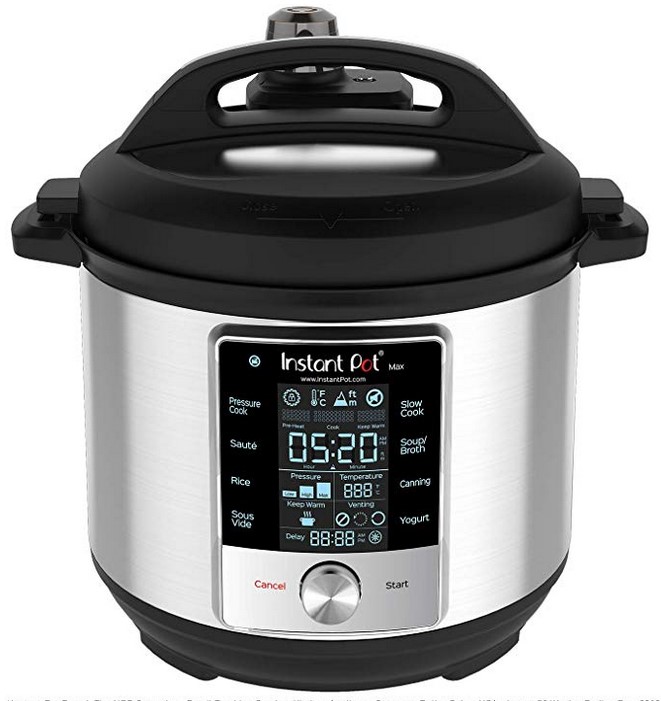 If you want more functions for your instapot, then Instant Pot's Max 9-in-1 Unlimited Smart Programs gives you nine functions in one single appliance. With its sustained 15psi, you don't only get to cook your food faster. This instant pot allows you to do home pressure canning too.
The large touch screen is equipped with several programming settings that let you set time, temperature, pressure level, and delay start. It is also furnished with nutriboost technology, which means your food is broken down to provide you with more nutrition, flavor, and taste. This is perfect when you are preparing soups and bone broths. It also comes with a free recipe app featuring more than 1000 recipes. The app allows you to create favorites, personalize your grocery list, and review and rate recipes.
This instant pot lets you prepare your favorite dishes effortlessly with its 13 safety mechanisms. These features include safety lid lock, wireless lid detection, lid overheat protection, pressure indicator, and many more. At $114, this instant pot is more affordable than other models, giving excellent value for your money.
Our Verdict

For the home canner, this one is perfect!
---
5. Duo Nova 7-in-1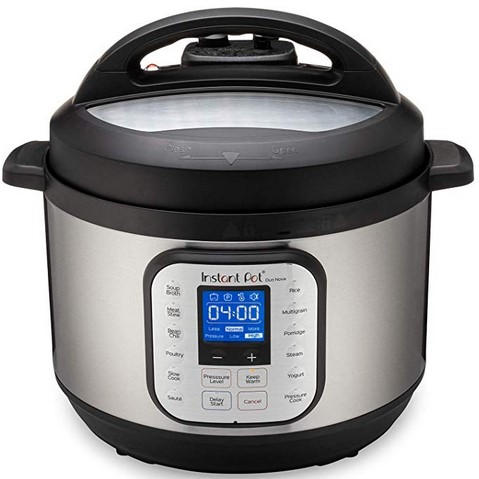 If you have a big family, you would need an instant pot that allows you to prepare meals that can feed five or more people. Instant Pot's Duo Nova 7-in-1 can meet your needs and more. Known as the largest instant pot, this instapot is an upgrade to the all-time bestseller Duo series. This one combines seven appliances into one.
You have a pressure cooker, slow cooker, rice cooker, steamer, sauté pan, food warmer, and yogurt maker in one appliance. It allows you to prepare meals with up to 10 servings, ideal for feeding a roomful of guests or storing prepared meals that can last a week. Finishing the job 70% faster than others, this instant pot lets you save time, energy, and effort. If you are worried about tipping the pot or overheating, then your mind will be put at ease with the pot's ten safety mechanisms, such as its secure seal lid and steam release.
Just like some other Instant Pots models, Duo Nova 7-in-1 brings quality and convenience to your home. What's more, you can also enjoy more than a thousand recipes that come with its free app for iOS and Android devices.
Our Verdict
Got a big family or a hungry crowd to feed? This is the Instant Pot for you!