Oster Blender Pro 1200 with Glass Jar
DEIK Personal Smoothie Blender
Instant Ace Nova Blender
Ninja Personal Blender
La Reveuse Professional Countertop High-Speed Blender
A blender is a necessity in every kitchen. Standard countertop blenders have a pitcher with spinning blades in the bottom. They are mounted on a motorized base. This appliance can help you fulfill your cravings, whether it is a healthy smoothie or a fruit shake. Apart from your favorite drinks, blenders are versatile tools that can be used to make vegetable puree for soups and blend ingredients for salsa.
What Makes A Terrific Countertop Blender?
Blenders come in all forms and sizes. They have a variety of blade types, settings, and functions; choosing the best one isn't always easy. That is why it is essential to do your research first before making up your mind to buy.

Countertop blenders come with more settings than other types of blenders. They can mix, grind, chop, and crush ice and other ingredients. Blenders for smoothies are usually more powerful, featuring sharper blades that make it easier to blend fruits and vegetables.
There are also countertop blenders that specialize in crushing ice, which comes in handy if you want to make margaritas and daiquiris.
When buying a blender, you need to make sure that your choice has everything you require for your kitchen blend.
You may check the speed features. Although most blenders have at least two speeds, some can go as high as 15-speed settings. The different blending speeds allow you to have more blending and mixing options.
Another important consideration is to see if a particular type of countertop blender is easy to maintain. Make sure that the blender has attachments that are safe and easy to remove when it is time for you to clean them.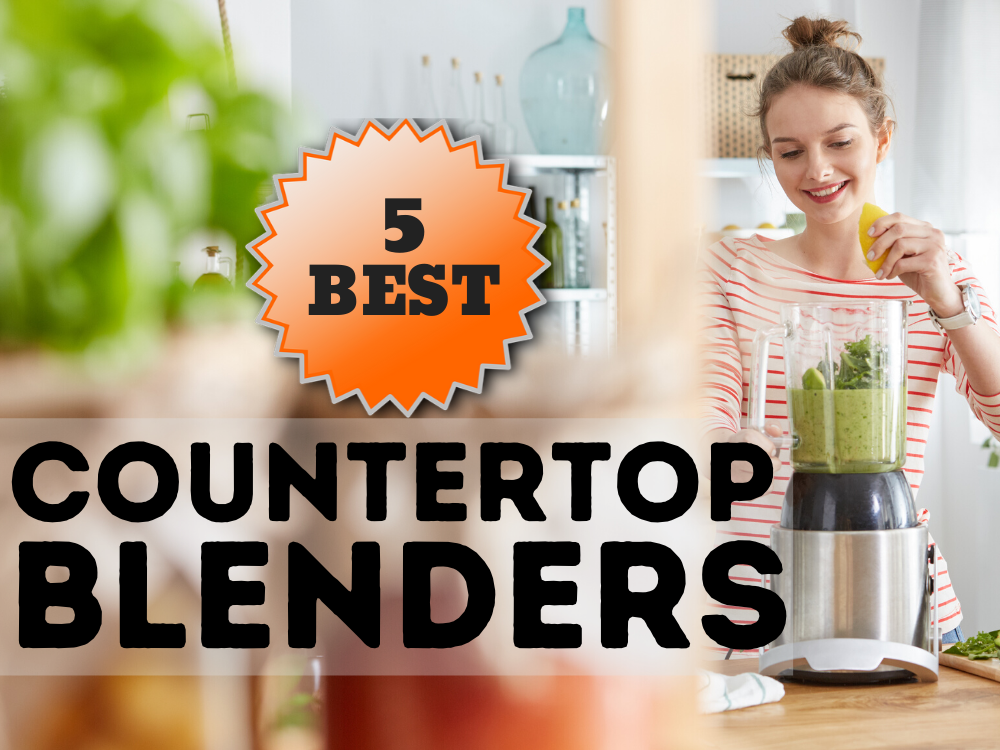 With these in mind, check out five of the best countertop blenders in the market! We narrow down your choices, so you get the best value for your money.
1. Oster Blender Pro 1200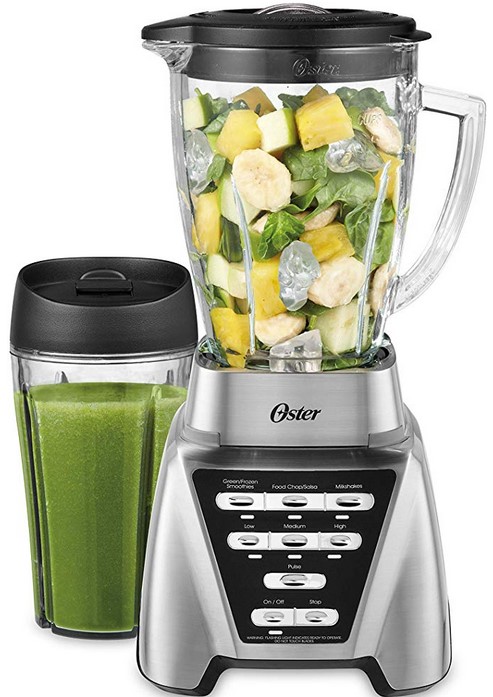 If you want to take your smoothie on the go–straight from the blender, that is—get the Oster Blender Pro 1200 with Glass Jar!
Equipped with a powerful motor, this countertop blender crushes ice, pulverizes greens, and turns frozen fruit into a sorbet in a consistent performance. Its smart settings technology features seven speeds, including three pre-programmed settings for common blender concoctions. You can blend smoothies, salsas, and even milkshakes. It is also designed for extra blending power, allowing you to chop and grind your vegetables with precision. Its blade system allows ingredients to easily flow down for easier, faster, and smoother results.
It has a smoothie cup that gives you an easy and convenient way to drink your favorite smoothie, allowing you to take it with you on a walk or to work. Its compact design and size makes it suitable for small kitchens.
Our Verdict

The Oster Blender Pro 1200 is great for those on-the-go smoothies.
---
2. DEIK Personal Smoothie Blender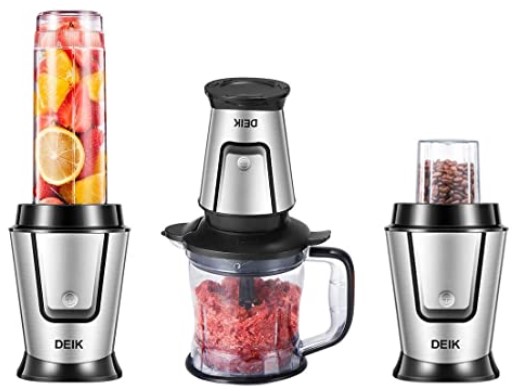 A countertop blender with a dominant performance, the DEIK Personal Smoothie Blender is an ideal choice for blending and pureeing. It even has an overheat protection to let you prepare meals safe and worry-free.
This personal blender, equipped with three different chopping edges and high-speed powerful 500W motor, lets you prepare healthy and nutritious meals by breaking down vegetables and fruits and releasing more than 90% of vitamins and minerals contained within. This makes them easily digestible, allowing you to receive the highest degree of nutrition from your prepared food.
It is very convenient to use, too. You simply press a button and blend your go-to share or smoothie in under 5 seconds. Not only that, but this blender can also grind beans, coffee, nuts, and spices.
Our Verdict

Are you ready to start a healthier diet? This powerful blender will make delicious and nutritious smoothies in no time!
---
3. Instant Ace Nova Blender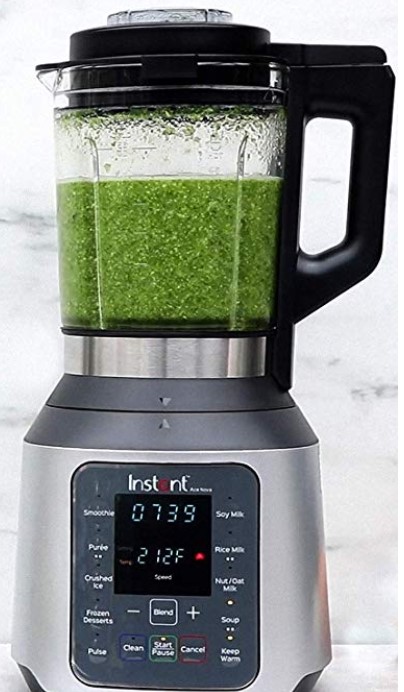 Need a blender that does not only allow you to prepare shakes and smoothies but also soups and dips? Well, the Instant Ace Nova Blender is your ideal choice. This revolutionary, high-speed countertop blender helps you prepare hot and cold meals with ease and convenience.
It can blend almond, cashew, soy, and oat milk for a delicious drink. If you feel like having soup, then you only need to add fresh vegetables, broth, and even raw meat and bring them to a boil while gently stirring until it is cooked. Creamy bisques, tomato soups, and baby foods – all can be prepared with the help of this countertop blender. It can also pulverize ice that you can use in making margaritas and other frozen cocktails.
This appliance comes with a Free Instant Pop app that includes hundreds of recipes that you can try out for a rewarding culinary adventure. The blender has eight one-touch programs, from puree and soup to crushed ice and frozen desserts. This is a durable and versatile kitchen addition that makes preparing meals a breeze.
Our Verdict

This one does it all… from frozen treats to piping hot soup! What more do you need?
---
4. Ninja Personal Blender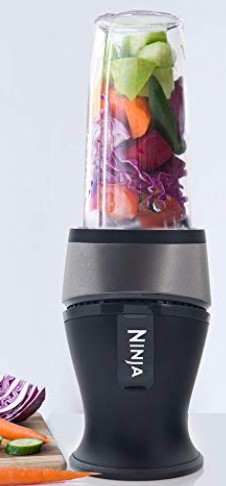 Equipped with pulse technology, this Ninja Personal Blender is a great way to extract hidden nutrition from your fruits and vegetables. It can help you prepare nutrient-rich super juices, smoothies, and even purees.
It allows you to blend whole fruits and vegetables, including portions that are often thrown away. You can whip your favorite smoothie or frozen drink in a second and take it with you wherever you go. It crushes ice and blends easily in less than 10 seconds. The parts are easy to assemble, use, and clean. Plus, it is also dishwasher safe.
This is the perfect blender if you are starting with your fitness journey as its easy and convenient use gives you no excuses on why you can't prepare your healthy meals and drinks in a matter of seconds. It is also designed at just the right size, making it easy for you to fit it in your kitchen and save precious space.
Our Verdict

The Ninja Personal Blender can use every aspect of a fruit or veggie; therefore, you benefit from all of its valuable nutrients. NO WASTE!
---
5. La Reveuse Professional Countertop High-Speed Blender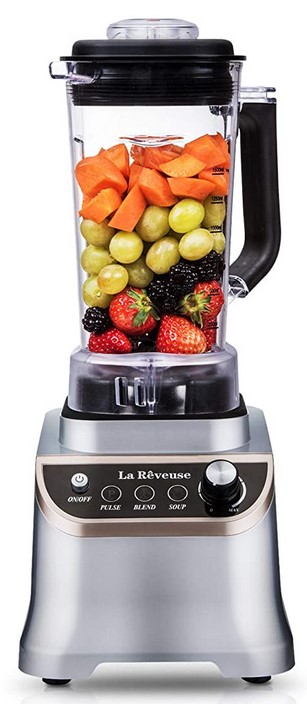 La Reveuse Professional Countertop High-Speed Blender allows for customized blending. It features three easy-to-use pre-programmed blending cycles and a manual speed control knob that allows you to make frozen drinks, smoothies, shakes, hummus, and salad dressings.
Its robust stainless steel forged blade easily crushes frozen fruits, ice, nuts, seeds, and vegetables in seconds. It can be easily operated, letting you adjust its rotary knob and change rotate speed. Aside from its blending prowess, it can also heat soup and drinks through its blade friction heat. You can enjoy a warm meal or drink in 7 minutes or less.
Perhaps, its most outstanding feature is its volume. It allows you to blend beverages functional for 3 to 4 people, an ideal size for family use. You can easily clean this countertop blender, too, as it is dishwasher-safe.
Our Verdict

Are you preparing healthier meals for your whole family? This one is the right size for you!