Did you know that Americans are still car-crazy despite the global pandemic that has seen over 1.4 million being laid off and 6.38 million being infected – and counting – being infected? According to a Forbes article, Americans are still shopping for cars with many mid-size cars on the top 20 bestselling cars for the January-June 2020 period. These include the Honda Civic, Toyota Camry, and Honda Accord, all of which are among the ten safest mid-size cars in the country today.
But what exactly is a mid-size car? We have to define it so there's no confusion about which car model is and isn't a mid-size car and, thus, fair comparisons can be made about their safety features.
In the United States, a vehicle's size is measured in terms of its interior volume, specifically the combined amount of the passenger space and cargo area, as well as a certain length. As such, a car can be considered mid-size since its interior volume is well within the standards, although its length isn't.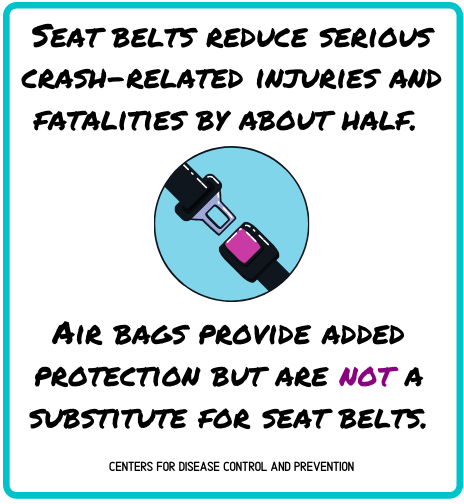 According to the Environmental Protection Agency (EPA), mid-size cars measure between 110 and 120 cubic feet. As such, anything below 110 cubic feet is a compact car, and anything above 120 cubic feet can be considered a full-sized car. As for its length, the maximum measurement should be 196.8 inches.
The 2017 Chevy Malibu, for example, perfectly fits the criteria with its 118.7 cubic feet of interior volume and 193.8-inch length. The Honda Accord, however, is still considered by its manufacturer as a mid-size car even with its 122 cubic feet interior volume, partly because it measures 192 inches in length.
Modern mid-sized cars are equipped with several safety features that have evolved over the years. These features are designed to prevent automobile accidents, such as collisions and crashes, from occurring. They are also used to minimize the impact in case of an accident. These safety features are the results of decades of research and development, legislation, and public awareness campaigns, too.
From the 1900-1940s, for example, crashes were commonplace because the cars were difficult to control. In the following years, several safety features became standard on automobiles, such as the airbag and three-point seatbelt introduced in the 1950s. Nowadays, safety features also included digital systems like Apple CarPlay and Android Auto connectivity.
Of course, the type of safety features on a mid-size car will vary depending on its brand and model. The latest models will have more safety features in terms of number and sophistication than their older counterparts. Keep in mind, too, that these safety features will add to the sticker price, particularly on the high-end models.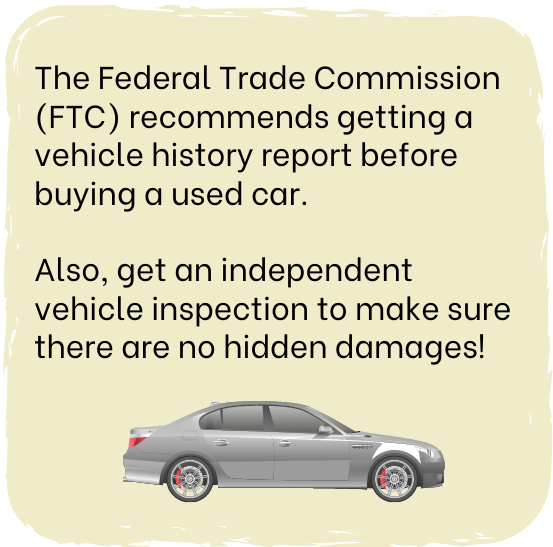 But if you're into protecting your life and your passenger's lives, you shouldn't compromise on these standard and premium safety features in contemporary mid-size cars in the country:
There's also the automatic emergency braking (AEB) feature, a different mechanism to ABS. It automatically applies the brakes in case of an imminent collision and, thus, either decrease collision speed or prevents the collision itself.
Stability control involves a computer system designed to compensate for the driver's oversteering and, thus, prevents dangerous rollover accidents.
Lights, particularly headlights, turn signals, and brake lights, are the driver's means of illumination of the road ahead and communication with drivers and pedestrians. Drivers are also well-advised to consider smart high beams for extra safety at night.
Mirrors should be properly positioned and aligned to eliminate blind spots and increase visibility.
Lane assist technology prevents cars from veering into other lanes unless the turn signals are on.
Cameras are also being used as safety features since it allows the driver to see inside the vehicle without turning or twisting his body.
Safety exit assists temporarily prevent children from opening the back doors while an adult checks for vehicles and pedestrians coming behind the vehicle.
Adaptive cruise control allows the car to speed up or slow down depending on the speed of the car in front, and based on the settings chosen by the driver.
Apple CarPlay/Android Auto connectivity decreases distracted driving by allowing the driver to perform in-car tasks without touching their smartphones or the dashboard.
While these are all excellent safety features, they hold no value unless you know the rules of safety driving!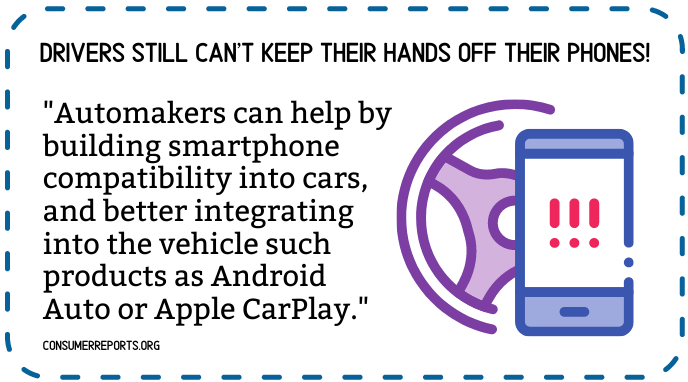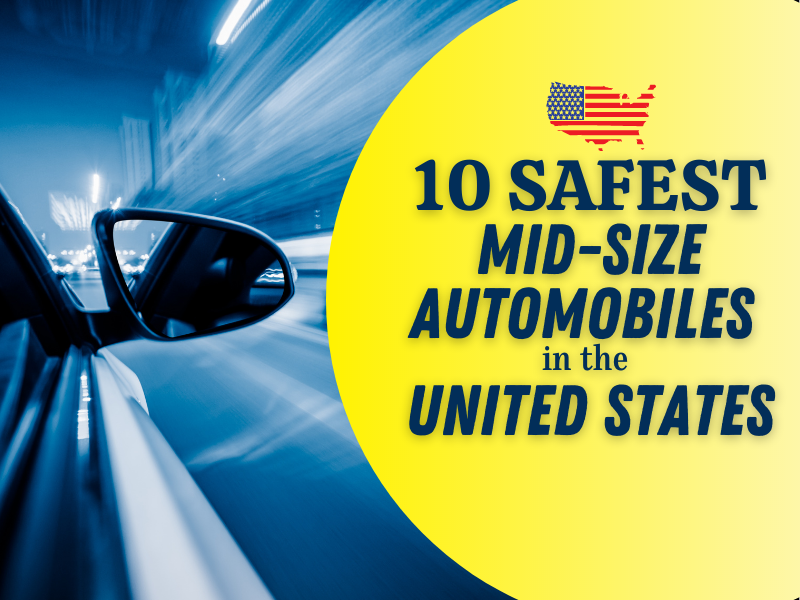 Check out our list of 10 Safest Mid-size Automobiles in the United States:
2020 Toyota Camry
2020 Honda Insight
2020 Honda Civic
2020 Volkswagen Passat
2020 Subaru Legacy
2020 Toyota Corolla
2020 Nissan Maxima
2020 Mazda 3
2020 Subaru Impreza
2020 Honda Accord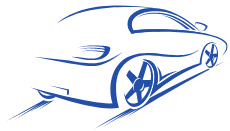 The 2020 Toyota Camry is a multi-awarded mid-size sedan because it checks many, if not most, boxes on design, fuel economy, and passenger safety. It's the type of car that strikes the right balance between above-average reliability and safety, a comfortable ride and charming design, and a roomy cabin with compact dimensions.
It's also the safest mid-size sedan according to the NHTSA, which awarded it five out of five stars in all three crash tests. The IIHS also agrees when it awarded the 2020 Camry a "Good" rating, the highest rating, in all of its six crash test categories, as well as a "Superior" rating for front crash prevention. If you pay for premium which starts at $24,425, this ride is your best bet!
We also like it because it's the first Camry since 1991 with an all-wheel drive, a welcome feature for drivers in cold-weather regions. The integration of standard Android Auto is also welcome, particularly as Toyota isn't as quick as other manufacturers in installing third-party integrated apps. Apple CarPlay was finally added in 2019, while Amazon Alexa was integrated in 2018.
All 2020 Camry trims also come with Toyota's signature Safety Sense-P suite of driver assistance functions, including lane departure warning, lane keep assist, adaptive cruise control, and pedestrian detection. There are also automatic high-beam headlights, forward automatic emergency braking and forward-collision warning, as well as blind-spot monitoring, reverse automatic emergency braking, and surround-view parking camera system, among others.
Indeed, it's the safest car that you can get nowadays with this suite of safety features! It's a breeze to drive, too, because of its highly satisfactory steering system and comfortable seats, and it's our top buy, too.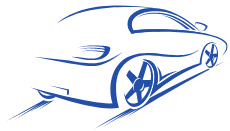 The 2020 Honda Insight has a more restrained styling, a sharp contrast to some hybrids with the bold exterior styling. But make no mistake – it's a hybrid powertrain underneath its subdued styling, from its comfortable and familiar cabin to its satisfying driving experience.
Take note that the 2020 Insight isn't significantly different from the 2019 iteration since the latter was an all-new model. But buyers will like the new 2020 paint color, Platinum White Pearl.
In terms of safety ratings, the 2020 Insight earned a five-star rating from the NHTSA. The IIHS also called it a Top Safety Pick+. Every insight trim comes with the Honda Sensing package of driver assistance features. These include forward-collision warning, lane-keeping assist, lane departure warning, automated emergency braking, and adaptive cruise control. The car also has a video camera that displays an image on the dashboard of its passenger-side blind spot during the right-turn signal's activation.
The EX model has Apple CarPlay and Android Auto, too, which allows for hands-free smartphone use, among other benefits. It also has an eight-speaker stereo and an eight-speaker stereo system.
Keep in mind that since it's a sedan, its cargo space is less than that of a hatchback, which may or may not be a deal-breaker. But its excellent storage for small items is a point in its favor.
Plus, it's among the most fuel-efficient hybrids nowadays! It can run for an estimated 52 miles/gallon, an appealing number considering the fuel prices. We also recommend it for its quick acceleration and roomy interiors with a refined design.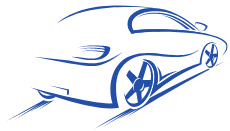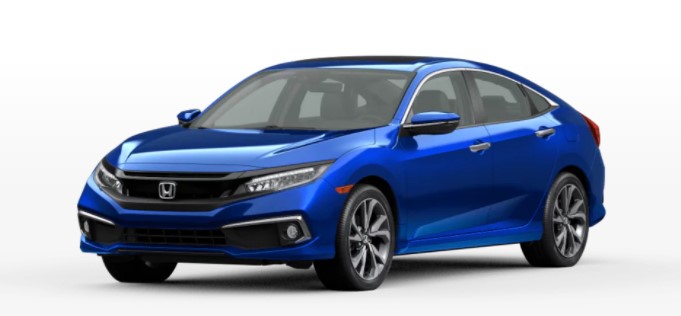 The 2020 Honda Civic is a far cry from its predecessors, which were known as sin bins because of their economy-sized dimensions and unappealing looks. There aren't significant alterations from the previous-year model, which isn't surprising because it is still part of the 10th generation introduced for 2016.
What's new are the updated front and rear styling in the Civic Si, which also has slight variations in its transmission gearing and cabin trim. The Civic Type R also has more powerful brakes and better suspension. The Civic LX sedan, the base trim in the line, comes with plenty of value-for-money equipment including automatic climate control, 16-inch steel wheels, and an entertainment system with a 5-speaker sound system and 5-inch central display screen.
All the Civic models have the Honda Sensing suite of safety features, too, and it's among the reasons for the Civic line's popularity. These features are lane departure warning, lane-keeping assist, adaptive cruise control, automatic emergency braking, and forward-collision warning. There are also automatic high-beam headlights, rearview camera, road departure mitigation, and collision mitigation braking system, as well as the optional collision mitigation braking system.
These impressive safety features complement the notable strengths of the Civic, including cargo-carrying versatility, crisp and comfortable handling, quick acceleration, and pleasant riding experience. Honda is also on track in its commitment to expand the availability of its six-speed transmission, a feature that keeps the car-and-driver connection strong.
The Civic is also well-loved for its excellent performance and fuel economy courtesy of its turbocharged engine. We also like it for its roomy cabin, sturdy and stylish construction, and athleticism.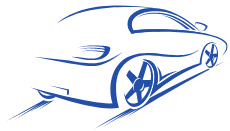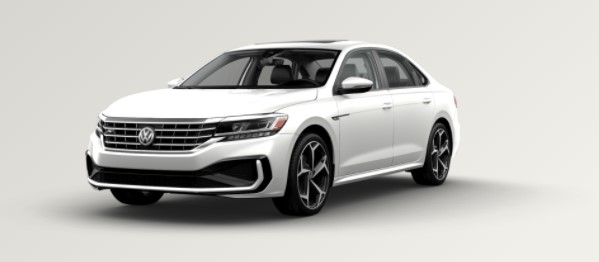 The 2020 Volkswagen Passat is an old car in its core – it's still similar to the 2012 Passat but with a few changes, including new materials, new interior design, and an updated engine. Of course, the 2020 model has a more streamlined look that makes it more appealing to present buyers. These include the contemporary instrument panel, the choice between genuine leather, simulated leather and cloth for upholstery, and a 6.3-inch touchscreen display.
As for its safety features, it has a rigid safety cage that distributes crash-generated forces away from the driver and passengers. Its front and rear crumple zones are sturdy and strong enough to absorb most of the crash energy. These two features mean that the driver and passengers will likely have less serious injuries in case of a crash or collision.
The Intelligent Crash Response System (ICRS) is worth mentioning since it automatically activates a series of safe exit features in case of an accident. When the airbags are deployed, the system will turn on the hazard lights, turn off the fuel pump, and unlock the doors so everybody can get out as soon as possible. Think of the ICRS as the driver's second brain in the sense that it makes the right post-accident reactions when he can't do them.
The automatic post-collision braking system slows down the vehicle after a collision, so there's less risk of additional impact. The rearview camera system comes with a wide lens that enables better views when backing up.
Other features to love about the 2020 Passat is its higher torque from its turbocharged two-liter, four-cylinder engine, roomy interior and large trunk, and comfortable, quiet, and cozy ride.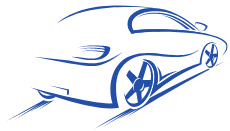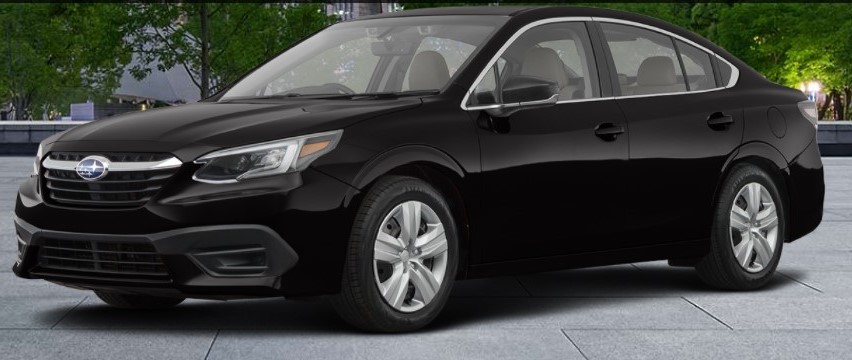 The Subaru Legacy has maintained a loyal, nearly cultish, following in the highly competitive mid-size sedan segment. In recent years, this vehicle has been trailing behind the Toyota Camry and Honda Accord. For its 2020 iteration, it comes with several redesigns intended to make it top-of-the-class again!
These include an impressive suite of standard safety features, including an all-wheel-drive, a must for extra traction in cold-weather areas and wet conditions. It's also instrumental in the Legacy's faster response when changing road conditions, such as from gravel to asphalt, and better handling in most driving situations.
It's just as important in fuel efficiency – the 2020 Legacy delivers 30 miles/gallon – although it is alo partly due to the turbocharged 2.4-liter engine. This is a new four-cylinder engine in the 2020 Legacy, too, an update from the previous six-cylinder engine. It's also the reason behind the Legacy's stronger acceleration and better overall riding experience.
The 11.6-inch Starlink Multimedia touchscreen isn't just for show either, although we have to say that it adds strong appeal to redesigned interiors. With such a large interface, it's easy to take advantage of the standard Apple CarPlay and Android Auto integration.
As for Legacy's design itself, we have to say that it has taken hints from Subaru's Forester and Impreza, which share a common platform. The headlights have a unique shape while the grill is slightly narrower and taller, which complements the smoother bumper and the black trim piece.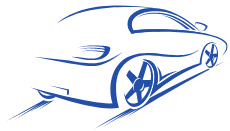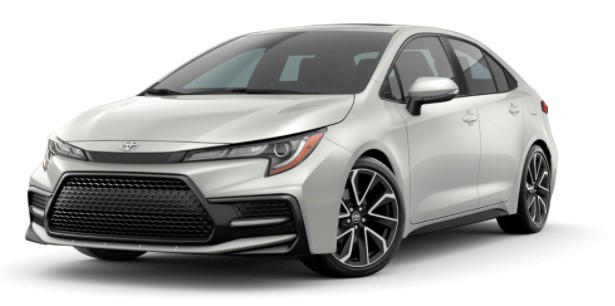 The 2020 Toyota Corolla is a significant upgrade from its uninspiring predecessors! It has sharper lines with more stylish exterior design elements while its chic interiors exceed expectations, particularly as it's a fairly affordable family-friendly sedan. It's still part of the 12th generation Corolla launched in 2019, nonetheless.
These redesigns have made it a more competitive car against the likes of Mazda 3 and Honda Civic. Like its hybrid cousin, the Corolla Hybrid, it provides a satisfactory fuel economy between 33 and 34 miles/gallon depending on its powertrain. (Note that the hybrid version has 53 miles/gallon but with a higher sticker price).
There's also a remarkable list of standard safety features that make the 2020 Corolla a great buy. These features include lane-departure warning and lane assist, forward collision warning, cyclist and pedestrian detecti0n, road edge detection, automatic high beams, adaptive cruise control, and traffic sign recognition. There's also Apple Car/Play, which has important safety benefits and which complements the Bluetooth and Wi-Fi hotspot, six-speaker sound system, and a 7-inch touchscreen.
Take note that the features vary depending on the trim. The standard L trim, for example, has Toyota's Safety Connect emergency communications, 15-inch steel wheels, and four-way manually adjustable front seats with split-folding rear seats.
Toyota is, of course, known for building cars that provide comfortable ride quality, and the 2020 Corolla isn't an exception. Its interior has a solid quality to it that may not win awards for luxury but meets the high standards of conscientious buyers.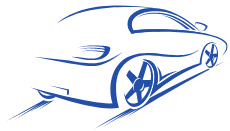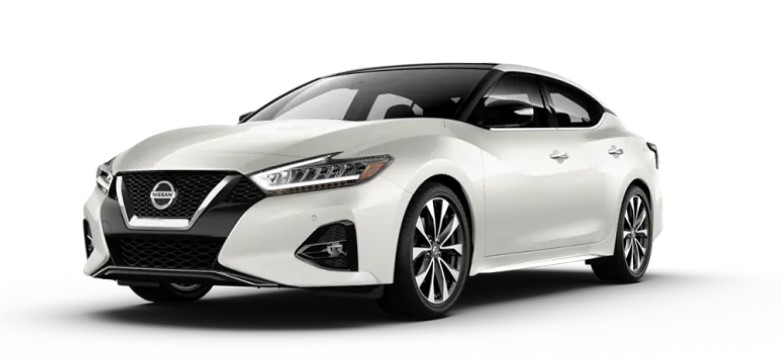 The 2020 Nissan Maxima has plenty of standard safety features that make it popular among safety-conscious drivers and families. Every Maxima comes equipped with blind-spot monitoring, automatic high-beam headlights, lane departure warning, rear cross-traffic alert, forward-and-reverse automatic emergency braking as well as pedestrian detection. The Maxima trims also have a rearview camera, driver attention monitoring, and forward-collision warning.
If you have the extra thousand dollars, you can go for the SR model since it has more safety features and luxurious aspects. These include a 360-degree camera system, a memory function for the driver's seat, and a panoramic sunroof.
With these safety features, it's as safe as can be, although we must also emphasize that these aren't 100% fool-proof. You, the driver, still has the ultimate responsibility of understanding how these features work and applying them when needed.
Beyond safety, the 2020 Maxima handles nearly like a four-door sports car but without the price tag and the looks. It handles well under pressure in comparison with many mid-size sedans, thanks partly to its 300-horsepower VG engine. Its fast acceleration is reason enough to think that you may be able to enjoy a sports car-like experience sans the hole in your wallet. (And did you know that Nissan also makes the 370Z and GT-R Nismo sports cars?)
The comfortable cabin, particularly the leather upholstery and faux suede seat inserts in the SR trim, immediately attracts the eye. Then there are the intuitive controls that make driving it an engaging experience. The sports-inspired luxurious touches in the cabin are certainly part of the Maxima's appeal.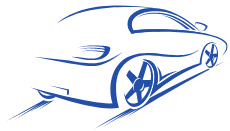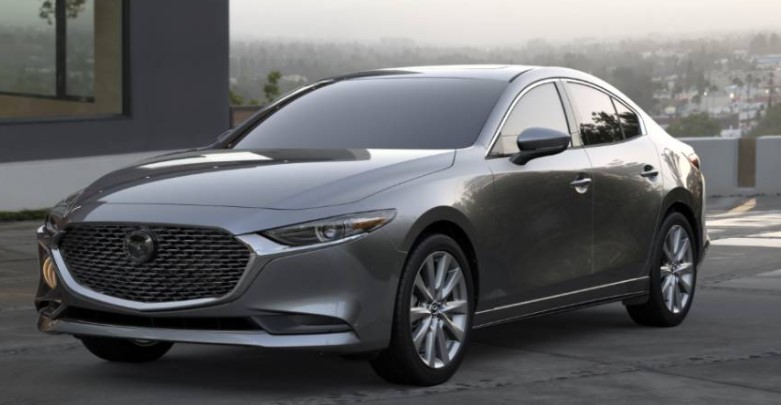 Get the 2020 Mazda 3 if you want something a little more special than your typical mid-size sedan! It has an eye-catching interior and exterior styling, thanks to the use of premium materials and contemporary dashboard design. It's a car that immediately conjures the words "sophisticated, upscale, and trendy" at first sight, even before its remarkable suite of safety features are known.
Choices include a five-door hatchback and a four-door sedan, which are equipped with standard safety features. These include rain-sensing windshield wipers, rain-sensing windshield wipers, lane departure warning, and lane keeps assist, automatic emergency braking, a rearview camera, and a forward collision warning. These cars also have stop-and-go adaptive cruise control, pedestrian detection, rear cross-traffic alert, a heads-up display, and a driver condition monitor.
We like that these safety features are well-integrated into the car's system, as well as easy to understand and apply in real-world situations. These aren't just there for nothing, but these serve specific purposes and work in sync with the other parts.
You will find that, for example, the Mazda 3 delivers on sharp and crisp handling that makes it a joy to drive, be it while you're on the scenic route or as you rush to the office. Your ride will also be more comfortable with its superior suspension system, intuitive entertainment system, and upscale cabin.
The 2020 iteration, by the way, is part of Mazda 3's 4th generation launched for 2019. While it has some differences with previous iterations, it's still the Mazda 3 you likely loved before.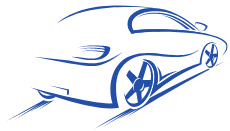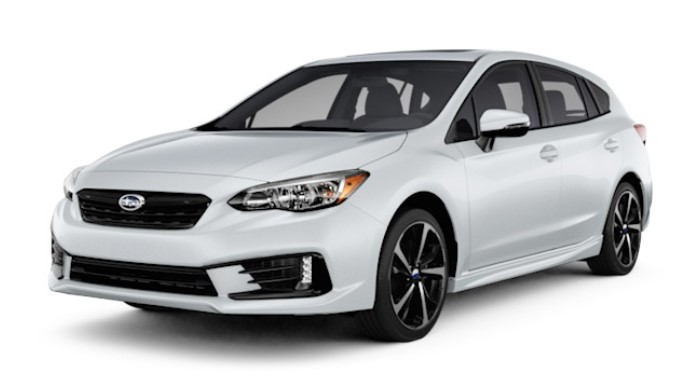 The 2020 Subaru Impreza isn't significantly different as its predecessors – there are minor updates that keep it fresh in the eyes of discerning car enthusiasts. The basic package from the 2019 model remains, which means its old compliments and complaints are still present, from the less-than-impressive fuel economy to the slightly noisy engine and slow acceleration.
However, if you can overlook the minor flaws, the 2020 Impreza will likely impress your safety-conscious self! Aside from the changes in its front-end styling, it still comes with the standard all-wheel drive, a quite uncommon feature for its class. The standard all-wheel-drive feature gives increased traction, a must-have safety feature when driving in snowy or wet conditions.
It comes with the latest safety feature, too – the Apple CarPlay and Android Auto courtesy of the Subaru Starlink Multimedia system. Of course, it has a full suite of safety features, including EyeSight Driver Assist Technology on sport and premium sedans, rear vision camera, and vehicle dynamics control.
This is available in either the hatchback or sedan style, as well as in base version, Limited, Sport, and Premium trims. Every 2020 Impreza comes with a 2.0-liter, flat-4, and 152-horsepower engine, which performs well in powering a 3,000-pound mid-size car. A continuously variable transmission (CVT) makes for smoother handling, too.
Conumers get a myriad of optional features, such as a power moonroof, heated seats, genuine leather upholstery, and Harman/Kardon audio. Its comfortable front and rear seats offer ample legroom despite its compact side. It's a small car that gives great value for the money, not to mention that it's equipped with nearly every safety feature on our list.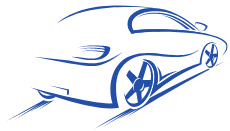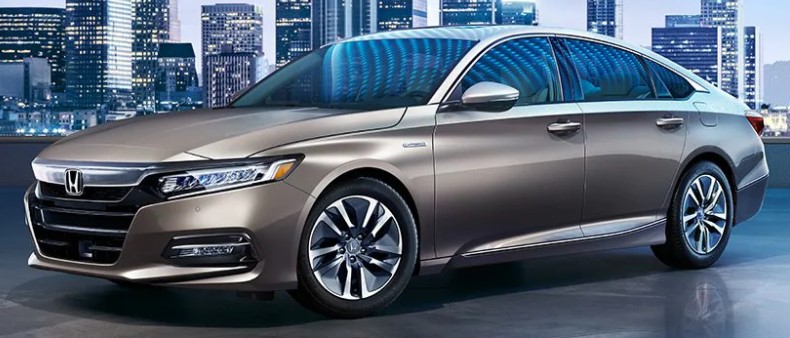 The 2020 Honda Accord isn't different from the 2019 models, but it comes with a five-star rating from the NHTSA and a Top Safety Pick recognition from the IIHS. These safety recognitions are due to the notable suite of safety features, particularly those related to driver assistance, in the car. These include standard automated emergency braking, lane-keeping assist, and adaptive cruise control. At the same time, rear cross-traffic alert, blind-spot monitoring, and parking sensors are optional (read: These will cost extra dollars).
Aside from the standard Honda Sensing package, the Accord also comes with Apple CarPlay and Android Auto. The package also includes mandatory features like driver airbag and passenger airbag, as well as daytime running lights, child safety locks, and electronic stability control.
Going back to the absence of changes in this 10th generation Accord, it isn't such a bad thing considering that it has always given the best value for the money in many respects! It's comfortable to drive and ride in; it's stylish from its exteriors to its interiors; it offers excellent utility for singles and families. It's quiet and smooth, too, with a large 16.7 cubic foot trunk space and a spacious cabin with plenty of storage to boot!
Buyers can choose between a 1.5-liter, 192-horsepower engine with a continuously variable transmission and a 2.0-liter, 252-horsepower with 1o-speed automatic engine. They have an excellent fuel economy ranging from 26/35 miles/gallon to 29/35 miles/gallon.
Which of these stand out in terms of safety and overall performance? We have to say that it's the 2020 Toyota Camry, but the other nine are just as reliable. You should also consider your personal preference and budget when choosing from among these cars.